Abstract
Biosurfactants are amphiphilic compounds produced by micro-organisms that are excreted extracellularly and contain hydrophobic as well as hydrophilic moieties which reduce surface tension. These extracellular membrane vesicles aid in the uptake of organic molecules that are used as a source of energy for growth of micro-organisms. These micro-organisms have the ability to grow and proliferate on the oil-based medium like petro-contaminated soil and water. Oil spills and discharge from industry contaminates the water bodies and surrounding land. Many chemical-based technologies and manual cleaning are involved to reduce water and land pollution. Chemicals used are the surfactants that lead to the generation of toxic by-products. Hence, considerable attention has been given to surface-active molecules of biological origin called biosurfactants, produced by microbial species in and around the contaminated area. The present study focuses on identifying a novel biosurfactant-producing bacterial strain from brackish water. The bacterial consortium was isolated from targeted brackish water site. Each bacterial species was tested for its biosurfactant production ability using various assays. Haemolysis, oil spreading, cetyltrimethyl ammonium bromide agar plate, drop collapse, hydrocarbon overlay agar, hydrocarbon assay and lipase production were a few qualitative methods performed. Further, the most efficient biosurfactant producer was identified by measuring emulsification index, quantifying biosurfactant production and efficient reduction in surface tension. 16S rRNA gene sequencing was performed for phenotypic characterization of the biosurfactant-producing strain, using Sanger dideoxy sequencing method followed by the phylogenetic assessment. The isolate was found to be a novel Bacillus tequilensis strain, named as ANSKLAB04. The novel isolate was deposited in GenBank with Accession number KU529483.
Access options
Buy single article
Instant access to the full article PDF.
USD 39.95
Price excludes VAT (USA)
Tax calculation will be finalised during checkout.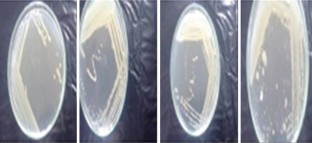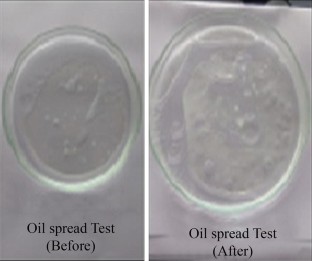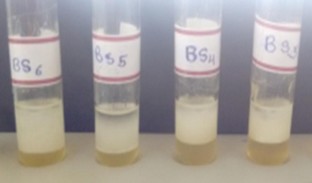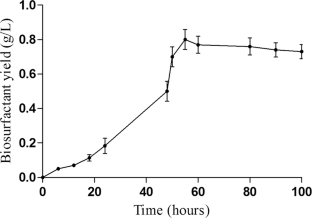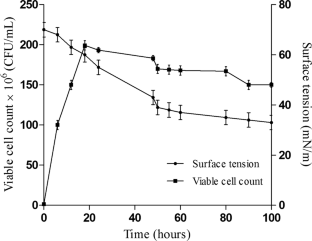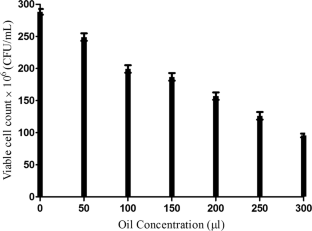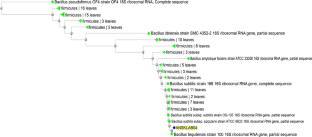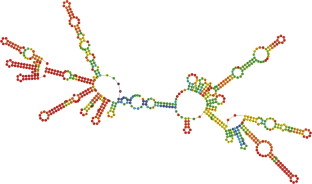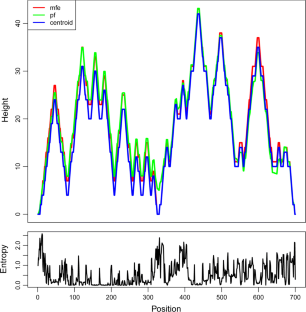 References
Abouseoud M et al (2008) Evaluation of different carbon and nitrogen sources in production of biosurfactant by Pseudomonas fluorescens. Desalination 223(1):143–151

Amareshwari P, Bhatia M, Venkatesh K, Rani AR, Ravi GV, Bhakt P, Nair AS (2015) Isolation and characterization of a novel chlorpyrifos degrading flavobacterium species EMBS0145 by 16S rRNA gene sequencing. Interdiscip Sci Comput Life Sci 7(1):1–6

Anvari S et al (2015) Physiochemical and thermodynamic characterization of lipopeptide biosurfactant secreted by Bacillus tequilensis HK01. RSC Adv 5(111):91836–91845

Bento FM et al (2005) Diversity of biosurfactant producing microorganisms isolated from soils contaminated with diesel oil. Microbiol Res 160(3):249–255

Bhatia M, Girdhar A, Tiwari A, Nayarisseri A (2014) Implications of a novel Pseudomonas species on low density polyethylene biodegradation: an in vitro to in silico approach. SpringerPlus 3(1):497

Bouassida M et al (2018) Improved biosurfactant production by Bacillus subtilis SPB1 mutant obtained by random mutagenesis and its application in enhanced oil recovery in a sand system. J Microbiol Biotechnol 28(1):95–104

Carrillo P et al (1996) Isolation and selection of biosurfactant-producing bacteria. World J Microbiol Biotechnol 12(1):82–84

Cortés-Camargo S et al (2016) Production of biosurfactants from vine-trimming shoots using the halotolerant strain Bacillus tequilensis ZSB10. Ind Crops Prod 79:258–266

Gatson JW et al (2006) Bacillus tequilensis sp. nov., isolated from a 2000-year-old Mexican shaft-tomb, is closely related to Bacillus subtilis. Int J Syst Evol Microbiol 56(7):1475–1484

Hazra C, Kundu D, Chaudhari A (2015) Lipopeptide biosurfactant from Bacillus clausii BS02 using sunflower oil soapstock: evaluation of high throughput screening methods, production, purification, characterization and its insecticidal activity. RSC Adv 5(4):2974–2982

Jadeja NB et al (2018) Genome sequencing and analysis of strains Bacillus sp. AKBS9 and Acinetobacter sp. AKBS16 for biosurfactant production and bioremediation. Appl Biochem Biotechnol. https://doi.org/10.1007/s12010-018-2828-x

Jaiswal M, Parveda M, Amareshwari P, Bhadoriya SS, Rathore P, Yadav M, Nayarisseri A, Nair AS (2014) Identification and characterization of alkaline protease producing Bacillus firmus species EMBS023 by 16S rRNA gene sequencing. Interdiscip Sci Comput Life Sci 6(4):271–278

Krishnan SN, Nayarisseri A, Rajamanickam U (2018) Biodegradation effects of o-cresol by Pseudomonas monteilii SHY on mustard seed germination. Bioinformation 14(6):271–278

Kuiper I et al (2004) Characterization of two Pseudomonas putida lipopeptide biosurfactants, putisolvin I and II, which inhibit biofilm formation and break down existing biofilms. Mol Microbiol 51(1):97–113

Mercade M et al (1996) Screening and selection of surfactant-producing bacteria from waste lubricating oil. J Appl Bacteriol 81(2):161–166

Mukherjee S, Das P, Sen R (2006) Towards commercial production of microbial surfactants. Trends Biotechnol 24(11):509–515

Nadh AG, Raj Akare U, Sharma P, Yadav P, Bandaru S, Nayarisseri A, Nair SN (2015) Identification of azo dye degrading Sphingomonas strain EMBS022 and EMBS023 using 16S rRNA gene sequencing. Curr Bioinform 10(5):599–605

Nayarisseri A, Suppahia A, Nadh AG, Nair AS (2015) Identification and characterization of a pesticide degrading flavobacterium species EMBS0145 by 16S rRNA gene sequencing. Interdiscip Sci Comput Life Sci 7(2):93–99

Nayarisseri A, Singh P, Singh SK (2018) Screening, isolation and characterization of bio-surfactant producing Bacillus subtilis strain ANSKLAB03. Bioinformation 14(6):304–314

Padmavathi AR, Pandian SK (2014) Antibiofilm activity of biosurfactant producing coral associated bacteria isolated from Gulf of Mannar. Indian J Microbiol 54(4):376–382

Paraszkiewicz K et al (2018) Structural identification of lipopeptide biosurfactants produced by Bacillus subtilis strains grown on the media obtained from renewable natural resources. J Environ Manag 209:65–70

Patra J et al (2009) Antimicrobial activity of organic solvent extracts of three marine macroalgae from Chilika Lake, Orissa, India. Malays J Microbiol 5(2):128–131

Pradhan AK et al (2013) Application of lipopeptide biosurfactant isolated from a halophile: Bacillus tequilensis CH for inhibition of biofilm. Appl Biochem Biotechnol 171(6):1362–1375

Satpute S et al (2008) Assessment of different screening methods for selecting biosurfactant producing marine bacteria. Indian J Mar Sci 37(3):243

Sen R, Swaminathan T (1997) Application of response-surface methodology to evaluate the optimum environmental conditions for the enhanced production of surfactin. Appl Microbiol Biotechnol 47(4):358–363

Shah KP, Chandok KH, Rathore P, Sharma MV, Yadav M, Nayarisseri SA (2013) Screening, isolation and identification of Polygalacturonase producing Bacillus tequilensis strain EMBS083 using 16S rRNA gene sequencing. Eur J Biol Sci 5(1):09–13

Shavandi M et al (2011) Emulsification potential of a newly isolated biosurfactant-producing bacterium Rhodococcus sp. strain TA6. Colloids Surf B Biointerfaces 82(2):477–482

Shoeb E et al (2015) Screening and characterization of biosurfactant-producing bacteria isolated from the Arabian Sea coast of Karachi. Turk J Biol 39(2):210–216

Siegmund I, Wagner F (1991) New method for detecting rhamnolipids excreted by Pseudomonas species during growth on mineral agar. Biotechnol Tech 5(4):265–268

Souza EC et al (2017) Influence of toluene and salinity on biosurfactant production by Bacillus sp.: scale up from flasks to a bench-scale bioreactor. Braz J Chem Eng 34:395–405

Van der Vegt W et al (1991) Assessment of bacterial biosurfactant production through axisymmetric drop shape analysis by profile. Appl Microbiol Biotechnol 35(6):766–770

Varadavenkatesan T, Murty VR (2013) Production of a lipopeptide biosurfactant by a novel Bacillus sp. and its applicability to enhanced oil recovery. ISRN microbiology, 2013
Acknowledgements
The authors are thankful to Genotypic for 16S rRNA sequencing of the bacterium BS-6.
Additional information
Editorial responsibility: M. Abbaspour.
About this article
Cite this article
Nayarisseri, A., Singh, P. & Singh, S.K. Screening, isolation and characterization of biosurfactant-producing Bacillus tequilensis strain ANSKLAB04 from brackish river water. Int. J. Environ. Sci. Technol. 16, 7103–7112 (2019). https://doi.org/10.1007/s13762-018-2089-9
Received:

Revised:

Accepted:

Published:

Issue Date:

DOI: https://doi.org/10.1007/s13762-018-2089-9
Keywords
Biosurfactant-producing bacteria

Biosurfactant-producing Bacillus

Bacillus tequilensis

Sanger dideoxy gene sequencing