Abstract
Plaster of Paris (POP) is one of the recalcitrant wastes generated from dentistry and orthopaedic materials used in healthcare sector. The current practice of disposal of POP waste-harbouring biomedical material by incineration is very critical and environmentally unfriendly. The eco-friendly and rapid disintegration of such biomedical-related POP waste was done by treating with ammonium bicarbonate solution (20% w/v ABC) to form non-hazardous products like ammonium sulphate and calcium carbonate in the form of sludge. The ammonium sulphate (NH4)2SO4 is generally used in agriculture as a chemical fertilizer and calcium carbonate (CaCO3) as an additive in construction sector making this process cost-effective and value addition. Interestingly, 20% ABC solution also had significant antibiofilm, antimicrobial activity against fungi, yeast and bacterial strains probably due to its high pH-driven osmotic effect. Therefore, 20% ABC solution finds dual eco-friendly application in disinfection of used POP, especially arising from biomedical waste from patients.
Access options
Buy single article
Instant access to the full article PDF.
US$ 39.95
Tax calculation will be finalised during checkout.
Subscribe to journal
Immediate online access to all issues from 2019. Subscription will auto renew annually.
US$ 79
Tax calculation will be finalised during checkout.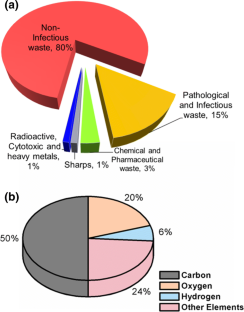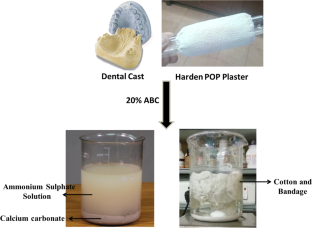 References
Atar N, Eren T, Yola ML, Wang S (2015) A sensitive molecular imprinted surface plasmon resonance nanosensor for selective determination of trace triclosan in wastewater. Sens Actuators B Chem 216:638–644

Atar N, Yola ML, Eren T (2016) Sensitive determination of citrinin based on molecular imprinted electrochemical sensor. Appl Surf Sci 362:315–322

Chandara C, Azizli KAM, Ahmad ZA, Sakai E (2009) Use of waste gypsum to replace natural gypsum as set retarders in portland cement. Waste Manag 29:1675–1679. https://doi.org/10.1016/j.wasman.2008.11.014

Chartier Y, Emmanuel J, Pieper U et al (2014) Safe management of wastes from health-care activities, vol 2. World Health Organization, Geneva

Craswell ET, De Datta SK, Obcemea WN, Hartantyo M (1981) Time and mode of nitrogen fertilizer application to tropical wetland rice. Fertil Res 2:247–259. https://doi.org/10.1007/BF01050197

Declet A (2016) Calcium carbonate precipitation: a review of the carbonate crystallization process and applications in bioinspired composites. Rev Adv Mater Sci 44:87–107

Ertan B, Eren T, Ermiş İ et al (2016) Sensitive analysis of simazine based on platinum nanoparticles on polyoxometalate/multi-walled carbon nanotubes. J Colloid Interface Sci 470:14–21

Ferdowsi A, Ferdosi M, Mehrani MJ (2013) Incineration or autoclave? A comparative study in Isfahan hospitals waste management system. Mater Sociomed 25:48–51. https://doi.org/10.5455/msm.2013.25.48-51

Gupta VK, Yola ML, Eren T, Atar N (2015) Selective QCM sensor based on atrazine imprinted polymer: its application to wastewater sample. Sens Actuators B Chem 218:215–221

IPEN study (2014) Bio-medical waste management: situational analysis & predictors of performances in 25 districts across 20 Indian States. Indian J Med Res 139:141–153

Jikan SS, Arshat IM, Badarulzaman NA (2013) Melt flow and mechanical properties of polypropylene/recycled plaster of paris. Appl Mech Mater 315:905–908. https://doi.org/10.4028/www.scientific.net/AMM.315.905

Kanthe VN (2013) Use of waste plaster of paris in concrete. Int J Innov Res Dev 2:855–862

Krishnappa P, Sreekantaiah P, Hiremath SS et al (2015) Quantification of dental health care waste generated among private dental practices in Bengaluru city. J Int Oral Health JIOH 7:84–87

Liu F, Wang S, Zhang X et al (2009) Study on ammonium bicarbonate decomposition after CO2 sequestration by ammonia method. Huanjing Kexue Xuebao/Acta Sci Circumst 29:1886–1890

Manyele SV (2014) Effects of improper hospital-waste management on occupational health and safety. Afr Newslett Occup Health Saf 14:30–33

Mastorakis NE, Bulucea CA, Oprea TA et al (2011) Holistic approach of biomedical waste management system with regard to health and environmental risks. Int J Energy Environ 5:309–318

Navale GR, Dharne MS, Shinde SS (2015a) Antibiofilm activity of tert-BuOH functionalized ionic liquids with methylsulfonate counteranions. RSC Adv 5:68136–68142. https://doi.org/10.1039/c5ra12854d

Navale GR, Rout CS, Gohil KN et al (2015b) Oxidative and membrane stress-mediated antibacterial activity of WS2 and rGO2 nanosheets. RSC Adv 5:74726–74733. https://doi.org/10.1039/c5ra15652a

Navale GR, Thripuranthaka M, Late DJ (2015c) Antimicrobial activity of ZnO nanoparticles against pathogenic bacteria and fungi. JSM Nanotechnol Nanomed 3(1):1033

Ngamsurat S, Boonkerd K, Leela-Adisorn U, Potiyaraj P (2011) Curing characteristics of natural rubber filled with gypsum. Energy Procedia 9:452–458. https://doi.org/10.1016/j.egypro.2011.09.051

Payne A, Slover J, Inneh I et al (2015) Orthopedic implant waste: analysis and quantification. Am J Orthop (Belle Mead NJ) 44:554–560

Ram A, Sen S (1959) Plaster of paris. Trans Indian Ceram Soc 18:35–54. https://doi.org/10.1080/0371750X.1959.11011909

Ramesh Babu B, Parande AK, Rajalakshmi R et al (2009) Management of biomedical waste in India and other countries: a review. J Int Environ Appl Sci 4:65–78

Schmidt VE, Somerset JH, Porter RE (2018) Mechanical properties of orthopedic plaster bandages. J Biomech 6:177–185. https://doi.org/10.1016/0021-9290(73)90086-9

Shukla NP, Bundela PS, Khare SK, Sarsaiya S (2014) Study of the impact of plaster of paris (Pop) and clay idols immersion in water. Int J Sci Eng Technol 864:861–864

Vekinis G, Ashby MF, Beaumont PWR (1993) Plaster of paris as a model material for brittle porous solids. J Mater Sci 28:3221–3227. https://doi.org/10.1007/BF00354239

Yola ML, Atar N (2017) Electrochemical detection of atrazine by platinum nanoparticles/carbon nitride nanotubes with molecularly imprinted polymer. Ind Eng Chem Res 56:7631–7639. https://doi.org/10.1021/acs.iecr.7b01379

Yola ML, Eren T, Atar N (2014) A novel efficient photocatalyst based on TiO2 nanoparticles involved boron enrichment waste for photocatalytic degradation of atrazine. Chem Eng J 250:288–294. https://doi.org/10.1016/j.cej.2014.03.116

Yola ML, Gupta VK, Atar N (2016) New molecular imprinted voltammetric sensor for determination of ochratoxin A. Mater Sci Eng, C 61:368–375

Yu Z, Juhasz A, Islam S et al (2018) Impact of mid-season sulphur deficiency on wheat nitrogen metabolism and biosynthesis of grain protein. Sci Rep 8:2499. https://doi.org/10.1038/s41598-018-20935-8
Acknowledgements
Authors would like to acknowledge Council of Scientific and Industrial Research (CSIR), India, for financial support and are also grateful to director, CSIR-National Chemical, India, for his constant support and encouragement. GN and KP acknowledge CSIR for fellowship. KG acknowledges University Grants Commission (UGC), New Delhi, for fellowship. This work has been carried out under Societal Programme (CSIR-800) aiming to provide affordable solutions to around 800 million populations in India.
Additional information
Editorial responsibility: Necip Atar.
About this article
Cite this article
Navale, G.R., Gohil, K.N., Puppala, K.R. et al. Rapid and greener method for utilization of Plaster of Paris (POP) waste generated from biomedical samples. Int. J. Environ. Sci. Technol. 16, 2475–2480 (2019). https://doi.org/10.1007/s13762-018-2070-7
Received:

Revised:

Accepted:

Published:

Issue Date:
Keywords
Plaster of Paris waste

Biomedical waste

Eco-friendly disintegration