Abstract
Blasting operation is the main unit of ore production in open-pit mining cycle. Detonation energy is mostly released as ground vibration using Rayleigh waves that extensively damage nearby infrastructures within or outside of a mining area. This work introduces a new hybrid approach based on the integration of fuzzy failure mode and effects analysis with the fuzzy slack-based measure model form of data envelopment analysis; this approach prioritizes and analyzes ground vibration risks on open-pit infrastructures. The approach uses a special risk prioritization algorithm by failure mode and effects analysis and data envelopment analysis under fuzzy conditions. In the fuzzy slack-based measure part of the approach, α-level cut method is used to prepare the necessary data. An open-pit copper mine is exemplified to present the approach in detail and analyze ground vibration risk. Potential failure modes, consist of infrastructures and blasting sources, are specified on the map on the mine area. Results indicate that blasting at the point of 3 imposes the highest ground vibration risk on the industrial site located within the final pit limits. The failure modes of water treatment site, crusher, gas station, explosive storage, switchgear, thickener site, power station, and processing plant have other priorities.
Access options
Buy single article
Instant access to the full article PDF.
USD 39.95
Price excludes VAT (USA)
Tax calculation will be finalised during checkout.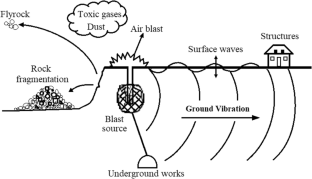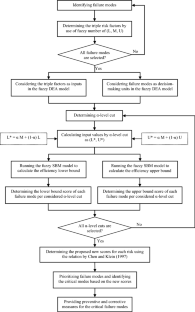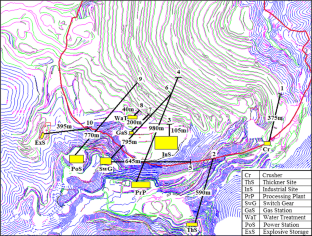 References
Abdollahisharif J, Bakhtavar E, Nourizadeh H (2016) Green biocompatible approach to reduce the toxic gases and dust caused by the blasting in surface mining. Environ Earth Sci 75:91–102

Avellan K, Belopotocanova E, Puurunen M (2017) Measuring, monitoring and prediction of vibration effects in rock masses in near-structure blasting. Symp Int Soc Rock Mech Proc Eng 191:504–511

Baghery M, Yousefi S, Rezaee MJ (2016) Risk measurement and prioritization of auto parts manufacturing processes based on process failure analysis, interval data envelopment analysis and grey relational analysis. J Intell Manuf. https://doi.org/10.1007/s10845-016-1214-1

Bakhtavar E, Shahriar K, Mirhasani A (2012) Optimization of transition from open-pit to underground in combined mining using (0–1) integer programming. J S Afr Inst Min Metall 112:1059–1064

Bakhtavar E, Khoshrou H, Badroddin M (2015) Using dimensional-regression analysis to predict the mean particle size of fragmentation by blasting at Sungun copper mine. Arab J Geosci 8:2111–2120

Bakhtavar E, Abdollahisharif J, Ahmadi M (2017a) Reduction of the undesirable bench-blasting consequences with emphasis on ground vibration using a developed multi-objective stochastic programming. Int J Min Reclam Environ 31(5):333–345

Bakhtavar E, Nourizadeh H, Sahebi AK (2017b) Toward predicting blast-induced flyrock: a hybrid dimensional analysis fuzzy inference system. Int J Environ Sci Technol 14(4):717–728

Behraftar S, Hossaini SMF, Bakhtavar E (2017) MRPN technique for assessment of working risks in underground coal mines. J Geol Soc India 90:196–200

Charnes A, Cooper WW, Rhodes E (1978) Measuring the efficiency of decision making units. Eur J Oper Res 2(6):429–444

Chen CB, Klein CM (1997) A simple approach to ranking a group of aggregated fuzzy utilities. IEEE Trans Syst Man Cybern B 27(1):26–35

Chen YC, Chiu YH, Huang CW, Tu CH (2013) The analysis of bank business performance and market risk-applying fuzzy DEA. Econ Modell 32:225–232

Dogan O, Anil Ö, Akbas SO, Kantar E, Erdem RT (2013) Evaluation of blast-induced ground vibration effects in a new residential zone. Soil Dyn Earthq Eng 50:168–181

Elevli B, Arpaz E (2010) Evaluation of parameters affected on the blast induced ground vibration (BIGV) by using relation diagram method (RDM). Acta Montan Slovaca 15(4):261–268

Gad EF, Wilson JL, Moore AJ, Richards AB (2005) Effects of mine blasting on residential structures. J Perform Constr Facil 19(3):222–228

Görgülü K, Arpaz E, Demirci A, Koçaslan A, Dilmaç MK, Yüksek AG (2013) Investigation of blast-induced ground vibrations in the Tülü boron open pit mine. Bull Eng Geol Environ 72(3–4):555–564

Jimeno CL, Jimeno EL, Carcedo FJA (1995) Drilling and blasting of rocks. Balkema, Rotterdam

Jordan JW, Sutcliffe DJ, Mullard JA (2009) Blast vibration effects on historical buildings. Aust J Struct Eng 10(1):75–84

Kabwe E, Wang Y (2016) Airblast and ground vibration monitoring at Chimiwungo pit. Geomaterials 6:28–38

Karadogan A, Kahriman A, Ozer U (2014) A new damage criteria norm for blast-induced ground vibrations in Turkey. Arab J Geosci 7:1617–1626

Koçaslan A, Yüksek AG, Görgülü K, Arpaz E (2017) Evaluation of blast-induced ground vibrations in open-pit mines by using adaptive neuro-fuzzy inference systems. Environ Earth Sci 76:57–68

Liu HC, Liu L, Liu N (2013) Risk evaluation approaches in failure mode and effects analysis: a literature review. Expert Syst Appl 40(2):828–838

Lovell CK, Pastor JT (1999) Radial DEA models without inputs or without outputs. Eur J Oper Res 118(1):46–51

Ozer U, Kahriman A, Aksoy M, Adiguzel D, Karadogan A (2008) The analysis of ground vibrations induced by bench blasting at Akyol quarry and practical blasting charts. Environ Geol 54(4):737–743

Rezaee MJ, Yousefi S, Valipour M, Dehdar MM (2018) Risk analysis of sequential processes in food industry integrating Multi-stage fuzzy cognitive map and process failure mode and effects analysis. Comput Ind Eng 123:325–337

Richards AB, Moore AJ (2007) Effects of blasting on infrastructure. In: EXPLO conference, Wollongong, New South Wales

Segarra P, Domingo JF, López LM, Sanchidrián JA, Ortega MF (2010) Prediction of near field overpressure from quarry blasting. Appl Acoust 71(12):1169–1176

Tone K (2001) A slacks-based measure of efficiency in DEA. Eur J Oper Res 130(3):498–509

Wang YM, Chin KS, Poon GKK, Yang JB (2009) Risk evaluation in failure mode and effects analysis using fuzzy weighted geometric mean. Expert Syst Appl 36(2):1195–1207

Yousefi S, Alizadeh A, Hayati J, Baghery M (2018) HSE risk prioritization using robust DEA-FMEA approach with undesirable outputs: a study of automotive parts industry in Iran. Saf Sci 102:144–158

Yugo N, Shin W (2015) Analysis of blasting damage in adjacent mining excavations. J Rock Mech Geotech Eng 7(3):282–290

Zhang Z, Chu X (2011) Risk prioritization in event mode and effects analysis under uncertainty. Expert Syst Appl 38(1):206–214

Zimmermann HJ (1975) Description and optimization of fuzzy system. Int J Gen Syst 2(1):209–215
Acknowledgements
The authors would like to thank the Urmia University of Technology for providing suitable support. We would also like to the experts at Sungun copper mine gave us their valuable ideas.
Additional information
Editorial responsibility: M. Abbaspour.
About this article
Cite this article
Bakhtavar, E., Yousefi, S. Analysis of ground vibration risk on mine infrastructures: integrating fuzzy slack-based measure model and failure effects analysis. Int. J. Environ. Sci. Technol. 16, 6065–6076 (2019). https://doi.org/10.1007/s13762-018-2008-0
Received:

Revised:

Accepted:

Published:

Issue Date:

DOI: https://doi.org/10.1007/s13762-018-2008-0
Keywords
Blast-induced ground vibration

Fuzzy data envelopment analysis

Fuzzy failure mode and effects analysis

Risk analysis

Slack-based measure model