Abstract
The interaction between the Cu(II) ions and heterocyclic herbicides (triazines and imidazolinones) is studied by electrochemical and spectrophotometric measurements in relation to the environmental consequences of this interaction. The formation of very stable complexes between the herbicides and the metal ions is assessed. Due to the occurrence of acid–base reactions, the stability constants of the complexes were obtained at three pH values for the imidazolinone herbicides and at only in neutral media for triazine herbicides. Imidazolinones form 1:1 complexes in strongly acidic media and 1:2 complexes (one copper ion and two herbicide molecules) in the rest of pH values studied. Triazine herbicides form 1:2 complexes. The complexes formed in the pH range 5–10 (that is, the pH of most soils) are more stable for triazines than for imidazolinones, though in both cases this complex formation increases the low solubilities of the herbicides in water. This can lead to a decrease in the persistence of the herbicides and an increase in the ability of both the herbicides and the Cu(II) ions to reach groundwater and, consequently, to unwanted areas of crops.
Access options
Buy single article
Instant access to the full article PDF.
USD 39.95
Price excludes VAT (USA)
Tax calculation will be finalised during checkout.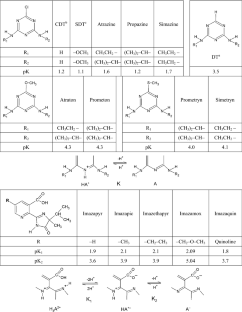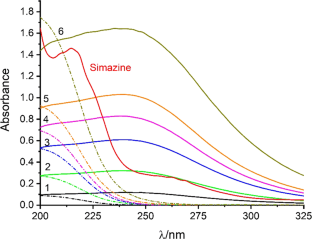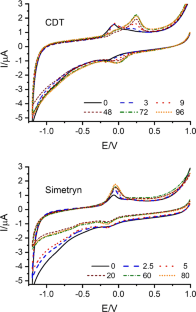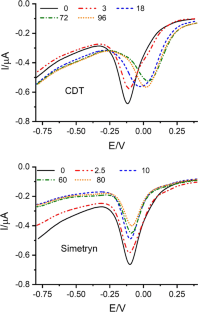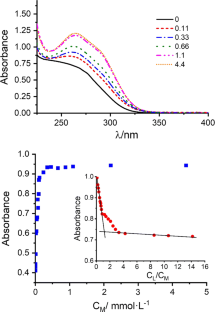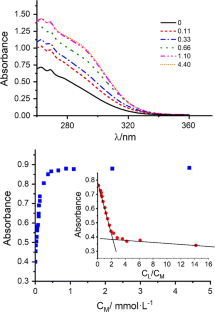 References
Accinelli C, Mallegni R, Vicari A (2003) Herbicide losses in subsurface drainage water from a wheat field. Ital J Agron 7:33–40 and references cited therein

Arias-Estévez M, López Periago E, Martínez-Carballo E, Simal-Gándara J, Mejuto JC, García-Río L (2008) The mobility and degradation of pesticides in soils and the pollution of groundwater resources. Agric Ecosyst Environ 123:247–260

Bard AJ, Faulkner LR (2001) Electrochemical methods: fundamentals and applications, 2nd edn. Wiley, New York

Chibuike GU, Obiora SC (2014) Heavy metal polluted soils: effect on plants and bioremediation methods. Appl Environ Soil Sci 2014:12

Decock P, Dubois B, Lerivrey J (1985) Cu(II) binding by substituted 1,3,5 triazine herbicides. Inorg Chim Acta 107:63–66

Duda AM, Dyba M, Kozlowski M, Micera G, Pusino A (1996) Copper(II) complexes of the imidazolinone herbicide imazapyr. J Agric Food Chem 44:3698–3702

Erre LS, Garribba E, Micera G, Pusino A, Sanna D (1997) Copper(II) complexes of imidazolinone herbicides. Inorg Chim Acta 255:215–220

Erre LS, Garribba E, Micera G, Sardone N (1998) Metal complexes of imazapyr, a herbicide with efficient metal-chelating ability: crystal structure of the Cobalt(III) and Manganese (II) complexes. Inorg Chim Acta 272:68–73

Galvín RM, Angulo M Rodríguez, Mellado JM (1997) Calculation of the formation constant of the 1:1 complex between Mn(II) and the anion of 2-mercaptopyridine N-oxide (Pyrithione) by polarographic measurements. Electroanalysis 9:653–654

Ghanem M, Samhan S, Carlier E, Ali W (2011) Groundwater pollution due to pesticides and heavy metals in North West Bank. J Environ Prot 2:429–434

Higuera MJ, Ruiz Montoya M, Marin Galvin R, Rodríguez Mellado JM (1999) A contribution to the study of the electroreduction of 2-chloro-4,6-di(ethylamino)-1,3,5-triazine (simazine) on mercury electrodes. J Electroanal Chem 474:174–181

Hinojosa MB, Carreira JA, García-Ruíz R, Dick RP (2004) Soil moisture pre-treatment effects on enzyme activities as indicators of heavy metal-contaminated and reclaimed soils. Soil Biol Biochem 36:1559–1568

Kaur S, Kumar V, Chawla M, Cavallo L, Poater A, Upadhyay N (2017) Pesticides curbing soil fertility: effect of complexation of free metal ions. Front Chem 5:43

Kumar V, Singh S, Singh J, Upadhyay N (2015a) Potential of plant growth promoting traits by bacteria isolated from heavy metal contaminated soils. Bull Environ Contam Toxicol 94:807–814

Kumar V, Kumar V, Upadhyay N, Sharma S (2015b) Interactions of atrazine with transition metal ions n aqueous media: experimental and computational approach. 3 Biotech 5:791–798

Lema E, Machunda R, Njau KN (2014) Agrochemicals use in horticulture industry in Tanzania and their potential impact to water resources. Int J Biol Chem Sci 8(2):831–842

Lyapchenko N, Eitner K, Schroeder G, Brzezinski B (2004) The complexes of some s-triazine herbicides with metal cations studied by ESI mass spectrometry and theoretical calculations. J Mol Struct 690:45–51

Motuzova GV, Minkina MT, Karpova EA, Barsova NU, Mandzhiev SS (2014) Soil contamination with heavy metals as a potential and real risk to the environment. J Geochem Explor 144:241–246

Obrador A, Gonzalez D, Alvarez JM (2013) Effect of inorganic and organic copper fertilizers on copper nutrition in Spinacia oleracea and on labile copper in soil. J Agric Food Chem 61:4692–4701

Ortiz R, Higuera MJ, Marin Galvin R, Rodríguez Mellado JM (2001) The role of chemical reactions placed between successive electron transfer in the reduction of 2-methylthio-4,6-dialkylamino-1,3,5-triazines on mercury electrodes. J Electrochem Soc 148:E419–E426

Perez R, Marin Galvin R, Rodríguez Mellado JM (2002) Ultraviolet absorption spectra and dissociation constants of diamino-1,3,5-triazines. Collect Czechoslov Chem Commun 67:428–437

Perez R, Galvin RM, Mellado JR, Montoya MR (2003) On the electroreduction mechanism of 2-chloro-4,6-diamino-1,3,5-triazine on mercury electrodes. J Electrochem Soc 150:E389–E395

Pintado S, Ruiz Montoya M, Rodríguez Mellado JM (2011) Imidazolinone herbicides in strongly acidic media: speciation and electroreduction. C R Chim 14:957–962

Pintado S, Ruiz Montoya M, Rodríguez-Amaro R, Mayén M (2012) Electrochemical determination of glyphosate in waters using electrogenerated copper ions. Int J Electrochem Sci 7:2523–2530

Pose E, Rial-Otero R, Paradelo M, López-Periago E (2009) Influence of soil characteristics on copper sorption from a copper oxychloride fungicide. J Agric Food Chem 57:2843–2848

Ray SK, Varadachari C, Ghosh K (1997) Novel slow-releasing micronutrient fertilizers. 2. Copper compounds. J Agric Food Chem 45:1447–1453

Singh S, Kumar V, Chauhan A, Datta S, Wani AB, Singh N, Singh J (2018) Toxicity, degradation and analysis of the herbicide atrazine. Environ Chem Lett 16:211–237

Tomlin C (ed) (1994) The pesticide manual. British Crop Protection Council, The Royal Society of Chemistry, London

Welp G, Brümmer GW (1999) Effects of organic pollutants on soil microbial activity: the influence of sorption, solubility, and speciation. Ecotoxicol Environ Saf 43:83–90

Wightwick AM, Mollah MR, Partington DL, Allinson G (2008) Copper fungicide residues in Australian vineyard soils. J Agric Food Chem 56:2457–2464
Acknowledgements
The authors wish to thank all who assisted in conducting this work.
Additional information
Editorial responsibility: Binbin Huang.
About this article
Cite this article
Moreno, M.T., Rodríguez-Amaro, R., Rodríguez Mellado, J.M. et al. Contribution to the study of the dynamics of heterocyclic nitrogenated herbicides in soils treated with copper salts. Int. J. Environ. Sci. Technol. 16, 3637–3644 (2019). https://doi.org/10.1007/s13762-018-1990-6
Received:

Revised:

Accepted:

Published:

Issue Date:

DOI: https://doi.org/10.1007/s13762-018-1990-6
Keywords
Copper complexes

Heavy metals pollution

Imidazolinone herbicides

Pyridine herbicides

Stability constants