Abstract
This study describes the emission factors (EFs) of 16 volatile organic compounds (VOCs) for the combustion of commonly used household solid fuels including coal balls (CB), fuelwood (FW), dung cakes (DC), crop residues (CR), and mixed fuels (MF: DC + FW), collected from ten states of India. Sum of 16 VOCs EF (g kg−1) have shown highest level (50.0 ± 22.7 g kg−1) for CB, followed by CR (23.71 ± 10.64 g kg−1), DC (19.08 ± 3.29 g kg−1), MF (15.77 ± 9.49 g kg−1), and FW (12.79 ± 5.69 g kg−1). These findings are multifold higher than those reported for biomass burning in test chamber studies. Benzene and dichloromethane EFs were found to be dominating among the aromatic and halogenated VOCs, respectively. Annual TVOCs emission estimates were evaluated to be 12.58 ± 5.92 Gg year−1 from household solid fuel burning practices. It was the 1/6th of TVOCs emission estimates (73 Gg year−1) from biomass burning in India during 2009.
Access options
Buy single article
Instant access to the full article PDF.
US$ 39.95
Tax calculation will be finalised during checkout.
Subscribe to journal
Immediate online access to all issues from 2019. Subscription will auto renew annually.
US$ 79
Tax calculation will be finalised during checkout.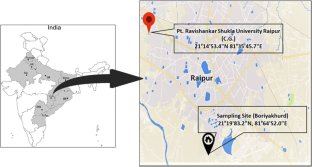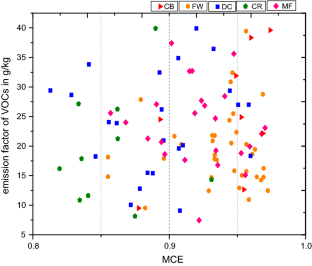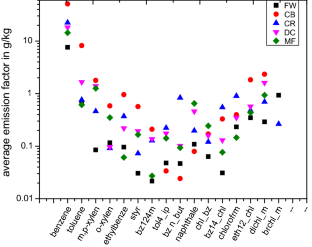 References
Akagi SK, Yokelson RJ, Wiedinmyer C, Alvarado MJ, Reid JS, Karl T, Crounse JD, Wennberg PO (2011) Emission factors for open and domestic biomass burning for use in atmospheric models. Atmos Chem Phys 11:4039–4072

Andreae MO, Merlet P (2001) Emission of trace gases and aerosols from biomass burning. Global Biogeochem Cycles 15:955–966

Badarinath KVS, Kharol SK, Chand TRK (2007) Use of satellite data to study the impact of forest fires over the northeast region of India. Geosci Remote Sens Lett 4:485–489

Brocard D, Lacaux C, Lacaux JP, Kouadio G, Yoboue V (1996) Emissions from the combustion of biofuels in western Africa. In: Levine JS (ed) Biomass burning and global change. MIT Press, Cambridge, pp 350–360

Brown SG, Frankel A, Hafner HR (2007) Source apportionment of VOCs in the Los Angeles area using positive matrix factorization. Atmos Environ 41:227–237

Calvert JG, Atkinson R, Becker KH, Kamens RM, Seinfeld JH, Wallington TJ, Yarwood G (2002) The mechanisms of atmospheric oxidation of aromatic hydrocarbons. Oxford University Press, New York, ISBN:0-19-514628-X

Census of India (2011) Analytical report on houses, household amenities and assets, Census 2011 data, chap 5. Office of Registrar General and Census Commissioner, Government of India, pp 332–334. http://www.censusindia.gov.in

Chen LWA, Moosmüller H, Arnott WP, Chow JC, Watson JG, Susott RA, Babbitt RE, Wold CE, Lincoln EN, Hao WM (2007) Emissions from laboratory combustion of wildland fuels: emission factors and source profiles. Environ Sci Technol 41:4317–4325

Chen J, Ristovski LC, Milic AZ, Gu Y, Islam MS, Wang S, Hao J, Zhang H, He C, Guo H, Fu H, Miljevic B, Morawska L, Thai P, Lam YF, Pereira G, Ding A, Huang X, Dumka UC (2016) A review of biomass burning: emissions and impacts on air quality, health and climate in China. Sci Total Environ 579:1000–1034

Ciccioli P, Brancaleoni E, Frattoni M, Cecinato A, Pinciarelli L (2001) Determination of volatile organic compound (VOC) emitted from biomass burning of Mediterranean vegetation species by GC-MS. Anal Lett 34:937–955

David CP, Domenico T, Andrea P (2015) Global simulation of aromatic volatile organic compounds in the atmosphere. EGU General Assembly 2015, held 12–17 April, 2015 in Vienna, Austria, id.10018

Dewangan S, Chakrabarty R, Zielinska B, Pervez S (2013) Emission of volatile organic compounds from religious and ritual activities in India. Environ Monit Assess 185:9279–9286

Dhammapala R, Claiborn C, Corkill J, Gullett B (2006) Particulate Emissions from wheat and Kentucky bluegrass stubble burning in eastern Washington and Northern Idaho. Atmos Environ 40:1007–1015

Dhammapala R, Claiborn C, Jimenez J, Corkill J, Gullett B, Simpson C, Paulsen M (2007a) Emission factors of PAHs, methoxyphenols, levoglucosan, elemental carbon and organic carbon from simulated wheat and Kentucky bluegrass stubble burns. Atmos Environ 41:2660–2669

Dhammapala R, Claiborn C, Simpson C, Jimenez J (2007b) Emission factors from wheat and Kentucky Bluegrass stubble burning: comparison of field and simulated burn experiments. Atmos Environ 41:1512–1520

Fullerton DG, Bruce N, Gordon SB (2008) Indoor air pollution from biomass fuel smoke is a major health concern in the developing world. Trans R Soc Trop Med Hyg 102:843–851

Gaur A, Tripathi SN, Kanawade VP, Tare V, Shukla SP (2014) Four-year measurements of trace gases (SO2, NOx, CO, and O3) at an urban location, Kanpur, in Northern India. J Atmos Chem 71:283–301

Gilbert RO (1987) Statistical methods for environmental pollution monitoring. Wiley, New York

Guevara M (2016) Emissions of primary particulate matter. In: Airborne particulate matter: sources, atmospheric processes and health. Book Series: Issues in Environmental Science and Technology, pp 1–34 https://doi.org/10.1039/9781782626589-00001, eISBN:978-1-78262-658-9

Gullett B, Touati A (2003) PCDD/F emissions from burning wheat and rice field residue. Atmos Environ 37:4893–4899

Hao WM, Babbitt RE (2007) Smoke production from residual combustion. Final report 98-1-9-01. Joint Fire Science Program, pp 25

Haq MS, Haq MN (2006) Studies on the effect of urine on biogas production Bangladesh. J Sci Ind Res 41:23–32

Jia C, Batterman S (2010) A critical review of naphthalene sources and exposures relevant to indoor and outdoor air. Int J Environ Res Pub Health 7:2903–2939

Kaur G, Brar YS, Kothari DP (2017) Potential of livestock generated biomass: untapped energy source in India. Energies 10(7):847

Kim KH, Jahan SA, Kabir E (2011) A review of diseases associated with household air pollution due to the use of biomass fuels. J Hazard Mater 192:425–431

Koppmann R, Czapiewsk KV, Reid JS (2005) A review of biomass burning emissions, part I: gaseous emissions of carbonmonoxide, methane, volatile organic compounds, and nitrogen containing compounds. Atmos Chem Phys Discuss 5:10455–10516

Kroll JH, Seinfeld JH (2008) Chemistry of secondary organic aerosol: formation and evolution of low-volatility organics in the atmosphere. Atmos Environ 42:3593–3624

Kudo S, Tanimoto H, Inomata S, Saito S, Pan X, Kanaya Y, Taketani F, Wang Z, Chen H, Dong H, Zhang M, Yamaji K (2014) Emissions of nonmethane volatile organic compounds from open crop residue burning in the Yangtze River Delta region, China. J Geophys Res Atmos 119:7684–7698

Laumbach RJ, Kipen HM (2012) Respiratory health effects of air pollution: update on biomass smoke and traffic pollution. J Allergy Clin Immunol 129:3–11

Majumdar D, Mukherjee AK, Mukhopadhaya K, Sen S (2012) Variability of BTEX in residential indoor air of Kolkata Metropolitan City. Indoor Built Environ 21:374–380

Majumdar D, Ray S, Chakraborty S, Rao PS, Akolkar AB, Chowdhury M, Srivastava A (2014) Emission, speciation, and evaluation of impacts of non-methane volatile organic compounds from open dump site. J Air Waste Manag Assoc 64:834–845

Miles PETR, Miles TR Jr, Baxter LL, Bryers RW, Oden LL Alkali (1995) Alkali deposits found in biomass power plants, summary report. National Renewable Energy Laboratory, Golden, p 82

Moosmuller H, Mazzoleni C, Barber PW, Kuhns HD, Keislar RE, Watson JG (2003) On-road measurement of automotive particle emissions by ultraviolet lidar and transmissometer: Instrument. Environ Sci Technol 37:4971–4978

NTP (2000) Toxicology and carcinogenesis studies of naphthalene (CAS No. 91-20-3) in F344/N Rats (Inhalation Studies). Technical report series no 500; National Toxicology Program: Research Triangle Park, NC, USA, pp 1–173

Pandey K, Sahu LK (2014) Emissions of volatile organic compounds from biomass burning sources and their ozone formation potential over India. Curr Sci 106:1270–1279

Ragland KW, Aerts DJ, Baker AJ (1991) Properties of wood for combustion analysis. Bioresour Technol 37:161–168

Reddy MS, Venkataraman C (2002) Inventory of aerosol and sulphur dioxide emissions from India. Part I-biomass combustion. Atmos Environ 36:699–712

Rehman H, Ahmed T, Praveen PS, Kar A, Ramanathan V (2011) Black carbon emissions from biomass and fossil fuels in rural India. Atmos Chem Phys 11:7289–7299

Sandberg DV, Ottmar RD, Peterson JL (2002) Wildland fire in ecosystems: effects of fire on air. RMRS-GTR-42, vol 5. http://treesearch.fs.fed.us/pubs/5247

Saxena M, Sharma SK, Tomar N, Ghayas H, Sen A, Garhwal RS, Gupta NC, Mandal TK (2016) Residential biomass burning emissions over Northwestern Himalayan Region of India: chemical characterization and budget estimation. Aerosol Air Qual Res 16:504–518

Shirai T, Blake DR, Meinardi S, Rowland FS, Smith JR, Edwards A, Kondo Y, Koike M, Kita K, Machida T, Takegawa N, Nishi N, Kawakami S, Ogawa T (2003) Emission estimates of selected volatile organic compounds from tropical savanna burning in northern Australia. J Geophys Res 108(D3):8406

Srivastava A (2004) Source apportionment of ambient VOCS in Mumbai city. Atmos Environ 38:6829–6843

Srivastava A, Som D (2007) Hazardous air pollutants in industrial area of Mumbai—India. Chemosphere 69:458–468

Srivastavaa A, Gupta S, Dutta SA (2005) Source apportionment of ambient VOCs in Delhi City. Sci Total Environ 343:207–220

Steiner AH, Goldstein AL (2007) Biogenic VOCs. In: Koppmann R (ed) Volatile organic compounds in the atmosphere. Blackwell Publication, Oxford

Tian J, Judith C, Chow JC, Cao J, Han Y, Ni H, Chen LWA, Wang X, Huang R, Moosmüller H, Watson JG (2015) A biomass combustion chamber: design, evaluation, and a case study of wheat straw combustion emission tests. Aerosol Air Qual Res 15:2104–2114

U.S.E.I.A. (2016) Statistics, IEA energy Atlas-Country analysis brief: India. http://www.ieee.es/Galerias/fichero/OtrasPublicaciones/Internacional/2016/EIA_Country_Analysis_Brief_India_14jun2016.pdf

USEPA (2003) Fourth external review draft of air quality criteria for particulate matter. Report no. EPA/400/3-91/003AD. United States Environmental protection Agency, Research Triangle Park, Washimgton D.C.

Wang H, Chen C (2015) Experimental study on greenhouse gas emissions caused by spontaneous coal combustion. Energy Fuels 29:5213–5221

Watson JG, Chow JC, Wang XL, Kohl SD, Chen LWA, Etyemezian V (2012) Overview of real-world emission characterization methods. In: Percy KE (ed) Alberta oil sands: energy, industry, and the environment. Elsevier Press, Amsterdam, pp 145–170

Weber RJ, Sullivan AP, Peltier RE, Russell A, Yan B, Zheng M, Gouw JD, Warneke C, Brock C, Holloway JS, Atlas EL, Edgerton E (2007) A study of secondary organic aerosol formation in the anthropogenic-influenced southeastern United States. J Geophys Res 112:D13302. https://doi.org/10.1029/2007jd008408

Zhang J, Smith KR (2007) Household air pollution from coal and biomass fuels in China: measurements, health impacts, and interventions. Environ Health Perspect 115:848–855

Zhang H, Ye X, Cheng T, Chen J, Yang X, Wang L, Zhang R (2008) A laboratory study of agricultural crop residue combustion in China: emission factors and emission inventory. Atmos Environ 42:8432–8441
Acknowledgements
This study is supported by DST Project proposal (EMR/2015/000928) and partially supported by DST FIST program (SR/FST/CSI-259/2014 (c)) and UGC-SAP-DRS-II program (F-540/7/DRS-II/2016 (SAP-I)). One of the authors (MV) is grateful to Pt Ravishankar Shukla University for providing university fellowship (No./1732/10/Sch./2017) and laboratory facilities. Authors (SP and MV) are also grateful to CSIR-NEERI, Kolkata, for providing instrumentation facilities.
Additional information
Editorial responsibility: M. Abbaspour.
About this article
Cite this article
Verma, M., Pervez, S., Majumdar, D. et al. Emission estimation of aromatic and halogenated VOCs from household solid fuel burning practices. Int. J. Environ. Sci. Technol. 16, 2683–2692 (2019). https://doi.org/10.1007/s13762-018-1920-7
Received:

Revised:

Accepted:

Published:

Issue Date:
Keywords
Emission factor

Volatile organic compounds

Household solid fuels