Abstract
Air pollutants generated by indoor and outdoor sources adversely affect indoor air quality in many microenvironments. Exposure to indoor air pollutants such as hazardous volatile organic compounds (VOCs), particulate matter with diameters less than 2.5 μm (PM2.5) and 1 μm (PM1), and oxocarbons (e.g. CO and CO2) is of great concern to policy makers and environmental authorities due to their adverse impact on public health. Indoor air pollution from smoking tobacco using a waterpipe has been a worldwide public health challenge due to its toxic, carcinogenic and cardiovascular effects. This study investigates the release of PM2.5, PM1, CO2, CO and 72 VOCs to assess the indoor air quality during waterpipe tobacco smoking in a controlled microenvironment and a public café. Particulate matters, CO and CO2 were measured using an OSIRIS instrument, a 3M EVM-7, and a CO2 meter, respectively. The VOCs were sampled using pre-evacuated silicon-coated stainless-steel canisters with a 6-l capacity and analysed by an Agilent gas chromatograph with an Entech cryogen system following the US EPA Compendium Method (TO15). All measured pollutants in the controlled microenvironment showed increasing concentrations during the waterpipe smoking session with PM2.5, PM1, CO2 and total VOC contents reaching 31.4, 26.6, 142 and 38.4%, respectively, above their respective background concentrations. CO showed a build-up rate of 0.6 mg m−3 min−1 in the controlled microenvironment, reaching 16 mg m−3 at the end of the session. In the public waterpipe café, the maximum hourly concentrations of PM1, PM2.5, CO and CO2 reached 27 μg m−3, 92 μg m−3, 49.5 mg m−3 and 3244 mg m−3, respectively. These optimum values corresponded to the number of smokers present at the café late at night. Overall, the public waterpipe café had a higher concentration of pollutants compared with the controlled microenvironment due to the number of waterpipes used in the café. These results will provide exciting insight into waterpipe emissions in real-world settings.
Access options
Buy single article
Instant access to the full article PDF.
USD 39.95
Price excludes VAT (USA)
Tax calculation will be finalised during checkout.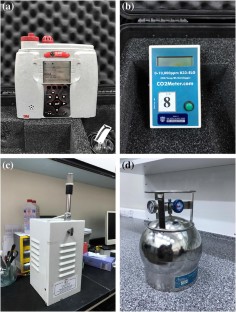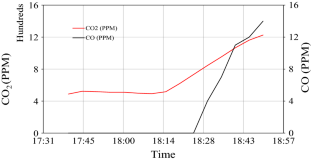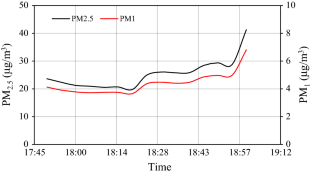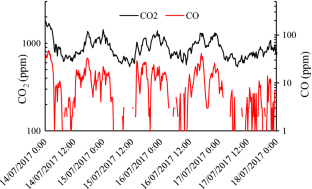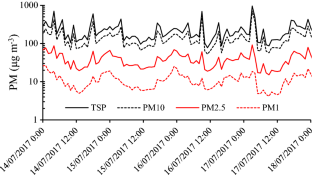 References
Alam SE, Alam S (1998) Prevalence and pattern of smoking in Pakistan. J Pak Med Assoc 48:64–66

Al-Dabbous AN, Kumar P (2014) Number and size distribution of airborne nanoparticles during summertime in Kuwait: first observations from the Middle East. Environ Sci Technol 48:13634–13643

Aljarrah K, Ababneh ZQ, Al-Delaimy WK (2009) Perceptions of hookah smoking harmfulness: predictors and characteristics among current hookah users. Tob Induc Dis 5:1

Anderson JO, Thundiyil JG, Stolbach A (2012) Clearing the air: a review of the effects of particulate matter air pollution on human health. J Med Toxicol 8:166–175

Barnett TE, Curbow BA, Soule EK, Tomar SL, Thombs DL (2011) Carbon monoxide levels among patrons of hookah cafes. Am J Prev Med 40:324–328

Behbehani NN, Hamadeh RR, Macklai NS (2004) Knowledge of and attitudes towards tobacco control among smoking and non-smoking physicians in 2 Gulf Arab states. Saudi Med J 25:585–591

Bou Fakhreddine HM, Kanj AN, Kanj NA (2014) The growing epidemic of water pipe smoking: health effects and future needs. Respir Med 108:1241–1253

Chaouachi K (2007) The medical consequences of narghile (hookah, shisha) use in the world. Rev Epidemiol Sante Publique 55:165–170

Chattopadhyay A (2000) Emperor Akbar as a healer and his eminent physicians. Bull Indian Inst Hist Med 30:151–157

Daher N, Saleh R, Jaroudi E, Sheheitli H, Badr T, Sepetdjian E, Al Rashidi M, Saliba N, Shihadeh A (2010) Comparison of carcinogen, carbon monoxide, and ultrafine particle emissions from narghile waterpipe and cigarette smoking: Sidestream smoke measurements and assessment of second-hand smoke emission factors. Atmos Environ 44:8–14

Fromme H, Schober W (2015) Waterpipes and e-cigarettes: impact of alternative smoking techniques on indoor air quality and health. Atmos Environ 106:429–441

Fromme H, Dietrich S, Heitmann D, Dressel H, Diemer J, Schulz T, Jörres RA, Berlin K, Völkel W (2009) Indoor air contamination during a waterpipe (narghile) smoking session. Food Chem Toxicol 47:1636–1641

Gall ET, Cheung T, Luhung I, Schiavon S, Nazaroff WW (2016) Real-time monitoring of personal exposures to carbon dioxide. Build Environ 104:59–67

Guo H, Lee SC, Chan LY, Li WM (2004) Risk assessment of exposure to volatile organic compounds in different indoor environments. Environ Res 94:57–66

Gurung G, Bradley J, Delgado-Saborit JM (2016) Effects of shisha smoking on carbon monoxide and PM 2.5 concentrations in the indoor and outdoor microenvironment of shisha premises. Sci Total Environ 548:340–346

Hadidi KA, Mohammed FI (2004) Nicotine content in tobacco used in hubble-bubble smoking. Saudi Med J 25:912–917

Helen GS, Benowitz NL, Dains KM, Havel C, Peng M, Jacob P (2014) Nicotine and carcinogen exposure after water pipe smoking in hookah bars. Cancer Epidemiol Biomark Prev 23:1055–1066

Knishkowy B, Amitai Y (2005) Water-pipe (narghile) smoking: an emerging health risk behavior. Pediatrics 116:e113–e119

Laumbach RJ, Kipen HM (2012) Respiratory health effects of air pollution: update on biomass smoke and traffic pollution. J Allergy Clin Immunol 129:3–11

Loffredo C, Tang Y, Momen M, Makambi K, Radwan G, Aboul-Foutoh A (2016) PM2. 5 as a marker of exposure to tobacco smoke and other sources of particulate matter in Cairo, Egypt. Int J Tuberc Lung Dis 20:417–422

Macedo A, Magalhães O, Brito A, Mayan O (2013) Characterization of indoor environmental quality in primary schools in Maia: a Portuguese case study. Hum Ecol Risk Assess Int J 19:126–136

Mathers CD, Loncar D (2006) Projections of global mortality and burden of disease from 2002 to 2030. PLoS Med 3:e442

Maziak W, Ward K, Soweid RA, Eissenberg T (2004) Tobacco smoking using a waterpipe: a re-emerging strain in a global epidemic. Tob Control 13:327–333

Moh'd Al-Mulla A, Abdou Helmy S, Al-Lawati J, Al Nasser S, Ali Abdel Rahman S, Almutawa A, Abi Saab B, Al-Bedah AM, Al-Rabeah AM, Ali Bahaj A (2008) Prevalence of Tobacco use among students aged 13–15 years in health ministers' Council/Gulf Cooperation Council Member States, 2001–2004. J Sch Health 78:337–343

Nakkash R, Khalil J (2010) Health warning labelling practices on narghile (shisha, hookah) waterpipe tobacco products and related accessories. Tob Control 19:235–239

Noonan D (2010) Exemptions for hookah bars in clean indoor air legislation: a public health concern. Public Health Nurs 27:49–53

Öberg M, Jaakkola MS, Woodward A, Peruga A, Prüss-Ustün A (2011) Worldwide burden of disease from exposure to second-hand smoke: a retrospective analysis of data from 192 countries. The Lancet 377:139–146

Pärna K, Usin J, Ringmets I (2008) Cigarette and waterpipe smoking among adolescents in Estonia: HBSC survey results, 1994–2006. BMC Public Health 8:1

Peavy HSR, Tchobanoglous DR (1985) Environmental engineering. McGraw-Hill, New York, United States

Steinle S, Reis S, Sabel CE, Semple S, Twigg MM, Braban CF, Leeson SR, Heal MR, Harrison D, Lin C (2015) Personal exposure monitoring of PM 2.5 in indoor and outdoor microenvironments. Sci Total Environ 508:383–394

Torrey CM, Moon KA, D'ann LW, Green T, Cohen JE, Navas-Acien A, Breysse PN (2015) Waterpipe cafes in Baltimore, Maryland: carbon monoxide, particulate matter, and nicotine exposure. J Expo Sci Environ Epidemiol 25:405–410

Varma DR, Mulay S, Chemtob S (2015) Carbon monoxide: from public health risk to painless killer. In: Gupta RC (ed) Handbook of toxicology of chemical warfare agents, 2nd edn, Chapter 21. Academic Press, Boston, pp 267–286

Waldén J, Hillamo R, Aurela M, Mäkelä T, Laurila S, Institutet M (2010) Demonstration of the equivalence of PM2. 5 and PM10 measurement methods in Helsinki 2007–2008. Studies No. 3, vol 3. Finnish Meterological Institute, Helsinki, pp 1–134

WHO (2005) Waterpipe tobacco smoking: health effects, research needs and recommended actions by regulators. World Health Organization, Geneva

Wojciech F, Anna F, Andreas S, Thomas S, Bettina Z, Clemens A, Ewa K, Hubert D, Alex P, Paolo L, Herbert J, Jakob T, Anton A (2014) Comparative analyses of volatile organic compounds (VOCs) from patients, tumors and transformed cell lines for the validation of lung cancer-derived breath markers. J Breath Res 8:027111

Zaidi S, Moin O, Khan J (2011) Second-hand smoke in indoor hospitality venues in Pakistan. Int J Tuberc Lung Dis 15:972–977
Acknowledgements
The authors greatly acknowledge the instrumentation and laboratory support received from the Kuwait Institute for Scientific Research.
Additional information
Editorial responsibility: Mohamed F. Yassin.
About this article
Cite this article
Al-Dabbous, A.N., Khan, A.R., Al-Tamimi, S.A. et al. Oxides of carbon, particulate matters and volatile organic compounds impact on indoor air quality during waterpipe smoking. Int. J. Environ. Sci. Technol. 16, 2849–2854 (2019). https://doi.org/10.1007/s13762-018-1870-0
Received:

Revised:

Accepted:

Published:

Issue Date:

DOI: https://doi.org/10.1007/s13762-018-1870-0
Keywords