Abstract
This work aims the study of two types of activated carbons, produced with hydrothermal treatment (BAC-H samples) and pyrolysis (BAC-P samples) using from banana peels as source. The activation was done with H3PO4 (at three different temperatures 400, 500, 600 °C) in order to examine the effect of this time differentiation. The samples prepared a brief characterization which was also presented observing the morphology of the carbon samples with SEM images and their specific surface area (BET analysis). The adsorption ability of the prepared activated carbons was extensively evaluated using as model pollutant nickel ions. Adsorption experiments were realized to evaluate the optimum solution pH (6). Detailed equilibrium analysis was done running three isotherm models for the fitting of equilibrium data (Langmuir, Freundlich and Langmuir–Freundlich equations). The equilibrium data were repeated similarly at four different temperatures (20, 30, 40, 50 °C) in order to result the respective thermodynamic evaluation of this system. Generally, the adsorption capacity of pyrolized carbons was higher than that of hydrothermal ones; this slight difference may be attributed to the different surface area (slightly higher of pyrolized 415–488 m2/g than of hydrothermal 315–320 m2/g). Furthermore, in the pyrolized carbons, the increase in temperature drastically improved (30%) the Qmax of BAC400-P from 229 (20 °C) to 299 (50 °C). Based on the fact that four different temperatures were examined in equilibrium, the respective thermodynamic analysis was done in order to export some very important parameters as enthalpy, entropy and free energy for the system (ΔH°, ΔG°, ΔS°).
This is a preview of subscription content,
to check access.
Access this article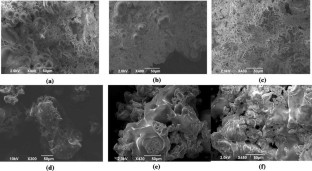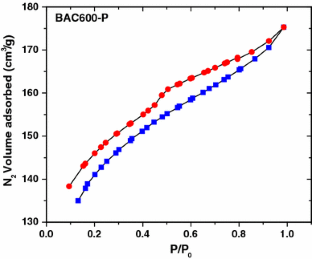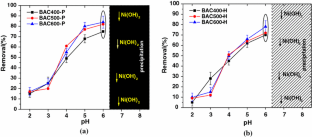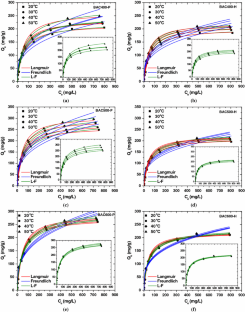 References
Abdulfatai J, Saka AA, Afolabi AS, Micheal O (2013) Development of adsorbent from banana peel for wastewater treatment. Appl Mech Mater 248:310–315

Anastopoulos I, Kyzas GZ (2014) Agricultural peels for dye adsorption: a review of recent literature. J Mol Liq 200:381–389

Annadurai G, Juang RS, Lee DJ (2003) Adsorption of heavy metals from water using banana and orange peels. Water Sci Technol 47:185–190

Anoop Krishnan K, Sreejalekshmi KG, Baiju RS (2011) Nickel(ii) adsorption onto biomass based activated carbon obtained from sugarcane bagasse pith. Bioresour Technol 102:10239–10247

A.O.A.C. (2012) Official methods of analysis of aoac international. 19th edn. AOAC International, Gaithersburg, MD

Ashraf A, Bibi I, Niazi NK, Ok YS, Murtaza G, Shahid M, Kunhikrishnan A, Li D, Mahmood T (2017) Chromium(vi) sorption efficiency of acid-activated banana peel over organo-montmorillonite in aqueous solutions. Int J Phytoremediation 19:605–613

Chan WH, Mazlee MN, Ahmad ZA, Ishak MAM, Shamsul JB (2017) The development of low cost adsorbents from clay and waste materials: a review. J Mater Cycles Waste Manag 19:1–14

Chen Y, Zhai S-R, Liu N, Song Y, An Q-D, Song X-W (2013) Dye removal of activated carbons prepared from NaOH-pretreated rice husks by low-temperature solution-processed carbonization and H3PO4 activation. Bioresour Technol 144:401–409

Cox HE, Pearson D (1962) The chemical analysis of foods, 7th edn. Chemical Publishing Company, London

Donia AM, Atia AA, Elwakeel KZ (2008) Selective separation of mercury(ii) using magnetic chitosan resin modified with schiff's base derived from thiourea and glutaraldehyde. J Hazard Mater 151:372–379

Erdoǧan S, Önal Y, Akmil-Başar C, Bilmez-Erdemoǧlu S, Sarici-Özdemir Ç, Köseoǧlu E, IçDuygu G (2005) Optimization of nickel adsorption from aqueous solution by using activated carbon prepared from waste apricot by chemical activation. Appl Surf Sci 252:1324–1331

Freundlich H (1906) Over the adsorption in solution. Z Phys Chem 57:385–470

Habineza A, Zhai J, Ntakirutimana T, Qiu FP, Li X, Wang Q (2017) Heavy metal removal from wastewaters by agricultural waste low-cost adsorbents: Hindrances of adsorption technology to the large scale industrial application—a review. Desalin Water Treat 78:192–214

Hasar H (2003) Adsorption of nickel(ii) from aqueous solution onto activated carbon prepared from almond husk. J Hazard Mater 97:49–57

Hashem FS, Amin MS (2016) Adsorption of methylene blue by activated carbon derived from various fruit peels. Desalin Water Treat 57:22573–22584

Ingole RS, Lataye DH, Dhorabe PT (2017) Adsorption of phenol onto banana peels activated carbon. KSCE J Civ Eng 21:100–110

Inyang MI, Gao B, Yao Y, Xue Y, Zimmerman A, Mosa A, Pullammanappallil P, Ok YS, Cao X (2016) A review of biochar as a low-cost adsorbent for aqueous heavy metal removal. Crit Rev Environ Sci Technol 46:406–433

Jiang Z, Zhu C, Wan W, Qian K, Xie J (2016) Constructing graphite-like carbon nitride modified hierarchical yolk-shell TiO2 spheres for water pollution treatment and hydrogen production. J Mater Chem A 4:1806–1818

Juan Y, Ke-qiang Q (2009) Preparation of activated carbon by chemical activation under vacuum. Environ Sci Technol 43:3385–3390

Kadirvelu K, Thamaraiselvi K, Namasivayam C (2001) Adsorption of nickel(ii) from aqueous solution onto activated carbon prepared from coirpith. Sep Purif Technol 24:497–505

Krishnan KA, Anirudhan TS (2008) Kinetic and equilibrium modelling of cobalt(ii) adsorption onto bagasse pith based sulphurised activated carbon. Chem Eng J 137:257–264

Kyzas GZ (2015a) Green adsorbents. Bentham Science Publishers, Sharjah

Kyzas GZ (2015b) Coffee wastes as adsorbents. In: Foster CN (ed) Agricultural wastes: characteristics, types and management. NOC, New York, pp 215–229

Kyzas GZ, Kostoglou M, Lazaridis NK (2009) Copper and chromium(vi) removal by chitosan derivatives-equilibrium and kinetic studies. Chem Eng J 152:440–448

Kyzas GZ, Deliyanni EA, Matis KA (2016) Activated carbons produced by pyrolysis of waste potato peels: cobaltions removal by adsorption. Colloids Surf A 490:74–83

Langmuir I (1918) The adsorption of gases on plane surfaces of glass, mica and platinum. J Am Chem Soc 40:1361–1403

Li Y, Liu J, Yuan Q, Tang H, Yu F, Lv X (2016) A green adsorbent derived from banana peel for highly effective removal of heavy metal ions from water. RSC Adv 6:45041–45048

Lin SH, Lai SL, Leu HG (2000) Removal of heavy metals from aqueous solution by chelating resin in a multistage adsorption process. J Hazard Mater 76:139–153

Mohan D, Pittman CU, Steele PH (2006) Single, binary and multi-component adsorption of copper and cadmium from aqueous solutions on kraft lignin—a biosorbent. J Colloid Interface Sci 297:489–504

O'Neill C, Hawkes FR, Hawkes DL, Lourenco ND, Pinheiro HM, Delee W (1999) Colour in textile effluents—sources, measurement, discharge consents and simulation: a review. J Chem Technol Biotechnol 74:1009–1018

Patterson JW (1985) Industrial wastewater treatment technology, 2nd edn. Butterworth-Heinemann, London

Román S, Valente Nabais JM, Ledesma B, González JF, Laginhas C, Titirici MM (2013) Production of low-cost adsorbents with tunable surface chemistry by conjunction of hydrothermal carbonization and activation processes. Microporous Mesoporous Mater 165:127–133

Smith JM, Van Ness HC (1987) Introduction to chemical engineering thermodynamics, 4th edn. McGraw-Hill, New York

Upendra U, Manas M (2006) Bioresour Technol 97:104
Ethics declarations
Conflict of interest
The authors declare no conflict of interest.
Additional information
Editorial responsibility: Krishna
About this article
Cite this article
Bibaj, E., Lysigaki, K., Nolan, J.W. et al. Activated carbons from banana peels for the removal of nickel ions. Int. J. Environ. Sci. Technol. 16, 667–680 (2019). https://doi.org/10.1007/s13762-018-1676-0
Received:

Revised:

Accepted:

Published:

Issue Date:

DOI: https://doi.org/10.1007/s13762-018-1676-0
Keywords