Abstract
Reactive dyes have carcinogenic potential due to the presence of benzene rings. Therefore, in order to avoid health and environmental hazards, dyes of the wastewater must be removed before discharging to the environment. This study aimed to evaluate the effectiveness of Plantago major seed extract as a natural coagulant in removal of Reactive Blue 19 dye from industrial wastewater. In this experimental study, the effects of different factors, including pH (5–11), coagulant dose (0.02–2 g/L), dye concentration (10–100 mg/L), settling time (15–90 min), and temperature (26–76 °C), were tested. The results showed that pH, coagulation dose, initial concentration of dye, settling time, and optimal degrees of temperature were, respectively, 9, 1.2 g/L, 40 mg/L, 60 min, and 56 °C for removal of Reactive Blue 19 dye using the extract of Plantago major seed. In these conditions, the highest removal efficiency was 35%, 54.5%, 60.66%, 64%, and 69% respectively. In the conditions that all parameters were in optimal mode, the removal rate was about 70%. Based on the results of this study, although the removal rate of Reactive Blue 19 dye by Plantago major seed extract, even in optimal conditions, was lower than advanced oxidation methods, this material can be used as a natural coagulant to remove this dye from aqueous solutions and industrial wastewater. In addition, in order to increase the efficiency of this substance, further studies to upgrade and optimize these parameters is essential.
This is a preview of subscription content, log in to check access.
Access options
Buy single article
Instant access to the full article PDF.
US$ 39.95
Price includes VAT for USA
Subscribe to journal
Immediate online access to all issues from 2019. Subscription will auto renew annually.
US$ 99
This is the net price. Taxes to be calculated in checkout.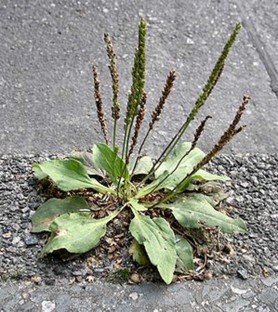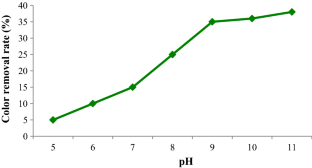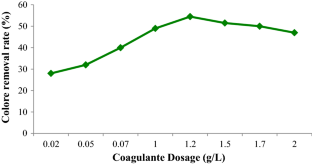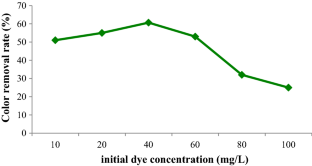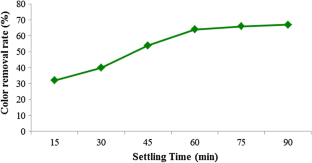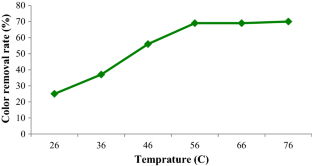 References
Abedinzadeh N, Shariat M, Monavari SM, Pendashteh A (2018) Evaluation of color and COD removal by Fenton from biologically (SBR) pre-treated pulp and paper wastewater. Process Saf Environ Prot 116:82–91

Alizadeh M, Bazrafshan A, Mahvi AH, Kordmostafapour F, Ghahramani A (2014) Evaluation of the efficiency of Pistacia atlantica extract as a natural coagulant, remove reactive red 198 from aqueous solutions. Sci J Kurdistan Univ Med Sci 19:124–134

Bajer T, Janda V, Bajerová P, Kremr D, Eisner A, Ventura K (2016) Chemical composition of essential oils from Plantago lanceolata L. leaves extracted by hydrodistillation. J Food Sci Technol 53(3):1576–1584

Banaei A, Samadi S, Karimi S, Vojoudi H, Pourbasheer E, Badiei A (2017) Synthesis of silica gel modified with 2,2′-(hexane-1, 6-diylbis (oxy)) dibenzaldehyde as a new adsorbent for the removal of Reactive Yellow 84 and Reactive Blue 19 dyes from aqueous solutions: equilibrium and thermodynamic studies. Powder Technol 319:60–70

Bilal M, Rasheed T, Iqbal HM, Li C, Wang H, Hu H et al (2018) Photocatalytic degradation, toxicological assessment and degradation pathway of CI Reactive Blue 19 dye. Chem Eng Res Des 129:384–390

Chaibakhsh N, Ahmadi N, Zanjanchi MA (2014) Use of Plantago major L. as a natural coagulant for optimized decolorization of dye-containing wastewater. Ind Crops Prod 61:169–175

Costa AFS, Albuquerque CDC, Salgueiro AA, Sarubbo LA (2018) Color removal from industrial dyeing and laundry effluent by microbial consortium and coagulant agents. Process Saf Environ Prot 118:203–210

Freitas T, Oliveira V, De Souza M, Geraldino H, Almeida V, Fávaro S et al (2015) Optimization of coagulation-flocculation process for treatment of industrial textile wastewater using okra (A. esculentus) mucilage as natural coagulant. Ind Crops Prod 76:538–544

Ghorbanli M, Sateei A, Nasiri SS (2011) Effect of various concentrations of copper on antioxidant enzymes activity and phenolic compounds content in leave and root of Plantago major L. Iran J Med Arom Plants 26:544–554

Hadjltaief HB, Galvez ME, Zina MB, Da Costa P (2014) TiO2/clay as a heterogeneous catalyst in photocatalytic/photochemical oxidation of anionic Reactive Blue 19. Arab J Chem. https://doi.org/10.1016/j.arabjc.2014.11.006

Irem S, Khan QM, Islam E, Hashmat AJ, ul Haq MA, Afzal M et al (2013) Enhanced removal of reactive navy blue dye using powdered orange waste. Ecol Eng 58:399–405

Irfan M, Butt T, Imtiaz N, Abbas N, Khan RA, Shafique A (2017) The removal of COD, TSS and colour of black liquor by coagulation–flocculation process at optimized pH, settling and dosing rate. Arab J Chem 10:S2307–S2318

Isah U, Abdulraheem G, Bala S, Muhammad S, Abdullahi M (2015) Kinetics, equilibrium and thermodynamics studies of CI Reactive Blue 19 dye adsorption on coconut shell based activated carbon. Int Biodeterior Biodegrad 102:265–273

Jiang X, Cai K, Zhang J, Shen Y, Wang S, Tian X (2011) Synthesis of a novel water-soluble chitosan derivative for flocculated decolorization. J Hazard Mater 185(2–3):1482–1488

Khan MAN, Siddique M, Wahid F, Khan R (2015) Removal of Reactive Blue 19 dye by sono, photo and sonophotocatalytic oxidation using visible light. Ultrason Sonochem 26:370–377

Matini M, Bakhtlarnejad S, Dastan D, Maghsood AH, Fallah M (2017) In-vitro efficacy of Plantago lanceolata L. extracts on Trichomonas vaginalis. J Arak Univ Med Sci 20:74–82

Melo R, Neto EB, Nunes S, Dantas TC, Neto AD (2018) Removal of reactive blue 14 dye using micellar solubilization followed by ionic flocculation of surfactants. Sep Purif Technol 191:161–166

Merzouk B, Gourich B, Madani K, Vial C, Sekki A (2011) Removal of a disperse red dye from synthetic wastewater by chemical coagulation and continuous electrocoagulation. A comparative study. Desalination 272(1–3):246–253

Moissa FL, Mittersteiner M, Saugo R, Floriani TC, de Jesus PC (2018) Kinetic behavior of CI reactive blue 182 towards oxidation with H2O2/UV and H2O2/NaOH systems. J Mol Liquids. https://doi.org/10.1016/j.molliq.2018.05.090

Momeni MM, Kahforoushan D, Abbasi F, Ghanbarian S (2018) Using Chitosan/CHPATC as coagulant to remove color and turbidity of industrial wastewater: optimization through RSM design. J Environ Manag 211:347–355

Nga NK, Hong PTT, Dai Lam T, Huy TQ (2013) A facile synthesis of nanostructured magnesium oxide particles for enhanced adsorption performance in Reactive Blue 19 removal. J Colloid Interface Sci 398:210–216

Patel H, Vashi R (2012) Removal of Congo Red dye from its aqueous solution using natural coagulants. J Saudi Chem Soc 16(2):131–136

Radaei E, Moghaddam M, Arami M (2014) Optimization of Reactive Blue 19 adsorption from aqueous solution by pomegranate residual-based activated carbon using Taguchi method. Modares J Civ Eng 14(1):159–167

Siddique M, Farooq R, Price GJ (2014) Synergistic effects of combining ultrasound with the Fenton process in the degradation of Reactive Blue 19. Ultrason Sonochem 21(3):1206–1212

Sohrabi MR, Moghri M, Masoumi HRF, Amiri S, Moosavi N (2016) Optimization of reactive blue 21 removal by nanoscale zero-valent iron using response surface methodology. Arab J Chem 9(4):518–525

Subramaniam M, Goh P, Lau W, Ng B, Ismail A (2018) AT-POME colour removal through photocatalytic submerged filtration using antifouling PVDF-TNT nanocomposite membrane. Sep Purif Technol 191:266–275

Veeramalini J, Sravanakumar K, Joshua AD (2012) Removal of reactive yellow dye from aqueous solutions by using natural coagulant (Moringa oleifera). Int J Sci Environ Technol 2(1):56–62

Verma AK, Dash RR, Bhunia P (2012) A review on chemical coagulation/flocculation technologies for removal of colour from textile wastewaters. J Environ Manag 93(1):154–168

Wijannarong S, Aroonsrimorakot S, Thavipoke P, Sangjan S (2013) Removal of reactive dyes from textile dyeing industrial effluent by ozonation process. APCBEE Procedia 5:279–282

Zonoozi MH, Moghaddam M, Arami M (2009) Coagulation/flocculation of dye-containing solutions using polyaluminium chloride and alum. Water Sci Technol 59(7):1343–1351
Acknowledgements
Thanks are owed to the chairman of the School of Public Health and also the Department of Environmental Health Engineering, Shahid Sadoughi University of Medical Sciences, Yazd, for their help in conducting this study.
Additional information
Editorial responsibility: M. Abbaspour.
About this article
Cite this article
Zarei Mahmoudabadi, T., Abbasi, F., Jalili, M. et al. Effectiveness of Plantago major extract as a natural coagulant in removal of Reactive Blue 19 dye from wastewater. Int. J. Environ. Sci. Technol. 16, 7893–7900 (2019). https://doi.org/10.1007/s13762-018-02201-6
Received:

Revised:

Accepted:

Published:

Issue Date:
Keywords
Natural coagulant

Plantago major seed extract

Reactive Blue 19 dye