Abstract
Continuous grazing as the most common land us in Kurdistan rangeland is practiced wildly. Along with continuous grazing, long term exclosure has been implemented in research site in Saral. The main objective of this study was to investigate the changes in plant diversity, floristic composition and plant groups of the major life forms in response to 40 years of continuous grazing and long terrm exclosure in Saral rangelands, Iran. This research was conducted in cold semi-arid rangeland of Baharestan located in Saral's agricultural and natural resources station (including grazed and excluded sites). In total, six transects were sampled in both grazed and excluded sites and ten plots were randomly placed per transect to measure vegetation and plant characteristics. Sampling was carried out in late May to early June (peak biomass) in 2017. T test was used to compare the means of total plant material, and Shannon's diversity index was used based on the total cover percentage in both grazed and exclosure sites. Our results indicated that long-term grazing exclosure significantly increased canopy covers and species richness of annuals, perennial grasses, perennial forbs and shrubs. Conversely, continuous grazing caused some species to disappear namely Ferula haussknechtii and Prangos ferulacea. There was statistically a significant difference between litter and total plant material in experimental sites (p < 0.001). Apart from palatability, exclosure increased floristic diversity by 17.8%. Our findings elucidated that exclosure in degraded vegetation is an effective strategy and management policy to recover and restore missing vegetation cover.
This is a preview of subscription content, log in to check access.
Access options
Buy single article
Instant access to the full article PDF.
US$ 39.95
Price includes VAT for USA
Subscribe to journal
Immediate online access to all issues from 2019. Subscription will auto renew annually.
US$ 99
This is the net price. Taxes to be calculated in checkout.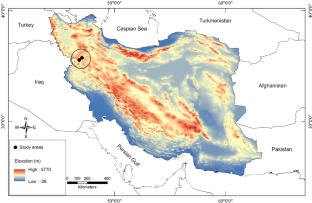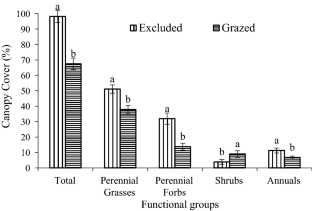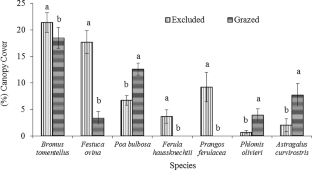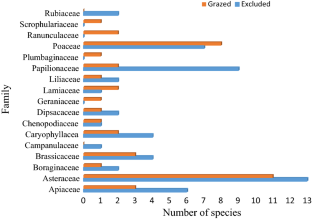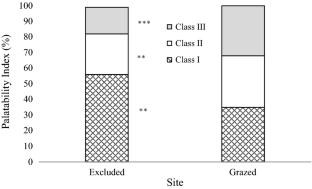 References
Akbarzadeh M, Moghadam MR, Jalili A, Jafari M, Arzani H (2007) Vegetation dynamic study of Kuhrang exclosure. Range Desert Res 13(4):324–336

Al-Rowaily S, El-Bana M, Al-Dujain F (2012) Changes in vegetation composition and diversity in relation to morphometry, soil and grazing on a hyper-arid watershed in the central Saudi Arabia. Catena 97:41–49

Al-Rowaily SL, Magdy IE, Al-Bakre DA, Assaeed AM, Hegazy AK, Basharat MA (2015) Effects of open grazing and livestock exclusion on floristic composition and diversity in natural ecosystem of Western Saudi Arabia. Saudi J Biol Sci 22(4):430–437

Amiri F, Ariapour Ali, Farai S (2008) Effects of livestock grazing on vegetation composition and soil moisture properties in Isfahan. Biol Sci 8:1289–1297

Andrew MH, Noble IR, Lange RT, Jhonson AW (1981) The measurement of shrub forage weight: three method compared. Aust Rangel J 3:47–82

Arzani H, Zohdi M, Fish E, Zahedi A, Nikkhah GHA, Wester D (2004) Phenolojical effects on forage quality of five grass species. J Range Manag 57:624–630 (in Persian)

Bardgett RD, Wardle DA (2010) Aboveground-belowground linkages. Biotic interactions, ecosystem processes, and global change. Oxford University Press, Oxford, p 301

Baudron F, Aynalem M, Dereje T, Mekuria A (2015) Impact of farmland exclosure on the productivity and sustainability of a mixed crop-livestock system in the Central Rift Valley of Ethiopia. Agr Ecosyst Environ 207:109–118

Cotroneoa MS, Jacoboa MEJ, Brassiolob RM, Golluscioac E (2018) Restoration ability of seasonal exclosures under different woodland degradation stages in semiarid Chaco rangelands of Argentina. J Arid Environ 158:28–34

Coulloudon B, Eshelman K, Gianola J, Habich N, Hughes L, Johnson C, Pellant M, Podborny P, Rasmussen A, Robles B, Shaver P, Spehar J, Willoughby J (1999) Sampling vegetation attributes. BLM Technical Reference 1734-4, Denver, CO

Czeglédi L, Radácsi (2005) Overutilization of pastures by livestock. GYEPGAZDÁLKODÁSI KÖZLEMÉNYEK

Ebrahimi M, Khosrawi H, Rigi M (2016) Short-term grazing exclusion from heavy livestock rangelands affects vegetation cover and soil properties in natural ecosystems of southeastern Iran. Ecol Eng 95:10–18

Eldridge DJ, Manuel DB, Samantha K, Travers JV, Ian O (2016) Do grazing intensity and herbivore type affect soil health? Insights from a semi-arid productivity gradient. Br Ecol Soc 3:976–985. https://doi.org/10.1111/1365-2664.12834

Gan L, Peng XH, Peth S, Horn R (2012) Effects of grazing intensity on soil water regime and flux in inner Mongolia Grassland, China. 2012. Pedosphere 22:165–177

Habrova H, Pavlis J (2017) Dynamic response of woody vegetation on fencing protection in semi-arid areas; case study: pilot exclosure on the Firmihin Plateau, Socotra Island. Saudi J Biol Sci 24:338–346

Hanley TA (1978) A comparison of the line-interception and quadrat estimation methods of determining shrub canopy coverage. J Range Manag 31(1):60–62

Hein L (2006) The impacts of grazing and rainfall variability on the dynamics of a Sahelian rangeland. J Arid Environ 64:488–504

Iran's meteorology organization (2018) Weather forecast. http://irimo.ir/eng/index.php

Kent M (2010) Vegetation description and data analysis. Wiley, UK

Li Q, Mayzlish E, Shamir I, Pen-Mouratov S, Sternberg M (2005) Impact of grazing on soil biota in a Mediterranean grassland. Land Degrad Develop 16(6):581–592

Lu X, Kelsey KC, Yan Y, Sun J, Wang X, Cheng G, Neff J (2017) Effects of grazing on ecosystem structure and function of alpine grasslands in Qinghai-Tibetan Plateau: a synthesis. Ecosphere 8:e01656

Merda S, Menad A, Mostephaoui T, Sakaa B (2017) Plant community structure and diversity under grazing gradient in arid Mediterranean steppe of Algeria. Metr Environ Sci 8:4329–4338

Mligo C (2006) Effects of grazing exclosure on plant species composition and plant diversity in the semi-arid rangeland of Mbulu district, Tanzania. Agric J 1(4):277–283

Mseddi Kh, AL-Shammari A, Sharif H, Mohamed CH (2016) Plant diversity and relationships with environmental factors after rangeland exclosure in arid Tunisia. Turk J Bot 40:1410–1429

Onodi G, Miklos K, Zoltan BD, Altbacker V (2008) Grazing effects on vegetation composition and on the spread of fire on open sand grasslands. Arid Land Res Manag 22:273–285

Osem Y, Perevolotsky A, Kigel J (2002) Grazing effect on diversity of annual plant communities in a semi-arid rangeland: interactions with small-scale spatial and temporal variation in primary productivity. Ecology 90:936–946

Peco B, Navarro E, Carmona CP, Medina NG, Marques MJ (2017) Effects of grazing abandonment on soil multifunctionality: The role of plant functional traits. Agric Ecosys Environ 249:215–225

Qasim S, Gol S, Shah MH, Hussain F, Ahmad S, Islam M, Rehman G, Yaqoob M, Shah SQ (2017) Influence of grazing exclosure on vegetation biomass and soil quality. Int Soil Water Conserv Res 5:62–68

Ren H, Schönbach P, Wan H, Gierus M, Taube F (2012) Effects of grazing intensity and environmental factors on species composition and diversity in typical steppe of inner Mongolia, China. PLoS ONE 7:e52180

Retzer V (2006) Impacts of grazing and rainfall variability on the dynamics of a Sahelian rangeland—new insights from old data. J Arid Environ 67(1):157–164

Rong Y, Rong MY, Yuan F, Ma L (2014) Effectiveness of enclosures for restoring soils and vegetation degraded by overgrazing in the Junggar Basin. China Grassl Sci 60:118–124

Rutherford MC, Powrie LW (2013) Impacts of heavy grazing on plant species richness: a comparison across rangeland biomes of South Africa. S Afr J Bot 87:146–156

Saedi K, Sepehri A, Pesarakli M, Gharedaghi H, Siosemarde A (2015) Effects of grazing on carbohydrate and nitrogen storage of Bromus tomentellus, Ferula haussknekhtii, Cephalaria kotschyi. Nat Resour Rangel J 449–516

Sarmiento G, Pinillos M, Silva MP, Acevedo D (2004) Effects of soil water regime and grazing on vegetation diversity and production in a hyperseasonal savanna in the Apure Llanos. Venezuela, Tropical ecology, p 20

Shannon CE, Weaver W (1963) The mathematical theory of communication. The University of Illnois Press, Urbana

Taboada MA, Rubio G, Chaneton EJ (2011) Grazing impacts on soil physical, chemical, and ecological properties in forage production systems. In: Hatfield JL, Sauer TJ (eds) Soil management: building a stable base for agriculture. American Society of Agronomy and Soil Science Society of America, pp 301–320

Tang J, Davy AJ, Jiang D, Musa Ala, Wu D, Wang Y, Migo Ch (2016) Effects of excluding grazing on the vegetation and soils of degraded sparse-elm grassland in the Horqin Sandy Land, China. Agric Ecosyst Environ 235:240–248

Tilaki Dianati GhA, Naghipour Borj AA, Tavakoli H, Haidarian Aghakhani M (2010) The effects of exclosure on plantsin the semi-arid rangeland of North Khorasan province, Iran. DESERT 15:45–52

Tserenpurev B, Shinoda M, Cheng Y, Purevdorj Y (2016) Effects of grazing and precipitation variability on vegetation dynamics in a Mongolian dry steppe. J Plant Ecol 9(5):508–519

Wiesmeier M, Kreyling O, Steffens M, Schoenbach P, Wan H, Gierus M, Taube F, Koelbl A, Koegel-Knabner I (2012) Short-term degradation of semiarid grasslands - results from a controlled-grazing experiment in Northern China. J Plant Nutr Soil Sci 175:434–442

Yan L, Zhou G, Zhang F (2013) Effects of different grazing intensities on grassland production in China: a meta-analysis. PLoS ONE 8:e81466

Zhang Y, Liu L, Wanqi B, Zhenxi S, Jianzhong Y, Mingjun D, Shuangcheng L, Du Z (2006) Grassland degradation in the source region of the Yellow River. Acta Geogr Sinica 61(1):3–14

Zhang C, Dong Q, Chu H, Shi J, Li S, Wang Y, Yang X (2018) Grassland community composition response to grazing intensity under different grazing regimes. Rangel Ecol Manag 14:196–204
Acknowledgements
We thank Dr. Khaled Ausati for ideas and improvements to the manuscript.
Additional information
Editorial responsibility: Gobinath Ravindran.
About this article
Cite this article
Karami, P., Bandak, I. & Gorgin Karaji, M. Comparing the effects of continuous grazing and long term exclosure on floristic composition and plant diversity in rangeland ecosystems of Saral, Iran. Int. J. Environ. Sci. Technol. 16, 7769–7776 (2019). https://doi.org/10.1007/s13762-018-02193-3
Received:

Revised:

Accepted:

Published:

Issue Date:
Keywords
Continuous grazing

Exclosure

Floristic composition

Litter

Canopy cover