Abstract
The primary challenges of petroleum industries are to provide a secure quantity and quality of water resources and how to manage the generated wastewater adequately. Appropriate application of water treatment systems would play a substantial role in drilling operations. Therefore, wastewater management and controlling the amount of produced hazardous materials should be significantly taken into consideration. The objective of this extensive study is to calculate the required water for the waterflooding, polymer flooding, and hydraulic fracturing performances, and subsequently, the percentage of fresh water saving in a shale oil reservoir was calculated accordingly. First of all, the required water and treated water for each well were calculated, and then, the percentage of saving water was averagely calculated. As a result, the percentage of fresh water saving for waterflooding, polymer flooding, and hydraulic fracturing were 71.5%, 70%, and 83.7%, respectively. It was indicated that most of the injected water was treated again and reinjected in the fracturing operations. Furthermore, the total volume of required water for the drilling of Pazanan oilfield's wells was approximately 125 million gallons that indicated the treatment processes provided about 95 million gallons of this volume. Consequently, the average volume of fresh water saving was relatively 70% which was clarified the accuracy of wastewater separation and purification in the treatment system.
This is a preview of subscription content, log in to check access.
Access options
Buy single article
Instant access to the full article PDF.
US$ 39.95
Price includes VAT for USA
Subscribe to journal
Immediate online access to all issues from 2019. Subscription will auto renew annually.
US$ 99
This is the net price. Taxes to be calculated in checkout.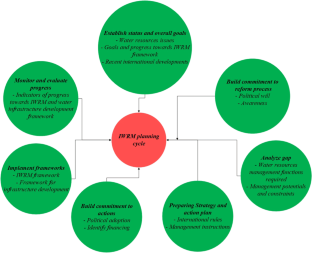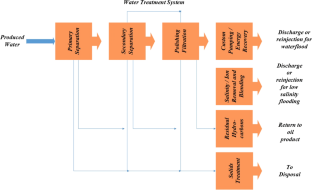 References
Adham S, Hussain A, Minier-Matar J, Janson A, Sharma R (2018) Membrane applications and opportunities for water management in the oil & gas industry. Desalination 417:2–17

Ahmaduna F-R, Pendashteh A, Chuah Abdullah L, Awang Biak DR, Siavash Madaeni S, Zainal Abidin Z (2009) Review of technologies for oil and gas produced water treatment. J Hazard Mater 170:530–551

Alizadeh M, Shabani A, Kavianpour M (2017) Predicting longitudinal dispersion coefficient using ANN with metaheuristic training algorithms. Int J Environ Sci Technol 14:2399–2410

Asdak C, Munawir M (2017) Integrated water resources conservation management for a sustainable food security KnE. Life Sci 2:238–245

Bagheri M, Roshandel R, Shayegan J (2018) Optimal selection of an integrated produced water treatment system in the upstream of oil industry. Process Saf Environ Prot 117:67–81

Bassin JP, Dezotti M, Rosado A (2018) Molecular biology techniques applied to the study of microbial diversity of wastewater treatment systems. In: Dezotti M, Lippel G, Bassin JP (eds) Advanced biological processes for wastewater treatment: emerging, consolidated technologies and introduction to molecular techniques. Springer, Cham, pp 205–299

Bolis V, Capón-García E, Weder O, Hungerbühler K (2018) New classification of chemical hazardous liquid waste for the estimation of its energy recovery potential based on existing measurements. J Clean Prod 183:1228–1240. https://doi.org/10.1016/j.jclepro.2018.02.050

Crini G, Lichtfouse E, Wilson LD, Morin-Crini N (2018) Conventional and non-conventional adsorbents for wastewater treatment. Environ Chem Lett. https://doi.org/10.1007/s10311-018-0786-8

da Silva SS, Chiavone-Filho O, de Barros Neto EL, Foletto EL (2015) Oil removal from produced water by conjugation of flotation and photo-Fenton processes. J Environ Manag 147:257–263

Davarpanah A (2018) The feasible visual laboratory investigation of formate fluids on the rheological properties of a shale formation. Int J Environ Sci Technol. https://doi.org/10.1007/s13762-018-1877-6

Davarpanah A, Mirshekari B, Behbahani TJ, Hemmati M (2018) Integrated production logging tools approach for convenient experimental individual layer permeability measurements in a multi-layered fractured reservoir. J Pet Explor Prod Technol 8(3):743–751

Ersahin ME, Ozgun H, Kaya R, Mutlu BK, Kinaci C, Koyuncu I (2018) Treatment of produced water originated from oil and gas production wells: a pilot study and cost analysis. Environ Sci Pollut Res 25:6398–6406

Garg A, Li J, Hou J, Berretta C, Garg A (2017a) A new computational approach for estimation of wilting point for green infrastructure. Measurement 111:351–358

Garg A, Vijayaraghavan V, Zhang J, Lam JSL (2017b) Robust model design for evaluation of power characteristics of the cleaner energy system. Renew Energy 112:302–313

Golestanbagh M, Parvini M, Pendashteh A (2016) Integrated systems for oilfield produced water treatment: the state of the art. Energy Sources Part A 38:3404–3411

Hagström EL, Lyles C, Pattanayek M, DeShields B, Berkman MP (2016) Produced water—emerging challenges, risks, and opportunities. Environ Claims J 28:122–139

Hansen É, Rodrigues MAS, Aragão ME, de Aquim PM (2018) Water and wastewater minimization in a petrochemical industry through mathematical programming. J Clean Prod 172:1814–1822. https://doi.org/10.1016/j.jclepro.2017.12.005

Hickenbottom KL, Hancock NT, Hutchings NR, Appleton EW, Beaudry EG, Xu P, Cath TY (2013) Forward osmosis treatment of drilling mud and fracturing wastewater from oil and gas operations. Desalination 312:60–66

Hussain S, van Leeuwen J, Aryal R, Sarkar B, Chow C, Beecham S (2018) Removal of organic matter from reservoir water: mechanisms underpinning surface chemistry of natural adsorbents. Int J Environ Sci Technol 15:847–862

Kurniawan TA, Chan GYS, Lo W-H, Babel S (2006) Physico–chemical treatment techniques for wastewater laden with heavy metals. Chem Eng J 118:83–98. https://doi.org/10.1016/j.cej.2006.01.015

Mahamuni NN, Adewuyi YG (2010) Advanced oxidation processes (AOPs) involving ultrasound for waste water treatment: a review with emphasis on cost estimation. Ultrason Sonochem 17:990–1003. https://doi.org/10.1016/j.ultsonch.2009.09.005

Moustafa E-AA, Shedid SA (2017) Effects of magnesium and potassium sulfates on oil recovery by water flooding. Egypt J Pet. https://doi.org/10.1016/j.ejpe.2017.09.007

Salmo IC, Pettersen Ø, Skauge A (2017) Polymer flooding at an adverse mobility ratio: acceleration of oil production by crossflow into water channels. Energy Fuels 31:5948–5958

Smith AP, Van De Ven CJ, Richardson SD (2017) Current water management practices, challenges, and innovations for us unconventional oil and gas development current sustainable/renewable. Energy Rep 4:209–218

Smith HM, Brouwer S, Jeffrey P, Frijns J (2018) Public responses to water reuse–understanding the evidence. J Environ Manag 207:43–50

Taylor SE (2018) Interfacial chemistry in steam-based thermal recovery of oil sands bitumen with emphasis on steam-assisted gravity drainage and the role of chemical additives. Colloids Interfaces 2:16

Veil JA (2011) Produced water management options and technologies. In: Lee K, Neff J (eds) Produced water: environmental risks and advances in mitigation technologies. Springer, New York, pp 537–571

Vengosh A, Jackson RB, Warner N, Darrah TH, Kondash A (2014) A critical review of the risks to water resources from unconventional shale gas development and hydraulic fracturing in the United States. Environ Sci Technol 48:8334–8348

Yayla S, Ibrahim SS, Olcay AB (2017) Numerical investigation of coalescing plate system to understand the separation of water and oil in water treatment plant of petroleum industry. Eng Appl Comput Fluid Mech 11:184–192

Yu L, Han M, He F (2017) A review of treating oily wastewater. Arabian J Chem 10:S1913–S1922. https://doi.org/10.1016/j.arabjc.2013.07.020

Zhan Y, Wei R, Zhou H (2018) Improvement on the treatment of thick oil sewage by using integrated biochemical treatment technology. Int J Environ Sci Technol 15:81–92
Acknowledgements
I would like to thank my supervisor Dr. Behnam Mirshekari for his guidance and support throughout this research.
Funding
There is no financial support provided from any specific governmental and institutional organization to complete this manuscript.
Ethics declarations
Conflict of interest
The authors declare that they have no conflict of interest.
Additional information
Editorial responsibility: Ta Yeong Wu.
About this article
Cite this article
Ebadati, A., Davarpanah, A., Shahhoseini, A. et al. An experimental study to measure the required fresh water and treated water for drilling an unconventional shale reservoir. Int. J. Environ. Sci. Technol. 16, 7727–7734 (2019). https://doi.org/10.1007/s13762-018-02185-3
Received:

Revised:

Accepted:

Published:

Issue Date:
Keywords
Wastewater management

Environmental aspect

Water treatment system

Hydraulic fracturing performances

Fresh water saving