Abstract
In this study, a novel laboratory-scale anaerobic hybrid upflow sludge blanket filtration bioreactor was designed and operated to improve the performance of the upflow sludge blanket filtration process for nutrient removal from municipal wastewater. The effect of operating parameters, including nutrient concentration [total nitrogen (TN) and total phosphorus (TP)], biomass concentration, and hydraulic retention time (HRT), on nutrient removal were evaluated using response surface methodology. An industrial moving packed bed with 550 m2/m3 total specific surface area was used as the reactor media. It was found that increasing biomass concentration and HRT improved the removal efficiency for TN and TP. The results indicated that increasing nitrogen and phosphorus concentrations resulted in decreased removal rates. Additionally, there was an acceptable level of agreement between the experimental and model data (R2: 0.9896 and 0.9907 for TN and TP, respectively). The maximum removal efficiencies under optimum conditions were predicted by Design-Expert software to be 93% and 95% for TN and TP, respectively.
This is a preview of subscription content, log in to check access.
Access options
Buy single article
Instant access to the full article PDF.
US$ 39.95
Price includes VAT for USA
Subscribe to journal
Immediate online access to all issues from 2019. Subscription will auto renew annually.
US$ 99
This is the net price. Taxes to be calculated in checkout.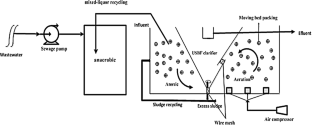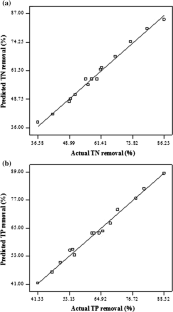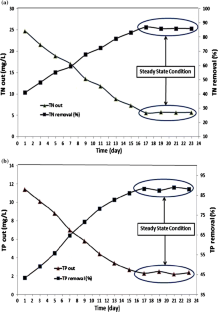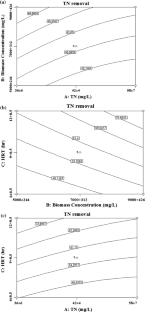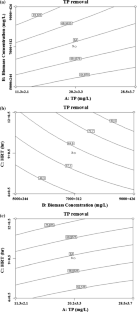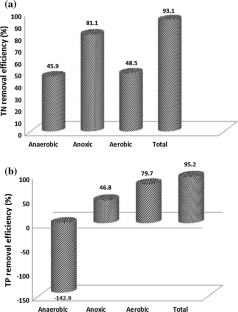 Abbreviations
ANOVA:

Analysis of variance

COD:

Chemical oxygen demand

DO:

Dissolved oxygen

F/M:

Food-to-microorganism ratio

HRT:

Hydraulic retention time

OLR:

Organic loading rate

TN:

Total nitrogen

TP:

Total phosphorous

WWTP:

Wastewater treatment plant

PAOs:

Phosphate-accumulating organisms

PHA:

Polyhydroxyalkanoates

EBPR:

Enhanced biological phosphorus removal
References
Abdulsalam S, Bugaje IM, Adefila SS, Ibrahim S (2011) Comparison of biostimulation and bioaugmentation for remediation of soil contaminated with spent motor oil. Int J Environ Sci Technol 8:187–194

Aghamohammadi N, Aziz HBA, Isa MH, Zinatizadeh AA (2007) Powdered activated carbon augmented activated sludge process for treatment of semi-aerobic landfill leachate using response surface methodology. Bioresource Technol 98:3570–3578

Ahmadi M, Ganjidoust H, Ayati B (2009) USBF performance in treating sugar industries wastewater. Iran J Health Environ 1:113–120

Akhbari A, Zinatizadeh AAL, Mohammadi P, Irandoust M, Mansouri Y (2011) Process modeling and analysis of biological nutrients removal in an integrated RBC-AS system using response surface methodology. Chem Eng J 168:269–279

Amini M, Younesi H, Najafpour G, Zinatizadeh-Lorestani AA (2012) Application of response surface methodology for simultaneous carbon and nitrogen (SND) removal from dairy wastewater in batch systems. Int J Environ Stud 69:962–986

APHA, AWWA, WPCF (2005) Standard methods for the examination of water and wastewater, 21st edn. American Public Health Association, Washington

Ay F, Catalkaya EC, Kargi F (2009) A statistical experiment design approach for advanced oxidation of Direct Red azo-dye by photo-Fenton treatment. J Hazard Mater 162:230–236

Azhdarpoor A, Mohammadi P, Dehghani M (2016) Simultaneous removal of nutrients in a novel anaerobic–anoxic/aerobic sequencing reactor: removal of nutrients in a novel reactor. Int J Environ Sci Technol 13:543–550

Bezerra MA, Santelli RE, Oliveira REP, Villar LS, Escaleira LA (2008) Response surface methodology (RSM) as a tool for optimization in analytical chemistry. Talanta 76:965–977

De-Bashan LE, Bashan Y (2004) Recent advances in removing phosphorus from wastewater and its future use as fertilizer (1997–2003). Water Res 38:4222–4246

Fernández JM, Omil F, Méndez R, Lema JM (2001) Anaerobic treatment of fibreboard manufacturing wastewaters in a pilot scale hybrid USBF reactor. Water Res 35:4150–4158

Ferreir SLC, Bruns RE, Ferreira HS, Matos GD, David JM, Brandao GC, Da Silva EGP, Portugal LA, dos Reis PS, Souza AS, dos Santos WNL (2007) Box–Behnken design: an alternative for the optimization of analytical methods. Anal Chim Acta 597:179–186

Hay JXW, Wu TY, Teh CY, Jahim JM (2012) Optimized growth of Rhodobacter sphaeroides O.U.001 using response surface methodology (RSM). J Sci Ind Res 71:149–154

Henze M, van Loosdrecht MC, Ekama GA, Brdjanovic D (2008) Biological wastewater treatment: principles, modelling and design. IWA, London, pp 155–178

Jaafari J, Seyedsalehi M, Safari GH, Arjestan ME, Barzanouni H, Ghadimi S, Haratipour P (2017) Simultaneous biological organic matter and nutrient removal in an anaerobic/anoxic/oxic (A2O) moving bed biofilm reactor (MBBR) integrated system. Int J Environ Sci Technol 14:291–304

Jahren SJ, Rintala JA, Odegaard H (2002) Aerobic moving bed biofilm reactor treatingthermomechanical pulping whitewater under thermophilic conditions. Water Res 36:1067–1075

Khorsandi H, Movahedyan H, Bina B, Farrokhzadeh H (2011a) Innovative anaerobic upflow sludge blanket filtration combined bioreactor for nitrogen removal from municipal wastewater. Int J Environ Sci Technol 8:417–424

Khorsandi H, Movahedyan H, Bina B, Farrokhzadeh H (2011b) Innovative anaerobic upflow sludge blanket filtration combined bioreactor for phosphorus removal from wastewater. Environ Technol 32:499–506

Khuri AI, Cornell JA (1996) Response surfaces: design and analyses, 2nd edn. Marcel Dekker, New York

Liu Q, Wang XC (2014) Mechanism of nitrogen removal by a hybrid membrane bioreactor in municipal wastewater treatment. Desalin Water Treat 52:5165–5171

Mahvi AH, Nabizadh R, Pishrafti MH, Zarei T (2008) Evaluation of single stage USBF in removal of nitrogen and phosphorus from wastewater. Eur J Sci Res 23:204–211

Meyers RH, Montgomery DC (2002) Response surface methodology, process and product optimization using designed experiments, 2nd edn. Wiley, New York

Rajakumar R, Meenambal T, Banu JR, Yeom IT (2011) Treatment of poultry slaughterhouse wastewater in upflow anaerobic filter under low upflow velocity. Int J Environ Sci Technol 8:49–158

Salama Y, Chennaou MI, Mountadar M, Rihani M, Assobhei O (2015) Influence of support media on COD and BOD removal from domestic wastewater using biological treatment in batch mode. Desalin Water Treat 54:37–43

Seyedsalehi M, Jaafari J, Hélix-Nielsen C, Hodaifa G, Manshouri M, Ghadimi S, Barzanouni H (2018) Evaluation of moving-bed biofilm sequencing batch reactor (MBSBR) in operating A2O process with emphasis on biological removal of nutrients existing in wastewater. Int J Environ Sci Technol 15:199–206

Shanmugam R (2010) A unique book on response surface methodology is reviewed. J Stat Comput Simul 80:1069

Subramonian W, Wu TY, Chai S-P (2015) An application of response surface methodology for optimizing coagulation process of raw industrial effluent using Cassia obtusifolia seed gum together with alum. Ind Crops Prod 70:107–115

Tchobanoglus G, Burton F, Stensel HD (2003) Wastewater engineering: treatment and reuse, wastewater engineering: treatment and reuse, 4th edn. McGraw-Hill, New York, pp 799–816

Uan DK, Yeom IT, Arulazhagan P, Banu JR (2013) Effects of sludge pretreatment on sludge reduction in a lab-scale anaerobic/anoxic/oxic system treating domestic wastewater. Int J Environ Sci Technol 10:495–502

Wang XY, Xia SQ, Chen L, Zhao YF (2006) Nutrient removal from municipal wastewater by chemical precipitation in a moving bed biofilm reactor. Process Biochem 41:824–828

Wang JP, Chen YZ, Wang Y, Yuan S, Yu HQ (2011) Optimization of the coagulation-flocculation process for pulp mill wastewater treatment using a combination of uniform design and response surface methodology. Water Res 45:5633–5640

Wang Y, Zheng SJ, Pei LY, Ke L, Peng DC, Xia SQ (2014) Nutrient release, recovery and removal from waste sludge of a biological nutrient removal system. Environ Technol 35:2734–2742

Wang H, Guan Y, Li L, Wu G (2015) Characteristics of biological nitrogen removal in a multiple anoxic and aerobic biological nutrient removal process. Biomed Res Int 2015:1–8

Wu TY, Mohammad AW, Jahim JM, Anuar N (2009) Optimized reuse and bioconversion from retentate of pre-filtered palm oil mill effluent (POME) into microbial protease by Aspergillus terreus using response surface methodology. J Chem Technol Biotechnol 84:1390–1396

Zeng W, Li L, Yang YY, Wang XD, Peng YZ (2011) Denitrifying phosphorus removal and impact of nitrite accumulation on phosphorus removal in a continuous anaerobic–anoxic–aerobic (A2O) process treating domestic wastewater. Enzyme Microb Technol 48:134–142

Zhang J, Fu D, Xu Y, Liu C (2010) Optimization of parameters on photocatalytic degradation of chloramphenicol using TiO2 as photocatalyist by response surface methodology. J Environ Sci 22:1281–1289

Zhou Z, Xing C, Wu Z, Tang J, Zhang A, An Y (2015) A comprehensive method for the evaluation of biological nutrient removal potential of wastewater treatment plants. Desalin Water Treat 53:2931–2938

Zinatizadeh AAL, Pirsaheb M, Bonakdari H, Younesi H (2010) Response surface analysis of effects of hydraulic retention time and influent feed concentration on performance of an UASFF bioreactor. Waste Manag 30:1798–1807
Acknowledgements
The authors would like to thank Omrangostar Seymareh Company for providing the equipment. The anonymous reviewers are gratefully acknowledged for their suggestions that helped to improve the manuscript.
Additional information
Editorial responsibility: M. Abbaspour.
About this article
Cite this article
Hashtroudi, H., Mojarrad, M., Noroozi, A. et al. Experimental study of nutrient removal in an anaerobic hybrid upflow sludge blanket filtration bioreactor using response surface methodology. Int. J. Environ. Sci. Technol. 16, 7683–7694 (2019). https://doi.org/10.1007/s13762-018-02182-6
Received:

Revised:

Accepted:

Published:

Issue Date:
Keywords
Wastewater treatment

Nitrogen

Media

Phosphorus

Design-Expert