Abstract
This paper presents a comprehensive study of the liquid–liquid extraction of uranium from 0.2 M sulfuric acid solution by tertiary amine (Alamine 336) and kerosene as an extractant and a diluent, respectively. For this purpose, the effects of operating parameters on the uranium extraction efficiency such as Alamine 336 concentration, contact time, initial aqueous phase pH, sulfate ion concentration, temperature and stripping process by different agents are investigated. The Gibbs energy change (ΔG), enthalpy change (ΔH) and entropy change (ΔS) have been determined as thermodynamic parameters to prove exothermic and spontaneous reaction. Also, equilibrium constants, reaction equation and stoichiometric coefficients for uranium extraction with Alamine 336 in sulfate medium are specified. The proposed procedure can be applied to the recovery of uranium from low-grade ore processing and from wastewater in the different stages of the nuclear fuel cycle.
Access options
Buy single article
Instant access to the full article PDF.
US$ 39.95
Tax calculation will be finalised during checkout.
Subscribe to journal
Immediate online access to all issues from 2019. Subscription will auto renew annually.
US$ 79
Tax calculation will be finalised during checkout.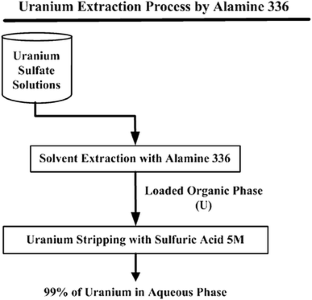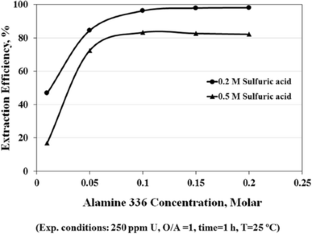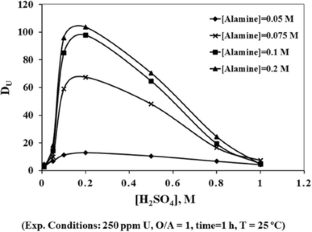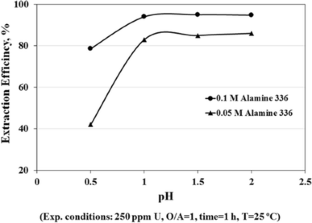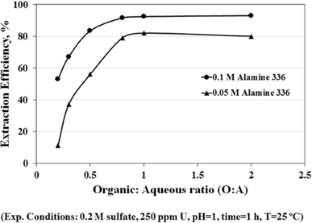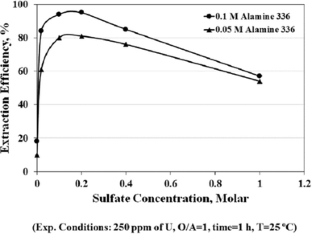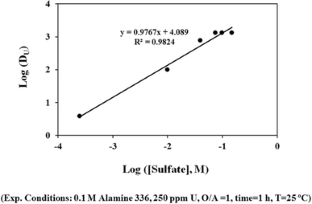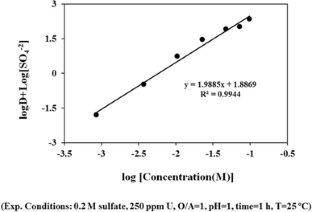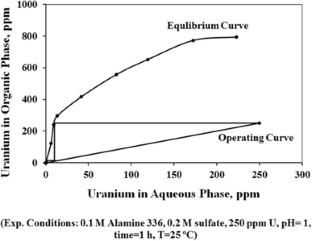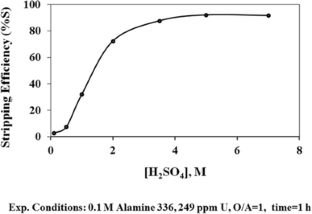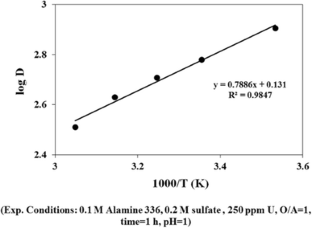 References
Amaral JCBS, Morais CA (2010) Thorium and uranium extraction from rare earth elements in monazite sulfuric acid liquor through solvent extraction. J Miner Eng 23:498–503

Behera P, Mishra R, Chakravortty V (1993) Solvent extraction of uranium (VI) and molybdenum(VI) by alamine 310 and its mixtures from aqueous H3PO4 solution. J Radioanal Nucl Chem 173:161–169

Benedict B, Pigford TH, Levi HW (1981) Nuclear chemical engineering. McGraw- Hill, New York

Bhalara P, Punetha D, Balasubramanian K (2014) A review of potential remediation techniques for U(VI) ion retrieval from contaminated aqueous environment. J Environ Chem Eng 2:1621–1634

Coleman CF, Brown KB, Moore JG, Crouse DJ (1958) Solvent extraction with alkyl amines. Ind Eng Chem 50:12–18

Daher AM, Wanees SA, Kellah HMA (2014) Removal of uranium from sulfate leach liquor of salcrete deposits using tri-n-octyl amine. J Radioanal Nucl Chem 299:493–499

Edwards CR, Oliver AJ (2000) Uranium processing: a review of current methods and technology. JOM 52(9):12–20

El-Hefny NE (2009) Comparison of liquid–liquid extraction of Cr(VI) from acidic and alkaline solutions by two different amine extractants. Sep Purif Technol 67:44–49

Filiz M (2007) Extraction of Mn(II) from aqueous hydrochloric acid solutions into Alamine 336-m-xylene system. Hydrometallurgy 87:58–62

Ganesh R, Robinson KG, Chu LL, Kucsmas D, Reed GD (1999) Reductive precipitation of uranium by desulfovibrio desulfuricans: evaluation of cocontaminant effects and selective removal. Water Res 33:3447–3458

Goldenberg JF, Abbruzzese C (1983) Extraction of uranium from heap leach liquor with tri-n-octylamine: equilibrium data and flow-sheet calculations. Int J Min Process 10:241–254

Ito K (1993) Extraction of technetium(VII) from uranium(VI) in nitric acid system by primary amine—n-heptane solution. J Radioanal Nucl Chem 171:371–382

Juznic K, Fedina S (1974) The extraction of uranium (IV) from sulfuric acid by tri-octylamine in benzene. Mikrochim Acta 62:39–44

Koichiro T, Kohei A, Takahiro M, Masayuki H, Yasuhisa I (2015) Outer-sphere extraction of uranyl(VI) from HNO3(aq) to 1-butyl-3 methylimidazolium nonafluorobutanesulfonate ionic liquid: towards decontamination of uranium wastes. Bull Chem Soc Jpn 88:1746–1751

Kumar JR, Lee J-Y, Kim J-S (2009) Studies on liquid–liquid extraction of tetravalent platinum from acidic chloride solutions using Alamine 336. Solv Extr Res Dev Jpn 16:23–36

Kumar JR, Kim JS, Lee JY, Yoon HS (2010) Solvent extraction of uranium(VI) and separation of vanadium(V) from sulfate solutions using Alamine 336. J Radioanal Nucl Chem 285:301–308

Kumar JR, Kim J-S, Lee J-Y, Yoon H-S (2011) A brief review on solvent extraction of uranium from acidic solutions. Sep Purif Rev 40:77–125

Lapka JL, Paulenova A, Alyapyshev MY, Babain VA, Herbst RS, Law JD (2009) Extraction of uranium(VI) with diamides of dipicolinic acid from nitric acid solutions. Radiochim Acta 97:291–296

Li Z, Wang L, Yuan L, Xiao C, Mei L, Zheng L, Zhang J, Yang J, Zhao Y, Zhu Z, Chai Z, Shi W (2015) Efficient removal of uranium from aqueous solution by zero-valent iron nanoparticle and its graphene composite. J Hazard Mater 290:26–33

Lin Z, Freiser H (1983) Solvent extraction equilibria of uranium with 7-dodecenyl-8-quinolinol. Anal Chim Acta 146:237–241

Lyle SJ, Tamizi M (1983) A study of equilibria in the extraction of uranium (VI) from aqueous sulfate solution by tri-n-octylamine in benzene or petroleum spirit. Hydrometallurgy 11:1–11

Mackenzie JMW (1997) Uranium solvent extraction using tertiary amines. In: Uranium ore yellow cake seminar, Melbourne, Australia

Medowell WJ, Baes CF (1958) Uranium extraction by di-ndecylamine sulfate. J Phys Chem 62:777–783

Moore FL (1958) Liquid–liquid extraction of uranium and plutonium from hydrochloric acid solution with tri(iso-octyl)amine: Separation from thorium and fission products. Anal Chem 30:908–911

Praveen RS, Metilda P, Daniel S, Rao TP (2005) Solid phase extractive preconcentration of uranium(VI) using quinoline-8-ol anchored chloromethylated polymeric resin beads. Talanta 67:960–967

Quinn JE, Wilkins D, Soldenhoff KH (2013) Solvent extraction of uranium from saline leach liquors using DEHPA/Alamine 336 mixed reagent. Hydrometallurgy 134–135:74–79

Ramadevi G, Sreenivas T, Navale AS, Padmanabhan NPH (2012) Solvent extraction of uranium from lean grade acidic sulfate leach liquor with alamine 336 reagent. J Radioanal Nucl Chem 294:13–18

Roach J, Zapien J (2009) Inorganic ligand-modified, colloid enhanced ultrafiltration: a novel method for removing uranium from aqueous solution. Water Res 43:4751–4759

Sasaki K, Suzuki T, Mori T, Arai T, Takao K, Ikeda Y (2014) Selective liquid–liquid extraction of uranyl species using task-specific ionic liquid, betainium bis (trifluoromethylsulfonyl) imide. Chem Lett 43:775

Sayar NA, Filiz M, Sayar A (2007) Extraction of Zn(II) from aqueous hydrochloric acid solutions into Alamine 336-m-xylene systems. Modeling considerations to predict optimum operational conditions. Hydrometallurgy 86:27–36

Sayar NA, Filiz M, Sayar A (2009) Extraction of Co(II) and Ni(II) from concentrated HCl solutions using Alamine 336. Hydrometallurgy 96:148–153

Seidel D (1979) Extracting of uranium from its ores

Senol A (2014) Optimization of extractive removal of U(VI) from aqueous acidic solutions using commercial amines: linear solvation energy relation based modeling. Sep Purif Technol 131:35–49

Shen J, Schafer A (2014) Removal of fluoride and uranium by nanofiltration and reverse osmosis: a review. Chemosphere 117:679–691

Sun X, Huang X, Liao X, Shi B (2010) Adsorptive recovery of UO2 2+ from aqueous solutions using collagen–tannin resin. J Hazard Mater 179:295–302

Torkaman R, Moosavian MA, Torab-Mostaedi M, Safdari J (2013) Solvent extraction of samarium from aqueous nitrate solution by Cyanex301 and D2EHPA. Hydrometallurgy 137:101–107

Vaaramaa K, Pulli S, Lehto J (2000) Effects of pH and uranium concentration on the removal of uranium from drinking water by ion exchange. Radiochim Acta Int J Chem Asp Nucl Sci Technol 88(12):845–849

White DA (1994) Extraction of uranium (VI) and uranium (IV) from hydrochloric acid using tri-n-octylamine in a benzene diluent. Hydrometallurgy 36:161–168

Yakubu NA, Dudeney WL (1987) A study of uranium solvent extraction equilibrium with Alamine 336 in kerosene. Hydrometallurgy 18:93–104

Yu C, Guoxin S, Zhenwei Z, Yufen H, Sixiu S (2007) Extraction of U (VI) with N, N0-dimethyl-N, N0-dioctylsuccinylamide in toluene. J Radioanal Nucl Chem 272:199–201

Yusan S, Akyil S (2008) Sorption of uranium(VI) from aqueous solutions by akaganeite. J Hazard Mater 160:388–395
Acknowledgements
The authors would like to thank Nuclear Science and Technology Organization of Iran for financial assistance in order to prepare the materials and pieces of equipment.
Additional information
Editorial responsibility: M. Abbaspour
About this article
Cite this article
Khanramaki, F., Shirani, A.S., Safdari, J. et al. Investigation of liquid extraction and thermodynamic studies on uranium from sulfate solution by Alamine 336 as an extractant. Int. J. Environ. Sci. Technol. 15, 1467–1476 (2018). https://doi.org/10.1007/s13762-017-1473-1
Received:

Revised:

Accepted:

Published:

Issue Date:
Keywords
Uranium

Solvent extraction

Alamine 336

Sulfate solutions