Abstract
The concentrations of 27 major and trace elements are determined in surface water samples collected from 48 sites of diverse waterways in four states (Tamil Nadu, Kerala, Karnataka, and Telangana) of South India. The aims of this study are to identify the element distribution, comparatively assess the pollution risk, and evaluate human health risks related to diverse waterways in the study area. The results indicate that elements such as Cr, Se, As, Fe, and Mn are the major pollutants, as their concentrations exceeded the acceptable national and international water quality standards in several sites of Ennore, Adyar, Cooum, Periyar, and Vrishabhavathi rivers. Furthermore, statistical analysis reveals that the Ennore, Adyar, Cooum, Periyar, and Kaveri river basins are affected by various anthropogenic activities, leading to moderate-to-high pollution by As, Cr, Mn, Fe, and Se. Potential pollution sources are industrial waste, sewage intrusion, paint industry waste, and automobile runoff. Overall, the investigated sites are categorized into three major groups: highly, moderately, and least polluted. Risk on human health by metals is then evaluated using hazard quotients (HQs) and carcinogenic risk evaluation; the results indicated that As with HQ >1 is the most hazardous pollutant, which could lead to non-carcinogenic and carcinogenic concerns, particularly in children. This study helps in establishing pollutant loading reduction goal and the total maximum daily loads and consequently contributes to preserving public health and developing water conservation strategies.
Access options
Buy single article
Instant access to the full article PDF.
US$ 39.95
Tax calculation will be finalised during checkout.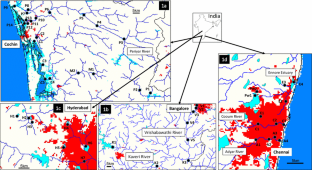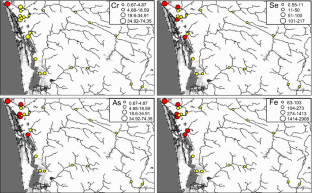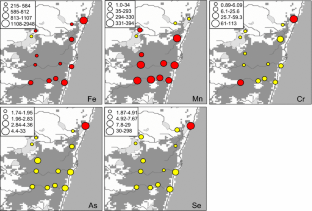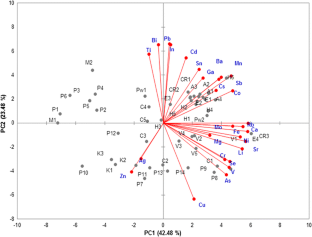 References
Ahipathi MV, Puttaiah ET (2006) Ecological characteristics of Vrishabhavathy River in Bangalore (India). Environ Geol 49:1217–1222

Alkarkhi FMA, Ismail N, Easa AM (2008) Assessment of arsenic and heavy metal contents in cockles (Anadara granosa) using multivariate statistical techniques. J Hazard Mater 150:783–789

Borah KK, Bhuyan B, Sarma HP (2009) Lead, arsenic, fluoride, and iron contamination of drinking water in the tea garden belt of Darrang district, Assam, India. Environ Monit Assess 169:347–352

Buha A, Antonijević B, Bulat Z, Jaćević V, Milovanović V, Matović V (2013) The impact of prolonged cadmium exposure and co-exposure with polychlorinated biphenyls on thyroid function in rats. Toxicol Lett 221:83–90

Bureau of Indian Standards (BIS) (2010) Indian standard for drinking water specification (IS 10500:1991). (Amendment No. 3)

CESS (2010) Annual Report 2009-10. Centre for Earth Science Studies, India, p 29

Chakraborty P, Raghumadh Babu PV, Vudamala K, Ramteke D (2014) Mercury speciation in coastal sediments from the central ease coast of India by modified BCR method. Mar Pollut Bull 81:282–288

Chase Z, Paytan A, Beck A, Biller D, Bruland K, Measures C, Sanudo-Wilhelmy S (2011) Evaluating the impact of atmospheric deposition on dissolved trace-metals in the Gulf of Aqaba, Red Sea. Mar Chem 126:256–268

Chen SC, Liao CM (2006) Health risk assessment on human exposed to environmental polycyclic aromatic hydrocarbons pollution sources. Sci Total Environ 366:112–123. doi:10.1016/j.scitotenv.2005.08.047

Cheung KC, Poon BHT, Lan CY, Wong MH (2003) Assessment of metal and nutrient concentrations in river water and sediment collected from the cities in the Pearl River Delta. South China, Chemosphere 52:1431–1440

CWRDM. 1993. Project Report on the hydrological data on Periyar basin

De Miguel E, Iribarren I, Chacon E, Ordonez A, Charlesworth S (2007) Risk-based evaluation of the exposure of children to trace elements in playgrounds in Madrid (Spain). Chemosphere 66:505–513. doi:10.1016/j.chemosphere.2006.05.065

Diyabalanage S, Abeykoon S, Watanabe I, Watai C, Ono Y, Wijesekara S, Guruge KS, Chandrajith R (2015) Has irrigated water from Mahaweli River contributed to the Kidney Disease of unknown origin in the dry zone of Sri Lanka?. DOI, Environ Geochem Health. doi:10.1007/s10653-015-9749-1

EPTRI (Environmental Protection Training Research Institute). 1997. State of Environment of Hyderabad Urban Agglomeration. EPTRI Report, Hyderabad, pp 52–55. Available at www.eptri.com

Goswami P, Hariharan G, Godhantaraman N, Munuswamy M (2014) An integrated use of multiple biomarkers to investigate the individual and combined effect of copper and cadmium on the marine green mussel (Perna viridis). J Environ Sci Health-A 49:1564–1577

Gowri VS, Ramachandran S (2001) Coastal pollution of Chennai city, Coastal geomorphology of India. Ramachandran S (ed) Institute of Ocean Management, Anna University, Chennai, India. http://beach.com/stateofthebeach/2-indi/health quality.asp

Gowri VS, Ramachandran S, Ramesh R, Pramiladevi IRR, Krishnaveni K (2008) Application of GIS in the study of mass transport of pollutants by Adyar and Cooum rivers in Chennai, Tamil Nadu. Environ Monit Assess 138:41–49. doi:10.1007/s10661-007-9789-9

Horai S, Watanabe I, Takada H, Iwamizu Y, Hayashi T, Tanabe S, Kuno K (2007) Trace element accumulations in 13 avian species collected from the Kanto area, Japan. Sci Total Environ 373:512–525

Huang X, Olmez I, Aras NK (1994) Emissions of trace elements from motor vehicles: potential marker elements and source composition profile. Atmos Environ 28:1385–1391

Huang S, Liao QL, Hua M, Wu XM, Bi KSC, Yan Y, Chen B, Zhang XY (2007) Survey of heavy metal pollution and assessment of agricultural soil in Yangzhong district, Jiangsu Province, China. Chemosphere 67:2148–2155

Jayaprakash M, Srinivasalu S, Jonathan MP, Ram Mohan V (2005) A baseline study of physico-chemical parameters and trace metals in waters of Ennore Creek, Chennai, India. Mar Pollut Bull 50:583–608

Krishna AK, Satyanarayanan M, Govil PK (2009) Assessment of heavy metal pollution in water using multivariate statistical techniques in an industrial area: a case study from Patancheru, Medak District, Andhra Pradesh, India. J Hazard Mat 167:366–373

Kumar R, Singh RD, Sharma KD (2005) Water resources of India. Curr Sci 89(5):794–811

Kumar AA, Dipu S, Sobha V (2011) Seasonal variations of heavy metals in Cochin estuary and adjoining Periyar and Muvattupuza Rivers, Kerala, India. Glob J Environ Res 5:15–20

Li S, Zhang Q (2010a) Risk assessment and seasonal variations of dissolved trace elements and heavy metals in the Upper Han River, China. J Hazard Mater 181:1051–1058

Li S, Zhang Q (2010b) Spatial characterization of dissolved trace elements and heavy metals in the upper Han River (China) using multivariate statistical techniques. J Hazard Mater 176:579–588

Liao CM, Chiang KC (2006) Probabilistic risk assessment for personal exposure to carcinogenic polycyclic aromatic hydrocarbons in Taiwanese temples. Chemosphere 63:1610–1619. doi:10.1016/j.chemosphere.2005.08.051

Lokeshwari H, Chandrappa GT (2006) Impact of heavy metal contamination of Bellandur Lake on soil and cultivated vegetation. Curr Sci 91:622–627

Nandanavanam Project (1999) Musi River—A Disaster in the making. Available at www.Greens-org-MusiRiver.html

Niedzielski P, Siepak M, Grabowski K (2002) Microtrace contents of arsenic, antimony and selenium in surface waters of Pszczewski Landscape Park as a region potentially free from anthropogenic pressure. Pol J Environ Stud 11:547–553

Olmez I, Beal JW, Villaume JF (1994) A new approach to understanding multiple-source groundwater contamination: factor analysis and chemical mass balances. Water Res 28:1095–1101

Ouseph PP (1989) Dissolved, participate and sedimentary mercury in the Cochin estuary. In: Proceedings of International Seminar on Estuarine Management, pp 461–465

Ouseph PP, Omana PK, Pillai R, Ramadevi (1994) Bio-accumulations of Cu, Cd, lead and zinc by economically important species of fishes along the South West Coast of India, In: Proceedings of sixth Kerala Science Congress, pp 96–97

Padma S, Periakali P (1998) Cadmium in Pulicat lake sediments, east coast of India. Environ Geochem 1:55–58

Palmer SCJ, van Hinsberg VJ, McKenzie JM, Yee S (2011) Characterization of acid river dilution and associated trace element behavior through hydrogeochemical modelling: a case study of the Banyu Pahit River in East Java, Indonesia. Appl Geochem 26:1802–1810

Pandey S, Parvez S, Ansari RA, Ali M, Kaur M, Hayat F, Ahmad F, Raisuddin S (2008) Effects of exposure to multiple trace metals on biochemical, histological and ultrastructural features of gills of a freshwater fish, Channapunctata Bloch. Chem Biol Interact 178:183–192

Paul AC, Pillai KC (1983) Trace metals in a tropical river environment-distribution. Water Air Soil Pollut 19:63–73

Pekey H, Karakas D, Bakoglu M (2004) Source appointment of trace metals in surface waters of a polluted stream using multivariate statistical analysis. Mar Pollut Bull 49:809–818

Qu W, Kelderman P (2001) Heavy metal contents in the Delft canal sediments and suspended solids of the River Rhine: multivariate analysis for source tracing. Chemosphere 45:919–925

Reddy MV, Babu KS, Balaram V, Satyanarayanan M (2012) Assessment of the effects of municipal sewage, immersed idols and boating on the heavy metal and other elemental pollution of surface water of the eutrophic Hussainsagar Lake (Hyderabad, India). Environ Monit Assess 184:1991–2000

Rodriguez-Proteau R, Grant RL (2005) Toxicity evaluation and human health risk assessment of surface and ground water contaminated by recycled hazardous waste materials, Handb Environ Chem 5 Part F 2:133–189

Rondeau B, Cossa D, Gagnon P, Pham TT, Surette C (2005) Hydrological and biogeochemical dynamics of the minor and trace elements in the St. Lawrence River. Appl Geochem 20:1391–1408

Saha S, Hazra GC, Saha B, Mandal B (2015) Assessment of heavy metals contamination in different crops grown in long-term sewage-irrigated areas of Kolkata, West Bengal, India. Environ Monit Assess 187:4087–4099

Sekhar C, Chary NS, Kamala CT, Shanker Frank H (2005) Environmental pathway and risk assessment studies of the Musi River's heavy metal contamination—a case study. Hum Ecol Risk Assess 11:1217–1235

Shanmugam P, Neelamani S, Ahn YH, Philip L, Hong GH (2006) Assessment of the levels of coastal marine pollution of Chennai city, Southern India. Water Resour Manag 21:1187–1206

Shiller AM, Boyle EA (1985) Dissolved zinc in rivers. Nature 317:49–52

Singh KP, Malik A, Mohan D, Sinha S (2004) Multivariate statistical techniques for the evaluation of spatial and temporal variations in water quality of Gomti River (India)—a case study. Water Res 38:3980–3992

Singh MJ, Somashekar RK, Prakash KL, Shivanna K (2010) Investigation of heavy metals in crystalline aquifer groundwater from different valleys of Bangalore, Karnataka. J Geogr Reg Plann 3:262–270

Tosiani T, Loubet M, Viers J, Valladon M, Tapia J, Marrero S, Yanesa C, Ramirez A, Dupré B (2004) Major and trace elements in riverborne materials from the Cuyuni basin (southern Venezuela): evidence for organo-colloidal control on the dissolved load and element redistribution between the suspended and dissolved load. Chem Geol 211:305–334

Tripti M, Gurumurthy GP, Balakrishna K, Chadaga MD (2013) Dissolved trace element biogeochemistry of a tropical river, Southwestern India. Environ Sci Pollut Res 20:4067–4077

Uragichi S, Watanabe I, Yoshitomi A, Kiyono M, Kuno K (2006) Characteristics of cadmium accumulation and tolerance in novel Cd- accumulating crops, Avena strigosa and Crotalaria junco. J Exp Bot 57:2955–2965

US Environmental Protection Agency (1989) "Risk Assessment Guidance for Superfund, vol 1, Human Health Evaluation Manual (Part A)," Report EPA/540/1-89/002, United States Environmental Protection Agency, Washington, DC

US Environmental Protection Agency (1995a) Guidance for assessing chemical contaminant data for use in fish advisories. In: Fish sampling and analysis, vol 1, 2nd ed. EPA 823-R-95-007. Office of Water, Washington DC

US Environmental Protection Agency (1995b) Estimating exposure to dioxin-like compounds, EPA-600/6-88/005Ca. Office of Research and Development, Washington DC

US Environmental Protection Agency (2004) Risk Assessment Guidance for Superfund Volume I: Human Health Evaluation Manual (Part E, Supplemental Guidance for Dermal Risk Assessment) Final. EPA/540/R/99/005 OSWER 9285.7-02EP PB99-963312 July 2004, Office of Superfund Remediation and Technology Innovation U.S. Environmental Protection Agency Washington, DC

US Environmental Protection Agency (2006) Risk-based concentration table. http://www.epa.gov/reg3hwmd/risk/human/rbc/rbc1006.pdf

US Environmental Protection Agency (2012) Drinking water standards and health advisory. EPA 822-S-12-001. Office of Research and Development, Washington DC

Ward NI (1995) Environmental analytical chemistry. In: Fifield FW, Haines PJ (eds) Trace elements. Blackie, London, pp 320–328

World Health Organization (2011) Guidelines for drinking water quality, 4th ed. ISBN: 978 92 4 154815 1

Wu B, Zhao DY, Jia HY, Zhang Y, Zhang XX, Cheng SP (2009) Preliminary risk assessment of trace metal pollution in surface water from Yangtze River in Nanjing Section, China. Bull Environ Contam Toxicol 82:405–409

Yang L, Kemadjou JR, Zinsmeister C, Bauer M, Legradi J, Müller F, Pankratz M, Jäkel J, Strähle U (2007) Transcriptional profiling reveals barcode-like toxicogenomic responses in the zebrafish embryo. Genome Biol 8:R227
Acknowledgments
This work was supported by the Japan Society for the Promotion of Science, a Grant-in-Aid for Scientific Research (A), 2012–2014 (24256004) to KSG and MA. Logistic support at Manipal University was provided by Dr TMA Pai Endowment Chair in Earth sciences to KB. The authors are thankful to Dr. T. Sathish, NIOT, Andaman, India, for his help in statistical analysis.
Ethics declarations
Conflict of interest
All the authors declare that they have no conflicts of interest.
Additional information
Editorial responsibility: M. Abbaspour.
About this article
Cite this article
Guruge, K.S., Goswami, P., Watanabe, I. et al. Trace element distribution and risk assessment in South Indian surface waterways. Int. J. Environ. Sci. Technol. 14, 1–18 (2017). https://doi.org/10.1007/s13762-016-1129-6
Received:

Revised:

Accepted:

Published:

Issue Date:
Keywords
Surface water

Trace element pollution

Arsenic

Hazard quotient

Carcinogenic risk

Public health

South India