Abstract
Multi-criteria decision-making methods support decision makers in all stages of the decision-making process by providing useful data. However, criteria are not always certain as uncertainty is a feature of the real world. MCDM methods under uncertainty and fuzzy systems are accepted as suitable techniques in conflicting problems that cannot be represented by numerical values, in particular in energy analysis and planning. In this paper, a modified TOPSIS method for multi-criteria group decision-making with qualitative linguistic labels is proposed. This method addresses uncertainty considering different levels of precision. Each decision maker's judgment on the performance of alternatives with respect to each criterion is expressed by qualitative linguistic labels. The new method takes into account linguistic data provided by the decision makers without any previous aggregation. Decision maker judgments are incorporated into the proposed method to generate a complete ranking of alternatives. An application in energy planning is presented as an illustrative case example in which energy policy alternatives are ranked. Seven energy alternatives under nine criteria were evaluated according to the opinion of three environmental and energy experts. The weights of the criteria are determined by fuzzy AHP, and the alternatives are ranked using qualitative TOPSIS. The proposed approach is compared with a modified fuzzy TOPSIS method, showing the advantages of the proposed approach when dealing with linguistic assessments to model uncertainty and imprecision. Although the new approach requires less cognitive effort to decision makers, it yields similar results.
Access options
Buy single article
Instant access to the full article PDF.
US$ 39.95
Tax calculation will be finalised during checkout.
Subscribe to journal
Immediate online access to all issues from 2019. Subscription will auto renew annually.
US$ 79
Tax calculation will be finalised during checkout.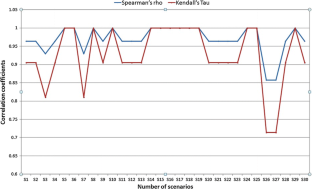 References
Afsordegan A, Sánchez M, Agell N, Aguado JC, Gamboa G (2016) Absolute order-of-magnitude reasoning applied to a social multi-criteria evaluation framework. J Exp Theor Artif Intell 28(1–2):261–274

Agell N, Sánchez M, Prats F, Roselló L (2012) Ranking multi-attribute alternatives on the basis of linguistic labels in group decisions. Inf Sci 209:49–60

Akash BA, Mamlook R, Mohsen MS (1999) Multi-criteria selection of electric power plants using analytical hierarchy process. Electr Power Syst Res 52(1):29–35

Amiri MP (2010) Project selection for oil-fields development by using the AHP and fuzzy TOPSIS methods. Expert Syst Appl 37:6218–6224

Aras H, Erdomu S, Koç E (2004) Multi-criteria selection for a wind observation station location using analytic hierarchy process. Renew Energy 29:1383–1392

Ashtiani B, Haghighirad F, Makui A, Montazer GA (2009) Extension of fuzzy TOPSIS method based on interval-valued fuzzy sets. Appl Soft Comput 9(2):457–461

Baños R, Manzano-Agugliaro F, Montoya F, Gil C, Alcayde A, Gómez J (2011) Optimization methods applied to renewable and sustainable energy: a review. Renew Sustain Energy Rev 15(4):1753–1766

Beccali M, Cellura M, Ardente D (1998) Decision making in energy planning: the ELECTRE multicriteria analysis approach compared to a FUZZY-SETS methodology. Energy Convers Manag 39(16–18):1869–1881

Beccali M, Cellura M, Mistretta M (2003) Decision-making in energy planning. Application of the Electre method at regional level for the diffusion of renewable energy technology. Renew Energy 28(13):2063–2087

Begic F, Afgan N (2007) Sustainability assessment tool for the decision making in selection of energy system—Bosnian case. Energy 32:1979–1985

Behzadian M, Khanmohammadi Otaghsara S, Yazdani M, Ignatius J (2012) A state-of the-art survey of TOPSIS applications. Expert Syst Appl 39(17):13051–13069

Belton V, Stewart T (2002) Multiple criteria decision analysis: an integrated approach. Kluwer Academic Publications, Boston

Boran F, Boran K, Menlik T (2012) The evaluation of renewable energy technologies for electricity generation in turkey using intuitionistic fuzzy TOPSIS. Energy Sources Part B 7(1):81–90

Buehring W, Foell W, Keeney R (1978) Examining energy/environment policy using decision analysis. Energy Policy 2(3):341–367

Carlsson C, Fuller R (1996) Fuzzy multiple criteria decision making: recent developments. Fuzzy Sets Syst 78:139–153

Cavallaro F (2010a) A comparative assessment of thin-film photovoltaic production processes using the ELECTRE III method. Energy Policy 38(1):463–474

Cavallaro F (2010b) Fuzzy TOPSIS approach for assessing thermal-energy storage in concentrated solar power (CSP) systems. Appl Energy 87(2):496–503

Chang NB, Parvathinathan G, Breeden JB (2008) Combining GIS with fuzzy multicriteria decision-making for landfill siting in a fast-growing urban region. J Environ Manag 87(1):139–153

Chen CT (2000) Extensions of the TOPSIS for group decision-making under fuzzy environment. Fuzzy Sets Syst 114(1):1–9

Cherubini F, Strømman AH (2011) Life cycle assessment of bioenergy systems: state of the art and future challenges. Bioresour Technol 102(2):437–451

Choo EU, Schoner B, Wedley WC (1999) Interpretation of criteria weights in multicriteria decision making. Comput Ind Eng 37(3):527–541

Dai J, Qi J, Chi J, Chen S, Yang J (2010) Integrated water resource security evaluation of Beijing based on GRA and TOPSIS. Front Earth Sci China 4(3):357–362

Doukas H, Andreas BM, Psarras JE (2007) Multi-criteria decision aid for the formulation of sustainable technological energy priorities using linguistic variables. Eur J Oper Res 182(2):844–855

Doukas H, Karakosta C, Psarras J (2010) Computing with words to assess the sustainability of renewable energy options. Expert Syst Appl 37(7):5491–5497

Doumpos M, Grigoroudis E (2013) Multicriteria decision aid and artificial intelligence: links, theory and applications. Wiley, Hoboken

Dubois D, Prade H (1980) Fuzzy sets and systems: theory and applications. Academic press, New York

Evans TJ, Strezov V, Annette E (2009) Assessment of sustainability indicators for renewable energy technologies. Renew Sustain Energy Rev 13:1062–1088

Forbus K (1984) Qualitative process theory. Artif Intell 24(1–3):85–168

Georgopoulou E, Sarafidis Y, Diakoulaki D (1998) Design and implementation of a group DSS for sustaining renewable energies exploitation. Eur J Oper Res 109:483–500

Goumas M, Lygerou V (2000) An extension of the PROMETHEE method for decision making in fuzzy environment: ranking of alternative energy exploitation projects. Eur J Oper Res 123(3):606–613

Herrera F, Herrera-Viedma E, Martínez L (2008) A fuzzy linguistic methodology to deal with unbalanced linguistic term sets. IEEE Trans Fuzzy Syst 16(2):354–370

Hwang C, Yoon K (1981) Multiple attribute decision making: methods and applications, a state of the art survey, vol 1. Springer, Berlin

Hwang C, Yoon K (2005) Multiple attribute decision making. Quant Appl Soc Sci 7–104:53–62

Ishizaka A, Nemery P (2013) Multi-criteria decision analysis: methods and software. Wiley, Hoboken

Jebaraj S, Iniyan S (2006) A review of energy models. Renew Sustain Energy Rev 10(4):281–311

Jing YY, Bai H, Wang JJ (2012) A fuzzy multi-criteria decision making model for CCHP systems driven by different energy sources. Energy Policy 42:286–296

Kablan M (2004) Decision support for energy conservation promotion. Energy Policy 32(10):1151–1158

Kahraman C (2008) Fuzzy multi-criteria decision making: theory and applications with recent developments. Springer, New York

Kahraman C, Cebi S, Kaya I (2010) Selection among renewable energy alternatives using fuzzy axiomatic design: the case of Turkey. J Univers Comput Sci 16(1):82–102

Kara SS, Onut S (2010) A stochastic optimization approach for paper recycling reverse logistics network design under uncertainty. Int J Environ Sci Technol 7(4):717–730

Karimi AR, Mehrdadi N, Hashemian SJ, Nabi Bidhendi G, Tavakkoli Moghadam R (2011) Selection of wastewater treatment process based on the analytical hierarchy process and fuzzy analytical hierarchy process methods. Int J Environ Sci Technol 8(2):267–280

Kaya I, Kahraman C (2011) Multicriteria decision making in energy planning using a modified fuzzy TOPSIS methodology. Expert Syst Appl 38(6):6577–6585

Kowkabi L, Setayesh SR, Badri A, Rajaee A (2013) The application of fuzzy multi-attribute group decision making to prioritize the landscapes with high ecological value: Khoshk river in Shiraz. Int J Environ Res 7(2):423–434

Kuo RJ, Hsu CW, Chen YL (2015) Integration of fuzzy ANP and fuzzy TOPSIS for evaluating carbon performance of suppliers. Int J Environ Sci Technol. doi:10.1007/s13762-015-0819-9

Laarhoven V, Pedrycz W (1983) A fuzzy extension of Saaty's priority theory. Fuzzy Sets Syst 11(1–3):199–227

Liu KFR (2007) Evaluating environmental sustainability: an integration of multiple-criteria decision-making and fuzzy logic. Environ Manag 39(5):721–736

Loken E (2007) Use of multicriteria decision analysis methods for energy planning problems. Renew Sustain Energy Rev 11(7):1584–1595

Meier PM, Hobbs BF (1994) Multicriteria methods for resource planning: an experimental comparison. IEEE Trans Power Syst 9(4):1811–1817

Moghaddam NB, Nasiri M, Mousavi SM (2011) An appropriate multiple criteria decision making method for solving electricity planning problems, addressing sustainability issue. Int J Environ Sci Technol 8(3):605–620

Mosadeghi R, Warnken J, Tomlinson R, Mirfenderesk H (2015) Comparison of fuzzy-AHP and AHP in a spatial multi-criteria decision making model for urban land-use planning. Comput Environ Urban Syst 49:54–65

Nieto-Morote A, Ruz-Vila F, Cánovas-Rodríguez F (2010) Selection of a trigeneration system using a fuzzy AHP multi-criteria decision-making approach. Int J Energy Res 35:781–794

Nigim K, Munier N, Green J (2004) Pre-feasibility MCDM tools to aid communities in prioritizing local viable renewable energy sources. Renew Energy 29(11):1775–1791

Oberschmidt J, Geldermann J, Ludwig J, Schmehl M (2010) Modified PROMETHEE approach for assessing energy technologies. Int J Energy Sect Manag 4(2):183–212

Opricovic S, Tzeng GH (2004) Compromise solution by MCDM methods: a comparative analysis of VIKOR and TOPSIS. Eur J Oper Res 156(2):445–455

Pan J, Rahman S (1998) Multiattribute utility analysis with imprecise information: an enhanced decision support technique for the evaluation of electric generation expansion strategies. Electr Power Syst Res 46(2):101–109

Parreiras RO, Ekel PY, Martini JSC, Palhares RM (2010) A flexible consensus scheme for multicriteria group decision making under linguistic assessments. Inf Sci 180(7):1075–1089

Pohekar S, Ramachandran M (2004) Application of multi-criteria decision making to sustainable energy planning: a review. Renew Sustain Energy Rev 8(4):365–381

Polatidis H, Haralambopoulos D, Munda G, Vreeker R (2006) Selecting an appropriate multi-criteria decision analysis technique for renewable energy planning. Energy Sources Part B 1(2):181–193

Rovere E, Soares J, Oliveira L, Lauria T (2010) Sustainable expansion of electricity sector: sustainability indicators as an instrument to support decision making. Renew Sustain Energy Rev 14:422–429

Russo R, Camanho R (2015) Criteria in AHP: a systematic review of literature. Procedia Comput Sci 55:1123–1132

Saaty TL (1980) The analytic hierarchy process. McGraw-Hill, New York

Saaty TL (1990) Decision making by the analytic hierarchy process: theory and applications. Eur J Oper Res 48(1):9–26

San Cristóbal J (2012) A goal programming model for the optimal mix and location of renewable energy plants in the north of Spain. Renew Sustain Energy Rev 16(7):4461–4464

Stamford L, Azapagic A (2011) Sustainability indicators for the assessment of nuclear power. Energy 36:6037–6057

Streimikiene D, Balezentis T, Krisciukaitien I, Balezentis A (2012) Prioritizing sustainable electricity production technologies: mCDM approach. Renew Sustain Energy Rev 16(5):3302–3311

Topcu Y, Ulengin F (2004) Energy for the future: an integrated decision aid for the case of Turkey. Energy 29(1):137–154

Travé-Massuyès L, Prats F, Sánchez M, Agell N (2005) Relative and absolute order-of-magnitude models unified. Ann Math Artif Intell 45(3–4):323–341

Tsoutsos T, Drandaki M, Frantzeskaki N, Iosifidis E, Kiosses I (2009) Sustainable energy planning by using multi-criteria analysis application in the island of Crete. Energy Policy 37(5):1587–1600

Tuzkaya G, Ozgen A, Ozgen D, Tuzkaya UR (2009) Environmental performance evaluation of suppliers: a hybrid fuzzy multi-criteria decision approach. Int J Environ Sci Technol 6(3):477–490

Tzeng GH, Ta Shiau, Lin CY (1992) Application of multicriteria decision making to the evaluation of new energy system development in Taiwan. Energy 17(10):983–992

Varun S, Bhat IK, Prakash R (2009) LCA of renewable energy for electricity generation systems—a review. Renew Sustain Energy Rev 13:1067–1073

Wang JJ, Jing YY, Zhang CF, Shi GH, Zhang XT (2008) A fuzzy multi-criteria decision-making model for trigeneration system. Energy Policy 36(10):3823–3832

Wang JJ, Jing YY, Zhang CF, Zhao JH (2009) Review on multi-criteria decision analysis aid in sustainable energy decision-making. Renew Sustain Energy Rev 13(9):2263–2278

Yeh TM, Huang YL (2014) Factors in determining wind farm location: integrating GQM, fuzzy DEMATEL, and ANP. Renew Energy 66:159–169

Yilmaz B, Dadeviren M (2011) A combined approach for equipment selection: F-PROMETHEE method and zeroone goal programming. Expert Syst Appl 38(9):11641–11650

Zadeh L (1965) Fuzzy sets. Inf Control 8:338–353

Zadeh L (1975) The concept of a linguistic variable and its application to approximate reasoning. Inf Sci 8(3):199–249
Acknowledgments
This research was partially supported by the SENSORIAL research Project (TIN2010-20966-C02-01 and TIN2010-20966-C02-02), funded by the Spanish Ministry of Science and Information Technology. Partial support was also provided by a doctoral fellowship awarded to one of the authors at the ESADE Business School, with additional support from Ramon Llull University.
About this article
Cite this article
Afsordegan, A., Sánchez, M., Agell, N. et al. Decision making under uncertainty using a qualitative TOPSIS method for selecting sustainable energy alternatives. Int. J. Environ. Sci. Technol. 13, 1419–1432 (2016). https://doi.org/10.1007/s13762-016-0982-7
Received:

Revised:

Accepted:

Published:

Issue Date:
Keywords
Multi-criteria decision making

Linguistic labels

TOPSIS

Qualitative reasoning

Energy planning