Abstract
Organic ligands, especially oxalate, play an important role in iron dissolution from iron-containing minerals. To study the effects of organic acid ligands on the dissolution of iron-containing minerals, the dissolution kinetics of hematite in the presence of oxalate, acetate, and formate were studied under ultraviolet radiation with varying ligand concentrations (10–3 mM). The results indicate that for adsorption dissolution, oxalate is the dominating ligand for producing soluble iron (III) from hematite; for photoreductive dissolution under ultraviolet radiation and in oxic conditions, the production of iron (II) is highly proportional to the concentrations of oxalate, whereas the effects of varying concentrations of formate and acetate are not significant. At low oxalate concentrations (10–500 µM), the photoreductive dissolution of iron (II) is substantially low, while at high oxalate concentrations (3 mM), oxalate is equally effective as formate and acetate for producing photoreduced iron (II) from hematite. Combining with field data from other works, it is likely that the ratios of oxalate to total iron need to be higher than a threshold range of ~1.2–5.5 in order for oxalate to effectively produce photoreduced iron (II) from hematite. This study demonstrates that the iron (II) yield from photoreduction of hematite is significantly lower when the hematite surface is pre-coated with organic ligands versus when it is exposed to ultraviolet radiation instantaneously.
Access options
Buy single article
Instant access to the full article PDF.
US$ 39.95
Tax calculation will be finalised during checkout.
Subscribe to journal
Immediate online access to all issues from 2019. Subscription will auto renew annually.
US$ 79
Tax calculation will be finalised during checkout.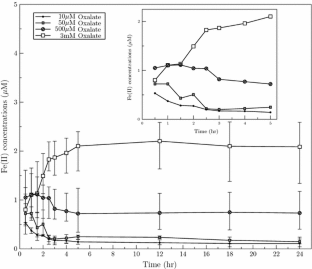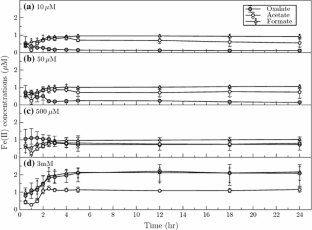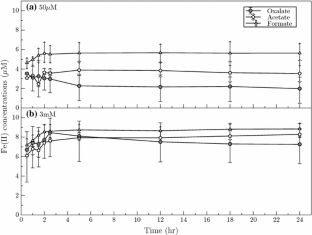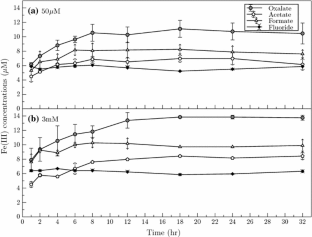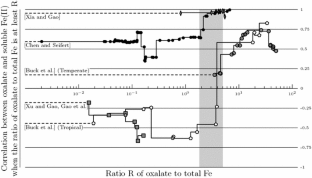 References
Banwart S, Simon D, Stumm W (1989) The role of oxalate in accelerating the reductive dissolution of hematite (–Fe2O3) by ascorbate. Colloids Surf 39(2):303–309

Buck CS et al (2010) The solubility and deposition of aerosol Fe and other trace elements in the North Atlantic Ocean: observations from the A16 N CLIVAR/CO 2 repeat hydrography section. Mar Chem 120(1):57–70

Chebbi A, Carlier P (1996) Carboxylic acids in the troposphere, occurrence, sources, and sinks: a review. Atmos Environ 30(24):4233–4249

Chen H, Grassian VH (2013) Iron dissolution of dust source materials during simulated acidic processing: the effect of sulfuric, acetic, and oxalic acids. Environ Sci Technol 47(18):10312–10321

Chen Y, Siefert RL (2004) Seasonal and spatial distributions and dry deposition fluxes of atmospheric total and labile iron over the tropical and subtropical North Atlantic Ocean. J Geophys Res: Atmos 109(D9)

Dey S, Goswami S, Ghosh UC (2004) Hydrous ferric oxide (HFO)—a scavenger for fluoride from contaminated water. Water Air Soil Pollut 158(1):311–323

Dodgen HW, Rollefson GK (1949) The complex ions formed by iron and thorium with fluoride in acid solution. J Am Chem Soc 71(8):2600–2607

Erel Y, Pehkonen SO, Hoffmann MR (1993) Redox chemistry of iron in fog and stratus clouds. J Geophys Res: Atmos (1984–2012) 98(D10):18423–18434

Finden DAS, Tipping E, Jaworski GHM, Reynolds CS (1984) Light-induced reduction of natural iron (III) oxide and its relevance to phytoplankton. Nature 309:783–784

Gao Y, Xu G, Zhan J, Zhang J, Li W, Lin Q, Chen L, Lin H (2013) Spatial and particle-size distributions of atmospheric dissolved iron in Aerosols and its input to the Southern Ocean and Coastal East Antarctica. J Geophys Res: Atmos 118:1–15. doi:10.1002/2013JD020367

Gledhill M, van den Berg CMG (1995) Measurement of the redox speciation of iron in seawater by catalytic cathodic stripping voltammetry. Mar Chem 50(1):51–61

Graedel TE, Weschler CJ, Mandich ML (1985) Influence of transition metal complexes on atmospheric droplet acidity. Nature 317:240–242

Jickells TD, An ZS, Andersen KK, Baker AR, Bergametti G, Brooks N, Torres R (2005) Global iron connections between desert dust, ocean biogeochemistry, and climate. Science 308(5718):67–71

Johansen AM, Siefert RL, Hoffmann MR (2000) Chemical composition of aerosols collected over the tropical North Atlantic Ocean. J Geophys Res: Atmos (1984–2012) 105(D12):15277–15312

Johnson KS, Gordon RM, Coale KH (1997) What controls dissolved iron concentrations in the world ocean? Mar Chem 57(3):137–161

Kawamura K, Kaplan IR (1983) Organic compounds in the rainwater of Los Angeles. Environ Sci Technol 17(8):497–501

Kawamura K, Kaplan IR (1987) Motor exhaust emissions as a primary source for dicarboxylic acids in Los Angeles ambient air. Environ Sci Technol 21(1):105–110

Kawamura K, Kouichi I (1993a) Seasonal changes in the distribution of dicarboxylic acids in the urban atmosphere. Environ Sci Technol 27(10):2227–2235

Kawamura K, Kouichi U (1993b) Distributions of low molecular weight dicarboxylic acids in the North Pacific aerosol samples. J Oceanogr 49(3):271–283

Kawamura K, Sakaguchi F (1999) Molecular distributions of water soluble dicarboxylic acids in marine aerosols over the Pacific Ocean including tropics. J Geophys Res: Atmos (1984–2012) 104(3):3501–3509

Keiichiro H et al (2002) Concentration trends and mixing states of particulate oxalate in Arctic boundary layer in winter/spring. J Geophys Res: Atmos (1984–2012) 107(D19):AAC-12

Krieger UK, Corti T, Cziczo DJ et al (2006) Oxalic acid as a heterogeneous ice nucleus in the upper troposphere and its indirect aerosol effect. Atmos Chem Phys 6(10):3115–3129

Li SM, Winchester JW (1993) Water soluble organic constituents in Arctic aerosols and snow pack. Geophys Res Lett 20(1):45–48

Liu X, Millero FJ (2002) The solubility of iron in seawater. Mar Chem 77(1):43–54

Mackie DS, Boyd PW, Hunter KA, McTainsh GH (2005) Simulating the cold processing of iron in Australian dust: pH and dust concentration. Geophys Res Lett 32:L06809

Martin John H (1990) Glacial-interglacial CO2 change: the iron hypothesis. Paleoceanogr Phy 5(1):1–13

Martin John H, Fitzwater SE (1988) Iron deficiency limits phytoplankton growth in the north-east pacific subarctic. Nature 331(3414343):947–975

Martin JH, Fitzwater SE, Gordon RM (1990) Iron deficiency limits phytoplankton growth in Antarctic waters. Global Biogeochem Cycles 4(1):5–12

Naito K, Matsui M, Imai I (2005) Ability of marine eukaryotic red tide microalgae to utilize insoluble iron. Harmful Algae 4(6):1021–1032

Paris R, Desboeufs KV (2013) Effect of atmospheric organic complexation on iron-bearing dust solubility. Atmos Chem Phys 13(9):4895–4905

Paris R, Desboeufs KV, Journet E (2011) Variability of dust iron solubility in atmospheric waters: investigation of the role of oxalate organic complexation. Atmos Environ 45(36):6510–6517

Pehkonen SO, Siefert R, Erel Y, Webb S, Hoffmann MR (1993) Photoreduction of iron oxyhydroxides in the presence of important atmospheric organic compounds. Environ Sci Technol 27(10):2056–2062

Rijkenberg MJ, Gerringa LJ, Velzeboer I, Timmermans KR, Buma AG, de Baar HJ (2006) Iron-binding ligands in Dutch estuaries are not affected by UV induced photochemical degradation. Mar Chem 100(1):11–23

Rue EL, Bruland KW (1995) Complexation of iron (III) by natural organic ligands in the Central North Pacific as determined by a new competitive ligand equilibration/adsorptive cathodic stripping voltammetric method. Mar Chem 50(1):117–138

Shaked Y, Kustka AB, Morel FM (2005) A general kinetic model for iron acquisition by eukaryotic phytoplankton. Limnol Oceanogr 50(3):872–882

Siefert RL et al (1994) Iron photochemistry of aqueous suspensions of ambient aerosol with added organic acids. Geochim Cosmochim Acta 58(15):3271–3279

Siffert C, Sulzberger B (1991) Light-induced dissolution of hematite in the presence of oxalate. A case study. Langmuir 7(8):1627–1634

Soli AL, Byrne RH (1996) The hydrolysis and fluoride complexation behavior of Fe(III) at 25 °C and 0.68 molal ionic strength. J Solut Chem 25(8):773–785

Stookey LL (1970) Ferrozine—a new spectrophotometric reagent for iron. Anal Chem 42(7):779–781

Stumm W, Wollast R (1990) Coordination chemistry of weathering: kinetics of the surface-controlled dissolution of oxide minerals. Rev Geophys 28(1):53–69

Sulzberger B, Suter D, Siffert C, Banwart S, Stumm W (1989) Dissolution of Fe(III) (hydr) oxides in natural waters; laboratory assessment on the kinetics controlled by surface coordination. Mar Chem 28(1):127–144

Sunda WG, Huntsman SA (1997) Interrelated influence of iron, light and cell size on marine phytoplankton growth. Nature 390(6658):389–392

Sung W, Morgan JJ (1980) Kinetics and product of ferrous iron oxygenation in aqueous systems. Environ Sci Technol 14(5):561–568

Turekian VC, Macko SA, Kene WC (2003) Concentrations, isotopic compositions, and sources of size-resolved, particulate organic carbon and oxalate in near–surface marine air at Bermuda during spring. J Geophys Res: Atmos 108(D5)

van den Berg CMG (1995) Evidence for organic complexation of iron in seawater. Mar Chem 50(1):139–157

Viollier E, Inglett PW, Hunter K, Roychoudhury AN, Van Cappellen P (2000) The ferrozine method revisited: Fe(II)/Fe(III) determination in natural waters. Appl Geochem 15:785–790

Voelker BM, Sulzberger B (1996) Effects of fulvic acid on Fe(II) oxidation by hydrogen peroxide. Environ Sci Technol 30(4):1106–1114

Wang Y, Reardon EJ (2001) Activation and regeneration of a soil sorbent for defluoridation of drinking water. Appl Geochem 16(5):531–539

Wieland E, Wehrli B, Stumm W (1988) The coordination chemistry of weathering: III. A generalization on the dissolution rates of minerals. Geochim Cosmochim Acta 52(8):1969–1981

Wu J et al (2001) Soluble and colloidal iron in the oligotrophic North Atlantic and North Pacific. Science 293(5531):847–849

Xia L, Gao Y (2010) Chemical composition and size distributions of coastal aerosols observed on the US East Coast. Mar Chem 119(1):77–90

Xia L, Gao Y (2011) Characterization of trace elements in PM 2.5 aerosols in the vicinity of highways in northeast New Jersey in the US east coast. Atmos Pollut Res 2(1):34–44

Xu N, Gao Y (2008) Characterization of hematite dissolution affected by oxalate coating, kinetics and pH. Appl Geochem 23(4):783–793

Xu G, Gao Y (2014) Atmospheric trace elements in aerosols observed over the Southern Ocean and coastal East Antarctica. Polar Res 33:23973

Zhu X, Prospero JM, Savoie DL, Millero FJ, Zika RG, Saltzman ES (1993) Photoreduction of iron (III) in marine mineral aerosol solutions. J Geophys Res: Atmos (1984–2012) 98(D5):9039–9046

Zhu XR, Prospero JM, Millero FJ (1997) Diel variability of soluble Fe(II) and soluble total Fe in North African dust in the trade winds at Barbados. J Geophys Res: Atmos (1984–2012) 102(D17):21297–21305

Zinder B, Furrer G, Stumm W (1986) The coordination chemistry of weathering: II. Dissolution of Fe(III) oxides. Geochim Cosmochim Acta 50(9):1861–1869

Zuo Y, Hoigne J (1992) Formation of hydrogen peroxide and depletion of oxalic acid in atmospheric water by photolysis of iron (III)-oxalato complexes. Environ Sci Technol 26(5):1014–1022
Acknowledgments
This research was sponsored by the US National Science Foundation Award 1435871 and was carried out at Rutgers University, Newark Campus. We would like to thank Dr. John Reinfelder and Dr. Ashaki Rouff for helpful discussions. We also thank two anonymous reviewers for constructive comments that significantly improved this manuscript.
About this article
Cite this article
Mukherjee, P., Gao, Y. Efficiency of organic ligands in adsorptive dissolution and photoreductive dissolution of hematite. Int. J. Environ. Sci. Technol. 13, 1195–1206 (2016). https://doi.org/10.1007/s13762-016-0975-6
Received:

Revised:

Accepted:

Published:

Issue Date:
Keywords
Dissolution

Hematite

Organic ligands

Photoreduction