Abstract
This paper reports on the content of six heavy metals (Cu, Zn, Pb, As, Cd and Ni) in topsoil and parts of peach-tree, sampled from eight locations in urban–industrial and rural areas located at various distances from the Bor copper smelter, Serbia. Topsoil samples were analyzed for physical and chemical properties, while the content of heavy metals in all samples was determined using an inductively coupled plasma optical emission spectrometer (iCAP 6000). The enrichment factor showed that the topsoil was enriched by heavy metals (except for nickel), at all locations. An extreme enrichment by copper was found at six locations (EFsoil = 86–101). The enrichment factors of heavy metals in peach-tree parts were highest in roots and leaves. The most extreme enrichment by copper was found to occur in the roots (EFplant = 68.80) from the flotation tailing pond. Among the studied heavy metals, only the content of zinc was within normal limits for plants. Calculated biological concentration factors (BCF < 1) indicated a limited soil-to-root transfer of heavy metals. Moreover, the leaf/branch ratio as well as numerous and very strong Pearson's correlations between elements in the peach-tree parts confirmed that leaves represent the best indicators of pollution originating from atmospheric deposition. Principal component analysis identified sources of heavy metals in soil and parts of peach-tree.
Access options
Buy single article
Instant access to the full article PDF.
USD 39.95
Price excludes VAT (USA)
Tax calculation will be finalised during checkout.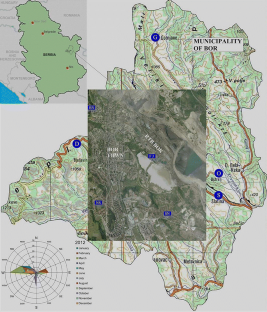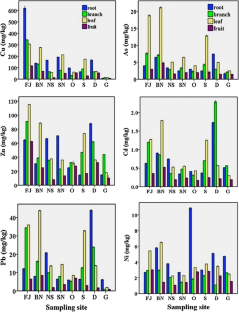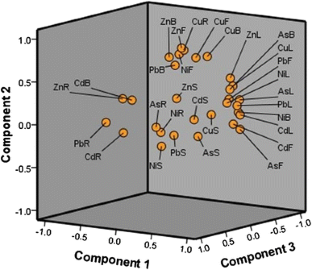 References
Agyarko K, Darteh E, Berlinger B (2010) Metal levels in some refuse dump soils and plants in Ghana. Plant Soil Environ 56:244–251

Alagić SČ, Šerbula SS, Tošić SB, Pavlović AN, Petrović JV (2013) Bioaccumulation of arsenic and cadmium in birch and lime from the Bor region. Arch Environ ContamToxicol 65:671–682

Alagić SČ, Tošić SB, Dimitrijević MD, Antonijević MM, Nujkić MM (2015) Assessment of the quality of polluted areas based on the content of heavy metals in different organs of the grapevine (Vitis vinifera) cv. Tamjanika. Environ Sci Pollut Res 22(9):7155–7175

Alloway B (2013) Heavy metals in soils: trace metals and metalloids in soils and their bioavailability. Environmental Pollution, vol 22, 3rd edn. Springer, Berlin

Alvarez E, Fernandez Marcos ML, Vaamonde C, Fernandez-Sanjurjo MJ (2003) Heavy metals in the dump of an abandoned mine in Galicia (NW Spain) and in the spontaneously occurring vegetation. Sci Total Environ 313:185–197

Anju M, Banerjee DK (2012) Multivariate statistical analysis of heavy metals in soils of a Pb–Zn mining area, India. Environ Monit Assess 184:4191–4206

Antonijević MM, Dimitrijević MD, Stevanović ZO, Šerbula SM, Bogdanović GD (2008) Investigation of the possibility of copper recovery from the flotation tailings by acid leaching. J Hazard Mater 158:23–34

Antonijević MM, Dimitrijević MD, Milić SM, Nujkić MM (2012) Metal concentrations in the soils and native plants surrounding the old flotation tailings pond of the Copper Mining and Smelting Complex Bor (Serbia). J Environ Monit 14:866–877

Arnetoli M, Vooijs R, Gonnelli C, Gabbrielli R, Verkleij JAC, Schat H (2008) High-level Zn and Cd tolerance in Silene paradoxa L. from a moderately Cd- and Zn-contaminated copper mine tailing. Environ Pollut 156:380–386

Ashraf MA, Maah MJ, Yusoff I (2011) Heavy metals accumulation in plants growing in ex tin mining catchment. Int J Environ Sci Technol 8:401–416

Ayari F, Hamdi H, Jedidi N, Gharbi N, Kossai R (2010) Heavy metal distribution in soil and plant in municipal solid waste compost amended plots. Int J Environ Sci Technol 7:465–472

Balabanova B, Stafilov T, Šajn R, Baèeva K (2012) Characterisation of heavy metals in lichen species Hypogymnia Physodes and Evernia Prunastri due to biomonitoring of air pollution in the vicinity of copper mine. Int J Environ Res 6(3):779–794

Basar H, Aydınalp C (2005) Heavy metal contamination in peach trees irrigated with water from a heavily polluted creek. J Plant Nutr 28:2049–2063

Bianchini F, Pascali G, Campo A, Orecchio S, Bonsignore R, Blandino P, Pietrini P (2015) Elemental contamination of an open-pit mining area in the Peruvian Andes. Int J Environ Sci Technol 12(3):1065–1074

Chojnacka K, Chojnacki A, Górecka H, Górecki H (2005) Bioavailability of heavy metals from polluted soils to plants. Sci Total Environ 337:175–182

Commission Regulation (EC) No. 1881/2006 of 19 December (2006) Setting maximum levels for certain contaminants in food stuffs

Crinnion JW (2010) Organic foods contain higher levels of certain nutrients, lower levels of pesticides, and may provide health benefits for the consumer. Altern Med Rev 15:4–12

Dimitrijević M, Kostov A, Tasić V, Milošević N (2009) Influence of pyrometallurgical copper production on the environment. J Hazard Mater 164:892–899

Doležalová Weissmannová H, Pavlovský J, Chovanec P (2015) Heavy metal contaminations of urban soils in Ostrava, Czech Republic: assessment of metal pollution and using principal component analysis. Int J Environ Res 9(2):683–696

Francini A, Sebastiani L (2010) Copper effects on Prunus persica in two different grafting combinations (P. persica × P. amygdalus and P. cerasifera). J Plant Nutr 33:1338–1352

Garcia JH, Li WW, Arimoto R, Okrasinski R, Greenlee J, Walton J, Schloesslin C, Sage S (2004) Characterization and implication of potential fugative dust sources in the Paso del Norte region. Sci Total Environ 325:95–112

Gonzalez RC, Gonzalez-Chavez MCA (2006) Metal accumulation in wild plants surrounding mining wastes. Environ Pollut 144:84–92

Hernandez L, Probst A, Probst JL, Ulrich E (2003) Heavy metal distribution in some French forest soils: evidence for atmospheric contamination. Sci Total Environ 312:195–219

Jolivet C, Arrouays D, Bernoux M (1998) Comparison between analytical methods for organic carbon and organic matter determination in sandy Spodosols of France. Commun Soil Sci Plant Anal 29:2227–2233

Kabata-Pendias A (2011) Trace elements in soils and plants, 4th edn. CRC Press, Boca Raton

Kabata-Pendias A, Mukherjee AB (2007) Trace elements from soil to human. Springer, Berlin

Keuken MP, Moerman M, Voogt M, Blom M, Weijers EP, Röckmann T, Dusek U (2013) Source contributions to PM2.5 and PM10 at an urban background and a street location. Atmos Environ 71:26–35

Kisku GC, Barman SC, Bhargava SK (2000) Contamination of soil and plants with potentially toxic elements irrigated with mixed industrial effluent and its impact on the environment. Water Air Soil Pollut 120:121–137

Kovačević R, Jovašević-Stojanović M, Tasić V, Milošević N, Petrović N, Stanković S, Matić-Besarabić S (2010) Preliminary analysis of levels of arsenic and other metalic elements in PM10 sampled near Copper smelter Bor (Serbia). CI&CEQ 16(3):269–279

Li MS, Yang SX (2008) Heavy metal contamination in soils and phytoaccumulation in a manganese mine wasteland, South China. Air Soil Water Res 1:31–41

Li Y, Wang YB, Gou X, Su YB, Wang G (2006) Risk assessment of heavy metals in soils and vegetables around non-ferrous metals mining and smelting sites, Baiyin, China. J Environ Sci 18:1124–1134

Local Environmental Action Plan (LEAP) Bor (2003) Municipality Bor

Malmstrom ME, Gleisner M, Herbert RB (2006) Element discharge from pyritic mine tailings at limited oxygen availability in column experiments. Appl Geochem 21:184–202

Matei N, Popescu A, Munteanu M, Lucian Radu G (2013) The assessment of Cd, Zn, Pb, Cu and vitamin C in peaches. UPB Sci Bull Series B 75:73–80

Mehes-Smith M, Nkongolo KK, Narendrula R, Cholewa E (2013) Mobility of heavy metals in plants and soil: a case study from a mining region in Canada. Am J Environ Sci 9:483–493

Mingorance MD, Valdés B, Oliva SR (2007) Strategies of heavy metal uptake by plants growing under industrial emissions. Environ Int 33:514–520

Moore JN, Louma SN (1990) Hazardous wastes from large-scale metal extraction. Environ Sci Technol 24:1278–1285

Mudgal V, Madaan N, Mudgal A (2010) Heavy metals in plants: phytoremediation: plants used to remediate heavy metal pollution. Agric Biol J N Am 1:40–46

Nagajyoti PC, Lee KD, Sreekanth TVM (2010) Heavy metals, occurrence and toxicity for plants: a review. Environ Chem Lett 8:199–216

Oliva SR, Espinosa AJF (2007) Monitoring of heavy metals in topsoils, atmospheric particles and plant leaves to identify possible contamination sources. Microchem J 86:131–139

Oliva SR, Mingorance MD (2006) Assessment of airborne heavy metal pollution by aboveground plant parts. Chemosphere 65:177–182

Radwan MA, Salama AK (2006) Market basket survey for some heavy metals in Egyptian fruits and vegetables. Food ChemToxicol 44:1273–1278

Rashed MN (2010) Monitoring of contaminated toxic and heavy metals, from mine tailings through age accumulation, in soil and some wild plants at Southeast Egypt. J Hazard Mater 178:739–746

Saba G, Parizanganeh AH, Zamani A, Saba J (2015) PhytoremeDiation of heavy metals contaminated environments: screening for native accumulator plants in Zanjan-Iran. Int J Environ Res 9(1):309–316

Sadhu K, Adhikari K, Gangopadhyay A (2012) Effect of mine spoil on native soil of Lower Gondwana coal fields: Raniganj coal mines areas, India. Inter J Environ Sci 2:1675–1687

Salvagio Manta D, Angelone M, Bellanca A, Neri R, Sprovieri M (2002) Heavy metals in urban soils: a case study from the city of Palermo (Sicily), Italy. Sci Total Environ 300:229–243

Serbula SM, Miljkovic DDJ, Kovacevic RM, Ilic AA (2012) Assessment of airborne heavy metal pollution using plant parts and topsoil. Ecotox Environ Safe 76:209–214

Stüben D, Berner Z, Kappes B, Puchelt H (2001) Environmental monitoring of heavy metals and arsenic from Ag–Pb–Zn mining, a case study over two Millennia. Environ Monit Assess 70:181–200

Sutherland RA (2000) Bed sediment-associated trace metals in an urban stream, Oahu, Hawaii. Environ Geol 39:611–627

The Official Gazette of Republic of Serbia, no. 88/2010: the decree on the soil quality monitoring programme using indicators for assessing the risks from the soil degradation as well as the methodology for working out the remediation programme

Tian D, Zhu F, Yan W, Fang X, Xiang W, Deng X, Wang G, Peng C (2009) Heavy metal accumulation by panicled goldenrain tree (Koelreuteria paniculata) and common elaeocarpus (Elaeocarpus decipiens) in abandoned mine soils in southern China. J Environ Sci China 21:340–345

Weng G, Wu L, Wang Z, Luo Y, Christie P (2005) Copper uptake by four Elsholtzia ecotypes supplied with varying levels of copper in solution culture. Environ Int 31:880–884

Xu J, Yang L, Wang Z, Dong G, Huang J, Wang Y (2006) Toxicity of copper on rice growth and accumulation of copper in rice grain in copper contaminated soil. Chemosphere 62:602–607

US EPA METHOD 3052: Microwave assisted acid digestion of siliceous and organically based matrices
Acknowledgments
Authors are grateful to the Ministry of Education, Science and Technological Development of Serbia for financial support (Project No. 172031).
About this article
Cite this article
Dimitrijević, M.D., Nujkić, M.M., Alagić, S.Č. et al. Heavy metal contamination of topsoil and parts of peach-tree growing at different distances from a smelting complex. Int. J. Environ. Sci. Technol. 13, 615–630 (2016). https://doi.org/10.1007/s13762-015-0905-z
Received:

Revised:

Accepted:

Published:

Issue Date:

DOI: https://doi.org/10.1007/s13762-015-0905-z
Keywords
Toxic elements

Enrichment factor

Prunus persica

Pollution