Abstract
In this study, AERMOD dispersion model has been applied for predicting the values of ambient concentrations of NO2 emissions due to the stacks of fourth gas refinery located in South Pars Gas Complex in Asaluyeh, Iran. First, the values of NO2 emissions from the stacks and the amounts of ambient concentrations of NO2 in nine monitoring stations have been measured in four seasons in 2013. Then, dispersion of NO2 emissions has been predicted by using AERMOD model in the region with the domain area of 10 × 10 km2, in average times of 1 h. Finally, the simulated and observed values of ambient NO2 concentrations in the nine receptors have been compared. Comparison of 1-h concentrations of the observed and predicted results with the international ambient standard levels shows that NO2 concentrations are higher than the standard value. The results show that AERMOD model can be used effectively for predicting the amounts of pollutants' concentrations in the study area.
Access options
Buy single article
Instant access to the full article PDF.
USD 39.95
Price excludes VAT (USA)
Tax calculation will be finalised during checkout.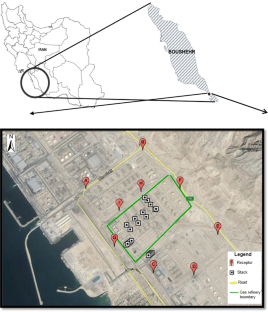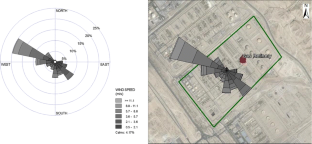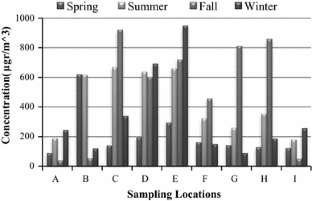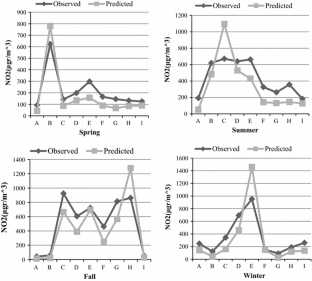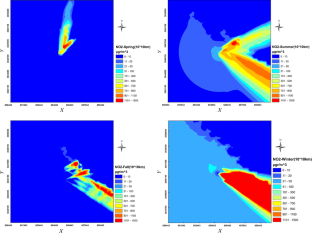 References
Abdul-Wahab S, Sappurd A, Al-Damkhi A (2011) Application of California Puff (CALPUFF) model: a case study for Oman. Clean Technol Environ Policy 13:177–189. doi:10.1007/s10098-010-0283-7

Akdemir A, Ozel U, Ergun ON (2013) Multivariate regression analysis for ground-level ozone modeling in Kurupelit, Samsun, Turkey. Ekoloji 22:84–89. doi:10.5053/ekoloji.2013.8610

Arya SP (1999) Air pollution meteorology and dispersion. Oxford University Press, Oxford

ASTM (2011a) Standard practice for general ambient air analyzer procedures. ASTM International, West Conshohocken. doi:10.1520/D3249-95R11

ASTM (2011b) Standard test method for determination of nitrogen oxides, carbon monoxide, and oxygen concentrations in emissions from natural gas-fired reciprocating engines, combustion turbines, boilers, and process heaters using portable analyzers. ASTM International, West Conshohocken. doi:10.1520/D6522-11

Bhanarkar AD, Goyal SK, Sivacoumar R, Chalapati Rao CV (2005) Assessment of contribution of SO2 and NO2 from different sources in Jamshedpur region. India Atmos Environ 39:7745–7760. doi:10.1016/j.atmosenv.2005.07.070

Cimorelli AJ et al (2004) AERMOD: description of model formulation. US Environmental Protection Agency, North Carolina

Cimorelli AJ et al (2005) AERMOD: a dispersion model for industrial source applications. Part I: general model formulation and boundary layer characterization. J Appl Meteorol 44:682–693. doi:10.1175/JAM2227.1

Dresser AL, Huizer RD (2011) CALPUFF and AERMOD model validation study in the near field: Martins Creek Revisited. J Air Waste Manag Assoc 6:647–659

Freddy Kho WL, Sentian J, Radojevic M, Tan CL, Law PL, Halipah S (2007) Computer simulated versus observed NO2 and SO2 emitted from elevated point source complex. Int J Environ Sci Technol 4:215–222. doi:10.1007/BF03326277

Huertas JI, Huertas ME, Díaz J (2012) Assessing precision and accuracy of atmospheric emission inventories. Int J Environ Sci Technol 9:195–202. doi:10.1007/s13762-012-0022-1

IRIMO (2014) Iran Meteorological Organization. http://www.weather.ir/. Accessed 26 Jun 2014

Perkins HC (1974) Air pollution. Mcgraw-Hill Book Company, New York

Perry SG et al (2005) AERMOD: a dispersion model for industrial source applications. Part II: model performance against 17 field study databases. J Appl Meteorol 44:694–708. doi:10.1175/JAM2228.1

Seangkiatiyuth K, Surapipith V, Tantrakarnapa K, Lothongkum AW (2011) Application of the AERMOD modeling system for environmental impact assessment of NO2 emissions from a cement complex. J Environ Sci 23:931–940. doi:10.1016/S1001-0742(10)60499-8

Shooter D, Brimblecombe P, Brasell MR (1993) Ground level nitrogen dioxide concentrations in the rural Waikato Valley, New Zealand. Environ Monit Assess 25:159–168. doi:10.1007/bf00549137

Snyder WH et al (1985) The structure of strongly stratified flow over hills: dividing-streamline concept. J Fluid Mech 152:249–288. doi:10.1017/S0022112085000684

Software LE (2011) Wind Rose Plots for Meteorological Data, 7.0.0 edn

SPGC (2012) South Pars Gas Complex Company. http://www.spgc.ir/. Accessed 2 Jan 2013

US EPA (2003) Guidelines for developing an air quality (ozone and PM2.5) forecasting program. Office of Air Quality, Planning and Standards, Research Triangle Park, NC

US EPA (2004) USER'S GUIDE FOR THE AERMOD TERRAIN PREPROCESSOR (AERMAP). US EPA, Environmental Protection Agency, North Carolina 27711

US EPA (2010) National Ambient Air Quality Standards (NAAQS) vol 2012. US EPA, Environmental Protection Agency, USA

US EPA EPA (2004) User's Guide for the Aermod Meteorological Preprocessor (AERMET). Office of Air Quality Planning and Standards Emissions, Monitoring and Analysis Division Research Triangle Park, North Carolina 27711

WHO (2014) Ambient (outdoor) air quality and health. World Health Organization. http://www.who.int/mediacentre/factsheets/fs313/en/

Willis GE, Deardorff JW (1981) A laboratory study of dispersion from a source in the middle of the convectively mixed layer. Atmos Environ 15:109–117. doi:10.1016/0004-6981(81)90001-9
Acknowledgments
This project was made possible through the financial and continued supports of South Pars Gas Complex (SPGC). Authors would like to appreciate the experts who participated in this research.
About this article
Cite this article
Jafarigol, F., Atabi, F., Moattar, F. et al. Predicting ambient concentrations of NO2 in a gas refinery located in South Pars Gas Complex. Int. J. Environ. Sci. Technol. 13, 897–906 (2016). https://doi.org/10.1007/s13762-015-0870-6
Received:

Revised:

Accepted:

Published:

Issue Date:

DOI: https://doi.org/10.1007/s13762-015-0870-6
Keywords