Abstract
This study reports the competitive adsorption of Ni(II), Cd(II) and Cr(VI) onto sunflower waste biomass carbons, viz. sunflower head carbon and sunflower stem carbon from multi-metal aqueous solution. The adsorption capacity of the adsorbents was highest in mono-metal system but decreased with increase in the number of co-ions. The adsorption capacity in mono-metal system was 0.32 and 0.45 mM/g for Ni(II), 0.25 and 0.32 mM/g for Cd(II) and 0.20 and 0.28 for Cr(VI) by sunflower head carbon and sunflower stem carbon, respectively, whereas, in a binary system, adsorption capacity of sunflower head carbon for Ni(II) was 0.24 mM/g in 0.5 mM Cd(II) solution which was further reduced to 0.18 mM/g in 2.0 mM Cd(II). The effect of co-cations was more pronounced in tertiary systems. Similar behavior was observed for other systems also. The interactive effect of multi-metal ions in binary and tertiary component systems was antagonistic in nature, i.e., the effect of mixture is less than the sum of individual effect of the constituents or when the effect of individual substances added together is less than the expected in response to multiple substances. Langmuir model best fitted the data for all the systems with r 2 value >0.95.
Access options
Buy single article
Instant access to the full article PDF.
US$ 39.95
Tax calculation will be finalised during checkout.
Subscribe to journal
Immediate online access to all issues from 2019. Subscription will auto renew annually.
US$ 79
Tax calculation will be finalised during checkout.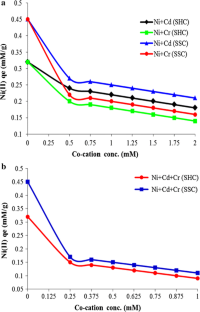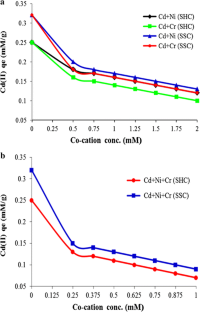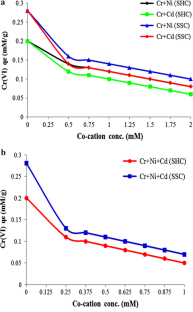 References
Aksu Z, Acikel U, Kutsal T (1999) Investigation of simultaneous biosorption of copper(II) and chromium(VI) on dried chlorella vulgaris from binary metal mixtures: application of multicomponent adsorption isotherms. Sep Purif Technol 34:501–524

Chang JS, Chen CC (1998) Quantitative analysis and equilibrium models of selective adsorption in multimetal systems using a bacterial biosorbent. Sep Sci Technol 33:611–632

Chiban M, Soudani A, Sinan F, Persin M (2011) Single, binary and multi-component adsorption of some anions and heavy metals on environmentally friendly Carpobrotus edulis plant. Colloid Surf B 82:267–276

de Carvalho RP, Chong KH, Volesky B (1995) Evaluation of the Cd, Cu and Zn biosorption in two-metal systems using an algal biosorbent. Biotechnol Prog 11:39–44

Ghasemi M, Ghasemi N, Zahedi G, Alwi SRW, Goodarzi M, Javadian H (2014) Kinetic and equilibrium study of Ni(II) sorption from aqueous solutions onto Peganum harmala-L. Int J Environ Sci Technol 11:1835–1844

Hadi P, Barford J, Mckay G (2014) Selective toxic metal uptake using an e waste based novel sorbent-single, binary and ternary systems. J Environ Chem Eng 2:332–339

Jain M, Garg VK, Kadirvelu K (2009) Equilibrium and kinetic studies for sequestration of Cr(VI) from simulated wastewater using sunflower waste biomass. J Hazard Mater 171:328–334

Jain M, Garg VK, Kadirvelu K (2010) Adsorption of hexavalent chromium from aqueous medium onto carbonaceous adsorbents prepared from waste biomass. J Environ Manag 91:949–957

Jain M, Garg VK, Kadirvelu K (2013) Cadmium(II) sorption and desorption in a fixed bed column using sunflower waste carbon calcium-alginate beads. Bioresour Technol 129:242–248

Jain M, Garg VK, Kadirvelu, K (2014) Adsorption of Ni(II) onto chemically modified sunflower biomass. Desalin water treat article (in press)

Kadirvelu K, Kavipriya M, Karthika C, Vennilamani N, Pattabhi S (2004) Mercury (II) adsorption by activated carbon made from sago waste. Carbon 42:745–752

Kadirvelu K, Goel J, Rajagopal C (2008) Sorption of lead, mercury and cadmium ions in multi-component system using carbon aerogel as adsorbent. J Hazard Mater 153:502–507

Li YH, Wang S, Luan Z, Ding J, Xu C, Wu D (2003) Adsorption of cadmium(II) from aqueous solution by surface oxidized carbon nanotubes. Carbon 41:1057–1062

Machida M, Mochimaru T, Tatsumoto H (2006) Lead(II) adsorption onto the graphene layer of carbonaceous materials in aqueous solution. Carbon 44:2681–2688

Mahajan G, Sud D (2013) Application of lingo-cellulosic waste material for heavy metal ions removal from aqueous solution. J Environ Chem Eng 1:1020–1027

Mohan D, Singh KP (2002) Single and multi-component adsorption of cadmium and zinc using activated carbon derived from bagasse—an agricultural waste. Water Res 36:2304–2318

Nguyen TAH, Ngo HH, Guo WS, Zhang J, Liang S, Yue QY, Li Q, Nguyen TV (2013) Applicability of agricultural waste and bi-products for adsorptive removal of heavy metals from wastewater. Bioresour Technol 148:574–585

Reddy PMK, Krishanmurthy K, Mahammadunnisa SK, Dayamani A, Subrahmanyam C (2015) Preparation of activated carbons from bio-waste: effect of surface functional groups on methylene blue adsorption. Int J Environ Sci Technol 12:1363–1372

Saeed A, Iqbal M, Akhtar MW (2005) Removal and recovery of lead(II) from single and multimetal (Cd, Cu, Ni, Zn) solutions by crop milling waste (black gram husk). J Hazard Mater B117:65–73

Sağ Y, Kutsal T (1996) Fully competitive biosorption of chromium(VI) and iron(III) ions from binary metal mixtures by R. arrhizus: use of the competitive langmuir model. Process Biochem 31:573–585

Sharma SK, Kalra KL, Koche GS (2012) Sunflower. In: Kole C, Joshai CSP, Shonnard DR (eds) Handbook of bioenergy crop plants. CRC Press, Taylor & Francis Group, Boca Raton, pp 717–736

Srivastava VC, Mall ID, Mishra IM (2006) Modelling individual and competitive adsorption of cadmium(II) and zinc(II) metal ions from aqueous solution onto bagasse fly ash. Sep Sci Technol 41:2685–2710

Sun G, Xu X (1997) Sunflower stalks as adsorbents for color removal from textile wastewater. Ind Eng Chem Res 36:808–812

Ting YP, Teo WK (1994) Uptake of cadmium and zinc by yeast: effects of co-metal ion and physical/chemical treatments. Bioresour Technol 50:113–117

Vinh NV, Zafar M, Behera SK, Park HS (2015) Arsenic (III) removal from aqueous solution by raw and zinc-loaded pine cone biochar: equilibrium, kinetics and thermodynamics studies. Int J Environ Sci Technol 12:1283–1294

Witek-Krowiak A (2012) Analysis of temperature-dependent adsorption of Cu2+ ions on sunflower hulls: kinetics, equilibrium and mechanism of the process. Chem Eng J 192:13–20
Acknowledgments
The present work was supported by Council of Scientific and Industrial Research (CSIR), Govt. of India, New Delhi, in the form of Senior Research Fellowship (Grant number 09/752(0022)/2009/EMR-I. The authors express their thanks for financial support to this work.
Nomenclature
SHC

Sunflower head carbon

SSC

Sunflower stem carbon

BET

Brunauer–Emmett–Teller

SEM

Scanning electron microscope

EDX

Energy dispersive X-ray analysis

FT-IR

Fourier transform infrared microscopy
About this article
Cite this article
Jain, M., Garg, V.K., Kadirvelu, K. et al. Adsorption of heavy metals from multi-metal aqueous solution by sunflower plant biomass-based carbons. Int. J. Environ. Sci. Technol. 13, 493–500 (2016). https://doi.org/10.1007/s13762-015-0855-5
Received:

Revised:

Accepted:

Published:

Issue Date:
Keywords
Competitive adsorption

Chromium

Cadmium

Nickel

Helianthus annuus