Abstract
The influence of nutrient limitation on polyhydroxyalkanoate (PHA) accumulation was studied using a novel PHA-producing strain of Enterobacter sp. The effect of N/C ratio on growth and accumulation of PHA was studied by varying the ratio from 0.02 to 0.1. Biomass concentration, dry cell weight, protein content and the amount of PHA accumulated were estimated for each N/C ratio. It was found that the increase in N/C ratio resulted in increase in culture concentration up to 3.25 g/l of dry cell weight. Polyhydroxyalkanoate concentration was found to be maximum at N/C ratio of 0.04 (67.8 µg/ml), and further increase in N/C ratio resulted in lesser amount of PHA. Analytical procedures such as FTIR and NMR were done to validate the obtained PHA biopolymer.
Access options
Buy single article
Instant access to the full article PDF.
US$ 39.95
Tax calculation will be finalised during checkout.
Subscribe to journal
Immediate online access to all issues from 2019. Subscription will auto renew annually.
US$ 79
Tax calculation will be finalised during checkout.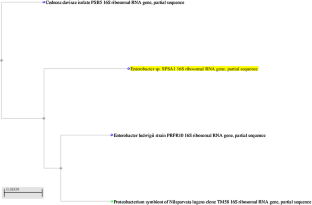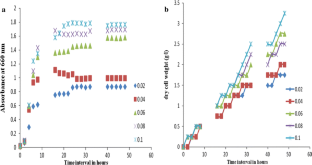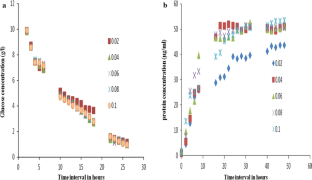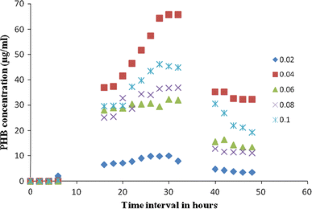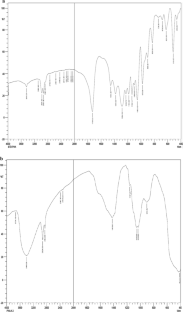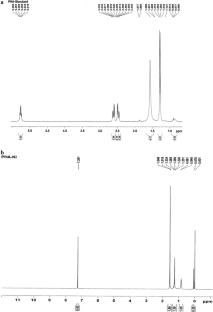 References
Albuquerque MGE, Eiroa M, Torres C, Nunes BR, Reis MAM (2007) Strategies for development of side stream process for polyhydroxyalkanoate (PHA) production from sugarcane molasses. J Biotechnol 130:411–421

Altschul SF, Madden TL, Schaffer AA, Zhang J, Zhang Z, Miller W, Lipman DJ (1997) Gapped BLAST and PSI-BLAST: a new generation of protein database search programs. Nucleic Acids Res 25:3389–3402

Anderson AJ, Dawes EA (1990) Occurrence, metabolism, metabolic rate, and industrial uses of bacterial polyhydroxyalkonate. Microbiol Rev 54:450–472

Dalal J, Sarma MP, Lavania M, Mandal KA, Lal B (2010) Evaluation of bacterial strains isolated from oil-contaminated soil for production of polyhydroxyalkanoic acids (PHA). Pedobiologia 54:25–30

Giovanoni SJ (1991) The polymerase chain reaction. In: Stackebrandt E, Goodfellow M (eds) Nucleic acid techniques in bacterial systematics. Wiley, New York, pp 177–203

Heimersson S, Morgan-Sagastume F, Peters GM, Svanstrom M (2014) Methodological issues in life cycle assessment of mixed-culture polyhydroxyalkanoate production utilising waste as feedstock. New Biotechnol 331(4):383–393

Law J, Slepecky RA (1969) Assay of poly—hydroxybutyric acid. J Bacteriol 82:52–55

Laycock B, Halley P, Pratt S, Werker A, Lant P (2014) The chemomechanical properties of microbial polyhydroxyalkanoates. Prog Polym Sci 39(2):397–442

Nogabi AK, Zahiri SH, Yoo SC (2007) The production of cold induced extracellular polymer by Pseudomonas fluorescens BM07 under various growth conditions and its role in heavy metals absorption. Process Biochem 42:847–855

Ojumu TV, Yu J, Solomon BO (2004) Production of polyhydroxyalkonate, a bacterial biodegradable polymer. Afr J Biotechnol 43:8–24

Ostle AG, Holt JG (1982) Nile Blue A as a Fluorescent Stain for Poly-3- Hydroxybutyrate. Appl Environ Microbiol 44:238–241

Philip S, Keshavarz T, Roy I (2007) Polyhydroxyalkanoates: biodegradable polymers with a range of applications. J Chem Technol Biotechnol 82(3):233–247

Poirier Y, Dennis DE, Klomparens K, Somerville C (1995) Polyhydroxybutyrate, a biodegradable thermoplastic produced in transgenic plants. Science 256:520–523

Raje P, Srivasta AK (1998) Updated mathematical model and fed batch strategies for poly-β-hydroxybutyurate (PHB) production by Alcaligenes eutropus. Bioresour Technol 64:185–192

Reddy VM, Mohan VS, (2012) Effect of substrate load and nutrient concentration on the polyhydroxyalkanoates (PHA) production using mixed consortia through waste water treatment. Bioresour Technol 114:573–582

Reddy MM, Vivekanandhan S, Mishra M, Bhatia SK, Mohanty AK (2013) Biobased plastics and bionanocomposites: current status and future opportunities. Prog Polym Sci 38:1653–1689

Sanchez R, Schripsema J, Silva FL, Taciro KM, Pradella GCJ, Gomez G (2003) Medium chain length polyhydroxy alkonoic acids produced by P. putita IPT 046 from renewable resource. Eur Polym J 39:1385–1394

Sandhya M, Aravind J, Kanmani P (2013) Production of polyhydroxyalkanoates from Ralstonia eutropha using paddy straw as cheap substrate. Int J Environ Sci Technol 10(1):47–54

Sato S, Ishii N, Hamada Y, Abe H, Tsuge T (2012) Utilization of 2-alkenoic acids for biosynthesis of medium-chain-length polyhydroxyalkanoates in metabolically engineered Escherichia coli to construct a novel chemical recycling system. Polym Degrad Stabil 97(3):329–336

Scholz C, Gross RA (2000) Poly (β-hydroxyalkanoates) as potential biochemical material polymers: an overview from renewable resources—biopolymers and biocatalysis. ACS Ser 764:328–334

Thompson CR, Moore C, Saal FS, Swan HS (2009) Plastics, the environment and human health: current consensus and future trends. Phil Trans R Lond B Biol Sci 364:2153–2166

Wang Y, Liu S (2014) Production of (R)-3-hydroxybutyric acid by Burkholderia cepacia from wood extract hydrolysates. AMB Expr 4:28

Yuksekdag ZN, Beyatu Y, Aslim B (2003) Determination of poly-β- hydroxybutyrate (PHB) production by some mesophilic and thermophilic lactic acid bacteria. Turk J Biol 27:37–42
Acknowledgments
The authors would like to thank the management of Kumaraguru College of Technology for the research facilities provided and Mr. M. Shanmugaprakash and Dr. Vinohar Stephen Rapheal for their invaluable help during the work.
About this article
Cite this article
Vinish, V., Sangeetha, S.H., Aravind, J. et al. Optimizing the nutrient feeding strategy for PHA production by a novel strain of Enterobacter sp.. Int. J. Environ. Sci. Technol. 12, 2757–2764 (2015). https://doi.org/10.1007/s13762-015-0784-3
Received:

Revised:

Accepted:

Published:

Issue Date:
Keywords
PHA

Novel strain

Enterobacter sp.

Nutrient limitation

N/C ratio

FTIR

NMR