Abstract
Carbon dioxide (CO2) is considered the most harmful of the greenhouse gases. Despite policy efforts, transport is the only sector experiencing an increase in the level of CO2 emissions and thereby possesses a major threat to sustainable development. In contrast, a reduced level of mobility has been associated with an increasing risk of being socially excluded. However, despite being the two key elements in transport policy, little effort has so far been made to investigate the links between CO2 emissions and social exclusion. This research contributes to this gap by analysing data from 157 weekly activity-travel diaries collected in rural Northern Ireland. CO2 emission levels were calculated using average speed models for different modes of transport. Regression analyses were then conducted to identify the socio-spatial patterns associated with these CO2 emissions, mode choice behaviour, and patterns of participation in activities. This research found that despite emitting a higher level of CO2, groups in rural areas possess the risk of being socially excluded due to their higher levels of mobility.
Access options
Buy single article
Instant access to the full article PDF.
US$ 39.95
Tax calculation will be finalised during checkout.
Subscribe to journal
Immediate online access to all issues from 2019. Subscription will auto renew annually.
US$ 79
Tax calculation will be finalised during checkout.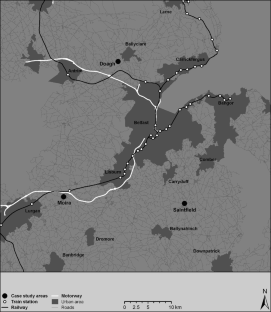 Notes
1.

For instance, the 2012 National Travel Survey data show that 45 % households in London (or 20 % in small/medium towns) have no car, whereas this is only 9 % in rural areas. 52 % of the households in rural areas own two or more cars in comparison with 16 % in London (or 34 % in small/medium towns). In addition, although both urban and rural households made almost an equal number of trips (983 per person per year), 78 % of the trips were made by using the car in rural areas compared to 40 % in London (or 66 % in small/medium towns) and also the average journey length is much higher in rural areas (9.7 miles in rural areas versus 4.6 miles in London (or 7.2 miles in small/medium towns).

2.

Urban < 40 km/h, 40 km/h ≤ rural < 77 km/h, motorway > 77 km/h. These standards were also found to be consistent with the speed limit proposed in the different types of road networks in Northern Ireland.

3.

This occupancy figure was calculated for the survey period. In 2009–2010, 41.9 million passenger journeys were made using the Ulsterbus services. Total bus-kilometres figure stood at 58.1 million. The Northern Ireland Travel Survey data show that the average journey length using the Ulsterbus services is 13.4 km (8.3 miles). Therefore, the calculated passenger-kilometres for this period is 578.22 million (41.9 × 13.4). Bus occupancy = 10 (i.e. passenger-km/bus-km).
References
Ahern A, Hine J (2012) Rural transport—valuing the mobility of older people. Res Transp Econ 34:27–34

Anable J, Brand C, Tran M, Eyre N (2012) Modelling transport energy demand: a socio-technical approach. Energy Policy 41:125–138

Andrews CJ (2008) Greenhouse gas emissions along the rural-urban gradient. J Environ Plan Manag 51:847–870

Avineri E, Waygood ODE (2013) Applying valence framing to enhance the effect of information on transport-related carbon dioxide emissions. Trans Res Part A Policy Pract 48:31–38

Banister D (2008a) The sustainable mobility paradigm. Transp Policy 15:73–80

Banister D (2008b) Rural accessibilities and mobilities. In: Becker U, Böhmer J, Gerike R (eds) How to define and measure access and need satisfaction in transport. Dresdner Institut für Verkehr und Umwelt e.V. (DIVU), Dresden, pp 165–178

Barlow TJ, Boulter PG (2009) Emission factors 2009: Report 2—a review of the average-spped approach for estimating hot exhaust emissions. TRL Limited, Wokingham

BBC (2010) Weather: average condition—Northern Ireland. http://www.bbc.co.uk/weather/world/city_guides/results.shtml?tt=TT003750. 23 Nov 2010

Begg D, Gray D (2004) Transport policy and vehicle emission objectives in the UK: is the marriage between transport and environment policy over? Environ Sci Policy 7:155–163

Berkeley N, Jarvis D (2012) Low carbon mobility: opportunities and challenges for local economic development. Local Econ 27:689–691

Boulter PG, McCrae IS, Barlow TJ (2007) A review of instantaneous emission models for road vehicles. Transport Research Laboratory (TRL), Wokingham

Boulter PG, Barlow TJ, McCrae IS (2009) Emissions factors 2009: report 3—exhaust emission factors for road vehicles in the United Kingdom. Wokingham, TRL Limited

Brand C (2005) Integrated travel emissions profiles: methodology report. Transport studies unit and environmental change institute. University of Oxford, Oxford

Brand C, Boardman B (2008) Taming of the few—the unequal distribution of greenhouse gas emissions from personal travel in the UK. Energy Policy 36:224–238

Brand C, Preston J (2010) 60–20 emission—the unequal distribution of green house gas emissions from personal, non-business travel in the UK. Transp Policy 17:9–19

Brand C, Goodman A, Rutter H, Song Y, Ogilvie D (2013) Associations of individual, household and environmental characteristics with carbon dioxide emissions from motorised passenger travel. Appl Energy 104:158–169

Burchardt T, Grand JL, Piachaud D (1999) Social exclusion in Britain 1991–1995. Soc Policy Adm 33:227–244

Burchardt T, Grand JL, Piachaud D (2002) Degrees of exclusion: developing a dynamic, multi-dimensional measure. In: Hills J, Grand JL, Piachaud D (eds) Understanding social exclusion. Oxford University Press, Oxford, pp 30–43

Cass N, Shove E, Urry J (2005) Social exclusion, mobility and access. Soc Rev 53:539–555

Chapman L (2007) Transport and climate change: a review. J Transp Geogr 15:354–367

Church A, Frost M, Sullivan K (2000) Transport and social exclusion in London. Transp Policy 7:195–205

Committee on Climate Change (2008) Building a low-carbon economy—the Uk's contribution totackling climate change

Committee on Climate Change (2010) The fourth carbon budget: reducing emissions through the 2020s

Currie G, Stanley J (2008) Investigating links between social capital and public transport. Transp Rev 28:529–547

Currie G, Richardson T, Smyth P, Vella-Brodrick D, Hine J, Lucas K, Stanley J, Morris J, Kinnear R, Stanley J (2009) Investigating links between transport disadvantage, social exclusion and well-being in Melbourne-preliminary results. Transp Policy 16:97–105

Darido G, Torres-Montoya M, Mehndiratta S (2014) Urban transport and CO2 emissions: some evidence from Chinese cities. Wiley Interdiscip Rev Energy Environ 3:122–155

DEFRA (2008) A framework for pro-environmental behaviours. DEFRA, London

Department for Communities and Local Government (2008) The English indices of deprivation 2007. Department for Communities and Local Government (DCLG), London

Department for Regional Development (2001) Shaping our future: regional development strategy for Northern Ireland 2025. Department for Regional Development, Belfast

Department for Regional Development (2002) Regional Transportation strategy for Northern Ireland 2002–2012. Department for Regional Development, Belfast

Department for Regional Development (2005) Planning policy statement 13 (PPS 13): transportation and land use. Department for Regional Development, Belfast

Department for Regional Development (2008) Travel survey for Northern Ireland 2005–2007. Department for Regional Development, Belfast

Department for Regional Development (2010) Northern Ireland transport statistics 2009–10. Department for Regional Development, Belfast

Department for Transport (2004) Smarter choices—changing the way we travel. Department for Transport, London

Department for Transport (2006) Social inclusion: transport aspects (final report). Department for Transport, London

Department for Transport (2009) Delivering sustainable low carbon travel: an essential guide for local authorities. Department for Transport, London

Department for Transport (2010a) ENV0202 carbon dioxide emissions by transport mode: United Kingdom, 1998–2008. Department for Transport, London

Department for Transport (2010b) The effects of smarter choice programmes in the sustainable travel towns: summary report. Department for Transport, London

Department for Transport (2011) Creating growth, cutting carbon: making sustainable local transport happen. Department for Transport, London

Department for Transport, Greater Manchester Passenger Transport Executive (2004) Intermode: innovations in demand responsive transport. Department for Transport and Greater Manchester Passenger Transport Executive

Department of the Environment Transport and the Region (1998) A new deal for transport: better for everyone. Department of the Environment Transport and the Region, London

Druckman A, Jackson T (2008) Household energy consumption in the UK: a highly geographically and socio-economically disaggregated model. Energy Policy 36:3177–3192

Farrington J, Gray D, Martin S, Roberts D (1998) Car dependence in rural Scotland. The Scottish Office Central Research Unit, Edinburgh

Fawcett T (2010) Personal carbon trading: a policy ahead of its time? Energy Policy 38:6868–6876

Frank LD, Brian SJ, Bachman W (2000) Linking land use with household vehicle emissions in the central puget sound: methodological framework and findings. Transp Res Part D 5:173–196

Fudge S, Peters M (2011) Behaviour change in the UK climate debate: an assessment of responsibility, agency and political dimensions. Sustainability 3:789–808

Garren SJ, Pinjari AR, Brinkmann R (2011) Carbon dioxide emission trends in cars and light trucks: a comparative analysis of emissions and methodologies for Florida's counties (2000 and 2008). Energy Policy 39:5287–5295

Glaeser EL, Kahn ME (2010) The greenness of cities: carbon dioxide emissions and urban development. J Urban Econ 67:404–418

Gough IAN (2013) Carbon Mitigation Policies, Distributional Dilemmas and Social Policies. J Soc Policy 42:191–213

Gray D, Shaw J, Farrington J (2006) Community transport, social capital and social exclusion in rural areas. Area 38:89–98

HM Government (2005) Securing the future: the UK government sustainable development strategy. HMSO. http://collections.europarchive.org/tna/20080530153425/http://www.sustainable-development.gov.uk/publications/pdf/strategy/SecFut_complete.pdf 20 Nov 2014

Higgs G, White S (2000) Alternatives to census-based indicators of social disadvantage in rural communities. Prog Plan 53:1–81

Hine J, Mitchell F (2001) The role of transport in social exclusion in urban Scotland. Scottish Executive Central Research Unit, Edinburgh

Hine J, Mitchell F (2003) Transport disadvantage and social exclusion: exclusionary mechanisms in transport in urban Scotland. Ashgate, Hampshire

Hine J, Kamruzzaman M, Blair N (2012) Weekly activity-travel behaviour in rural Northern Ireland: differences by context and socio-demographic. Transportation 39:175–195

Hodge I, Dunn J, Monk S, Fitsgerald M (2002) Barriers to participation in residual rural labour markets. Work Employ Soc 16:457–476

Howarth CC, Polyviou P (2012) Sustainable travel behaviour and the widespread impacts on the local economy. Local Econ 27:764–781

Jones A, Goodman A, Roberts H, Steinbach R, Green J (2013) Entitlement to concessionary public transport and wellbeing: a qualitative study of young people and older citizens in London, UK. Soc Sci Med 91:202–209

Joumard R, Andre M (1990) Cold start emissions of traffic. Sci Total Environ 93:175–182

Kamruzzaman M, Hine J (2011) Participation index: a measure to identify rural transport disadvantage? J Transp Geogr 19:882–899

Kelly JA, Ryan L, Casey E, O'Riordan N (2009) Profiling road transport activity: emissions from 2000 to 2005 in Ireland using national car test data. Transp Policy 16:183–192

Kennedy C (2010) Methodology for inventorying greenhouse gas emissions from global cities. Energy Policy 38:4828–4837

Ketelaer T, Kaschub T, Jochem P, Fichtner W (2014) The potential of carbon dioxide emission reductions in German commercial transport by electric vehicles. Int J Environ Sci Technol 11:2169–2184

Kilby K, Smith N (2012) Accessibility planning policy: evaluation and future direction—final report. Department for Transport, London

Knowles RD (2006) Transport shaping space: differential collapse in time and space. J Transp Geogr 14:407–425

Ko J, Park D, Lim H, Hwang IC (2011) Who produces the most CO2 emissions for trips in the Seoul metropolis area? Transp Res Part D Transp Environ 16:358–364

Kok R, Annema JA, van Wee B (2011) Cost-effectiveness of greenhouse gas mitigation in transport: a review of methodological approaches and their impact. Energy Policy 39:7776–7793

Li J (2011) Decoupling urban transport from GHG emissions in Indian cities—a critical review and perspectives. Energy Policy 39:3503–3514

Loo BPY, Li L (2012) Carbon dioxide emissions from passenger transport in China since 1949: implications for developing sustainable transport. Energy Policy 50:464–476

Lucas K (2006) Providing transport for social inclusion within a framework for environmental justice in the UK. Transp Res Part A 40:801–809

Lucas K, Jones P (2012) Social impacts and equity issues in transport: an introduction. J Transp Geogr 21:1–3

Marques AC, Fuinhas JA, Gonçalves BM (2012) Dieselization and road transport CO2 emissions: evidence from Europe. Low Carbon Econ 3:54–62

Mathez A, Manaugh K, Chakour V, El-Geneidy A, Hatzopoulou M (2013) How can we alter our carbon footprint? Estimating GHG emissions based on travel survey information. Transportation 40:131–149

McDonagh J (2006) Transport policy instruments and transport-related social exclusion in rural Republic of Ireland. J Transp Geogr 14:355–366

McNamara D, Caulfield B (2011) Measuring the potential implications of introducing a cap and share scheme in Ireland to reduce green house gas emissions. Transp Policy 18:579–586

Meyer I, Leimbach M, Jaeger CC (2007) International passenger transport and climate change: a sector analysis in car demand and associated CO2 emissions from 2000 to 2050. Energy Policy 35:6332–6345

Moseley MA (1979) Accessibility: the rural challenge. Methuen, London

NISRA (2001) Population and Migration. Northern Ireland Statistics and Research Agency (NISRA). http://www.nisranew.nisra.gov.uk/census/start.html. Accessed 3 Mar 2009

NISRA (2005) The Northern Ireland multiple deprivation measure. Northern Ireland Statistics and Research Authority. http://www.nisra.gov.uk. Accessed 16 May 2008

Nocera S, Maino F, Cavallaro F (2012) A heuristic method for determining CO2 efficiency in transportation planning. Eur Transp Res Rev 4:91–106

Northern Ireland Assembly (2011) Report on the committee's inquiry into sustainable transport. Committee for Regional Development, Belfast

Ntziachristos L, Samaras Z (2009) COPERT: EMEP/EEA emission inventory guidebook 2009. European Environment Agency

Nutley S (1985) Planning options for the improvement of rural accessibility: use of the time-space approach. Reg Stud 19:37–50

Nutley S (1996) Rural transport problems and non-car populations in the USA. J Transp Geogr 4:93–106

O' Mahony T, Zhou P, Sweeney J (2012) The driving forces of change in energy-related CO2 emissions in Ireland: a multi-sectoral decomposition from 1990 to 2007. Energy Policy 44:256–267

Rassafi AA, Vaziri M (2005) Sustainable transport indicators: definition and integration. Int J Environ Sci Technol 2:83–96

Santos G, Behrendt H, Teytelboym A (2010) Part II: policy instruments for sustainable road transport. Res Transp Econ 28:46–91

Schipper L (2011) Automobile use, fuel economy and CO2 emissions in industrialized countries: encouraging trends through 2008? Transp Policy 18:358–372

Scottish Executive (2006) Scottish index of multiple deprivation 2006: General report. Scottish executive. http://www.scotland.gov.uk/Resource/Doc/151578/0040731.pdf. Accessed 18 Dec 2008

Shergold I, Parkhurst G (2012) Transport-related social exclusion amongst older people in rural Southwest England and Wales. J Rural Stud 28:412–421

Shucksmith M, Chapman P (1998) Rural development and social exclusion. Soc Rural 38:225–242

Shucksmith M, Philip L (2000) Social exclusion in rural areas: a literature review and conceptual framework. The Scottish Executive Central Research Unit, Edinburgh

Simpson BJ (2006) Reducing carbon dioxide emissions from UK road transport. In: Proceedings of the ICE—municipal engineer, pp 203–210

Social Exclusion Unit (2003) Making the connections: transport and social exclusion. Social Exclusion Unit, The Stationery Office, London

Solomon S, Plattner G-K, Knutti R, Friedlingstein P (2009) Irreversible climate change due to carbon dioxide emissions. Environ Sci 106:1704–1709

Tchepel O, Dias D, Ferreira J, Tavares R, Isabel Miranda A, Borrego C (2012) Emission modelling of hazardous air pollutants from road transport at urban scale. Transport 27:299–306

Tian X, Chang M, Tanikawa H, Shi F, Imura H (2012) Regional disparity in carbon dioxide emissions. J Ind Ecol 16:612–622

Torres M, Pinho P (2011) Encouraging low carbon policies through a local emissions trading scheme (LETS). Cities 28:576–582

Wadud Z, Noland RB, Graham DJ (2008) Equity analysis of personal tradable carbon permits for the road transport sector. Environ Sci Policy 11:533–544

Wang Y, Hayashi Y, Chen J, Li Q (2014) Changing urban form and transport CO2 emissions: an empirical analysis of Beijing, China. Sustainability 6:4558–4579

Wells P (2012) Converging transport policy, industrial policy and environmental policy: the implications for localities and social equity. Local Econ 27:749–763

Welsh Assembly Government (2008) Welsh index of multiple deprivation 2008 (WIMD)—summary report. Welsh assembly government. http://wales.gov.uk/topics/statistics/publications/wimd08sum/?lang=en. Accessed 18 Dec 2008

Xing Y, Handy SL, Mokhtarian PL (2010) Factors associated with proportions and miles of bicycling for transportation and recreation in six small US cities. Transp Res Part D 15:73–81

Yigitcanlar T, Kamruzzaman M (2014) Investigating the interplay between transport, land use and the environment: a review of the literature. Int J Environ Sci Technol 11:2121–2132
Acknowledgments
We acknowledge and cordially thank the Editor-in-Chief and the two anonymous reviewers for their constructive comments and insightful suggestions, which helped us to improve the manuscript.
About this article
Cite this article
Kamruzzaman, M., Hine, J. & Yigitcanlar, T. Investigating the link between carbon dioxide emissions and transport-related social exclusion in rural Northern Ireland. Int. J. Environ. Sci. Technol. 12, 3463–3478 (2015). https://doi.org/10.1007/s13762-015-0771-8
Received:

Revised:

Accepted:

Published:

Issue Date:
Keywords
Activity participation

Carbon dioxide (CO2) emissions

Northern Ireland

Sustainable transport

Sustainable development

Transport disadvantage

Travel behaviour