Abstract
The nitrogen-fixing cyanobacterium Anabaena sp. ATCC 33047, which generates substantial amounts of exopolysaccharide, was immobilized by entrapment within the reticulate network of polyurethane foam discs. The immobilized Anabaena sp. system has been investigated as a potential biosorbent for the removal of cadmium from aqueous solutions. The results showed that it was a highly fast process, with 80 % of the adsorption taking place in the first 10 min, reaching full equilibrium in about 50 min. Data analysis indicated that the behaviour of the system accurately fits to a monolayer adsorption model (Langmuir isotherm). The maximal biosorption capacity determined for the immobilized Anabaena sp. system was as high as 162 mg Cd (II) per gram dry biomass. The outstanding properties established for immobilized Anabaena sp. in polyurethane foam underline the relevance of such a system as an alternative to current treatments of variety effluents or wastewater contaminated with cadmium.
Access options
Buy single article
Instant access to the full article PDF.
US$ 39.95
Tax calculation will be finalised during checkout.
Subscribe to journal
Immediate online access to all issues from 2019. Subscription will auto renew annually.
US$ 79
Tax calculation will be finalised during checkout.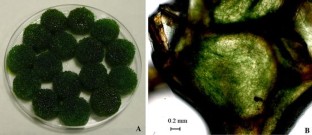 References
Abdel Hameed MS, Hammouda Ebrahim O (2007) Biotechnological potential uses of immobilized algae. Int J Agric Biol 9(1):183–192

Akhtar N, Saeed A, Iqbal M (2003) Chlorella sorokiniana immobilized on the matrix of vegetable sponge of Luffa cylindrica a new system to remove cadmium from contaminated aqueous medium. Biores Technol 88:163–165

Akhtar N, Iqbal J, Iqbal M (2004) Removal and recovery of nickel (II) from aqueous solution by loofa sponge-immobilized biomass of Chlorella sorokiniana: characterization studies. J Hazard Mater 108:85–94

Antal TK, Lindblad P (2005) Production of H2 by sulphur-deprived cells of the unicellular cyanobacteria Gloeocapsa alpicola and Synechocystis sp. PCC 6803 during dark incubation with methane or at various extracellular pH. J Appl Microbiol 98:114–120

Bashan LE, Bashan Y (2010) Immobilized microalgae for removing pollutants: review of practical aspects. Biores Technol 101:1611–1627

Chen BY, Chen CY, Guo WQ, Chang HW, Chen WM, Lee DJ, Huang CC, Ren NQ, Chan JS (2014) Fixed-bed biosorption of cadmium using immobilized Scenedesmus obliquus CNW-N cells on loofa (Luffa cylindrica) sponge. Biores Technol 160:175–181

Chojnacka K, Chojnacki A, Gorecka H (2005) Biosorption of Cr3+, Cd2+ and Cu2+ ions by blue-green algae Spirulina sp. H1: kinetics, equilibrium and the mechanism of the process. Chemosphere 59:75–84

Clares ME, Moreno J, García-González M, Guerrero MG (2012) Cadmium removal by Anabaena ATCC 33047 immobilized in polyurethane foams. In 9th European workshop biotechnology of microalgae. Nuthetal

Comte S, Guibard G, Baudu M (2008) Biosorption properties of extracellular polymeric substances (EPS) toward Cd, Cu and Pb for different pH values. J Hazard Mater 151:185–193

De Philippis R, Micheletti E (2009) Heavy metal removal with exopolysaccharides-producing cyanobacteria. In: Shammas NK, Hung YT, Chen JP, Wang LK (eds) Heavy metals in the environment. CRC Press, Boca Raton, pp 89–122

Doshi H, Ray A, Kothari IL (2007) Biosorption of cadmium by live and dead Spirulina: IR spectroscopic, kinetics, and SEEM studies. Curr Microbiol 54(3):213–218

Elmaci A, Ozengin N, Yonar T (2013) Biosorption of cadmium from aqueous solutions by Synechocystis sp. Fresen Environ Bull 22(4B):1225–1229

Fontes AG, Vargas MA, Moreno J, Guerrero MG, Losada M (1987) Factors affecting the production of biomass by a nitrogen-fixing blue-green alga in outdoor culture. Biomass 13:33–43

Gadd GM (1988) Accumulation of metals by microorganisms and algae. In: Rehm HJ (ed) Biotechnology. VCH Publishers, Weinheim, pp 401–433

Gupta VK, Rastogi A (2008) Biosorption of lead from aqueous solutions by green algae Spirogyra species: kinetics and equilibrium studies. J Hazard Mater 152:407–414

Iqbal M, Saeed A (2011) Utilization of cyanobacterium Phormidium sp. to produce immobilized hybrid disc biosorbent for the removal of Cd2+ from aqueous solution. Pak J Bot 43(3):1753–1758

Katircioglu H, Aslim B, Türker AR, Atici T, Beyatli Y (2008) Removal of cadmium(II) ion from aqueous system by dry biomass, immobilized live and heat-inactivated Oscillatoria sp. H1 isolated from freshwater (Mogan Lake). Biores Technol 99:4185–4191

Lee SK, Choi HS (2001) Spectrophotometric determination of cadmium and copper with ammonium pyrrolidine dithiocarbamate in nonionic Tween 80 micellar media. Bull Korean Chem Soc 22:463–466

Liu K, Li J, Qiao H, Wang G (2012) Immobilization of Chlorella sorokiniana GXNN 01in alginate for removal of N and P from synthetic wastewater. Bioresour Technol 114:26–32

Moreno J, Rodriguez H, Vargas MA, Rivas J, Guerrero MG (1995) Nitrogen-fixing cyanobacteria as source of phycobiliprotein pigments. Composition and growth performance of ten filamentous heterocystous strains. J Appl Phycol 7:17–23

Moreno J, Vargas MA, Madiedo JM, Muñoz J, Rivas J, Guerrero MG (2000) Chemical and rheological properties of an extracellular polysaccharide produced by the cyanobacterium Anabaena sp. ATCC 33047. Biotechnol Bioeng 67(3):283–290

Moreno-Garrido I (2013) Microalgal immobilization methods. In: Guisan JM (ed) Methods in molecular biology. Immobilization of enzymes and cells, 3rd edn, vol 1051. Humana Press, New York, pp 327–347

Muñoz R, Alvarez MT, Muñoz A, Terrazas E, Guieysse B, Mattiasson B (2006) Sequential removal of heavy metal ions and organic pollutants using an algal–bacterial consortium. Chemosphere 63:903–911

Ozturk S, Aslim B, Turker AR (2009) Removal of cadmium ions from aqueous samples by Synechocystis sp. Sep Sci Technol 44(6):1467–1483

Perez-Rama M, Torres E, Suarez C, Herrero C, Abalde J (2010) Sorption isotherm studies of Cd (II) ions using living cells of the marine microalga Tetraselmis suecica (Kylin) Butch. J Environ Manage 91:2045–2050

Saeed A, Iqbal M (2013) Loofa (Luffa cylindrica) sponge: review of development of the biomatrix as a tool for biotechnological applications. Biotechnol Prog 29(3):573–600

Senthilkumar R, Vijayaraghavan K, Thilakavathi M, Iyer PVR, Velan M (2007) Application of seaweeds for the removal of lead from aqueous solution. Biochem Eng J 33(3):211–216

Travieso L, Benitez F, Weiland P, Sánchez E, Dupeyrón R, Domínguez AR (1996) Experiments on immobilization of microalgae for nutrient removal in wastewater treatments. Biores Technol 55:181–186

Urrutia I, Serra JL, Llamas MJ (1995) Nitrate removal of water by Scenedesmus obliquus immobilized in polymeric foam. Enzyme Microbiol Technol 17:200–205

Wong MH, Pak DCH (1992) Removal of copper and nickel by free and immobilized microalgae. Biomed Environ Sci 5:99–108
Acknowledgments
This research was supported by Consejería de Innovación, Ciencia y Empresas de la Junta de Andalucía no CVI 422 (Proyecto de Excelencia), and Plan Andaluz de Investigación (group CVI 131).
Electronic supplementary material
Below is the link to the electronic supplementary material.
About this article
Cite this article
Clares, M.E., Guerrero, M.G. & García-González, M. Cadmium removal by Anabaena sp. ATCC 33047 immobilized in polyurethane foam. Int. J. Environ. Sci. Technol. 12, 1793–1798 (2015). https://doi.org/10.1007/s13762-014-0743-4
Received:

Revised:

Accepted:

Published:

Issue Date:
Keywords
Anabaena

Algal immobilization

Cadmium

Heavy metals

Polyurethane