Abstract
The aim of the study was to investigate the degradation kinetics of tetracycline antibiotic by nanosized titanium dioxide under ultraviolet irradiation. Enhancement of photocatalysis by addition of Hydrogen peroxide was also evaluated. Various experimental parameters such as initial tetracycline concentrations, initial titanium dioxide concentration, initial pH, reaction times, initial Hydrogen peroxide concentrations, as well as water matrix using ultrapure water, drinking water and secondary effluent were investigated. The initial rate of photocatalytic degradation of tetracycline well fitted the Langmuir–Hinshelwood kinetic model (R 2 = 0.9926) with a reaction rate constant of 1.4 mg/L min. The degradation rate depended on initial tetracycline concentration and initial pH. The degradation rate also increased with higher titanium dioxide density and reached a plateau at titanium dioxide concentration of 1.0 g/L. The tetracycline degradation rate was higher in drinking water compared to ultrapure water. The addition of Hydrogen peroxide to titanium dioxide suspension significantly enhanced the tetracycline degradation rate and substantially reduced the time required to degrade 100 % of tetracycline. Changes of chemical oxygen demand values during photolysis indicated that tetracycline transformed into intermediate products without complete mineralization. The ultraviolet visible spectra obtained before and after ultraviolet irradiation in the presence of titanium dioxide can indicate the formation of 4a,12a-anhydro-4-oxo-4- dimethylaminotetracycline.
Access options
Buy single article
Instant access to the full article PDF.
USD 39.95
Price excludes VAT (USA)
Tax calculation will be finalised during checkout.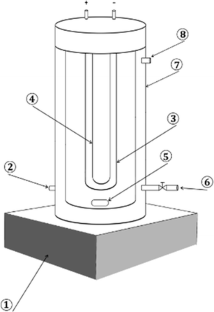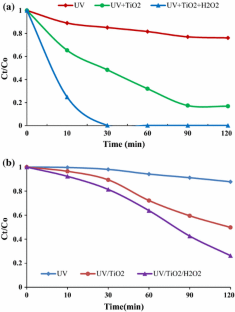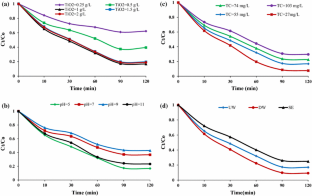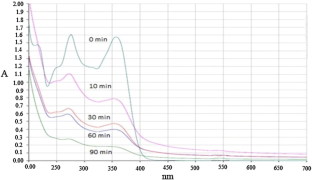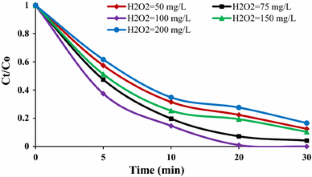 References
Addamo M, Augugliaro V, Di Paola A, Garcia-Lopez E, Loddo V, Marci G, Palmisano L (2005) Removal of drugs in aqueous systems by photoassisted degradation. J Appl Electrochem 35(7–8):765–774

Ahmed S, Rasul MG, Martens WN, Brown RJ, Hashib MA (2010) Heterogeneous photocatalytic degradation of phenols in wastewater: a review on current status and developments. Desalination 261(1–2):3–18

Barolo G, Livraghi S, Chiesa M, Paganini MC, Giamello E (2012) Mechanism of the photoactivity under visible light of N-doped titanium dioxide. Charge carriers migration in irradiated N-TiO2 investigated by electron paramagnetic resonance. J Phys Chem C 116(39):20887–20894

Bu D, Zhuang H (2013) Biotemplated synthesis of high specific surface area copper-doped hollow spherical titania and its photocatalytic research for degradating chlorotetracycline. Appl Surf Sci 265(1):677–685

Chang CY, Wu NL (2010) Process analysis on photocatalyzed dye decomposition for water treatment with TiO2-coated rotating disk reactor. Ind Eng Chem Res 49(23):12173–12179

Chang PH, Li Z, Jean JS, Jiang WT, Wu Q, Kuo CY, Kraus J (2014) Desorption of tetracycline from montmorillonite by aluminum, calcium, and sodium: an indication of intercalation stability. Int J Environ Sci Technol 11:633–644

Chen KC, Wang YH, Lu YC (2011) Treatment of polluted water for reclamation using photocatalysis and constructed wetlands. Catal Today 175(1):276–282

Daghrir R, Drogui P (2013) Tetracycline antibiotics in the environment: a review. Environ Chem Lett 11(3):209–227

Daghrir R, Drogui P, Ka I, Khakani MA (2012) Photoelectrocatalytic degradation of chlortetracycline using Ti/TiO2 nanostructured electrodes deposited by means of a pulsed laser deposition process. J Hazard Mater 199(1):15–24

Deng J, Shao Y, Gao N, Deng Y, Tan C, Zhou S (2014) Zero-valent iron/persulfate(Fe0/PS) oxidation acetaminophen in water. Int J Environ Sci Technol 11:881–890

Dimitrakopoulou D, Rethemiotaki I, Frontistis Z, Xekoukoulotakis NP, Venieri D, Mantzavinos D (2012) Degradation, mineralization and antibiotic inactivation of amoxicillin by UV-A/TiO2 photocatalysis. J Environ Manag 98(1):168–174

Dobaradaran S, Nabizadeh R, Mahvi A, Mesdaghinia A, Naddafi K, Yunesian M, Rastkari N, Nazmara S (2010) Survey on degradation rates of trichloroethylene in aqueous solutions by ultrasound. Iran J Environ Health Sci Eng 7(4):307–312

Elmolla ES, Chaudhuri M (2010a) Comparison of different advanced oxidation processes for treatment of antibiotic aqueous solution. Desalination 256(1):43–47

Elmolla ES, Chaudhuri M (2010b) Photocatalytic degradation of amoxicillin, ampicillin and cloxacillin antibiotics in aqueous solution using UV/TiO2 and UV/H2O2/TiO2 photocatalysis. Desalination 252(1):46–52

Esparza P, Borges ME, Diaz L, Alvarez-Galvan MC, Fierro JLG (2010) Photodegradation of dye pollutants using new nanostructured titania supported on volcanic ashes. Appl Catal A 388(1):7–14

Farbod M, Khademalrasool M (2011) Synthesis of TiO2 nanoparticles by a combined sol-gel ball milling method and investigation of nanoparticle size influence on their photocatalytic activities. Powder Technol 214(3):344–348

Gao YQ, Gao NY, Deng Y, Yang YQ, Ma Y (2012) Ultraviolet (UV) light-activated persulfate oxidation of sulfamethazine in water. Chem Eng J 195(1):248–253

Gomez-Pacheco C, Sanchez-Polo M, Rivera-Utrilla J, Lopez-Penalver J (2012) Tetracycline degradation in aqueous phase by ultraviolet radiation. Chem Eng J 187(1):89–95

Homem V, Santos L (2011) Degradation and removal methods of antibiotics from aqueous matrices—a review. J Environ Manag 92(10):2304–2347

Hoseini M, nabizadeh R, nazmara SH, Safari GH (2013a) Influence of under pressure dissolved oxygen on trichloroethylene degradation by the H2O2/TiO2 process. J Environ Health Sci Eng 11(38):2–6

Hoseini M, Safari GH, Kamani H, Jaafari J, Ghanbarain M, Mhvi AH (2013b) Sonocatalytic degradation of tetracycline antibiotic in aqueous solution by sonocatalysis. Toxicol Environ Chem 95(10):1680–1689

Ifelebuegu AO, Onubogu J, Joyce E, Mason T (2014) Sonochemical degradation of endocrine disrupting chemicals 17b-estradiol and 17a-ethinylestradiol in water and wastewater. Int J Environ Sci Technol 11:1–8

Jeong J, Song W, Cooper WJ, Jung J, Greaves J (2010) Degradation of tetracycline antibiotics: mechanisms and kinetic studies for advanced oxidation/reduction processes. Chemosphere 78(5):533–540

Jiang WT, Chang PH, Wang YS, Tsai Y, Jean JS, Li Z (2014) Sorption and desorption of tetracycline on layered manganese dioxide birnessite. Int J Environ Sci Technol. doi:10.1007/s13762-014-0547-6

Jiao S, Zheng S, Yin D, Wang L, Chen L (2008a) Aqueous oxytetracycline degradation and the toxicity change of degradation compounds in photoirradiation process. J Environ Sci 20(7):806–813

Jiao S, Zheng S, Yin D, Wang L, Chen L (2008b) Aqueous photolysis of tetracycline and toxicity of photolytic products to luminescent bacteria. Chemosphere 73(3):377–382

Jin L, Dai B (2012) TiO2 activation using acid-treated vermiculite as a support: characteristics and photoreactivity. Appl Surf Sci 258(8):3386–3392

Joo JB, Zhang Q, Dahl M, Lee I, Goebl J, Zaera F, Yin YD (2012) Control of the nanoscale crystallinity in mesoporous TiO2 shells for enhanced photocatalytic activity. Energy Environ Sci 5(4):6321–6327

Khan MH, Bae H, Jung JY (2010) Tetracycline degradation by ozonation in the aqueous phase: proposed degradation intermediates and pathway. J Hazard Mater 181(1):659–665

Kim I, Tanaka H (2009) Photodegradation characteristics of PPCPS in water with UV treatment. Environ Int 35(1):793–802

Kim I, Yamashita N, Tanaka H (2009) Performance of UV and UV/H2O2 processes for the removal of pharmaceuticals detected in secondary effluent of a sewage treatment plant in Japan. J Hazard Mater 166(2):1134–1140

Klauson D, Babkina J, Stepanova K, Krichevskaya M, Preis S (2010) Aqueous photocatalytic oxidation of amoxicillin. Catal Today 151(1):39–45

Kummerer K (2009) Antibiotics in the aquatic environment—a review—part I. Chemosphere 75(4):417–434

Kuvarega AT, Krause RWM, Mamba BB (2011) Nitrogen/palladium-codoped TiO2 for efficient visible light photocatalytic dye degradation. J Phys Chem C 115(45):22110–22120

Lazar MA, Varghese S, Nair SS (2012) Photocatalytic water treatment by titanium dioxide: recent updates. Catalysts 2(4):572–601

Li G, Lv L, Fan HT, Ma JY, Li YQ, Wan Y, Zhao XS (2010) Influence of the agglomeration of TiO2 nanoparticles on their photocatalytic performance in the aqueous phase. J Colloid Interface Sci 348(2):342–347

Lin CC, Lee LT, Hsu LJ (2014) Degradation of polyvinyl alcohol in aqueous solutions using UV-365 nm/S2O −28 process. Int J Environ Sci Technol 11:831–838

Lindsey ME, Meyer M, Thurman E (2011) Analysis of trace levels of sulfonamide and tetracycline antimicrobials in groundwater and surface water using solid-phase extraction and liquid chromatography/mass spectrometry. Anal Chem 73(19):4640–4646

Liu CC, Hsieh YH, Lai PF, Li CH, Kao CL (2006) Photodegradation treatment of azo dye wastewater by UV/TiO2 process. Dyes Pigments 68(2):191–195

Liu H, Yang Y, Kang J, Fan M, Qu J (2012) Removal of tetracycline from water by Fe-Mn binary oxide. J Environ Sci 24(2):242–247

Lopez-Penalver J, Sanchez-Polo JM, Gómez-Pacheco CV, Rivera-Utrilla J (2010) Photodegradation of tetracyclines in aqueous solution by using UV and UV/H2O2 oxidation processes. J Chem Technol Biotechnol 85(10):1325–1333

Mahvi AH (2009) Application of ultrasonic technology for water and wastewater treatment. Iran J Public Health 38(2):1–17

Mahvi AH, Maleki A (2010) Photosonochemical degradation of phenol in water. Desalin Water Treat 20(1–3):197–202

Mahvi AH, Maleki A, Rezaee R, Safari M (2009) Reduction of humic substances in water by application of ultrasound waves and ultraviolet irradiation. Iran J Environ Health Sci Eng 6(4):233–240

Maroga Mboula V, Hequet V, Gru Y, Colin R, Andres Y (2012) Assessment of the efficiency of photocatalysis on tetracycline biodegradation. J Hazard Mater 209(1):355–364

Michael I, Hapeshi E, Michael C, Fatta-Kassinos D (2010) Solar Fenton and solar TiO2 catalytic treatment of ofloxacin in secondary treated effluents: evaluation of operational and kinetic parameters. Water Res 44(18):5450–5462

Mohammadi R, Massoumi B, Rabani M (2012) Photocatalytic decomposition of amoxicillin trihydrate antibiotic in aqueous solutions under UV irradiation using Sn/TiO2 nanoparticles. Int J Photoenergy 2012 1:1–11

Monllor-Satoca D, Lana-Villarreal T, Gomez R (2011) Influence of surface fluorination on the electrochemical and photoelectrocatalytic properties of nanoporous titanium dioxide electrodes. Langmuir 27(24):15312–15321

Nakata K, Fujishima A (2012) TiO2 photocatalysis: design and applications. J Photochem Photobiol C 13(3):169–189

Natarajan TS, Thomas M, Natarajan K, Bajaj HC, Tayade RJ (2011) Study on UV-LED/TiO2 process for degradation of rhodamine B dye. Chem Eng J 169(1–3):126–134

Nosrati R, Olad A, Maramifar R (2012) Degradation of ampicillin antibiotic in aqueous solution by ZnO/polyaniline nanocomposite as photocatalyst under sunlight irradiation. Environ Sci Pollut R 19(6):2291–2299

Palominos RA, Mondaca MA, Giraldo A, Penuela G, Perez-Moya M, Mansilla HD (2009) Photocatalytic oxidation of the antibiotic tetracycline on TiO2 and ZnO suspensions. Catal Today 144(1):100–105

Rao NN, Chaturvedi V, Puma GL (2012) Novel pebble bed photocatalytic reactor for solar treatment of textile wastewater. Chem Eng J 184(1):90–97

Reyes C, Fernandez J, Freer J, Mondaca MA, Zaror C, Malato S, Mansilla H (2006) Degradation and inactivation of tetracycline by TIO2 photocatalysis. J Photochem Photobiol A 184(1):141–146

Rizzo L, Meric S, Guida M, Kassinos D, Belgiorno V (2009) Heterogenous photocatalytic degradation kinetics and detoxification of an urban wastewater treatment plant effluent contaminated with pharmaceuticals. Water Res 43(16):4070–4078

Shan AY, Ghazi TIM, Rashid SA (2010) Immobilisation of titanium dioxide onto supporting materials in heterogeneous photocatalysis: a review. Appl Catal A 389(1–2):1–8

Sin JC, Lam SM, Mohamed AR, Lee KT (2011) Degrading endocrine disrupting chemicals from wastewater by TiO2. Int J Photoenergy 2012 1:1–23

Sirtori C, Agüera A, Gernjak W, Malato S (2010) Influence of water-matrix composition on Trimethoprim solar photodegradation kinetics and pathways. Water Res 44(9):2735–2744

Subramonian W, Wu TY (2014) Effect of enhancers and inhibitors on photocatalytic sunlight treatment of methylene blue. Water Air Soil Pollut 225:1922

Sun X, Zhang J, Zhang G, Pan X, Huang T (2012) Preparation and characteristics of TiO2 nanotube catalysts used in hybrid photocatalysis/membrane process. Catal Commun 18(1):76–80

Tay KS, Rahman NA, Bin Abas MR (2013) Chemical oxidation of N, N-diethyl-m-toluamide by sulfate radical-based oxidation: kinetics and mechanism of degradation. Int J Environ Sci Technol 10:103–112

Torres-Palma RA, Nieto JI, Combet E, Petrier C, Pulgarin C (2010) An innovative ultrasound, Fe2+ and TiO2 photoassisted process for bisphenol A mineralization. Water Res 44(7):2245–2252

Vione D, Falletti G, Maurino V, Minero C, Pelizzetti E, Malandrino M, Ajassa R, Olariu RI, Arsene C (2006) Sources and sinks of hydroxyl radicals upon irradiation of natural water samples. Environ Sci Technol 40(12):3775–3781

Wammer KH, Slattery MT, Stemig AM, Ditty JL (2011) Tetracycline photolysis in natural waters: loss of antibacterial activity. Chemosphere 85(9):1505–1510

Wang N, Li X, Wang Y, Quan X, Chen G (2009) Evaluation of bias potential enhanced photocatalytic degradation of 4-chlorophenol with TiO2 nanotube fabricated by anodic oxidation method. Chem Eng J 146(1):30–35

Wang P, Yap PS, Lim TT (2011a) C–N–S tridoped TiO2 for photocatalytic degradation of tetracycline under visible-light irradiation. Appl Catal A 399(1):252–261

Wang Y, Zhang H, Chen L (2011b) Ultrasound enhanced catalytic ozonation of tetracycline in a rectangular air-lift reactor. Catal Today 175(1):283–292

Wang Y, Zhang H, Zhang J, Lu C, Huang Q, Wu J, Liu F (2011c) Degradation of tetracycline in aqueous media by ozonation in an internal loop-lift reactor. J Hazard Mater 192(1):35–43

Yahiat S, Fourcade F, Brosillon S, Amrane A (2011) Removal of antibiotics by an integrated process coupling photocatalysis and biological treatment—case of tetracycline and tylosin. Int Biodeterior Biodegrad 65(7):997–1003

Yang L, Yu LE, Ray MB (2008) Degradation of paracetamol in aqueous solutions by TiO2 photocatalysis. Water Res 42(13):3480–3488

Zacharakis A, Chatzisymeon E, Binas V, Frontistis Z, Venieri D, Mantzavinos D (2013) Solar photocatalytic degradation of bisphenol A on immobilized ZnO or TiO2. Int J Photoenergy 1:1–9

Zgajnar Gotvajn A, Bistan M, Tisler T, Englande AJ, Zagorc-Koncan J (2013) The relevance of bisphenol A adsorption during Fenton's oxidation. Int J Environ Sci Technol 10:1141–1148

Zhu XD, Wang YJ, Sun RJ, Zhou DM (2013) Photocatalytic degradation of tetracycline in aqueous solution by nanosized TiO2. Chemosphere 92(8):925–932

Ziegmann M, Doll T, Frimmel FH (2006) Matrix influences on the photocatalytical degradation of dichloroacetic acid and atrazine in water. Acta Hydrochim Hydrobiol 34(1–2):146–154
Acknowledgments
The financial and technical support of this research provided by Department of Environmental Health Engineering, School of Public Health, Tehran University of Medical Sciences under Grant No. 20501, gratefully acknowledged.
About this article
Cite this article
Safari, G.H., Hoseini, M., Seyedsalehi, M. et al. Photocatalytic degradation of tetracycline using nanosized titanium dioxide in aqueous solution. Int. J. Environ. Sci. Technol. 12, 603–616 (2015). https://doi.org/10.1007/s13762-014-0706-9
Received:

Revised:

Accepted:

Published:

Issue Date:

DOI: https://doi.org/10.1007/s13762-014-0706-9
Keywords
Advanced oxidation process

Hydrogen peroxide

Kinetics

Photocatalysis

Ultraviolet radiation