Abstract
This study introduces the Hill model for modelling sorption kinetics and illustrates its efficacy using formal model selection procedures. Although the coefficient of determination (R 2) value can be used to ensure goodness-of-fit of a particular model to a set of data, a measure that incorporates the number of model parameters, such as the Bayesian information criterion, law of iterated logarithm criterion, Akaike information criterion, and the extra sum-of-squares F-test is necessary to undertake reliable model selection. This study undertook a formal model selection procedure based on these criteria, in combination with the coefficient of determination, for a range of candidate kinetics sorption models [the pseudo-second order (PSO), the intra-particle diffusion (IPD), Power, Elovich, and the four and five parameter Hill models]. It was found that the model order that statistically best described the data was Hill 5 > Hill 4 > pseudo-second order > Elovich > Power > IPD as given by the evidence ratios, information criterion weights and Bayes factors. The extra sum-of-squares F-test, only applicable to nested models, confirms the best fit order as Hill 5 > Hill 4 > PSO models. Two new parameters (T and k Hill) have also been defined that give the Hill models a mechanistic meaning directly comparable to the well-defined parameters of the pseudo-second-order model, namely, the pseudo-second-order rate constant k pso and the instantaneous sorption coefficient h pso. In the field of geochemistry the use of the four and five parameter Hill models for describing sorption kinetics has been overlooked with many studies favouring the PSO model. It is strongly recommended that the Hill model be considered more widely as a general predictive tool in geochemistry.
Access options
Buy single article
Instant access to the full article PDF.
USD 39.95
Price excludes VAT (USA)
Tax calculation will be finalised during checkout.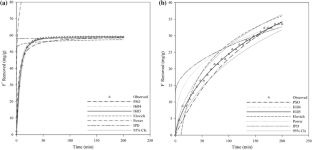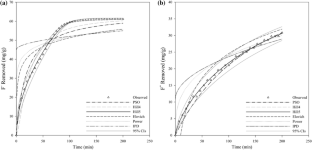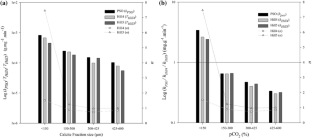 References
Akaike H (1974) A new look at the statistical model identification. IEEE Trans Automat Contr 19:716–723

Asci Y, Acikel U, Acikel YS (2012) Equilibrium, hysteresis and kinetics of cadmium desorption from sodium-feldspar using rhamnolipid biosurfactant. Environ Technol 33(16):1857–1868

AskelÖf P, Korsfeldt M, Mannervik B (1976) Error structure of enzyme kinetic experiments. Eur J Biochem 69(1):61–67. doi:10.1111/j.1432-1033.1976.tb10858.x

Atukeren E (2010) The relationship between the F-test and the Schwarz criterion: implications for Granger-causality tests. Econ Bull 30(1):494–499

Barcroft J, Camis M (1909) The dissociation curve of blood. J Physiol 39:118–142

Burnham KP, Anderson DR (2002) Model selection and multimodel inference: a practical information-theoretic approach, 2nd edn. Springer, New York

Chien SH, Clayton WR (1980) Application of Elovich equation to the kinetics of phosphate release and sorption in soils. Soil Sci Soc Am J 44:265–268

Chowdhury S, Das P (2011) Linear and non-linear regression analyses for binary sorpotion kinetics of methylene blue and safranin onto preheated rice husk. Bioremediat J 15:99–108

Diaz-Nava C, Olguin MT, Solache-Rios M, Alarcon-Herrera MT, Aguilar-Elguezabal A (2008) Effects of preparation and experimental conditions on removal of phenol by surfactant-modified zeolites. Environ Technol 29:1229–1239

Dimovic SD, Smiciklas ID, Sljivic-Ivanovic MZ, Plecas IB, Slavkovic-Beskoski L (2011) The effect of process parameters on kinetics and mechanisms of Co2 + removal by bone char. J Environ Sci Health A Tox Hazard Subst Environ Eng 46:1558–1569

El-Khaiary MI, Malash GF, Ho Y-S (2010) On the use of linearized pseudo-second-order kinetic equations for modeling adsorption systems. Desalination 257(1–3):93–101

Fan X, Parker DJ, Smith MD (2003) Adsorption kinetics of fluoride on low cost materials. Water Res 37:4929–4937

Foubert I, Vanrolleghem PA, Vanhoutte B, Dewettinck K (2002) Dynamic mathematical model of the crystallization kinetics of fats. Food Res Int 35(10):945–956. doi:10.1016/S0963-9969(02)00157-6

Giraldo J, Vivas NM, Vila E, Badia A (2002) Assessing the (a)symmetry of concentration-effect curves: empirical versus mechanistic models. Pharmacol Ther 95(1):21–45. doi:10.1016/s0163-7258(02)00223-1

Gottschalk PG, Dunn Jr (2005) The five-parameter logistic: a characterization and comparison with the four-parameter logistic. Anal Biochem 343(1):54–65. doi:10.1016/j.ab.2005.04.035

Goutelle S, Maurin M, Rougier F, Barbaut X, Bourguignon L, Ducher M, Maire P (2008) The Hill equation: a review of its capabilities in pharmacological modelling. Fundam Clin Pharmacol 22:633–648

Hannan EJ, Quinn BG (1979) The determination of the order of an autoregression. J R Stat Soc Series B Stat Methodol 41(2):190–195. doi:10.2307/2985032

Havlin JL, Westfall DG, Olsen SR (1985) Mathematical-models for potassium release kinetics in calcareous soils. Soil Sci Soc Am J 49:371–376

Hill AV (1910) The possible effects of the aggregation of the molecules of haemoglobin on its dissociation curves. J Physiol 40:4–7

Ho Y-S (2004) Selection of optimum sorption isotherm. Carbon 42(10):2115–2116. doi:10.1016/j.carbon.2004.03.019

Ho YS (2006) Second-order kinetic model for the sorption of cadmium onto tree fern: a comparison of linear and non-linear methods. Water Res 40:110–125

Ho YS, McKay G (1998a) Comparison of chemisorption kinetic models applied to pollutant removal on various sorbents. Process Saf Environ Protect Trans Inst Chem Eng Part B 76(4):332–340

Ho YS, McKay G (1998b) The kinetics of sorption of basic dyes from aqueous solution by sphagnum moss peat. Can J Chem Eng 76(4):822–827

Ho YS, Ng JCY, McKay G (2000) Kinetics of pollutant sorption by biosorbents. Rev Sep Purifi Methods 29:189–232

Holford NHG, Sheiner LB (1981) Understanding dose-effect relationships—clinical-application of pharmacokinetic–pharmacodynamic models. Clin Pharmacokinet 6:429–453

Igwe JC, Abia AA (2007) Adsorption kinetics and intraparticulate diffusivities for bioremediation of Co (II), Fe (II) and Cu (II) ions from waste water using modified and unmodified maize cob. Int J Phys Sci 2:119–127

Jeffreys H (1939) Theory of probability. Oxford University Press, New York

Johnson JB, Omland KS (2004) Model selection in ecology and evolution. Trends Ecol Evol 19(2):101–108. doi:10.1016/j.tree.2003.10.013

Kass RE (1993) Bayes factors in practice. J R Stat Soc Ser D 42(5):551–560. doi:10.2307/2348679

Kass RE, Raftery AE (1995) Bayes factors. J Am Stat Assoc 90(430):773–795. doi:10.1080/01621459.1995.10476572

Khinkis LA, Levasseur L, Faessel H, Greco WR (2003) Optimal design for estimating parameters of the 4-parameter hill model. Nonlinearity Biol Toxicol Med 1:363–377

Kumar KV, Sivanesan S (2006a) Linear and non-linear regression analysis for the sorption kinetics of methylene blue onto activated carbon. J Hazard Mater 137:1538–1544

Kumar KV, Sivanesan S (2006b) Selection of optimum sorption kinetics: comparison of linear and non-linear method. J Hazard Mater 134:277–279

Leyva-Ramos R, Rivera-Utrilla J, Medellin-Castillo NA, Sanchez-Polo M (2010) Kinetic modeling of fluoride adsorption from aqueous solution onto bone char. Chem Eng J 158:458–467

Low MJD (1960) Kinetics of chemisorption of gases on solids. Chem Rev 60:267–312

McKay G, Poots VJP (1980) Kinetics and diffusion-processes in color removal from effluent using wood as an adsorbent. J Chem Technol Biotechnol 30:279–292

McLintock IS (1967) The Elovich equation in chemisorption kinetics. Nature 216(5121):1204–1205

Mishra DK, Dolan KD, Yang L (2011) Bootstrap confidence intervals for the kinetic parameters of degradation of anthocyanins in grape pomace. J Food Process Eng 34(4):1220–1233. doi:10.1111/j.1745-4530.2009.00425.x

Motlagh MB (2012) Kinetics and mechanism of copper release from selected agricultural calcareous soils of northern Iran. Soil Res 50:312–319

Motulsky H, Christopoulos A (eds) (2004) Fitting models to biological data using linear and nonlinear regression. A practical guide to curve fitting. Oxford University Press, New York

Motulsky HJ, Ransnas LA (1987) Fitting curves to data using nonlinear regression: a practical and nonmathematical review. FASEB J 1(5):365–374

Pavlatou A, Polyzopoulos NA (1988) The role of diffusion in the kinetics of phosphate desorption—the relevance of the Elovich equation. J Soil Sci 39:425–436

Perez-Marin AB, Zapata VM, Ortuno JF, Aguilar M, Saez J, Llorens M (2007) Removal of cadmium from aqueous solutions by adsorption onto orange waste. J Hazard Mater 139:122–131

Plummer LN, Wigley TML, Parkhurst DL (1978) The kinetics of calcite dissolution in CO 2 -water systems at 5 degrees to 60 degrees C and 0.0 to 1.0 atm CO 2. Am J Sci 278(2):179–216. doi:10.2475/ajs.278.2.179

Qian G, Field C (2002) Law of iterated logarithm and consistent model selection criterion in logistic regression. Stat Prob Lett 56 (1):101–112. doi:10.1016/S0167-7152(01)00191-2

Raftery AE (1995) Bayesian model selection in social research (with discussion). Sociol Methodol 25:111–196

Robinson T, McMullan G, Marchant R, Nigam P (2001) Remediation of dyes in textile effluent: a critical review on current treatment technologies with a proposed alternative. Bioresour Technol 77(3):247–255. doi:10.1016/S0960-8524(00)00080-8

Roginsky S. Z., Zeldovich J (1943). Acta Physicochim USSR (1):554

Schwarz G (1978) Estimating the dimension of a model. (2):461–464. doi:10.1214/aos/1176344136

Sleap SB, Turner BD, Krabbenhoft K, Sloan SW (2013) Effects of pCO(2) on the removal of fluoride from wastewater by calcite. J Environ Eng 139(8):1053–1061

Smadbeck P, Kaznessis Y (2012) Stochastic model reduction using a modified Hill-type kinetic rate law. J Chem Phys 137(23):34109

Stone M (2005) Akaike's Criteria. In: Encyclopedia of biostatistics. Wiley. doi:10.1002/0470011815.b2a09001

Sun Q, McDonald LM Jr, Skousen JG (2000) Effects of armouring on limestone neutralization of AMD. In: Proceedngs of the 2000 West Virginia surface mine drainage task force symposium, Morgantown, WV

Wagenmakers E-J (2007) A practical solution to the pervasive problems of p values. Psychon Bull Rev 14(5):779–804. doi:10.3758/bf03194105

Wagenmakers E-J, Farrell S (2004) AIC model selection using Akaike weights. Psychon Bull Rev 11(1):192–196. doi:10.3758/bf03206482

Weber J, Morris JC (1963) Kinetics of adsorption on carbon from solution. J Sanitary Eng Div Proceed Am Soc Civil Eng 89:31–59

Wen DH, Ho YS, Tang XY (2006) Comparative sorption kinetic studies of ammonium onto zeolite. J Hazard Mater 133(1–3):252–256. doi:10.1016/j.jhazmat.2005.10.020
Acknowledgments
This research was funded by Australian Research Council Linkage Grant LP100200488 in conjunction with Hydro Aluminium Kurri Kurri, New South Wales, Australia.
About this article
Cite this article
Turner, B.D., Henley, B.J., Sleap, S.B. et al. Kinetic model selection and the Hill model in geochemistry. Int. J. Environ. Sci. Technol. 12, 2545–2558 (2015). https://doi.org/10.1007/s13762-014-0662-4
Received:

Revised:

Accepted:

Published:

Issue Date:

DOI: https://doi.org/10.1007/s13762-014-0662-4
Keywords