Abstract
Previous urban sprawl studies have typically taken a cross-sectional approach without examining how sprawling urban areas are performing over time. Longitudinal studies of individual or household travel behavior and built-environment preference have made some progress in this direction, but very few studies have explored the longitudinal interaction of urban form with transportation and environmental outcomes. This study begins to fill this gap by evaluating the transportation and environmental impact dynamics of several key dimensions of urban sprawl: density, land use mix, centrality, and street connectivity. The central hypothesis is that while the built environment is durable and development patterns change slowly, the impacts of urban sprawl are dynamic rather than static and are accelerated in more sprawling cities relative to less sprawling cities. To test this hypothesis, a panel dataset of 7 years (2000–2007) was developed for 60 Metropolitan Statistical Areas of the US and a hybrid modeling framework that incorporates fixed and random effects is applied to evaluate different transportation and environmental outcomes over time. We found that the influence of urban centrality or the strength of urban sub-centers on the travel pattern of commuters and transit users is dynamic. This suggests that people living in cities with stronger centers drive less and use public transportation more over time. For environmental outcomes, we found that cities with higher density have experienced a significant decrease in ambient ozone and PM2.5 concentrations after controlling city-specific variables.
Access options
Buy single article
Instant access to the full article PDF.
US$ 39.95
Tax calculation will be finalised during checkout.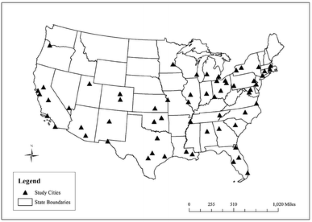 Notes
1.

Ewing et al. (2002) also calculated an overall sprawl score combining the four measures of sprawl, but this composite index is not used in this study.

2.

3.

4.
References
Allison PD (2009) Fixed effects regression models. Sage Publications, Los Angeles

Bechle MJ, Millet DB, Marshall JD (2011) Effects of income and urban form on urban NO2: global evidence from satellites. Environ Sci Technol 45:4914–4919

Bereitschaft B, Debbage K (2013) Urban form, air pollution, and CO2 emissions in large U.S. metropolitan areas. Prof Geogr 65(4):612–635. doi:10.1080/00330124.2013.799991

Bhat CR, Guo JY (2007) A comprehensive analysis of built environment characteristics on household residential choice and auto ownership levels. Transp Res Part B Methodol 41(5):506–526

Borrego C, Martins H, Tchepel O, Salmim L, Monteiro A, Miranda AI (2006) How urban structure can affect city sustainability from an air quality perspective. Environ Model Softw 21:461–467

Brownstone D (2008) Key relationships between the built environment and VMT. University of California, Irvine

Brownstone D, Golob TF (2009) The impact of residential density on vehicle usage and energy consumption. J Urban Econ 65:91–98

Brueckner JK, Largey AG (2008) Social interaction and urban sprawl. J Urban Econ 64(1):18–34

Cao XY, Mokhtarian PL, Handy SL (2009) Examining the impacts of residential self-selection on travel behaviour: a focus on empirical findings. Transp Rev 29(3):359–395. doi:10.1080/01441640802539195

Carruthers JI, Ulfarsson GF (2003) Urban sprawl and the cost of public services. Environ Plan B Plan Des 30(4):503–522

Clark LP, Millet DB, Marshall JD (2011) Air quality and urban form in U.S. urban areas: evidence from regulatory monitors. Environ Sci Technol 45:7028–7035

Crane R, Chatman D (2003) Traffic and sprawl: evidence from U.S. commuting, 1985 to 1997. Plan Mark 6(1):14–22

Crane R, Chatman D (2004) Traffic and sprawl: evidence from U.S. commuting 1985–1997. In: Richardson H, Bae C (eds) Urban sprawl in Western Europe and the United States. Ashgate, London

Crane R, Crepeau R (1998) Does neighborhood design influence travel?: a behavioral analysis of travel diary and GIS data. Transp Res Part D Transp Environ 3(4):225–238

Dieleman FM, Dijst M, Burghouwt G (2002) Urban form and travel behaviour: micro-level household attributes and residential context. Urban Stud 39(3):507–527

Dubin R (1991) Commuting patterns and firm decentralization. Land Econ 67:121–129

Echenique MH, Hargreaves AJ, Mitchell G, Namdeo A (2012) Growing cities sustainably: does urban form really matter? J Am Plan Assoc 78(2):121–137

Eid J, Overman HG, Puga D, Turner MA (2008) Fat city: questioning the relationship between urban sprawl and obesity. J Urban Econ 63(2):385–404

England P, Farkas G, Kilbourne BS, Dou T (1988) Explaining occupational sex segregation and wages: findings from a model with fixed effects. Am Sociol Rev 53:544–558

EPA (2006) Greenhouse gas emissions from the U.S. transportation sector, 1990–2003. Environmental Protection Agency, Washington, DC

Ewing R (1997) Is Los Angeles-style sprawl desirable? J Am Plan Assoc 63(1):107–126

Ewing R, Rong F (2008) The impact of urban form on U.S. residential energy use. Hous Policy Debate 19(1):1–30

Ewing R, Pendall R, Chen D (2002) Measuring sprawl and its impact. Smart Growth America, Washington, DC

Ewing R, Pendall R, Chen D (2003) Measuring sprawl and its transportation impacts. Transp Res Rec 1831:175–183

Filion P, McSpurren K, Appleby B (2006) Wasted density? The impact of Toronto's residential-density distribution policies on public-transit use and walking. Environ Plan A 38:1367–1392

Frank LD, Stone B, Bachman W (2000) Linking land use with household vehicle emissions in the central Puget Sound: methodological framework and findings. Transp Res Part D 5(3):173–196

Frank LD, Sallis JF, Conway TL, Chapman JE, Saelens BE, Bachman W (2006) Many pathways from land use to health: associations between neighborhood walk ability and active transportation, body mass index, and air quality. J Am Plan Assoc 72:75–87

Galster G, Hanson R, Ratcliffe MR, Wolman H, Coleman S, Freihage J (2001) Wrestling sprawl to the ground: defining and measuring an elusive concept. Hous Policy Debate 12(4):681–717

Gordon P, Richardson HW (1997) Are compact cities a desirable planning goal? J Am Plan Assoc 63(1):95–106

Gordon P, Kumar A, Richardson HW (1989) The influence of metropolitan spatial structure on commuting time. J Urban Econ 26:138–151

Gordon P, Richardson HW, Jun MJ (1991) The commuting paradox: evidence from the top twenty. J Am Plan Assoc 57(4):416–420

Gordon P, Lee B, Richardson HW (2004) Travel trends in U.S. cities: explaining the 2000 census commuting results. University of Southern California, Los Angeles

Grazi F, Van der Bergh JC, Van Ommeren JN (2008) An empirical analysis of urban form, transport, and global warming. Energy J 29(4):97–122

Handy S (2005) Smart growth and the transportation-land use connection: what does the research tell us? Int Reg Sci Rev 28(2):146–167

Handy SL, Clifton KJ (2001) Local shopping as a strategy for reducing automobile travel. Transportation 28:317–346

Handy S, Cao X, Mokhtarian P (2005) Correlation or causality between the built environment and travel behavior? Evidence from Northern California. Transp Res Part D 10(6):427–444

Holden E, Norland IT (2005) Three challenges for the compact city as a sustainable urban form: household consumption of energy and transport in eight residential areas in the greater Oslo region. Urban Stud 42(12):2145–2166

Hong J, Shen Q, Zhang L (2013) How do built-environment factors affect travel behavior? A spatial analysis at different geographic scales. Transportation. doi 10.1007/s11116-013-9462-9

Jacobson MZ (2008) On the causal link between carbon dioxide and air pollution mortality. Geophys Res Lett 35. doi:10.1029/2007GL031101

Jerrett MR, Buenett T, Pope CA, Ito K, Thurston G, Krewski D, Shi Y, Calle E, Thun M (2009) Long-term ozone exposure and mortality. N Engl J Med 360(11):1085–1095

Knaap GJ, Song Y, Ewing R, Clifton K (2005) Seeing the elephant: multi-disciplinary measures of urban sprawl. National Center for Smart Growth Research and Education, Urban Studies and Planning Program, University of Maryland

Laden F, Schwartz J, Speizer FE, Dockery DW (2006) Reduction in fine particulate air pollution and mortality: extended follow-up of the Harvard six cities study. Am J Respir and Crit Care Med 173(6):667–672

Lariviere I, Lafrance G (1999) Modelling the electricity consumption of cities: effect of urban density. Energy Econ 21(1):53–66

Levinson DM, Kumar A (1994) The rational relocator: why travel times have remained stable. J Am Plan Assoc 301:495–519

Levinson DM, Kumar A (1997) Density and journey to work. Growth Change 28:147–172

Liao CH, Chang CL, Su CY, Chiueh PT (2013) Correlation between land-use change and greenhouse gas emissions in urban areas. Int J Environ Sci Tech 10(6):1275–1286

Malpezzi S (1999) Estimates of the measurements and determinants of urban sprawl in US metropolitan areas. University of Wisconsin, Center for Urban Land Economics Research, Madison (unpublished paper)

Marshall JD (2008) Energy-efficient urban form. Environ Sci Technol 42(9):3133–3137

Mokhtarian PL, Cao X (2008) Examining the impacts of residential self-selection on travel behavior: a focus on methodologies. Transp Res Part B 42(3):204–228

Nelson AC, Moore T (1996) Assessing growth management policy implementation: case study of the united states' leading growth management state. Land use Policy 13(4):241–259

Neuman M (2005) The compact city fallacy. J Plan Educ Res 25:11–26

Newman P, Kenworthy J (1989) Gasoline consumption and cities: a comparison of US cities with a global survey and its implication. J Am Plan Assoc 55(1):24–37

Niedt C, Martin IW (2013) Who are the foreclosed? A statistical portrait of America in crisis. Hous Policy Debate 23(1):159–176

Peiser R (2001) Decomposing urban sprawl. Town Plan Rev 72(3):275–298

Richmond HR (1995) Regionalism: Chicago as an American region. John D and Catherine T MacArthur Foundation, Chicago

Runhaar H, Driessen P, Soer L (2009) Sustainable urban development and the challenge of policy integration: an assessment of planning tools for integrating spatial and environmental planning in the Netherlands. Environ Plan 36(3):417–431

Sarzynski A, WomanHL Galster G, Hanson R (2006) Testing the conventional wisdom about land use and traffic congestion: the more we sprawl, the less we move? Urban Stud 43(3):601–626

Schweitzer L, Zhou J (2010) Neighborhood air quality, respiratory health, and vulnerable populations in compact and sprawled regions. J Am Plan Assoc 76(3):363–371

Song Y, Knaap G (2004) Measuring urban form: Is Portland winning the war on sprawl? J Am Plan Assoc 70(2):210–225

Stone B (2008) Urban sprawl and air quality in large US cities. J Environ Manag 86(4):688–698

Sultana S (2000) Some effects of employment centers on commuting times in the Atlanta metropolitan area, 1990. Southeast Geogr 41(2):225–233

Sultana S, Chaney P (2003) Impact of urban sprawl on travel behaviors and local watersheds in the Auburn-Opelika metropolitan area: a case study on a small MSA. Pap Proc Appl Geogr Conf 26:20–280

Sultana S, Weber J (2013) The nature of urban growth and the commuting transition: endless sprawl or a growth wave? Urban Stud. doi:10.1177/0042098013498284

The Sierra Club (1999) The dark side of the American dream: the costs and consequences of suburban sprawl. The Sierra Club, San Francisco

Torrens PM, Alberti M (2000) Measuring sprawl. Working Paper Series, Paper-27, CASA: Centre for Advanced Spatial Analysis, University College London, London

Tsai Y (2005) Quantifying urban form: compactness versus 'sprawl'. Urban Stud 42(1):141–161

Tuzkaya U (2009) Evaluating the environmental effects of transportation modes using and integrated methodology and an application. Int J Environ Sci Technol 6(2):277–290

Wassmer R (2000) Urban sprawl in a US metropolitan area: ways to measure and a comparison of the Sacramento area to similar metropolitan areas in California and the US. CSUS Public Policy and Administration Working Paper, CA

Weber J, Sultana S (2007) Journey-to-work patterns in the age of sprawl: evidence from two midsize southern metropolitan areas. Prof Geogr 59(2):193–208

Weng Q (2003) Fractal analysis of satellite-detected urban heat island effect. Photogramm Eng Remote Sens 69(5):555–566

Yigitcanlar T, Teriman S (2014) Rethinking sustainable urban development: towards an integrated planning and development process. Int J Environ Sci Tech 1–12. doi:10.1007/s13762-013-0491-x

Zhao P, Lu B, de Roo G (2011) The impact of urban growth on commuting patterns in a restructuring city: evidence from Beijing. Pap Reg Sci 90(4):735–754

Zolnik EJ (2011) The effect of sprawl on private-vehicle commuting outcomes. Environ Plan-Part A 43(8):1875–1893. doi:10.1068/a42466
Acknowledgments
We would like to acknowledge and cordially thank the anonymous reviewers for their constructive comments and suggestions, which helped us to significantly improve the manuscript.
About this article
Cite this article
Kashem, S.B., Irawan, A. & Wilson, B. Evaluating the dynamic impacts of urban form on transportation and environmental outcomes in US cities. Int. J. Environ. Sci. Technol. 11, 2233–2244 (2014). https://doi.org/10.1007/s13762-014-0630-z
Received:

Revised:

Accepted:

Published:

Issue Date:
Keywords
Air quality

Congestion

Sprawl

Transit

Urban form