Abstract
A new naphthalene-sulfonamide (NS) derivative has been used as ionophore to construct the polyvinylchloride-based lead (II) solid-contact (SC) coated graphite electrode modified with conducting polymer poly(3,4-ethylenedioxythiophene)/polystyrene sulfonate (PEDOT/PSS). The lead-NS derivative complex shows 1:1 stoichiometry with the maximum stability constant of 5.75 as compared to other metal ions that is determined by sandwich membrane method. The proposed membrane morphology has been analyzed by scanning electron microscopy. The proposed lead (II) SC-PEDOT/PSS-coated graphite electrode-1 (Pb(II) SC-PEDOT/PSS-CGE-1) shows the detection limit of 5.62 × 10−8 M (56.2 nm) with Nernstian slope of 29.21 mV/decade within the pH range of 2.0–7.0 and exhibits small response time of <10 s. It has been used as indicator electrode for the potentiometric titration of lead (II) with ethylenediaminetetraacetic acid and successfully applied for the determination of lead (II) ions content in various environmental and ayurvedic medicines sample matrices with very good performance (0.999 correlation coefficients in the comparison against atomic absorption spectroscopy method).
Access options
Buy single article
Instant access to the full article PDF.
US$ 39.95
Tax calculation will be finalised during checkout.
Subscribe to journal
Immediate online access to all issues from 2019. Subscription will auto renew annually.
US$ 79
Tax calculation will be finalised during checkout.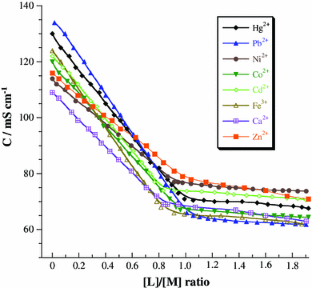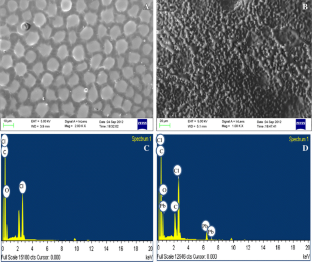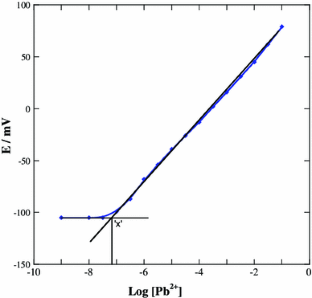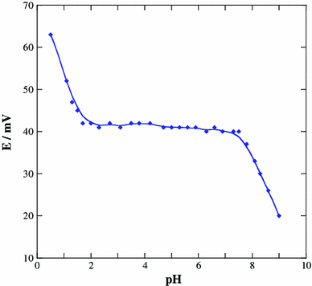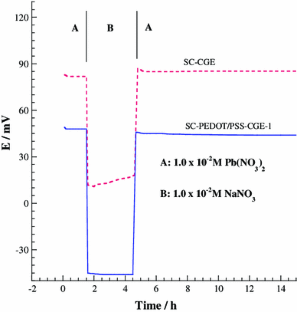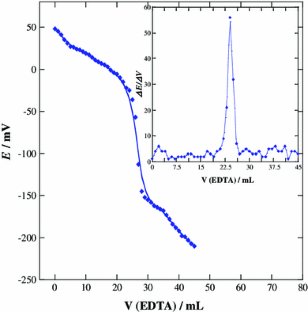 References
Abbaspour A, Mirahmadi E, Khalafi-nejad A, Babamohammadi S (2010) A highly selective and sensitive disposable carbon composite PVC-based membrane for determination of lead ion environmental samples. J Hazard Mater 174:656–661

Anastasova S, Radu A, Matzeu G, Zuliani C, Mattinen U (2012) Disposable solid-contact ion-selective electrodes for environmental monitoring of lead with ppb limit-of-detection. Electrochim Acta 73:93–97

Baird C (1999) Environmental chemistry, 2nd edn. W.H. Freeman and company, New York

Bhalla V, Tejpal R, Kumar M (2012) New terphenyl based ensemble for the detection of acetate ions in plasma like system. Dalton Trans 41:403–407

Bobacka J (2006) Conducting polymer-based solid-state ion-selective electrodes. Electroanalysis 18:7–18

Bobacka J, Vaananen V, Lewenstam A, Ivaska A (2004) Influence of anionic additive on Hg2+ interference on Ag+-ISEs based on (2,2,2)p, p, p-cyclophane as neutral carrier. Talanta 63:135–138

Chen L, Zhang J, Zhao W, He X, Liu Y (2006) Double-armed calix[4]arene amide derivatives as ionophores for lead ion-selective electrodes. J Electroanal Chem 589:106–111

Chumbimuni-Torres KY, Rubinova N, Radu A, Kubota LT, Bakker E (2006) Solid contact potentiometric sensors for trace level measurements. Anal Chem 78:1318–1322

Diaz MT, Bakker E (2001) Effect of lipophilic ion-exchanger leaching on the detection limit of carrier-based ion selective electrodes. Anal Chem 73:5582–5589

Elmosallamy MAF, Fathy AM, Ghoneim AK (2008) Lead (II) potentiometric sensor based on 1,4,8,11-tetrathiacyclotetradecane neutral carrier and lipophilic additive. Electroanalysis 20:1241–1245

Fibbioli M, Moft WE, Badertscher M, De Rooji N, Pretsch E (2000) Potential drifts of solid-contacted ion-selective electrodes due to zero-current ion fluxes through the sensor membrane. Electroanalysis 12:1286–1292

Goyal RN, Gupta VK, Bachheti N (2007) Fullerence-C60-modified electrode as a sensitive voltammetric sensor for detection of nandrolone—an anabolic steroid used in doping. Anal Chim Acta 597:82–89

Goyal RN, Gupta VK, Bachheti N, Sharma RA (2008a) Electrochemical sensor for the determination of dopamine in presence of high concentration of ascorbic acid using a fullerence-C60 coated gold electrode. Electroanalysis 20:757–764

Goyal RN, Gupta VK, Chatterjee S (2008b) Electrochemical oxidation of 2′,3′-dideoxyadenosine at pyrolytic graphite electrode. Electrochim Acta 53:5354–5360

Goyal RN, Gupta VK, Chatterjee S (2008c) Simultaneously determination of adenosine and inosine using single-wall carbon nanotubes modified pyrolytic graphite electrode. Talanta 76:662–668

Goyal RN, Gupta VK, Chatterjee S (2009) A sensitive voltammetric sensor for determination of synthetic corticosteroid triamcinolone, abused for doping. Biosens Bioelectron 24:3562–3568

Gunturu KS, Nagarajan P, Phedran PM, Goodman TR, Hodsdon ME, Strout MP (2011) Ayurvedic herbal medicine and lead poisonin. J Hematol Oncol 4:51–56

Gupta VK, Prasad R, Kumar P, Mangla R (2000) New nickel (II) selective potentiometric sensor based 5,7,12,14-tetramethyldibenzotetraazaanulene in a poly (vinyl chloride) matrix. Anal Chim Acta 420:19–27

Gupta VK, Chandra S, Mangla R (2002) Dicyclohexano-18-crown-6 as active material in PVC matrix membrane for the fabrication of cadmium selective potentiometric sensors. Electrochim Acta 47:1579–1586

Gupta VK, Prasad R, Kumar A (2003) Preparation of ethambutal-copper (II) complex and fabrication of PVC based membrane potentiometric sensor for copper. Talanta 60:149–160

Gupta VK, Chandra S, Lang H (2005) A highly selective mercury electrode based on a diamine donar ligand. Talanta 66:575–580

Gupta VK, Jain AK, Kumar P, Agarwal S, Meheshwari G (2006a) Chromium(III)-selective sensor based on tri-o-thymotide in PVC matrix. Sens Actuators B 113:182–186

Gupta VK, Jain AK, Kumar P (2006b) PVC-based membrane of N, N′-dibenzyl-1,4,10,13-tetraoxa-7,16-diazacyclooctadecane as Pb(II)-selective sensor. Sens Actuators B 120:259–265

Gupta VK, Jain AK, Maheshwari G, Lang H, Ishtaiwi Z (2006c) Copper(II)-selective potentiometric sensors based on porphyrins in PVC matrix. Sens Actuators B 117:99–106

Gupta VK, Singh AK, Mehtab S, Gupta B (2006d) A cobalt (II)-selective PVC membrane based on a Schiff base complex of N, N′-bis(salicylidene)-3,4-diaminotolune. Anal Chim Acta 566:5–10

Gupta VK, Singh AK, Al khayat M, Gupta B (2007) Neutral carriers based polymeric membrane electrodes for selective determination of mercury (II). Anal Chim Acta 590:81–90

Gupta VK, Ganjali MR, Norouzi P, Khani H, Nayak A, Agarwal S (2011a) Electrochemical analysis of some toxic metals by ion-selective electrodes. Crit Rev Anal Chem 41:282–313

Gupta VK, Jain R, Radhapyari K, Jadon N, Agarwal S (2011b) Voltammetric techniques for the assay of pharmaceutical—a review. Anal Biochem 408:179–196

Gupta VK, Nayak A, Agarwal S, Singhal B (2011c) Recent advances on potentiometric membrane sensors for pharmaceutical analysis. Comb Chem High Throughput Screen 14:284–302

Gupta VK, Singh LP, Singh R, Upadhyay N, Kaur SP, Sethi B (2012) A novel copper (II) selective sensor based on dimethyl 4,4′(o-phenylene)bis(3-thioallophanate) in PVC matrix. J Mol Liq 174:11–16

Gupta VK, Sethi B, Sharma RA, Agarwal S, Bharti A (2013) Mercury selective potentiometric sensor based on low rim functionalized thiacalix[4]-arene as a cation receptor. J Mol Liq 177:114–118

Guzinski M, Lisak G, Sokalski T, Bobacka J, Ivaska A, Bochenska M, Lewenstam A (2013) Solid-contact ion-selective electrodes with highly selective thioamide derivative of p-tert-butylcalix[4]arene for the determination of lead (II) in environmental samples. Anal Chem 85:1551–1561

Huang MR, Rao XW, Li XG, Ding YB (2011) Lead ion-selective electrodes based on polyphenylenediamine as unique solid ionophores. Talanta 85:1575–1584

Jain AK, Gupta VK, Singh LP (2006) A comparative study of Pb2+ selective sensors based on derivatized tetrapyrazole and calix[4]arenes receptors. Electrochim Acta 51:2547–2553

Kamal A, Kumar N, Bhalla V, Kumar M, Mahajan RK (2014) Rhodamine-dimethyliminocinnamyl based electrochemical sensors for selective detection of iron (II). Sens Actuators B 190:127–133

Kazemi SY, Shamsipur M, Sharghi H (2009) Lead-selective poly(vinyl chloride) electrodes based on some synthesized benzo-substituted macrocyclic diamides. J Hazard Mater 172:68–73

Konopka A, Sokalski T, Michalska A, Lewenstam A, Maj-Zurawska M (2004) Factors affecting the potentiometric response of all-solid-state solvent polymeric membrane calcium-selective electrode for low-level measurement. Anal Chem 76:6410–6418

Li XG, Ma XL, Huang MR (2009) Lead (II) ion-selective electrode based on polyaminoanthraquinone particle with intrinsic conductivity. Talanta 78:498–505

Lindner E, Gyurcsanyi RE (2009) Quality control criteria for solid-contact, solvent polymeric membrane ion-selective electrodes. J Solid State Electrochem 13:51–68

Lisak G, Bobacka J, Lewenstam A (2012) Recovery of nanomolar detection limit of solid-contact lead (II)-selective electrodes by electrode conditioning. J Solid State Electrochem 16:2983–2991

Mahajan RK, Kamal A, Kumar N, Bhalla V, Kumar M (2013) Selective sensing of mercury (II) using PVC based membranes incorporating recently synthesized 1,3 alternate thiacalixcrown ionophore. Environ Sci Pollut Res 20:3086–3097

Mi Y, Bakker E (1999) Determination of complex formation constants of lipophillic neutral ionophores in solvent polymeric membranes with segmented sandwich membranes. Anal Chem 71:5279–5287

Michalska A (2006) Optimizing the analytical performance and construction of ion-selective electrodes with conducting polymer-based ion-to-electron transducers. Anal Bioanal Chem 384:391–406

Michalska A, Wojciechowski M, Bulska E, Mieczkowski J, Maksymiuk K (2009) Poly(n-butyl acylate) based lead (II) selective electrodes. Talanta 79:1247–1251

Mobin SM, Sanghavi BJ, Srivastva AK, Mathur P, Lahiri GK (2010) Biomimetic sensor for certain phenols employing a copper(II) complex. Anal Chem 82:5983–5992

O'Rourke M, Duffy N, De Marco R, Potter I (2011) Electrochemical impedence spectroscopy—a simple method for the characterization of polymer inclusion membranes containing aliquant 336. Membranes 1:132–148

Ochoa GC, Cordero JCA (2010) Effect of membrane composition and thickness on the behavior of solid contact ion selective electrodes for Pb2+ using diazadibenzo-18-crown-6 ether as ionophore. ECS Trans 29:361–368

Paciorek R, Van der Wal PD, de Rooij NF, Maj-Zurawska M (2003) Optimization of the composition of interfaces in miniature planer chloride electrodes. Electroanalysis 15:1314–1318

Qin Y, Mi Y, Bakker E (2000) Determination of complex formation constants of 18 neutral alkali and alkaline earth metal ionophores in poly(vinyl chloride) sensing membranes plasticized with bis(2-ethylhexyl)sebacate and o-nitrophenyloctyl ether. Anal Chim Acta 421:207–220

Rong HM, Li GG, Ying SF, Gui LX (2012) Development of potentiometric lead ion sensors based on ionophores bearing oxygen/sulfur-containing functional groups. Chin J Anal Chem 40:50–58

Sanghavi BJ, Mobin SM, Matur P, Lahiri GK, Srivastava AK (2013) Biomimetric sensor for certain catecholamines employing copper (II) complex and silver nanoparticle modified glassy carbon paste electrode. Biosensor Bioelectron 39:124–132

Sanghavi BJ, Kalabate PK, Karna SP, Shrivastava AK (2014) Voltammetric determination of sumatriptan based on a grapheme/gold nanoparticle/Nafion composite modified glassy carbon electrode. Talanta 120:1–9

Saper RB, Phillips RS, Sehgal A, Khouri N, Davis RB, Paquin J, Thuppil V, Kales SN (2008) Lead, mercury, and arsenic in US-and Indian-manufactured ayurvedic medicines sold via the internet. JAMA 300:915–923

Shamsipur M, Ganjali MR (1997) Complex formation of some anilinium ion derivatives with 18-crown-6, 1, 10-diaza-18-crown-6 and cryptand C222 in acetonitrile, dimethylformamide and their 1:1 mixture. J Incl Phenom 28:315–323

Singh AK, Singh P (2010) Determination of cerium ion by polymeric membrane and coated graphite electrode based on novel armed macrocycle. Anal Chim Acta 675:170–180

Soleymanpour A, Shafaatian B, Kor K, Hasaninejad AR (2012) Coated wire lead (II)-selective electrode based on a Schiff base ionophore for low concentration measurements. Monatsh Chem 143:181–188

Srivastava SK, Gupta VK, Jain S (1995) Determination of lead using a poly(vinyl chloride)-based crown ether membrane. Analyst 120:495–498

Sutter J, Radu A, Peper S, Bakker E, Pretsch E (2004) Solid-contact polymeric membrane electrodes with detection limits in the subnanomolar range. Anal Chim Acta 523:53–59

Vazquez M, Danielesson P, Bobacka J, Lewenstam A, Ivaska A (2004) Solution-cast films of poly(3,4-ethylenedioxythiophane) as ion-to-electron transducers in all-solid-state ion-selective electrodes. Sens Actuators B 97:182–189

Wardak C (2011) A highly selective lead-selective electrode with solid contact based on ionic liquid. J Hazard Mater 186:1131–1135

Wilson D, De los Arada MA, Alegret s, Valle del M (2010) Lead (II) ion selective electrodes with PVC membranes based on two bis-thioureas as ionophores: 1,3-bis(N′-benzoylthioureido) benzene and 1,3-bis(N′-furoylthioureido) benzene. J Hazard Mater 181:140–146

Yin T, Pan D, Qin W (2012) A solid-contact Pb2+-selective polymeric membrane electrode with Nafion-doped poly (pyrrole) as ion-to-electron transducer. J Solid State Electrochem 16:499–504

Yuan XJ, Wang RY, Mao CB, Wu L, Chu CQ, Yao R, Gao ZY, Wu BL, Zhang HY (2012) New Pb(II)-selective membrane electrode based on a new Schiff base complex. Inorg Chem Commun 15:29–32

Zamani AA, Khorsihdi N, Mofidi Z, Yaftian MR (2011) Crown ethers bearing 18C6 unit; sensory molecules for fabricating PVC membrane lead ion-selective electrodes. J Chin Chem Soc 58:673–680

Zhang W, Jenny L, Spichiger UE (2000) A comparison of neutral Mg2+-selective ionophores in solvent polymeric membranes: complex stoichiometry and lipophilicity. Jpn Soc Anal Chem 16:11–18
Acknowledgments
This paper was financially supported by the Council of Scientific and Industrial Research (CSIR), New Delhi, as a part of project (01)2469/11/EMR-II. One of Authors Ajar Kamal (AK) is thankful to CSIR for award of Senior Research Fellow (SRF).
Electronic supplementary material
Below is the link to the electronic supplementary material.
About this article
Cite this article
Kamal, A., Tejpal, R., Bhalla, V. et al. Selective and sensitive lead (II) solid-contact potentiometric sensor based on naphthalene-sulfonamide derivative. Int. J. Environ. Sci. Technol. 12, 2567–2578 (2015). https://doi.org/10.1007/s13762-014-0621-0
Received:

Revised:

Accepted:

Published:

Issue Date:
Keywords
Naphthalene-sulfonamide

Coated graphite electrode

Stability constant

Scanning electron microscopy

Environment