Abstract
On-site sanitation provisions in urban slums rarely prioritise grey water management, yet it forms the largest fraction of wastewater. This study was carried out to characterise grey water and quantify its pollutant loads in Bwaise III (Uganda) and to provide data for grey water management in urban slums of developing countries. Samples were collected for analysis from ten representative households as well as from four tertiary drains and the main drainage channel for 7 months in two dry seasons. Grey water production was found to comprise 85 % of the domestic water consumption. The chemical oxygen demand (COD) concentration in the grey water generated by laundry, in the kitchen and in the bathroom was 9,225 ± 1,200 mg L−1, 71,250 ± 1,011 mg L−1 and 4,675 ± 750 mg L−1, while the BOD5 (biochemical oxygen demand) to COD ratio was 0.24 ± 0.05, 0.33 ± 0.08 and 0.31 ± 0.07, respectively. The maximum concentration of Escherichia coli and total coliforms was 2.05 × 107 cfu (100 mL)−1 and 1.75 × 108 cfu (100 mL)−1, respectively, in grey water from the bathroom, while that of Salmonella spp. was 7.32 × 106 cfu (100 mL)−1 from laundry. Analysis of variance (ANOVA) showed a significant difference in the concentration of COD, total suspended solids (TSS), total organic carbon (TOC), dissolved organic carbon (DOC), total phosphorus (TP), sodium adsorption ratio (SAR), oil and grease, and Salmonella spp. in grey water from laundry, bathroom and kitchen (p < 0.05). The high loads of COD (>500 kg day−1), TSS (>200 kg day−1), nutrients (8.3 kg TKN day−1 and 1.4 kg TP day−1) and microorganisms (106 to 109 cfu c−1 day−1) originating from grey water in Bwaise III show that grey water poses a threat to the environment and a risk to human health in urban slums. Therefore, there is a need to prioritise grey water treatment in urban slums of developing countries to achieve adequate sanitation.
This is a preview of subscription content,
to check access.
Access this article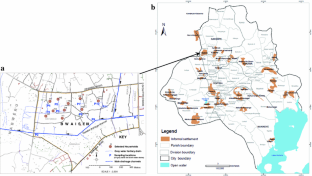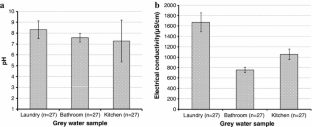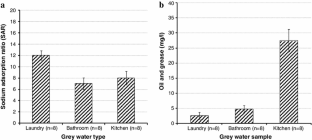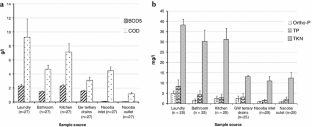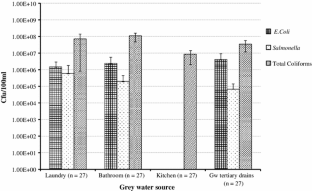 Similar content being viewed by others
References
Abu Ghunmi L, Zeeman G, van Lier J, Fayyed M (2008) Quantitative and qualitative characteristics of grey water for reuse requirements and treatment alternatives: the case of Jordan. Water Sci Technol 58(7):1385–1396

Abu Ghunmi LA, Zeeman G, Fayyad M, Van Lier JB (2011) Grey water treatment systems: a review. Crit Rev Environ Sci Techno 41:657–698

Abu-Zreig M, Rudra RP, Dickinson WT (2003) Effect of application of surfactants on hydraulic properties of soils. Biosyst Eng 84:363–372

Alderlieste MC, Langeveld JG (2005) Wastewater planning in Djenné, Mali. A pilot project for the local infiltration of domestic wastewater. Water Sci Technol 51(2):57–64

Al-Jayyousi OR (2003) Greywater reuse: towards sustainable water management. Desalination 156(1):181–192

APHA, AWWA and WEF (2005) Standard Methods for the examination of water and wastewater. American Public Health Association, American Water Works Association and Water Environment Federation publication, 21st edition. Washington DC, USA

Arjoon A, Olaniran AO, Pillay B (2013) Co-contamination of water with chlorinated hydrocarbons and heavy metals: challenges and current bioremediation strategies. Int J Environ Sci Technol 10(2):395–412

Armitage NP, Winter K, Spiegel A, Kruger E (2009) Community-focused greywater management in two informal settlements in South Africa. Water Sci Technol 59(12):2341–2350

Birks R, Hills S (2007) Characterisation of indicator organisms and pathogens in domestic greywater for recycling. Environ Monit Assess 129:61–69

Busser S (2006) Studies on domestic wastewater flows in urban and peri-urban Hanoi. http://ir.library.osaka-u.ac.jp/dspace/bitstream/11094/13204/1/arfyjsps2006_395.pdf; Accessed 7 Feb

Carden K, Armitage N, Winter K, Sichone O, Rivett U, Kahonde J (2007a) The use and disposal of grey water in the non-sewered areas of South Africa: Part 1–Quantifying the grey water generated and assessing its quality. Water SA 33(4):425–432

Carden K, Armitage N, Sichone O, Winter K (2007b) The use and disposal of grey water in the non-sewered areas of South Africa: Part 2–Grey water management options. Water SA 33(4):433–442

Christova-Boal D, Eden RE, McFarlane S (1996) An investigation into greywater reuse for urban residential properties. Desalination 106:391–397

Chuai X, Chen X, Yang L, Zeng J, Miao A, Zhao H (2013) Effects of climatic changes and anthropogenic activities on Lake Eutrophication in different ecoregions. Int J Environ Sci Techno 9(3):503–514

Crites RW, Tchobanoglous G (1998) Small and decentralized wastewater management systems. McGraw-Hill Companies, California

Eddy M (2003) Wastewater engineering: treatment and reuse, 4th edn. McGraw-Hill Companies, New York, NY

Eriksson E, Auffarth K, Henz M, Ledi A (2002) Characteristics of grey wastewater. Urban Water 4(1):85–104

Escher BI, Fenner K (2011) Recent advances in environmental risk assessment of transformation products. Environ Sci Technol 45:3835–3847

Friedler E (2004) Quality of individual domestic greywater streams and its implication for onsite treatment and reuse possibilities. Environ Technol 25(9):997–1008

Ganjegunte GK, Vance GF (2006) Deviations from the empirical sodium adsorption ratio (SAR) and exchangeable sodium percentage (ESP) relationship. Soil Sci 171(5):364–373

Garland JL, Levine LH, Yorio NC, Adams JL, Cook KL (2000) Graywater processing in recirculating hydroponic systems: phytotoxicity, surfactant degradation, and bacterial dynamics. Water Res 34:3075–3086

González-Naranjo V, Boltes K (2013) Toxicity of ibuprofen and perfluorooctanoic acid for risk assessment of mixtures in aquatic and terrestrial environments. Int J Environ Sci Technol. doi:10.1007/s13762-013-0379-9

Gross A, Azulai N, Oron G, Ronen Z, Arnold M, Nejidat A (2005) Environmental impact and health risks associated with greywater irrigation: a case study. Water Sci Technol 52(8):161–169

Haas CN, Rose JB, Gerba CP (1999) Quantitative microbial risk assessment. Wiley, New York

Harremoës P (1998) Stochastic models for estimation of extreme pollution from urban runoff. Water Res 22(8):1017–1026

Hernández L, Zeeman G, Temmink H, Buisman C (2007) Characterization and biological treatment of greywater. Water Sci Technol 56(5):193–200

Jamrah A, Al-Futaisi A, Prathapar S, Harrasi AA (2008) Evaluating greywater reuse potential for sustainable water resources management in Oman. Environ Monit Assess 137(1–3):315–327

Jefferson B, Burgess JE, Pichon A, Harkness J, Judd SJ (2001) Nutrient addition to enhance biological treatment of greywater. Water Res 35(11):2702–2710

Jefferson B, Palmer A, Jeffrey P, Stuetz R, Judd S (2004) Grey water characterisation and its impact on the selection and operation of technologies for urban reuse. Water Sci Technol 50(2):157–164

Kansiime F, van Bruggen JJA (2001) Distribution and retention of faecal coliforms in the Nakivubo wetland in Kampala, Uganda. Water Sci Technol 44(11–12):19–26

Kariuki FW, Ngángá VG, Kotut K (2012) Hydrochemical characteristics, plant nutrients and metals in household greywater and soils in Homa Bay Town. Open Environ Eng J 5:103–109

Katukiza AY, Ronteltap M, Niwagaba C, Kansiime F, Lens PNL (2010) Selection of sustainable sanitation technologies for urban slums—A case of Bwaise III in Kampala, Uganda. Sci Total Environ 409(1):52–62

Katukiza AY, Ronteltap M, Niwagaba CB, Foppen JWA, Kansiime F, Lens PNL (2012) Sustainable sanitation technology options for urban slums. Biotechnol Adv 30:964–978

Katukiza AY, Temanu H, Chung JW, Foppen JWA, Lens PNL (2013) Genomic copy concentrations of selected waterborne viruses in a slum environment in Kampala, Uganda. J Water Health 11(2):358–369

Köhler J (2006) Detergent phosphates: an EU policy assessment. J Bus Chem 3(2):15–30

Krishnan V, Ahmad D, Jeru JB (2008) Influence of COD:N: P ratio on dark greywater treatment using a sequencing batch reactor. J Chem Technol Biotechnol 83:756–762

Kulabako NR, Ssonko NKM, Kinobe J (2011) Greywater characteristics and reuse in tower gardens in Peri-Urban Areas- experiences of Kawaala, Kampala, Uganda. Open Environ Eng J 4:147–154

Li F, Wichmann K, Otterpohl R (2009) Review of technological approaches for grey water treatment and reuses. Sci Total Environ 407(11):3439–3449

Lüthi C, McConville J, Kvarnström E (2009) Community-based approaches for addressing the urban sanitation challenges. Int J Urban Sustain Dev 1(1):49–63

Mohawesh O, Mahmoud M, Janssen M, Lennartz B (2013) Effect of irrigation with olive mill wastewater on soil hydraulic and solute transport properties. Int J Environ Sci Technol. doi:10.1007/s13762-013-0285-1

Morel A, Diener S. Greywater Management in Low and Middle-Income Countries. Review of different treatment systems for households or neighbourhoods. http://www.eawag.ch/forschung/sandec/publikationen/ewm/dl/GW_management.pdf; 2006. Accessed 03 Jan 2013

Mwiganga M, Kansiime F (2005) The impact of Mpererwe landfill in Kampala–Uganda, on the surrounding environment. Phys Chem Earth 30:744–750

Nsubuga FB, Kansiime F, Okot-Okumu J (2004) Pollution of protected springs in relation to high and low density settlements in Kampala-Uganda. Phys Chem Earth 29:1153–1159

Nyenje PM, Foppen JW, Uhlenbrook S, Kulabako R, Muwanga A (2010) Eutrophication and nutrient release in urban areas of sub-Saharan Africa: a review. Sci Total Environ 408(3):447–455

Ottoson J, Stenström TA (2003) Faecal contamination of grey water and associated microbial risks. Water Res 37(3):645–655

Paliwal KV, Gandhi AP (1974) Effect of salinity, SAR, Ca:Mg ratio in irrigation water, and soil texture on the predictability of exchangeable Sodium percentage. Soil Sci 122(2):85–90

Palmquist H, Hanaeus J (2005) Hazardous substances in separately collected grey-and blackwater from ordinary Swedish households. Sci Total Environ 348:151–163

Patterson RA (2001) Wastewater quality relationships with reuse options. Water Sci Technol 43(10):147–154

Prathapar SA, Jamrah A, Ahmed M, Al Adawi S, Al Sidairi S, Al Harassi A (2005) Overcoming constraints in treated greywater reuse in Oman. Desalination 186(1–3):177–186

Redwood M (2008) The application of pilot research on greywater in the Middle East North Africa region (MENA). Int J Environ Stud 65(1):109–117

Schwarzenbach RP, Escher BI, Fenner K, Hofstetter TB, Johnson CA, von Gunten U, Wehrli B (2006) The challenge of micropollutants in aquatic systems. Science 313:1072–1077

Scott MJ, Jones MN (2000) The biodegradation of surfactants in the environment. Biochim Biophys Acta Biomembr 1508(1–2):235–251

Sharma NK, Bhardwaj S, Srivastava PK, Thanki YJ, Gadhia PK, Gadhia M (2012) Soil chemical changes resulting from irrigating with petrochemical effluents. Int J Environ Sci Technol 9(2):361–370

Snyder SA, Westerhoff P, Yoon Y, Sedlak DL (2003) Pharmaceuticals, personal care products, and endocrine disruptors in water: implications for the water industry. EnvironEng Sci 20(5):449–469

Suarez DL (1981) Relation between pH and sodium adsorption ratio (SAR) and an alternative method of estimating SAR of Soil or drainage waters. Soil Sci Soc Am J 45(3):469–475

Taghipour H, Mosaferi M, Armanfar F, Gaemmagami SJ (2013) Heavy metals pollution in the soils of suburban areas in big cities: a case study. Int J Environ Sci Technol 10(2):243–250

Ternes T, Joss A (2006) Human pharmaceuticals, hormones andfragrances: the challenge of micropollutants in urban water management. IWA publishing, London

Thye YP, Templeton MR, Ali M (2011) A critical review of technologies for pit latrine emptying in developing countries. Crit Rev Environ Sci Technol 41(20):1793–1819

Tilley E, Zurbrüg C, Lüthi C (2010) A flowstream approach for sustainable sanitation systems. In: van Vliet B, Spaargaren G, Oosterveer P (eds) Social perspectives on the sanitation challenge. Dordrecht, Springer, pp 69–86

Travis MJ, Weisbrod N, Gross A (2008) Accumulation of oil and grease in soils irrigated with greywater and their potential role in soil water repellency. Sci Total Environ 394(68):74

USEPA (2009) Method 1664 revision A: N-hexane extractable material (HEM; oil and grease) and silica gel treated N-hexane extractable material (SGT-HEM; non-polar material) by extraction and gravimetry. United States Environmental Protection Agency, Washington DC

Westrell T, Schönning C, Stenström TA, Ashbolt NJ (2004) QMRA (quantitative microbial risk assessment) and HACCP (hazard analysis and critical control points) for management of pathogens in wastewater and sewage sludge treatment and reuse. Water Sci Technol 50(2):23–30

WHO, UNICEF (2012) Progress on drinking water and sanitation. Joint Monitoring Programme for water supply and sanitation (JMP)
Acknowledgments
This research was carried out as part of the research that was funded by the Netherlands Ministry of Development Cooperation (DGIS) through the UNESCO-IHE Partnership Research Fund. It was carried out in the framework of the research project 'Addressing the Sanitation Crisis in Unsewered Slum Areas of African Mega-cities' (SCUSA).
About this article
Cite this article
Katukiza, A.Y., Ronteltap, M., Niwagaba, C.B. et al. Grey water characterisation and pollutant loads in an urban slum. Int. J. Environ. Sci. Technol. 12, 423–436 (2015). https://doi.org/10.1007/s13762-013-0451-5
Received:

Revised:

Accepted:

Published:

Issue Date:

DOI: https://doi.org/10.1007/s13762-013-0451-5
Keywords