Abstract
Heteropneustes fossilis were subjected to 41.89 mg L−1 of azadirachtin for short-term exposure (96 h) and 10.47 mg L−1 of azadirachtin for long-term exposure (28 days). The fish were killed on 24, 48, 72 and 96 h in short-term and 7, 14, 21 and 28 days in long-term experiment. Corpuscles of Stannius (CS) were fixed on these time intervals. CS remain unchanged till 72 h in short-term azadirachtin exposure. Accumulation of granules has been noticed in the aldehyde fuchsin (AF)-positive cells at 96 h. The nuclear volume of these cells remains unchanged. The AF-negative cells of CS of azadirachtin-exposed fish exhibit a slight increase in their nuclear volume after 96 h. In long-term exposure, the CS remain unchanged up to day 14. Increased granulation in the AF-positive cells has been noticed following 21-day exposure. Moreover, the nuclear volumes of these cells show a significant decrease. Heavy accumulation of AF-positive granules and few degenerating cells are also noticed at 28 day in azadirachtin-exposed H. fossilis.
Access options
Buy single article
Instant access to the full article PDF.
US$ 39.95
Tax calculation will be finalised during checkout.
Subscribe to journal
Immediate online access to all issues from 2019. Subscription will auto renew annually.
US$ 79
Tax calculation will be finalised during checkout.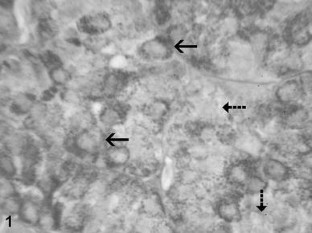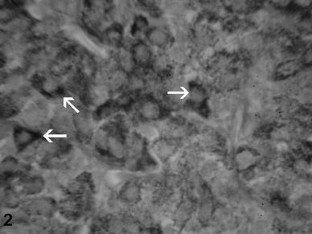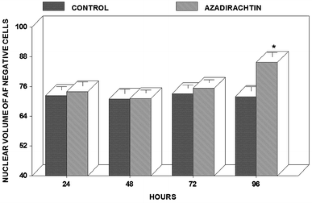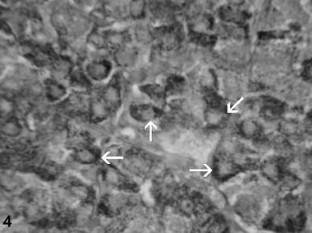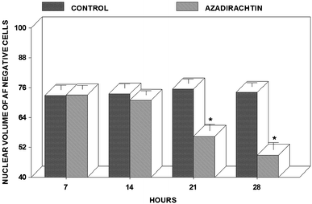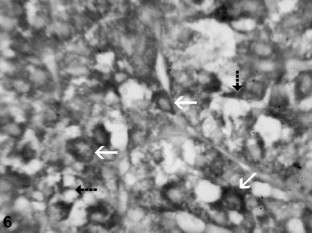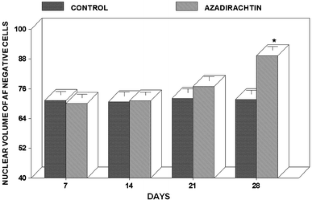 References
Agbozu IE, Ekweozor IKE, Opuene K (2007) Survey of heavy metals in the catfish Synodontis clarias. Int J Environ Sci Tech 4(1):93–97

Biddulph DM, Maibenco HC (1972) Response of hamster thyroid light cells to plasma calcium. Anat Rec 173:25–43

Chandra P, Khuda-Bukhsh AR (2004) Genotoxic effects of cadmium chloride and azadirachtin treated singly and in combination in fish. Ecotoxicol Environ Safe 58:194–201

Chitra G, Thamizharasi A, Krishnaveni N (2008) Neem (Azadirachta indica) extract as an immunostimulant in freshwater fish Catla catla. Ecology Environ Cons 14:559–560

Dubey NK, Shukla R, Kumar A, Singh P, Prakash B (2010) Prospects of botanical pesticides in sustainable agriculture. Curr Sci 98:479–480

Evans DH (1987) The fish gill: site of action and model for toxic effects of environmental pollutants. Environ Health Persp 71:47–58

Hasan N, Das S, Srivastav Ajai K, Swarup K (1987) Phosphocalcic response of Stannius corpuscles extract in the freshwater snake, Natrix piscator. Zool Sci 4:391–394

Ishibashi K, Imai M (2002) Prospect of a stanniocalcin endocrine/paracrine system in mammals. Am J Physiol Renal Physiol 282:F367–F375

James DB, Ameh DA, Agbaji AS, Ibrahim NDG (2009) Biochemical and histologic effect of dietary substitution with solvent extracted neem seed cake of Albino rats (wistar strain). Int J Anim Vet Adv 1:1–5

Komalamisra N, Trongtokit Y, Rongsriyam Y, Apiwathnasorn C (2005) Screening for larvicidal activity in some thai plants against four mosquito vector species. Southeast Asian J Trop Med Pub Health 361:412–422

Kumar A, Prasad M, Mishra D, Srivastav SK, Srivastav Ajai K (2010) Acute Toxicity of Azadirachtin to a Teleost, Heteropneustes fossilis. Acta Sci Biol Sci 34:213–216

Kumar A, Prasad M, Mishra D, Srivastav SK (2011) Srivastav Ajai K. Botanical pesticide, azadirachtin attenuates blood electrolytes of a freshwater fish Heteropneustes fossilis. Pest Biochem Physiol 99:170–173

Mishra D, Srivastav SK, Suzuki N, Srivastav Ajai K (2009) Corpuscles of Stannius of a freshwater teleost, Heteropneustes fossilis in response to metacid-50 treatment. J app Sci Manag 13:69–77

Mishra D, Tripathi S, Srivastav SK, Suzuki N (2010) Srivastav Ajai K. Corpuscles of Stannius of a teleost, Heteropneustes fossilis following intoxication with a pyrethroid (cypermethrin). North-West. J Zool 6:203–208

Mondal D, Barat S, Mukhopadhyay MK (2007) Toxicity of neem pesticides on a fresh water loach, Lepidocephalichthys guntea (Hamilton Buchanan) of Darjeeling district in West Bengal. J Environ Biol 28:119–122

Parveen M, Sharma R, Kumar S (2004) Effect of neem seed pesticide, neemta-2100 to the Tilapia mossambica. Asian J Microbio Biotech Environ Sci 6:567–569

Punzo F, Parker M (2005) Effects of azadirachtin on mortality, fertilization, and swimming speed in larvae of the cane toad, Bufo marinus (Anura: Bufonidae). J Environ Biol 26:687–691

Rahman MF, Siddiqui MKJ, Jamil K (1999) Sub-chronic effect of neem based pesticide (vepacide) on acetylcholinesterage and ATPases in rat. J Environ Sci Health B 34:873–884

Rahman MF, Siddiqui MKJ, Jamil K (2001) Effect of Vepacide (Azadirachta indica) on aspartate and alanine aminotransferase profiles in a sub-chronic study with rats. Human Exp Toxicol 20:243–249

Rahuman AA, Gopalakrishnan VGP, Geetha K (2008) Larvicidal activity of some Euphorbiaceae plant extracts against Aedes aegypti and Culex quinquefasciatus (Diptera: Culicidae). Parasitol Res 102:867–873

Roch GJ, Sherwood NM (2010) Genomics reveal ancient forms of stanniocalcin in amphioxus and tunicate. Int Comp Biol 50:86–97

Sazonova O, James KA, McCudden CR, Segal D, Talebian A, Wagner GF (2008) Stanniocalcin-1 secretion and receptor regulation in kidney cells. Am J Physiol Renal Physiol 294:F788–F794

Senthil Nathan S, Young Choi M, Yul Seo H, Hoon Paik C, Kalaivani K, Duk Kim J (2008) Effect of azadirachtin on acetylcholinesterase (AChE) activity and histology of the brown planthopper Nilaparvata lugens (Stal). Ecotoxicol Environ Safe 70:244–250

Shanmugasundaram R, Jeyalakshmi T, Sunil Dutt M, Balakrishna Murthy P (2008) Larvicidal activity of neem and karanja oil cakes against mosquito vectors, Culex quinquefasciatus (Say), Aedes aegypti (L.) and Anopheles stephensi (L.). J Environ Biol 29:43–45

Sheikh-Hamad D (2010) Mammalian stanniocalcin-1 activates mitochondrial antioxidant pathways: new paradigms for regulation of macrophages and endothelium. Am J Physiol Renal Physiol 298:F248–F254

Sileshi GW, Nyeko P, Nkunika POY, Sekematte BM, Akinnifesi FK, Ajayi OC (2009) Integrating Ethno-ecological and scientific knowledge of termites for sustainable termite management and human welfare in Africa. Ecol Soc 14:48. http://www.ecologyandsociety.org/vol14/iss1/art48/

Singh S, Srivastav Ajai K (1996) Vitamin D3 induced histological changes in the corpuscles of Stannius of a freshwater catfish, Heteropneustes fossilis kept either in artificial freshwater, calcium-rich freshwater or calcium deficient freshwater. Okajimas Fol Anat Jap 73:75–82

Song G, Bazer FW, Wagner GF, Spencer TE (2006) Stanniocalcin (STC) in the endometrial glands of the ovine uterus: regulation by progesterone and placental hormones. Biol Reprod 74:913–922

Srivastav Ajai K, Srivastav SP (1988) Corpuscles of Stannius of Clarias batrachus in response to 1, 25 dihydroxyvitamin D3 administration. Zool Sci 5:197–200

Srivastav Ajai K, Swarup K (1982) Calcemic responses of Stannius corpuscles extract in parrots, Psittacula psittacula. Experientia 38:869

Srivastav Ajai K, Srivastava SK, Mishra D, Srivastav SK, Suzuki N (2009) Effects of deltamethrin on serum calcium and corpuscles of Stannius of freshwater catfish, Heteropneustes fossilis. Toxicol Environ Chem 91:761–772

Srivastav Ajai K, Srivastava SK, Tripathi S, Mishra D, Srivastav SK (2010) Chlorpyrifos based commercial formulation: alterations in corpuscles of Stannius of catfish. Int J Environ Health 4:323–332

Swarup K, Tewari NP, Srivastav Ajai K (1980) Response of calcitonin cells, parathyroid glands and bone to prolonged calcitonin administration in the Indian palm squirrel Funambulus pennanti (Wroughton). Acta Anat 106:180–191

Tiwari PR (1993) Endocrinal regulation of calcium in teleost. Ph.D. Thesis University of Gorakhpur, Gorakhpur India

Trindade DM, Silva JC, Navarro MS, Torriani ICL, Kobarg J (2009) Low resolution structural studies of human Stanniocalcin-1. BMC Struct Biol 9:57

Tseng DY, Chou MY, Tseng YC, Hsiao CD, Huang CJ, Kaneko T, Hwang PP (2009) Effects of Stanniocalcin 1 on calcium uptake in zebrafish (Denio rerio) embryo. Am J Physiol Reg Inte Comp Physiol 296:R549–R557

Wagner GF (1994) The molecular biology of the corpuscles of Stannius and regulation of Stanniocalcin gene expression. In: Sherwood NM, Hew CL (eds) Fish physiology, vol VIII. Academic Press, San Diego, pp 273–306

Wendelaar Bonga SE, Lock RAC (1992) Toxicants and osmoregulation in fish. Netherlands J Zool 42:478–493

Wendelaar Bonga SE, Pang PKT (1991) Control of calcium regulating hormones in the vertebrates: parathyroid hormone, calcitonin, prolactin and stanniocalcin. Int Rev Cytol 128:139–213

Winkaler EU, Santos TR, Machado-Neto JG, Martinez CB (2007) Acute lethal and sublethal effects of neem leaf extract on the neotropical freshwater fish Prochilodus lineatus. Comp Biochem Physiol C Toxicol Pharmacol 145:236–244
Acknowledgments
Authors are highly thankful to Ozone Biotech, India, for providing "Ozoneem Aza".
About this article
Cite this article
Kumar, A., Prasad, M., Srivastav, S.K. et al. Toxicological impacts of a botanical pesticide, azadirachtin on corpuscles of Stannius of stinging catfish, Heteropneustes fossilis . Int. J. Environ. Sci. Technol. 12, 507–512 (2015). https://doi.org/10.1007/s13762-013-0422-x
Received:

Revised:

Accepted:

Published:

Issue Date:
Keywords
Botanical pesticide

Corpuscles of Stannius

Calcium

Heteropneustes fossilis