Abstract
A mesocosm study was evaluated to elucidate the influence of amendments such as microbial consortium, plant (Vetiveria zizanioides), bulking agent (wheat husk) and nutrients on remediation of oil sludge over a period of 90 days. The experiment was conducted in a 15 m2 plot which was divided into eight units comprising of soil sludge mixture (1:1) at CSIR-NEERI premises. During the experiment, oil degradation was estimated gravimetrically and polyaromatic hydrocarbons (PAHs) were quantified on GC–MS. Additionally, dehydrogenase activity was also monitored. The treatment integrated with bulking agent, nutrients, consortium and plant resulted in 28-fold increased dehydrogenase activity and complete mineralization of higher PAHs. Furthermore, 72.8 % total petroleum hydrocarbons (TPH) degradation was observed in bulked treatment with plant, nutrients and consortium followed by 69.6 and 65.4 % in bioaugmented treatments with and without nutrients, respectively, as compared to control (33.4 %). A lysimeter study was also conducted simultaneously using Vetiver and consortium to monitor groundwater contamination by heavy metals in oil sludge which showed a marked decrease in the concentrations of metals such as lead and cadmium in leachates. This study validates a holistic approach for remediation of oil sludge contaminated soils/sites which is a burning issue since decades by the use of microbe assisted phytoremediation technology which not only solves the problem of oil contamination but also takes care of heavy metal contamination.
Access options
Buy single article
Instant access to the full article PDF.
USD 39.95
Price includes VAT (USA)
Tax calculation will be finalised during checkout.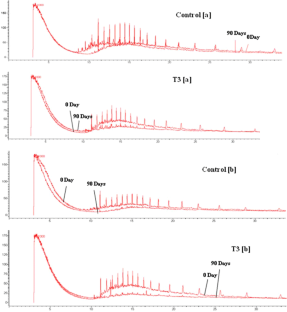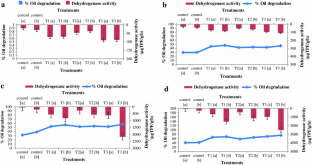 References
Abdulsalam S, Bugaje IM, Adefila SS, Ibrahim S (2011) Comparison of biostimulation and bioaugmentation for remediation of soil contaminated with spent motor oil. Int J Environ Sci Technol 8(1):187–194

Alvarez VM, Marques JM, Korenblum E, Seldin L (2011) Comparative bioremediation of crude oil-amended tropical soil microcosms by natural attenuation, bioaugmentation, or bioenrichment. Appl Environ Soil Sci. doi:10.1155/2011/156320

ASTM (2000) Standard test methods for moisture, ash, and organic matter of peat and other organic soils. Method D 2974-00. American Society for Testing and Materials, West Conshohocken

Bamforth SM, Singleton I (2005) Bioremediation of polycyclic aromatic hydrocarbons: current knowledge and future directions. J Chem Technol Biotechnol 80:723–736. doi:10.1002/jctb.1276

Beskoski VP, Gojgic GC, Milic J, Ilic M, Miletic S, Solevic T, Vrvic MM (2011) Ex situ bioremediation of a soil contaminated by mazut (heavy residual fuel oil)—A field experiment. Chemosphere 83:34–40

Brandt R, Merkl N, Schultze-Kraft R, Infante C, Broll G (2006) Potential of vetiver (Vetiveria zizanoides L. Nash) for phytoremediation of hydrocarbon contaminated soils in Venezuela. Int J Phytoremediation 8:273–284. doi:10.1080/15226510600992808

Casida IE, Kelvin JD, Sntora DL (1964) Soil dehydrogenase activity. Soil Sci 98:371–376

Chang Z, Richard WW (1998) Organic bulking agents for enhancing oil bioremediation in soil. Bioremediat J 1(3):173–180

Danh LT, Truong P, Mammucari R, Tran T, Foster N (2009) Vetiver grass, Vetiveria zizanioides: a choice plant for phytoremediation of heavy metals and organic wastes. Int J Phytoremediation 11(8):664–691. doi:10.1080/15226510902787302

Edema CU, Idu TE, Edema MO (2011) Remediation of soil contaminated with polycyclic aromatic hydrocarbons from crude oil. Afr J Biotechnol 10(7):1146–1149

Hooda V (2007) Phytoremediation of toxic metals from soil and waste water. J Environ Biol 28(2):367–376

Jackson ML (1973) Soil chemical analysis. Prentice Hall of India Pvt. Ltd., New Delhi

Jain PK, Gupta VK, Pathak H, Lowry M, Jaroli DP (2010) Characterization of 2T engine oil degrading indigenous bacteria, isolated from high altitude (Mussoorie), India. World J Microbiol Biotechnol 26:1419–1426. doi:10.1007/s11274-010-0316-8

Juwarkar AA, Singh SK, Mudhoo A (2010) A comprehensive overview of elements in bioremediation. Rev Environ Sci Biotechnol 9:215–288. doi:10.1007/s11157-010-9215-6

Kathi S, Khan AB (2011) Phytoremediation approaches to PAH contaminated soil. Indian J Sci Technol 4(1):56–63

Kulczycki E, Ferris FG, Fortin D (2002) Impact of cell wall structure on the behavior of bacterial cells as sorbents of cadmium and lead. Geomicrobiol J 19(6):553–565. doi:10.1080/01490450290098586

Lasat MM (2000) Phytoextraction of metals from contaminated soil: a review of plant/soil/metal interaction and assessment of pertinent agronomic issues. J Hazard Subst Res 2:1–25

Li GH, Zhang X, Lu XX (2002) Biodegradation of residual petrochemicals and microbial activities in polluted soil. Earth Sci J China Univ Geosci 2:181–185

Mishra S, Jyot J, Kuhad R, Lal B (2001) In situ bioremediation potential of oily sludge-degrading bacterial consortium. Curr Microbiol 43:328–335. doi:10.1007/s002840010311

Mittal A, Singh P (2010) A feasibility study for assessment of In-situ bioremediation potential of a crude oil degrading Pseudomonas consortium. J Sci Res 2(1):127–137

Parrish ZD, Banks MK, Schwab AP (2005) Effect of root death and decay on dissipation of polycyclic aromatic hydrocarbons in the rhizosphere of yellow sweet clover and tall fescue. J Environ Qual 34:207–216

Pelletier ED, Delille D, Delille B (2004) Crude oil bioremediation in sub-Antarctic intertidal sediments: chemistry and toxicity of oiled residues. Mar Environ Res 57:311–327. doi:10.1016/j.marenvres.2003.07.001

Rhykerd RL, Crews B, McInnes KJ, Weaver RW (1999) Impact of bulking agents, forced aeration, and tillage on remediation of oil-contaminated soil. Bioresour Technol 67:279–285

Roldan A, Salinas JR, Garcia MM, Alguacil G, Diaz, Caravaca F (2004) Changes in soil microbial activity following conservation tillage practices in a sorghum field under subtropical conditions. 13th International soil conservation organisation conference—Brisbane. Conserving Soil and Water for Society: Sharing Solutions Paper No. 687 p 1

Salleh AB, Ghazhali FM, Rahman RNZA, Basri M (2003) Bioremediation of petroleum hydrocarbon pollution. Indian J Biotechnol 2:411–425

Shi S (2009) Influence of root exudates on soil microbial diversity and activity. PhD thesis, Lincoln University New Zealand

Tyagi M, Manuela M, Fonseca R, Carvalho CR (2011) Bioaugmentation and biostimulation strategies to improve the effectiveness of bioremediation processes. Biodegradation 22:231–241. doi:10.1007/s10532-010-9394-4

USEPA. Method 3540C (1996) Soxhelet extraction. United States Environmental protection agency, Washington, DC

Vasudevan N, Rajaram P (2001) Bioremediation of oil sludge-contaminated soil. Environ Int 26(5–6):409–411

Verma S, Bhargava R, Pruthi V (2006) Oily sludge degradation by bacteria from Ankleshwar, India. Int Biodeterior Biodegrad 57:207–213. doi:10.1016/j.ibiod.2006.02.004

Xu Y, Lu M (2010) Bioremediation of crude oil-contaminated soil: comparison of different biostimulation and bioaugmentation treatments. J Hazard Mater 183:395–401. doi:10.1016/j.jhazmat.2010.07.038

Zhang ZZ, Su SM, Luo YJ, Lu M (2009) Improvement of natural microbial remediation of petroleum-polluted soil using graminaceous plants. Water Sci Technol 59(5):1025–1034
Acknowledgments
The authors are thankful to Dr. S. R. Wate, Director, CSIR-NEERI, Nagpur, for his kind support and encouragement.
About this article
Cite this article
Nanekar, S., Dhote, M., Kashyap, S. et al. Microbe assisted phytoremediation of oil sludge and role of amendments: a mesocosm study. Int. J. Environ. Sci. Technol. 12, 193–202 (2015). https://doi.org/10.1007/s13762-013-0400-3
Received:

Revised:

Accepted:

Published:

Issue Date:
Keywords
Total petroleum hydrocarbons (TPH)

Amendments

Polycyclic aromatic hydrocarbons (PAH)

Remediation

Oil sludge

Heavy metals