Abstract
To evaluate the effect of olive mill wastewater (OMW) application on soil hydraulic and transport properties, two treatment sites, which had been irrigated with OMW for 5 and 15 years, and one control site being irrigated with freshwater were compared. The transport and leaching experiment results showed that a portion of the total soil water was available for transport processes while the remaining of the soil water was considered immobile and not readily accessible for solutes. The separation in water fractions of different mobilities was surprisingly consistent among OMW treatments. The bromide recovery rate decreased with the application of OMW showing that tracer molecules became trapped within immobile water phases. The application of OMW increased significantly the soil water-holding capacity, whereas the soil hydraulic conductivity in the near saturation range decreased significantly with long-term OMW application. The soil irrigated with OMW had significantly higher organic matter content, lower bulk density and relatively higher total porosity, but lower macroporosity than that of control sites. We concluded that the soil was increasingly coated with complex organic molecules originating from OMW, as a result, solute exchange between inter- and intrasoil aggregate water was hindered. Although OMW could cause soil and water pollution, its use in agriculture is promoted because of high nutrients and organic matter contents.
Access options
Buy single article
Instant access to the full article PDF.
USD 39.95
Price excludes VAT (USA)
Tax calculation will be finalised during checkout.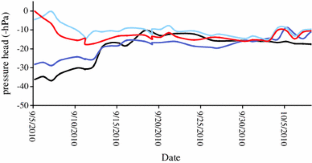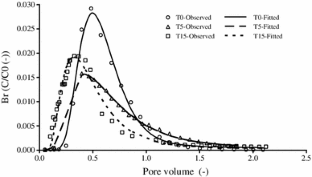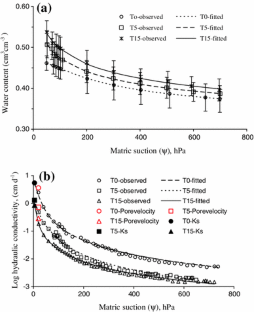 References
Albich R, Canet R, Pomares F, Ingelmo F (2000) Microbial biomass content and enzymatic activity after the application of organic amendments to a horticultural soil. Bioresour Technol 75:43–48

Azbar N, Bayram A, Filibeli A, Muezzinoglu A, Sengul F, Ozer A (2004) A review of waste management options in olive oil production. Crit Rev Env Sci Tec 34:209–247

Blake GR, Hartge KH (1986) Bulk density. In: Klute A (ed) Methods of soil analysis, Part I. physical and mineralogical methods: agronomy monograph no. 9, 2nd edn., pp 363–375

Cabrera C, Lorenzo ML, De Mena C, Lopez Chromium MC (1996) Copper, iron, manganese, selenium and zinc levels in dairy products: in vitro study of absorbable fractions. Int J Food Sci Nutr 47:331–339

El Hadrami A, Belaqziz M, El Hassni M, Hanifi S, Abbad A, Capasso R, Gianfreda L, El Hadrami I (2004) Physico-chemical characterization and effects of olive oil mill wastewaters fertirrigation on the growth of some Mediterranean crops. J of Agron 3:247–254

FAOSTAT (2007) ProdSTAT: crops: olive oil, 19 Apr 2007—based on 2005 data, Food and Agricultural Organization of the United Nations Statistics Division. Available at http://faostat.fao.org

Gharaibeh MA, Eltaif NI, Al-Abdullah B (2007) Impact of field application of treated wastewater on hydraulic properties of vertisols. Water Air Soil Pollut 184:347–353

Ghosheh HZ, Hameed KM, Turk MA, Al-Jamali AF (1999) Olive (Olea europaea) jift suppresses broomrape (Orobanche spp.) infections in faba bean (Vicia faba), pea (Pisum sativum), and tomato (Lycopersicon esculentum). Weed Technol 13:457–460

Giuffrida M (2010) European and Italian laws for the agronomic use of olive-oil mill wastewaters. Terr Aquatic Environ Toxicol 4:1–6

Hartge KH, Horn R (1989) Die physikalische Untersuchung von Böden, 2nd edn. Enke Verlag, Stuttgart

Jarboui R, Sellami F, Kharroubi A, Gharsallah N, Ammar E (2008) Olive mill wastewater stabilization in open-air ponds: impact on clay-sandy soil. Bioresour Technol 99:7699–7708

Jarvis N, Etana A, Stagnitti F (2008) Water repellency, near-saturated infiltration and preferential solute transport in a macroporous clay soil. Geoderma 143:223–230

Karpouzas D, Ntougias S, Iskidou E, Rousidou C, Papadopoulou K, Zervakis G, Ehaliotis C (2010) Olive mill wastewater affects the structure of soil bacterial communities. Appl Soil Ecol 45:101–111

Kotsou M, Mari I, Lasaridi K, Chatzipavlidis I, Balis C, Kyriacou A (2004) The effect of olive mill wastewater (OMW) on soil microbial communities and suppressiveness against Rhizoctonia Solani. Appl Soil Ecol 26:113–121

López R, Martínez-Bordiú A, Dupuy de Lome E, Cabrera F, Sánchez MC (1996) Soil properties after application of olive oil mill waste water. Fresenius Environ Bull 5:49–54

Lozano-García B, Parras-Alcántara L, del Toro Carrillo de Albornoz M (2011) Effects of oil mill wastes on surface soil properties, runoff and soil losses in traditional olive groves in southern Spain. Catena 85:187–193

Mahmoud M, Janssen M, Haboub N, Nassour A, Lennartz B (2010) The impact of olive mill wastewater application on flow and transport properties in soils. Soil and Till Res 107:36–41

Mahmoud M, Janssen M, Peth S, Horn R, Lennartz B (2012) Long-term impact of irrigation with olive mill wastewater on aggregate properties in the top soil. Soil and Till Res 124:24–31

Marquardt DW (1963) An algorithm for least-squares estimation of nonlinear parameters. J Soc Indus Appl Math 11:431–441

Marrara G, Tamburino V, Zimbone SM (2002) Storage and land application of olive oil mill wastewater: experiences in Calabria. Paper no. 026136 presented at annual meeting in American Society of Agricultural and Biological Engineers, St. Joseph, MI, USA

Martens DA, Johanson JB, Frankenberger WT (1992) Production and persistence of soil enzymes with repeated addition of organic residues. Soil Sci 153:53–61

McNamara CJ, Anastasiou CC, O'Flaherty V, Mitchell R (2008) Bioremediation of olive mill wastewater. Int Biodeter Biodegr 61:127–134

Mechri B, Ben Mariem F, Baham M, Ben Elhadj S, Hammami M (2008) Change in soil properties and the soil microbial community following land spreading of olive mill wastewater affects olive trees key physiological parameters and the abundance of arbuscular mycorrhizal fungi. Soil Biol Biochem 40:152–161

Mechria B, Chehebb H, Boussadiab O, Attia B, Ben Mariem F, Brahamb M, Hammamia M (2011) Effects of agronomic application of olive mill wastewater in a field of olive trees on carbohydrate profiles, chlorophyll a fluorescence and mineral nutrient content. Environ Exp Bot 71:184–191

Mekki A, Dhouib A, Aloui F, Sayadi S (2006) Olive wastewater as an ecological fertilizer. Agroeco Sustain Dev 26:61–67

Mohawesh O, Fukumura K, Ishida T, Yoshino K (2005) Soil hydraulic properties in a Cassava field as a function of soil dry bulk density. J Jap Soc Hydrol Water Resour 18:156–166

Mualem Y (1976) New model for predicting the hydraulic conductivity of unsaturated porous media. Water Resour Res 12:513–522

Niaounakis M, Halvadakis CP (2006) Olive processing waste management: literature review and patent survey, 2nd edn. Elsevier, Amsterdam

Parker JC, van Genuchten MTh (1984) Determining transport parameters from laboratory and field displacement experiments, Bulletin 84–3, Virginia Agricultural Experiment Station, Blacksburg, pp 96

Piotrowska A, Iamarino G, Rao MA, Gianfreda L (2006) Short-term effects of olive mill waste water (OMW) on chemical and biochemical properties of a semiarid Mediterranean soil. Soil Biol Biochem 38:600–610

Rambow J, Lennartz B (1993) Laboratory method for studying pesticide dissipation in vadose zone. Soil Sci Soc Am J 57:1476–1479

Rinaldi M, Rana G, Introna M (2003) Olive mill wastewater spreading in southern Italy: effects on a durum wheat crop. Field Crops Res 84:319–326

Saadi I, Laor Y, Raviv M, Medina S (2007) Land spreading of olive mill wastewater: effects on soil microbial activity and potential phytotoxicity. Chemosphere 66:75–83

Santos-Buelga MD, Sánchez-Martín MJ, Sánchez-Camazano M (1992) Effect of dissolved organic matter on the adsorption of ethofumesate by soils and their components. Chemosphere 25:727–734

Stenström J, Svensson K, Johansson M (2001) Reversible transition between active and dormant microbial stats in soil FEMS Microbiol. Ecology 36:93–104

Tardioli S, Bannè ETG, Santori F (1997) Species-specific selection on soil fungal population after olive mill waste-water treatment. Chemosphere 34:2329–2336

Travis MJ, Weisbrod N, Gross A (2008) Accumulation of oil and grease in soils irrigated with greywater and their potential role in soil water repellency. Sci Total Environ 394:68–74

Van Genuchten MTh (1980) A closed-form equation for predicting the hydraulic conductivity of unsaturated soils. Soil Sci Soc Am J 4:892–898

Van Genuchten MTh, Alves WJ (1982) Analytical solutions of the one-dimensional convective—dispersive solute transport equation. USDA, ARS, Technical bulletin no. 1661, 9:151

Van Genuchten MTh, Wierenga PJ (1976) Mass transfer studies in sorbing porous media: 1. Analytical solutions. Soil Sci Soc Am J 40:473–480

Vogeler I (2008) Effect of long-term wastewater application on physical soil properties. Water Air and Soil Pollut 196:385–392

Wierenga PJ, Van Genuchten MTh (1989) Solute transport through small and large unsaturated soil columns. Ground Water 27:35–42

Yaakoubi A, Chahlaouia A, Rahmanib M, Elyachiouic M, Nejdib I (2010) Effect of olive mill wastewater spreading on the physicochemical characteristics of soil. Desalination Water Treat 16:194–200
Acknowledgments
This study was kindly supported by a Deutsche Forschungsgemeinschaft (DFG) grant and the sponsor of the Institute of Land Use, Rostock University.
About this article
Cite this article
Mohawesh, O., Mahmoud, M., Janssen, M. et al. Effect of irrigation with olive mill wastewater on soil hydraulic and solute transport properties. Int. J. Environ. Sci. Technol. 11, 927–934 (2014). https://doi.org/10.1007/s13762-013-0285-1
Received:

Revised:

Accepted:

Published:

Issue Date:

DOI: https://doi.org/10.1007/s13762-013-0285-1
Keywords