Abstract
Transport sector is a major consumer of energy. Concern of energy scarcity and price fluctuations enhanced significance of transport sector in national planning. This paper analyses energy demand for transport services in Bangladesh for different policy scenarios. Aggregate transport demand model is integrated into Long-range Energy Alternatives Planning model to forecast consequences of transport policy on energy demand and economy. Demand for imported energy for transport sector is observed to increase from 1.7 million ton of oil equivalent (Mtoe) in 2005 to 11.8 Mtoe in 2030 for business-as-usual scenario. In increased fuel price scenario, cost of importing fuel for transport sector is projected to increase from 1.37 to more than 14.9 % of Gross Domestic Product during the same period. Country's energy demand may be reduced by 2 and 4 Mtoe in 2030 by improvement of waterway and railway, respectively. Moreover, by using compressed natural gas in motor vehicles cost of importing fuel may be reduced by US $5 billion annually in 2030 and a further reduction of transport sector energy demand by 9 % can be achieved through eliminating subsidy on fuel.
Access options
Buy single article
Instant access to the full article PDF.
USD 39.95
Price excludes VAT (USA)
Tax calculation will be finalised during checkout.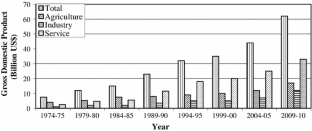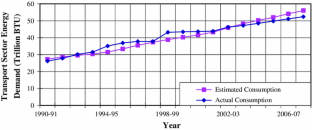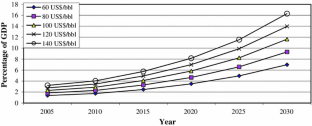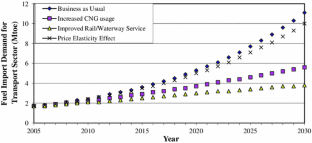 References
Balat M, Ayar G (2005) Biomass energy in the world, use of biomass and potential trends. Energy Sources 27:931–940

BBS (2009) Statistical year book of Bangladesh. Bureau of Statistics, Government of Bangladesh, Dhaka

Bose RK (1996) Energy demand and environmental implications in urban transport—case of Delhi. Atmos Environ 30(3):403–412

Dargay J, Gately D, Sommer M (2007) Vehicle ownership and income growth, worldwide: 1960–2030. Energy J 28(4):163–190

Dhakal S (2003) Implications of transport policies on energy and environment in Kathmandu valley, Nepal. Energy Policy 31:1493–1507

DTI (2001) Energy consumption in the UK 2001. Department of Trade and Industry, UK

ECMT (2003) Managing the fundamental drivers of transport demand. OECD Paris, France

ECMT/IEA (2005) Making cars more efficient—technology for real improvements on the road. IEA/OECD, Paris

Economic Review of Bangladesh (2009) Ministry of finance and economic affairs. GOB, Dhaka

EIA (2006) Short-term energy outlook. Energy information administration, US Department of Energy, Washington. www.eia.doe.gov/emeu/steo/pub/. Accessed April 2006

EIA (2007) International energy outlook 2007. Energy Information Administration, DOE/EIA-0383, US Department of Energy, Washington

European Commission (2004) Energy and transport: report 2000–2004. EC Directorate-General for Energy and Transport, Brussels

Faruque MA, Hossain MA, Alam MN, Begum KZ (2002) Energy forecast report: Bangladesh. Workshop on model South Asia energy forecast report, Kathmundu

Feiler G (2006) Global oil trends and their effect on the Middle East. Israel Aff 12(4):698–714

IIFC (2006) Draft coal policy, infrastructure investment facilities centre (IIFC). Ministry of Energy, Government of Bangladesh, Dhaka

Land Transport Policy of Bangladesh (2006) Ministry of communications. GOB, Dhaka

LEAP (2006) Long range energy alternatives planning system. User guide for LEAP 2006. Stockholm Environmental Institute (SEI-B), Boston Center, Tellus Institute, Boston

Miah MD, Kabir RRMS, Koike M, Akhter S, Shin MY (2010) Rural household energy consumption pattern in the disregarded villages of Bangladesh. Energy Policy 38(2):997–1003

NCHRP (1999) Economic trends and multimodal transportation requirements. Transportation Research Board, Washington (NCHRP report, issue 421)

NEP (2004) National energy policy. Ministry of Power, Energy and Mineral Resources, GOB, Dhaka

REP (2008) Renewable energy policy of Bangladesh. Ministry of Power, Energy and Mineral Resources, GOB, Dhaka

Rezki L, Brennand G (2002) Oil outlook to 2020. OPEC Rev 26(2):81–123

RHD (2005) Road user cost annual report for 2004–05. Roads and Highways Department, Ministry of Communications, Government of the People's Republic of Bangladesh, Bangladesh

Robert M (1994) Gasoline demand in developing countries. Energy J 15:143–155

Storchmann K (2005) Long-run gasoline demand for passenger cars: the role of income distribution. Energy Econ 27:25–58

UN-ESCAP (2005) Socio-economic policy brief, issue no. 2. United Nations, Bangkok, Thailand

Victoria Transport Policy Institute (2007) Transportation elasticities: how prices and other factors affect travel behavior. TDM encyclopedia. www.vtpi.org/elasticities.pdf. Accessed Mar 2007

Wadud Z, Dey HS, Kabir MA, Khan SI (2011) Modeling and forecasting natural gas demand in Bangladesh. Energy Policy 39(11):7372–7380

World Bank (2006) Global economic prospects 2006 (as of March 2007). http://web.worldbank.org/wbsite/external/extdec/extdecprospects/extgblprospectsapril. Accessed Mar 2007

Zachariadis T (2006) On the baseline evolution of automobile fuel economy in Europe. Energy Policy 34(14):1773–1785
Acknowledgments
The authors wish to thank Commonwealth Association UK for funding the research work and Roads and Highways Department, Ministry of Communications, Government of Bangladesh for their data support.
About this article
Cite this article
Alam, J.B., Wadud, Z., Alam, J.B. et al. Energy demand and economic consequences of transport policy. Int. J. Environ. Sci. Technol. 10, 1075–1082 (2013). https://doi.org/10.1007/s13762-013-0240-1
Received:

Revised:

Accepted:

Published:

Issue Date:

DOI: https://doi.org/10.1007/s13762-013-0240-1
Keywords
Economic impact

Energy demand model

Passenger and freight transport

Sustainable transport options