Abstract
While energy consumption is increasing worldwide due to population growth, the fossil fuels are unstable and exhaustible resources for establishing sustainable life. Using biodegradable compounds present in the wastewater produced in industrial process as a renewable source is an enchanting approach followed by scientists for maintaining a sustainable energy production to vanquish this problem for ulterior generations. In this research, bioelectricity generation with whey degradation was investigated in a two-chamber microbial fuel cell with humic acid as anodic electron mediator and a cathode compartment including combinational electron acceptor. Escherichia coli was able to use the carbohydrate originated from whey to generate bioelectricity. The open-circuit potential in absence of mediator was 751.5 mV at room temperature. The voltage was stable for more than 24 h. Humic acid was used as a suitable mediator. In addition, some mixed chemicals were employed as catholyte. Based on polarization curve, the power and current values in the presence of a mixed solution of potassium iodide (KI), ferric chloride [FeCl3 (Ш)] and manganese chloride tetrahydride (MnCl2·4H2O) with doubling of oxidant (oxygen) concentration using agitation with magnet stirrer in cathode compartment without any buffer solution were boosted to 562.9 μW and 1906.1 μA, respectively, and demonstrated the best result for power generation.
Access options
Buy single article
Instant access to the full article PDF.
USD 39.95
Price excludes VAT (USA)
Tax calculation will be finalised during checkout.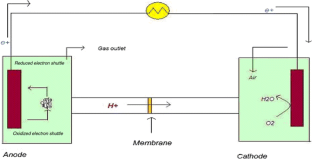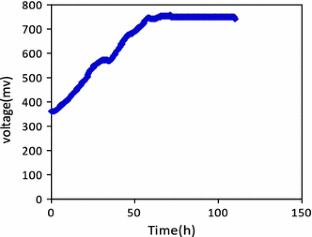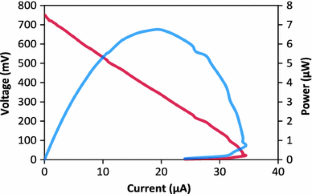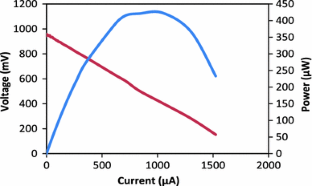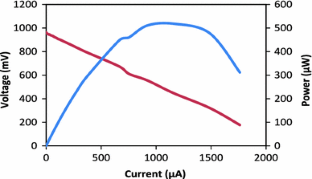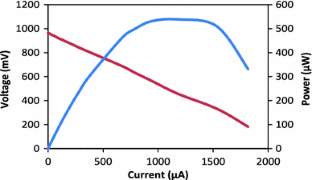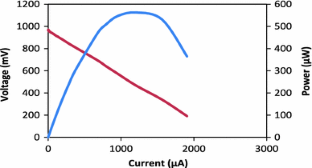 References
Allen RM, Bennetto HP (1993) Microbial fuel cells: electricity production from carbohydrates. Appl Biochem Biotech 39(40):27–40

Bennetto HP (1990) Electricity generation from microorganisms. Biotech Edu 1(4):163–168

Bond DR, Lovley DR (2003) Electricity production by Geobacter sulfurreducens attached to electrodes. Appl Environ Microbiol 69:1548–1555

Chae KJ, Choi M, Ajayi FF, Park W, Chang IS, Kim IS (2008) Mass transport through a proton exchange membrane (Nafion) in microbial fuel cell. Energy Fuels 22:169–176

Demirel B, Yenigun O, Onay TT (2005) Anaerobic treatment of dairy wastewaters: a review. Process Biochem 40:2583–2595

Farizoglu B, Keskinler B, Yildiz E, Nuhoglu A (2004) Cheese whey treatment performance of an aerobic jet loop membrane bioreactor. Process Biochem 39:2283–2291

Ferchichi M, Crabbe E, Gil GH, Hintz W, Almadidy A (2005) Influence of initial pH on hydrogen production from cheese whey. J Biotechnol 120:402–409

Gil GC, Chang IS, Kim BH, Kim M, Jang JK, Park HS, Kim HJ (2003) Operational parameters affecting the performance of a mediator-less microbial fuel cell. Biosens Bioelectron 18:327–338

Greenman J, Gálvez A, Giusti L, Ieropoulos I (2009) Electricity from landfill leachate using microbial fuel cells: comparison with a biological aerated filter. Enzyme Microbiol Technol 44:112–119

Kapdan IK, Kargi F (2006) Bio-hydrogen production from waste materials. Enzyme Microbiol Technol 38:569–582

Kim HJ, Park HS, Hyun MS, Chang IS, Kim M, Kim BH (2002) A mediator-less microbial fuel cell using a metal reducing bacterium, Shewanella putrefacians. Enzyme Microb Technol 30:145–152

Kisaalita WS, Pinder KL, Lo KV (1987) Acidogenic fermentation of lactose. Biotechnol Bioeng 30:88–95

Li Z, Zhang X, Zeng Y, Lei L (2009) Electricity production by an overflow-type wetted-wall microbial fuel cell. Bioresour Technol 100:2551–2555

Lin CN, Wu SY, Lee KS, Lin PJ, Lin CY, Chang JS (2007) Integration of fermentative hydrogen process and fuel cell for on-line electricity generation. Int J Hydr Energy 32:802–808

Liu H, Ramnarayanan R, Logan BE (2004) Production of electricity during wastewater treatment using a single chamber microbial fuel cell. Environ Sci Technol 38:2281–2285

Liu H, Cheng S, Logan BE (2005) Production of electricity from acetate or butyrate using a single-chamber microbial fuel cell. Environ Sci Technol 39:658–662

Lu N, Zhou S, Zhuang L, Zhang J, Ni J (2009) Electricity generation from starch processing wastewater using microbial fuel cell technology. Biochem Eng J 43:246–251

Min B, Logan BE (2004) Continuous electricity generation from domestic wastewater and organic substrates in a flat plate microbial fuel cell. Environ Sci Technol 38:5809–5814

Min B, Kim JR, Oh SE, Regan JM, Logan BE (2005) Electricity generation from swine wastewater using microbial fuel cells. Water Res 39:4961–4968

Morris J, Jin S (2008) Feasibility of using microbial fuel cell technology for bioremediation of hydrocarbons in groundwater. J Environ Health 43:18–23

Nasirahmadi S, Safekordi AA (2011) Whey as a substrate for generation of bioelectricity in microbial fuel cell using E. coli. Int J Environ Sci Technol 8(4):823–830

Niessen J, Schro¨der U, Scholz F (2004) Exploiting complex carbohydrates for microbial electricity generation—a bacterial fuel cell operating on starch. Electrochem Comm 6:955–958

Oh SE, Min B, Logan BE (2004) Cathode performance as a factor in electricity generation in microbial fuel cells. Environ Sci Tech 38:4900–4904

Omil F, Garrido JM, Arrojo B, Mendez R (2003) Anaerobic filter reactor performance for the treatment of complex dairy wastewater at industrial scale. Water Res 37:4099–4108

Reed G, Nagodawithana TW (1991) Yeast technology, Van Nostrand Reinhold, New York, pp 89–95

Ren Z, Ward TE, Regan JM (2007) Electricity production from cellulose in a microbial fuel cell using a defined binary culture. Environ Sci Technol 41:4781–4786

Rismani-Yazdi H, Carver MS, Christy DA, Tuovinen HO (2008) Cathodic limitations in microbial fuel cells: an overview. J power sour 180:683–694

Schroeder U (2007) Anodic electron transfer mechanisms in microbial fuel cells and their energy efficiency. Phys Chem Chem Phys 9:2619–2629

Thomas LC, Chamberlin GJ (1980) Colorimetric chemical analytical methods. Tintometer Ltd, Salisbury

Thygesen A, Poulsen FW, Min B, Angelidaki I, Thomsen AB (2009) The effect of different substrates and humic acid on power generation in microbial fuel cell operation. Bioresour Technol 100:1186–1191

Venkata Mohan S, Sarvanan R, Veer Raghuvulu S, Mohankrishna G, Sarma PN (2008) Bioelectricity production from wastewater treatment in dual chambered microbial fuel cell (MFC) using selectively enriched mixed microflora: effect of catholyte. Bioresour Technol 99(3):596–603

Yang P, Zhang R, McGarvey JA, Benemann JR (2007) Biohydrogen production from cheese processing wastewater by anaerobic fermentation using mixed microbial communities. Int J Hydr Energy 32:4761–4771

You S, Zhao Q, Zhang J, Jiang J, Zhao S (2006) A microbial fuel cell using permanganate as the cathodic electron acceptor. J Power Sour 62:1409–1411
Acknowledgments
The authors also wish to extend their sincere gratitude to all who assisted in promoting the present work.
About this article
Cite this article
Nasirahmadi, S., Safekordi, A.A. Enhanced electricity generation from whey wastewater using combinational cathodic electron acceptor in a two-chamber microbial fuel cell. Int. J. Environ. Sci. Technol. 9, 473–478 (2012). https://doi.org/10.1007/s13762-012-0063-5
Received:

Revised:

Accepted:

Published:

Issue Date:

DOI: https://doi.org/10.1007/s13762-012-0063-5
Keywords