Abstract
To support environmental risk management in a world heritage city, this paper presents high spatial-resolution maps of air pollutants for the Macao Peninsula. In particular, the risk of exposure to traffic-related nitrogen dioxide pollution for the 22 world heritage monuments in the Historic Center of Macao was assessed. The air-pollution mapping was performed by a building-based air quality model system, in which the traffic-related air pollutions at 5,965 receptor points in the Macao Peninsula were modeled and the average spatial resolution was 727 receptors/km2. The results indicate that under the conditions of the evening peak hour and the north wind direction sector 0–20°, air quality in the Macao Peninsula is the worst. About 14.1% of the modeled nitrogen dioxide concentrations at the 5,965 receptor points exceed the national ambient air quality standard for scenic spot of 120 μg/m3 in China. Two world heritage monuments, i.e., the "Leal Senado" Building and the Cathedral, are exposed to excessively high nitrogen dioxide concentrations of 135.9 and 121.1 μg/m3, respectively. The results in this paper could help decision makers to develop effective strategies to protect the world cultural heritages in Macao for future human generations to appreciate and enjoy.
Access options
Buy single article
Instant access to the full article PDF.
US$ 39.95
Tax calculation will be finalised during checkout.
Subscribe to journal
Immediate online access to all issues from 2019. Subscription will auto renew annually.
US$ 79
Tax calculation will be finalised during checkout.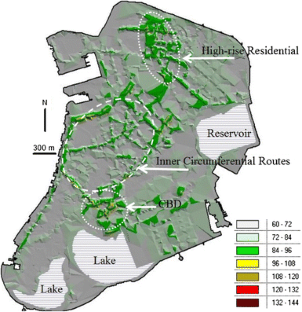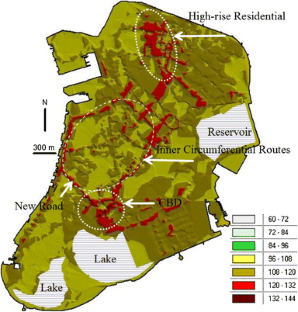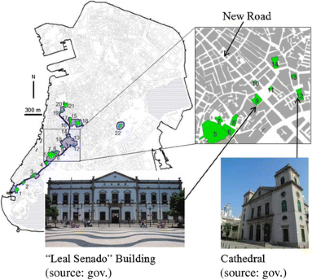 References
Berkowicz R (2000) OSPM: a parameterised street pollution model. Environ Monitor Assess 65(1/2):323–331

Berkowicz R, Ketzel M, Jensen SS, Hvidberg M, Raaschou-Nielsen O (2008) Evaluation and application of OSPM for traffic pollution assessment for a large number of street locations. Environ Model Softw 23:296–303

Carruthers DJ, Edmunds HA, Lester AE, McHugh CA, Singles RA (2000) Use and validation of ADMS-Urban in contrasting urban and industrial environments. Int J Environ Pollut 14:1–6

De la Fuente D, Vega JM, Viejo F, Díaz I, Morcillo M (2011) City scale assessment model for air pollution effects on the cultural heritage. Atmos Environ 45:1242–1250

DSEC (2011) Statistics and Census Service, Macao SAR Government. Retrieved 19 August 2011

Elbir T (2004) A GIS based decision support system for estimation, visualization and analysis of air pollution for large Turkish cities. Atmos Environ 38:4509–4517

Elbir T, Mangir N, Kara M, Simsir S, Eren T, Ozdemir S (2010) Development of a GIS-based decision support system for urban air quality management in the city of Istanbul. Atmos Environ 44:441–454

Guerrero PJ, Jorba O, Baldasano JM, Gasso S (2008) The use of a modeling system as a tool for air quality management: annual high-resolution simulations and evaluation. Sci Total Environ 390:323–340

Gulliver J, Briggs D (2011) STEMS-Air: a simple GIS-based air pollution dispersion model for city-wide exposure assessment. Sci Total Environ 409:2419–2429

Jensen SS (1998) Mapping human exposure to traffic air pollution using GIS. J Hazard Mater 61(1–3):385–392

Jensen SS, Berkowicz R, Hansen HS, Hertel O (2001) A Danish decision-support GIS tool for management of urban air quality and human exposures. Transport Res Part D-Trans Environ 6:229–241

Jensen SS, Larson T, Deepti KC, Kaufman JD (2009) Modeling traffic air pollution in street canyons in New York City for intra-urban exposure assessment in the US multi-ethnic study of atherosclerosis and air pollution. Atmos Environ 43:4544–4556

Jerrett M, Arain A, Kanaroglou P, Beckerman B, Potoglou D, Sahsuvaroglu T, Morrison J, Giovis C (2005) A review and evaluation of intraurban air pollution exposure models. J Exposure Anal Environ Epidemiol 15(2):185–204

Kesarkar AP, Dalvi M, Kaginalkar A, Ojha A (2007) Coupling of the weather research and forecasting model with AERMOD for pollutant dispersion modeling. A case study for PM10 dispersion over Pune, India. Atmos Environ 41(9):1976–1988

Lahr J, Kooistra L (2010) Environmental risk mapping of pollutants: state of the art and communication aspects. Sci Total Environ 408:3899–3907

Malakootian M, Yaghmaeian K (2004) Investigation of carbon monoxide in heavy traffic intersections of municipal districts. Int J Environ Sci Tech 1:227–231

McHugh CA, Carruthers DJ, Edmunds HA (1997) ADMS and ADMS-Urban. Int J Environ Pollut 8:438–440

Sheng N, Tang UW (2011a) Spatial analysis of urban form and pedestrian exposure to traffic noise. Int J Environ Res Public Health 8:1977–1990

Sheng N, Tang UW (2011b) A building-based data capture and data mining technique for air quality assessment. Front Environ Sci Eng China 5:543–551

Simkhada K, Murthy VK, Khanal SN (2005) Assessment of ambient air quality in Bishnumati corridor, Kathmandu metropolis. Int J Environ Sci Tech 2:217–222

Skene KJ, Gent JF, McKay LA, Belanger K, Leaderer BP, Holford TR (2010) Modeling effects of traffic and landscape characteristics on ambient nitrogen dioxide levels in Connecticut. Atmos Environ 44:5156–5164

State of Environmental Protection Administration of China (1996) Ambient air quality standard (GB3095-1996). China Environmental Science Press, Beijing

Tang UW, Sheng N (2009) City profile: Macao. Cities 26:220–231

Tang UW, Wang ZS (2006) Determining gaseous emission factors and driver's particle exposures during traffic congestion by vehicle-following measurement techniques. J Air Waste Manage Assoc 56:1532–1539

Tang UW, Wang ZS (2007) Influences of urban forms on traffic-induced noise and air pollution: results from a modeling system. Environ Model Softw 22:1750–1764

United Nations World Population Prospects (2004 revision). UN Statistics Division. Retrieved 2008-01-07

Vienneau D, de Hoogh K, Briggs D (2009) A GIS-based method for modelling air pollution exposures across Europe. Sci Total Environ 408:255–266

Wilson JG, Zawar-Reza P (2006) Intraurban-scale dispersion modelling of particulate matter concentrations: applications for exposure estimates in cohort studies. Atmos Environ 40:1053–1063

Yassin MF (2009) Numerical simulation on pollutant dispersion from vehicle exhaust in street configurations. Environ Monitor Assess 156:257–273

Yassin MF (2011) Impact of height and shape of building roof on air quality in urban street canyons. Atmos Environ 45:5220–5229
Acknowledgments
The first author was supported by the Macau Foundation and Macau University of Science and Technology under Grand No. 0126.
About this article
Cite this article
Sheng, N., Tang, U.W. Risk assessment of traffic-related air pollution in a world heritage city. Int. J. Environ. Sci. Technol. 10, 11–18 (2013). https://doi.org/10.1007/s13762-012-0030-1
Received:

Revised:

Accepted:

Published:

Issue Date:
Keywords
Air quality modeling

Cultural heritage

Environmental risk management

Geographical information system