Access options
Buy single article
Instant access to the full article PDF.
US$ 39.95
Tax calculation will be finalised during checkout.
Subscribe to journal
Immediate online access to all issues from 2019. Subscription will auto renew annually.
US$ 79
Tax calculation will be finalised during checkout.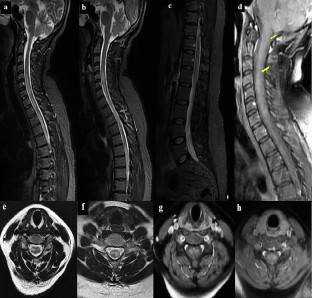 References
1.

Flanagan EP, McKeon A, Lennon VA et al (2011) Paraneoplastic isolated myelopathy: clinical course and neuroimaging clues. Neurology 76(24):2089–2095

2.

Flanagan EP, Keegan BM (2013) Paraneoplastic myelopathy. NeurolClin 31(1):307–318

3.

Cherian A, Divya KP, Shetty SC, Kannoth S, Thomas B (2020) Coexistent MOG, NMDAR, CASPR2 antibody positivity: Triumph over the triumvirate. Mult Scler Relat Disord 46:102468

4.

Graus F, Delattre JY, Antoine JC et al (2004) Recommended diagnostic criteria for paraneoplastic neurological syndromes. J NeurolNeurosurg Psychiatry 75:1135–1140

5.

Pittock SJ, Lennon VA (2008) Aquaporin-4 autoantibodies in a paraneoplastic context. Arch Neurol 65(5):629–632 (published correction appears in Arch Neurol. 2008 Oct;65(10):1394)

6.

Keegan BM, Pittock SJ, Lennon VA (2008) Autoimmune myelopathy associated with collapsin response-mediator protein-5 immunoglobulin G. Ann Neurol 63(4):531–534
Ethics declarations
Conflict of interest
The authors declare that they have no competing interest.
Ethical approval
Ethical approval from the institutional review board was not required for this study.
Informed consent
Formal consent was taken from the patient.
Additional information
Publisher's Note
Springer Nature remains neutral with regard to jurisdictional claims in published maps and institutional affiliations.
About this article
Cite this article
Cherian, A., Shetty, S.C., Divya, K.P. et al. MOG antibody-positive paraneoplastic myelopathy in breast carcinoma: the new culprit. Acta Neurol Belg (2021). https://doi.org/10.1007/s13760-021-01602-8
Received:

Accepted:

Published: