Abstract
Sarcoidosis is a rare systemic disease characterized by growth and organization of inflammatory cells in a granuloma. Granulomas can localize in any parts of the human body. The main localization is represented by lungs, lymph nodes, eyes and skin. Any organ, however, can be affected. Central nervous system (CNS) represents a rare localization of sarcoidosis, in fact, only 1% of patient with sarcoidosis present brain and/or spinal cord localization of the granulomas associated with this disease. This condition takes the name of Neurosarcoidosis. Its diagnosis and management pose a significant challenge, as its clinical manifestation and appearance in imaging studies are difficult to distinguish from more common lesion of the spinal cord. In this paper, we present the case of a 45-year-old woman who presented back pain associated with neurologic signs of myelopathy. Spinal cord MRI documented a T2 hyperintense signal around medullary conus. She underwent a gross total removal of the lesion. Histopathological examination revealed spinal sarcoidosis. Next total body CT scan did not show other localization of the disease. The aim of the present paper is to report a very rare case of spinal epidural sarcoidosis, actually only five cases have been described, without other localization of the disease. The present article underlines the difference between this forms of spinal sarcoidosis compared to intradural extramedullary and intramedullary spinal sarcoidosis.
Access options
Buy single article
Instant access to the full article PDF.
USD 39.95
Price includes VAT (USA)
Tax calculation will be finalised during checkout.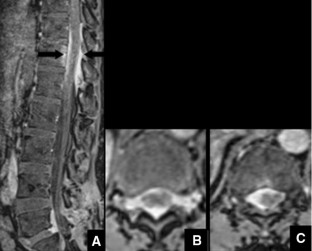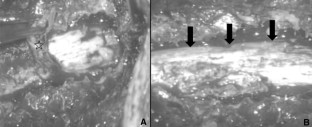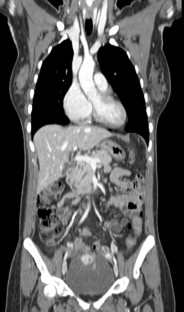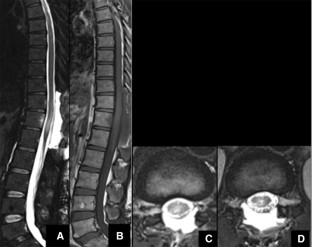 References
1.

Wessendorf TE, Bonella F, Costabel U (2015) Diagnosis of sarcoidosis. Clin Rev Allergy Immunol 49:54–62

2.

Iannuzzi MC, Rybicki BA, Teirstein AS (2007) Sarcoidosis. N Engl J Med 357(21):2153–2165

3.

Ungprasert P, Matteson EL (2017) Neurosarcoidosis. Rheum Dis Clin North Am 43(4):593–606

4.

Sohn M, Culver DA, Judson MA, Scott TF, Tavee J, Nozaki K (2014) Spinal cord neurosarcoidosis. Am J Med Sci 347(3):195–198

5.

Spencer TS, Campellone JV, Maldonado I, Huang N, Usmani Q, Reginato AJ (2005) Clinical and magnetic resonance imaging manifestation of neurosarcoidosis. Semin Arthritis Rheum 34(4):649–661

6.

Lower EE, Broderick JP, Brott TG, Baughman RP (1997) Diagnosis and management of neurological sarcoidosis. Arch Intern Med. 157(16):1864–1868

7.

Tana C, Wegener S, Borys E, Pambuccian S, Tchernev G, Tana M, Giamberardino MA, Silingardi M (2015) Challenges in the diagnosis and treatment of neurosarcoidosis. Ann Med 47(7):576–591

8.

Tavee JO, Stern BJ (2015) Neurosarcoidosis. Clin Chest Med 36(4):643–656

9.

Cohen-Aubart F, Galanaud D, Grabli D, Haroche J, Amoura Z, Chapelon-Abric C, Lyon-Caen O, Valeyre D, Piette JC (2010) Spinal cord sarcoidosis: clinical and laboratory profile and outcome of 31 patients in a case-control study. Medicine (Baltimore) 89(2):133–140

10.

Nardone R, Venturi A, Buffone E, Lochner P, Marth R, Florio I, Psenner K, Tezzon F (2005) Extramedullary spinal neurosarcoidosis: report of two cases. Eur Neurol 54(4):220–224 (Epub 2006 Jan 6)

11.

Soto-Gomez N, Peters JI, Nambiar AM (2016) Diagnosis and management of sarcoidosis. Am Fam Physician 93(10): 840–850

12.

Roy K, Tripathy P, Senapati A, Saha SK (2010) Intradural extramedullary sarcoidosis case report and review of literature. Asian J Neurosurg 5(1):87–90

13.

Razdan RN, Lozada JC, Chaddha S (2016) Intramedullary cervical sarcoidosis as the initial presentation of systemic sarcoidosis. Radiol Case Rep 4(2):267

14.

Saadi A, Rajashekara S (2015) Intramedullary spinal neurosarcoidosis. Radiol Case Rep 7(4):739

15.

Hoyle J, Jablonski C, Newton HB (2014) Neurosarcoidosis: Clinical review of a disorder with challenging in patient presentations and diagnostic consideration. The Neurohospitalist 4:94–101

16.

Joseph FG, Scolding NJ (2008) Neurosarcoidosis: a study of 30 new cases. J Neurol Neurosurg Psychiatry 80:297–304

17.

Zajicek JP, Scolding NJ, Foster O, Rovaris M, Evanson IF (1999) Central nervous system sarcoidosis-diagnosis and management. Int J Med 992:103–117

18.

Munakomi S (2018) Case report: case report on multiple extradural thoracic lesions with myelopathy as the clinical presentation in a systemic sarcoidosis-another tale of a lurking entity. F1000Research 7:6

19.

Weissman MN, Lange R, Kelley C, Belgea K, Abel L (1996) Intraspinal epidural sarcoidosis: case report. Neurosurgery 39(1):179–181

20.

Galgano MA, Goulart CR, Chisholm K, Hazen M, Stone S (2018) Rapid-onset thoracic myelopathy due to an epidural sarcoid-like lesions in a pediatric patient. World Neurosurg 111:377–380

21.

Barazi S, Bodi I, Thomas N (2008) Sarcoidosis presenting as an isolated extradural thoracolumbar lesion mimicking tumour. Br J Neurosurg 22(5):690–691
Ethics declarations
Conflict of interest
The authors declare that they have no conflict of interest.
Ethical approval
This article does not contain studies with animals by the author.
Informed consent
Informed consent was obtained from all individual participants included in the study.
Additional information
Publisher's Note
Springer Nature remains neutral with regard to jurisdictional claims in published maps and institutional affiliations.
About this article
Cite this article
Paglia, F., D'Angelo, L., Armocida, D. et al. A rare case of spinal epidural sarcoidosis: case report and review of the literature. Acta Neurol Belg 121, 415–420 (2021). https://doi.org/10.1007/s13760-019-01189-1
Received:

Accepted:

Published:

Issue Date:
Keywords
Sarcoidosis

Neurosarcoidosis

Epidural sarcoidosis

Myelopathy