This is a preview of subscription content, log in to check access.
Access options
Buy single article
Instant access to the full article PDF.
US$ 39.95
Price includes VAT for USA
Subscribe to journal
Immediate online access to all issues from 2019. Subscription will auto renew annually.
US$ 99
This is the net price. Taxes to be calculated in checkout.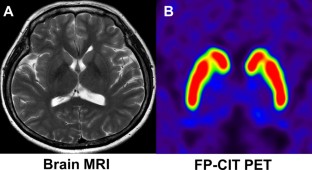 References
1.

Henderson JM, Portmann L, Van Melle G, Haller E, Ghika JA (1997) Propranolol as an adjunct therapy for hyperthyroid tremor. Eur Neurol 37:182–185

2.

Bhatia KP, Bain P, Bajaj N, Elble RJ, Hallett M, Louis ED et al (2018) Consensus statement on the classification of tremors. From the task force on tremor of the International Parkinson and Movement Disorder Society. Mov Disord 33:75–87

3.

Kelly DM, Lynch T, Casserly LF (2017) Abdominal tremor in thyrotoxicosis. Neurology 89:1424–1425

4.

Lin FC, Wu MN, Chen CH, Huang P (2013) Slow orthostatic tremor as the first manifestation of Graves' disease. Mov Disord 28:1158–1159

5.

Poston KL, Rios E, Louis ED (2009) Action tremor of the legs in essential tremor: prevalence, clinical correlates, and comparison with age-matched controls. Parkinsonism Relat Disord 15:602–605

6.

Albanese A, Sorbo FD (2016) Dystonia and tremor: the clinical syndromes with isolated tremor. Tremor Other Hyperkinet Mov 5:319

7.

Tan EK, Chan LL (2016) Movement disorders associated with hyperthyroidism: expanding the phenotype. Mov Disord 21:1054–1055
Acknowledgements
This work was supported by the Soonchunhyang University Research Fund (the number is not applicable).
Ethics declarations
Conflict of interest
The authors declare that they have no conflict of interest.
Ethical approval
This article does not contain any studies with human participants or animals performed by any of the authors.
Informed consent
Written informed consent was obtained from the patient.
Additional information
Publisher's Note
Springer Nature remains neutral with regard to jurisdictional claims in published maps and institutional affiliations.
Electronic supplementary material
Below is the link to the electronic supplementary material.
Video: A 49-year-old woman exhibits position-specific postural leg tremor, 7–8 Hz by visual inspection, emerging with the following circumstances; putting her feet on tiptoes while sitting; or standing on one foot with the other tip-toeing on the ground (Video, the first part). Two months after the treatment of hyperthyroidism, her leg tremor disappears completely (Video, the later part). (MP4 19761 KB)
About this article
Cite this article
Lee, J., Ju, H., Im, K. et al. Isolated leg tremor in a middle-aged woman: an unusual presenting symptom of Graves' disease. Acta Neurol Belg 120, 955–957 (2020). https://doi.org/10.1007/s13760-019-01127-1
Received:

Accepted:

Published:

Issue Date:
Keywords
Graves' disease

Hyperthyroidism

Leg tremor

Postural tremor