This is a preview of subscription content, log in to check access.
Access options
Buy single article
Instant access to the full article PDF.
US$ 39.95
Price includes VAT for USA
Subscribe to journal
Immediate online access to all issues from 2019. Subscription will auto renew annually.
US$ 99
This is the net price. Taxes to be calculated in checkout.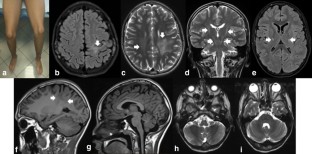 References
1.

Duffner PK, Barczykowski A, Kay DM, Jalal K, Yan L, Abdelhalim A, Gill S, Gill AL, Carter R (2012) Later onset phenotypes of Krabbe disease: results of the world-wide registry. Pediatr Neurol 46(5):298–306

2.

Abdelhalim AN, Alberico RA, Barczykowski AL, Duffner PK (2014) Patterns of magnetic resonance imaging abnormalities in symptomatic patients with Krabbe disease correspond to phenotype. Pediatr Neurol 50(2):127–134

3.

Yoshimura A, Kibe T, Irahara K, Sakai N, Yokochi K (2016) Predominant corticospinal tract involvement in a late infant with Krabbe disease. Jpn Clin Med 7:23–26

4.

Sehgal R, Sharma S, Sankhyan N, Kumar A, Gulati S (2011) Selective corticospinal tract involvement in late-onset Krabbe disease. Neurology 77(3):e20

5.

Kamate M, Hattiholi V (2011) Predominant corticospinal tract involvement in early-onset Krabbe disease. Pediatr Neurol 44:155–156
Funding
The authors receive no funding sources for this study.
Ethics declarations
Conflict of interest
The authors declare no conflict of interest.
Ethical approval
This case report study does not require ethical approval at our institution.
Informed consent
Written informed consent was obtained by patient's parents for performing genetic analysis according to the Declaration of Helsinki. Parents gave their written consent for publishing the picture of the patient.
Additional information
Publisher's Note
Springer Nature remains neutral with regard to jurisdictional claims in published maps and institutional affiliations.
About this article
Cite this article
Nicita, F., Graziola, F., Vigevano, F. et al. An unusual case of late-infantile onset Krabbe disease with selective bilateral corticospinal tract involvement, peripheral demyelinating neuropathy, and mild phenotype. Acta Neurol Belg 119, 619–620 (2019). https://doi.org/10.1007/s13760-019-01087-6
Received:

Accepted:

Published:

Issue Date:
Keywords
Leukodystrophy

Demyelinating

GALC

Krabbe disease

Galactocerebrosidase

Neuropathy