Abstract
The motor cortex (MC) receives an excitatory input from the cerebellum which is reduced in patients with cerebellar lesions. High-frequency repetitive transcranial magnetic stimulation (rTMS) induces cortical facilitation which can counteract the reduced cerebellar drive to the MC. Our study included 24 relapsing-remitting multiple sclerosis (RRMS) and secondary progressive multiple sclerosis (SPMS) patients with dysmetria. The patients were divided into two groups: Group A received two sessions of real MC rTMS and Group B received one session of real rTMS and one session of sham rTMS. Ten healthy volunteers formed group C. Evaluation was carried out using the nine-hole pegboard task and the cerebellar functional system score (FSS) of the expanded disability status scale (EDSS). Group A patients showed a significant improvement in the time required to finish the pegboard task (P = 0.002) and in their cerebellar FSS (P = 0.000) directly after the second session and 1 month later. The RRMS patients showed more improvement than the SPMS patients. Group B patients did not show any improvement in the pegboard task or the cerebellar FSS. These results indicate that MC rTMS can be a promising option in treating both RRMS or SPMS patients with cerebellar impairment and that its effect can be long-lasting.
Access options
Buy single article
Instant access to the full article PDF.
US$ 39.95
Tax calculation will be finalised during checkout.
Subscribe to journal
Immediate online access to all issues from 2019. Subscription will auto renew annually.
US$ 79
Tax calculation will be finalised during checkout.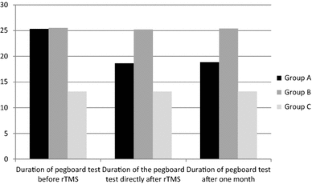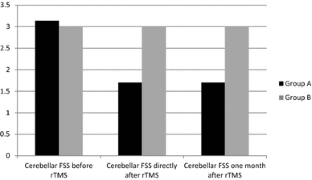 Abbreviations
EDSS:

Expanded disability status scale

FSS:

Functional system score

LTP:

Long-term potentiation

LTD:

Long-term depression

MC:

Motor cortex

MEP:

Motor-evoked potential

MS:

Multiple sclerosis

NMDA:

N-methyl-D-aspartate

RRMS:

Relapsing-remitting multiple sclerosis

RMT:

Resting motor threshold

rTMS:

Repetitive transcranial magnetic stimulation

SPMS:

Secondary progressive multiple sclerosis

TMS:

Transcranial magnetic stimulation
References
1.

Compston A, Coles A (2008) Multiple sclerosis. Lancet 372:1502–1517

2.

Ruutiainen J (1997) Assessment and treatment of ataxia in multiple sclerosis. In: Ketelaer P, Prosiegel M, Battaglia M, Messmer U (eds) A problem-oriented approach to multiple sclerosis. Amersfoort, Leuven, pp 227–235

3.

Weinshenker BG, Issa M, Baskerville J (1996) Long-term and short-term outcome of multiple sclerosis. A 3-year follow-up study. Arch Neurol 53:353–358

4.

Beaubaton D, Trouche E (1980) Participation of the cerebellar dentate nucleus in the control of a goal-directed movement in monkeys. Exp Brain Res 46:127–138

5.

Daskalakis ZJ, Paradiso GO, Christensen BK, Fitzgerald PB, Gunraj C, Chen R (2004) Exploring the connectivity between the cerebellum and motor cortex in humans. J Physiol 557(Pt 2):689–700

6.

Liepert J, Kucinski T, Tuscher O, Pawlas F, Baumer T, Weiller C (2004) Motor cortex excitability after cerebellar infarction. Stroke 35:2484–2488

7.

Kamble N, Netravathi M, Pal PK (2014) Therapeutic applications of repetitive transcranial magnetic stimulation (rTMS) in movement disorders: a review. Parkinsonism Relat Disord 20:695–707

8.

Centonze D, Koch G, Versace V, Mori F, Rossi S, Brusa L et al (2007) Repetitive transcranial magnetic stimulation of the motor cortex ameliorates spasticity in multiple sclerosis. Neurology 68:1045–1050

9.

Koch G, Rossi S, Prosperetti C, Codecà C, Monteleone F, Petrosini L et al (2008) Improvement of hand dexterity following motor cortex rTMS in multiple sclerosis patients with cerebellar impairment. Mult Scler 14:995–998

10.

McDonald WI, Compston A, Edan G, Goodkin D, Hartung HP, Lublin FD et al (2001) Recommended diagnostic criteria for multiple sclerosis: guidelines from the International Panel on the diagnosis of multiple sclerosis. Ann Neurol 50:121–127

11.

Kurtzke JF (1983) Rating neurologic impairment in multiple sclerosis: an expanded disability status scale (EDSS). Neurology 33:1444–1452

12.

Shiga Y, Tsuda T, Itoyama Y, Shimizu H, Miyazawa KI, Jin K et al (2002) Transcranial magnetic stimulation alleviates truncal ataxia in spinocerebellar degeneration. J Neurol Neurosurg Psychiatry 72:124–126

13.

Farzan F, Wu Y, Manor B, Anastasio EM, Lough M, Novak V et al (2013) Cerebellar TMS in treatment of a patient with cerebellar ataxia: evidence from clinical, biomechanics and neurophysiological assessments. Cerebellum 12:707–712

14.

Bonnì S, Ponzo V, Caltagirone C, Koch G (2014) Cerebellar theta burst stimulation in stroke patients with ataxia. Funct Neurol 29:41–45

15.

Cohen JA, Fischer JS, Bolibrush DM, Jak AJ, Kniker JE, Mertz LA (2000) Intrarater and interrater reliability of the MS functional composite outcome measure. Neurology 54:802–806

16.

Kragt JJ, van der Linden FAH, Nielsen JM, Uitdehaag BMJ, Polman CH (2006) Clinical impact of 20% worsening on timed 25-foot walk and 9-hole peg test in multiple sclerosis. Mult Scler 12:594–598

17.

Ghez C, Thach WT (2000) The cerebellum, 4th edn. McGraw-Hill Health Professions Division, New York

18.

Pozzi NG, Minafra B, Zangaglia R, De Marzi R, Sandrini G, Priori A et al (2014) Transcranial direct current stimulation (tDCS) of the cortical motor areas in three cases of cerebellar ataxia. Cerebellum 13:109–112

19.

Oechsner M, Zangemeister WH (1999) Prolonged postexcitatory inhibition after transcranial magnetic stimulation of the motor cortex in patients with cerebellar ataxia. J Neurol Sci 168:107–111

20.

Cooke SF, Bliss TV (2006) Plasticity in the human central nervous system. Brain 129:1659–1673

21.

Malenka R, Bear M (2004) LTP and LTD: an embarrassment of riches. Neuron 44:5–21
Ethics declarations
Conflict of interest
All authors do not have any conflict of interest. The authors received no financial support for the research or authorship of this article.
Ethical approval
The experimental procedures used were approved by the local institutional ethics committee.
Informed consent
Written informed consent was obtained from all subjects.
About this article
Cite this article
Elzamarany, E., Afifi, L., El-Fayoumy, N.M. et al. Motor cortex rTMS improves dexterity in relapsing-remitting and secondary progressive multiple sclerosis. Acta Neurol Belg 116, 145–150 (2016). https://doi.org/10.1007/s13760-015-0540-y
Received:

Accepted:

Published:

Issue Date:
Keywords
Repetitive transcranial magnetic stimulation

Dysmetria

Multiple sclerosis

Motor cortex

Cerebellum

rTMS