Abstract
To evaluate the feasibility and clinical efficacy of percutaneous endoscopic lumbar discectomy (PELD) for cauda equina syndrome (CES) caused by disc herniation. 16 patients with CES caused by LDH at the early and middle stages of Shi's classification were selected as the objects of study, who underwent PELD. Clinical outcomes were assessed using the Macnab criteria and the visual analogue scale (VAS). The VAS for leg pain and back pain significantly decreased from preoperative scores of 7.67 ± 1.23 and 7.52 ± 1.42, respectively, to postoperative scores of 1.71 ± 0.53 and 3.18 ± 0.72. Thirteen patients showed favorable results. Complications included one patient of motor weakness, and one patient developed an ipsilateral recurrent herniation who finally acquired satisfactory result after reoperation. Hence, PELD could be used as an alternative surgical method for the treatment of CES in properly selected cases and appropriate patient selection and a reasonable surgical approach will give rise to better outcomes.
Access options
Buy single article
Instant access to the full article PDF.
USD 39.95
Price excludes VAT (USA)
Tax calculation will be finalised during checkout.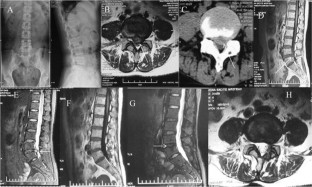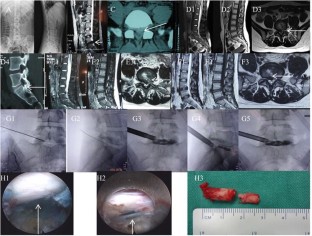 References
Mixter WJ, Barr JS (1934) Rupture of the intervertebral disc with involvement of the spinal canal. N Engl J Med 211(5):210–215

Podnar S (2010) Cauda equina lesions as a complication of spinal surgery. Eur Spine J 19(3):451–457

Tamburrelli F, Genitiempo M, Bochicchio M, Donisi L, Ratto C (2014) Cauda equina syndrome: evaluation of the clinical outcome. Eur Rev Med Pharmacol Sci 18(7):1098–1105

Floman Y, Wiesel SW, Rothman RH (1980) Cauda equina syndrome presenting as a herniated lumbar disk. Clin Orthop Relat Res 147:234–237

Olivero WC, Wang H, Hanigan WC, Henderson JP, Tracy PT, Elwood PW, Lister JR, Lyle L (2009) Cauda equina syndrome (CES) from lumbar disc herniations. J Spinal Disord Tech 22(3):202–206

Tay E, Chacha P (1979) Midline prolapse of a lumbar intervertebral disc with compression of the cauda equina. J Bone Joint Surg Br 61(1):43–46

Shi J, Jia L, Yuan W, Shi G, Ma B, Wang B, Wu J (2010) Clinical classification of cauda equina syndrome for proper treatment: a retrospective analysis of 39 patients. Acta Orthop 81(3):391–395

Meneghini L (2012) A 35-year-old man with back pain and saddle anesthesia. J Emerg Nurs 38(1):47–48

Kennedy J, Soffe K, McGrath A, Stephens M, Walsh M, McManus F (1999) Predictors of outcome in cauda equina syndrome. Eur Spine J 8(4):317–322

Ahn UM, Ahn NU, Buchowski JM, Garrett ES, Sieber AN, Kostuik JP (2000) Cauda equina syndrome secondary to lumbar disc herniation: a meta-analysis of surgical outcomes. Spine 25(12):1515–1522

Kim HS, Kim SW, Lee SM, Shin H (2007) Endoscopic discectomy for the cauda equina syndrome during third trimester of pregnancy. J Korean Neurosurg Soc 42(5):419–420

Jha S s, Tonogai I I, Takata Y Y, Sakai T, Higashino K, Matsuura T, Suzue N, Hamada D D, Goto T, Nishisho T (2015) Percutaneous endoscopic lumbar discectomy for a huge herniated disc causing acute cauda equina syndrome: a case report. J Med Investig 62(12):100–102

Ruetten S, Komp M, Merk H, Godolias G (2007) Use of newly developed instruments and endoscopes: full-endoscopic resection of lumbar disc herniations via the interlaminar and lateral transforaminal approach. J Neurosurg: Spine 6(6):521–530

MacNab I (1971) Negative disc exploration. J Bone Joint Surg 53(5):891–903

Ma B, Wu H, Jia L-S, Yuan W, Shi G-D, Shi J-G (2009) Cauda equina syndrome: a review of clinical progress. Chin Med J 122(10):1214–1222

Jennett WB (1956) A study of 25 cases of compression of the cauda equina by prolapsed intervertebral discs. J Neurol Neurosurg Psychiatry 19(2):109

Shih P, Smith TR, Fessler RG, Song JK (2011) Minimally invasive discectomy for the treatment of disc herniation causing cauda equina syndrome. J Clin Neurosci 18(9):1219–1223

Korse N, Jacobs W, Elzevier H, Vleggeert-Lankamp C (2013) Complaints of micturition, defecation and sexual function in cauda equina syndrome due to lumbar disk herniation: a systematic review. Eur Spine J 22(5):1019–1029

Shapiro S (1993) Cauda equina syndrome secondary to lumbar disc herniation. Neurosurgery 32(5):743–747

Choi G, Prada N, Modi H, Vasavada N, Kim J, Lee S (2010) Percutaneous endoscopic lumbar herniectomy for high-grade down-migrated L4–L5 disc through an L5–S1 interlaminar approach: a technical note. Minim Invasive Neurosurg: MIN 53(3):147–152

Lew SM, Mehalic TF, Fagone KL (2001) Transforaminal percutaneous endoscopic discectomy in the treatment of far-lateral and foraminal lumbar disc herniations. J Neurosurg: Spine 94(2):216–220

Yeung AT, Tsou PM (2002) Posterolateral endoscopic excision for lumbar disc herniation: surgical technique, outcome, and complications in 307 consecutive cases. Spine 27(7):722–731

Ruetten S, Komp M, Godolias G (2006) Lumbar discectomy with the fullendoscopic interlaminar approach using new developed optical systems and instruments. WSJ 1(3):148–156

Webb J, Gottschalk L, Lee Y-P, Garfin S, Kim C (2008) Surgeon perceptions of minimally invasive spine surgery. SAS J 2(3):145–149

Choi K-C, Lee J-H, Kim J-S, Sabal LA, Lee S, Kim H, Lee S-H (2015) Unsuccessful percutaneous endoscopic lumbar discectomy: a single-center experience of 10 228 cases. Neurosurgery 76(4):372–381
Ethics declarations
Conflict of interest
The authors declared no potential conflicts of interest with respect to the research, authorship, and/or publication of this article.
Informed consent
Informed consent was obtained from all individual participants included in the study.
Ethical standard
All procedures performed in studies involving human participants were in accordance with the ethical standards of the ethical committees for human subjects in West China Hospital of Sichuan University and with the 1964 Helsinki declaration and its later amendments or comparable ethical standards.
Additional information
X. Li and Q. Dou are co-first authors.
About this article
Cite this article
Li, X., Dou, Q., Hu, S. et al. Treatment of cauda equina syndrome caused by lumbar disc herniation with percutaneous endoscopic lumbar discectomy. Acta Neurol Belg 116, 185–190 (2016). https://doi.org/10.1007/s13760-015-0530-0
Received:

Accepted:

Published:

Issue Date:

DOI: https://doi.org/10.1007/s13760-015-0530-0
Keywords