Abstract
Multiple sclerosis (MS) presents with optic neuritis (ON) in 20 % of cases and 50 % of ON patients develop MS within 15 years. In this study, we evaluated the preventive effects of vitamin D3 administration on the conversion of ON to MS (primary outcome) and on the MRI lesions (secondary outcome) of ON patients with low serum 25 (OH) D levels. Thirty ON patients (15 in each of 2 groups, aged 20–40 years) with serum 25 (OH) D levels of less than 30 ng/ml were enrolled in a double blind, randomized, parallel-group trial. The treatment group (cases) received 50,000 IU of vitamin D3 weekly for 12 months and the control group (controls) received a placebo weekly for 12 months. Finally, the subsequent relapse rate and changes in MRI plaques were compared between the two groups. Risk reduction was 68.4 % for the primary outcome in the treatment group (relative risk = 0.316, p = 0.007). After 12 months, patients in the treatment group had a significantly lower incidence rate of cortical, juxtacortical, corpus callosal, new T2, new gadolinium-enhancing lesions and black holes. The mean number of total plaques showed a marginally significant decrease in the group receiving vitamin D3 supplementation as compared with the placebo group (p = 0.092). Administration of vitamin D3 supplements to ON patients with low serum vitamin 25 (OH) D levels may delay the onset of a second clinical attack and the subsequent conversion to MS.
Access options
Buy single article
Instant access to the full article PDF.
US$ 39.95
Tax calculation will be finalised during checkout.
Subscribe to journal
Immediate online access to all issues from 2019. Subscription will auto renew annually.
US$ 79
Tax calculation will be finalised during checkout.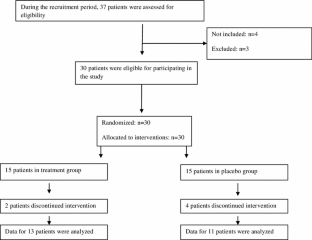 References
1.

Dalton CM, Brex PA, Miszkiel KA, Hickman SJ, MacManus DG, Plant GT, Thompson AJ, Miller DH (2002) Application of the new McDonald criteria to patients with clinically isolated syndromes suggestive of multiple sclerosis. Ann Neurol 52(1):47–53

2.

Voss E, Raab P, Trebst C, Stangel M (2011) Clinical approach to optic neuritis: pitfalls, red flags and differential diagnosis. Ther Adv Neurol Disord 4(2):123–134

3.

Hickman SJ, Dalton CM, Miller DH, Plant GT (2002) Management of acute optic neuritis. Lancet 360(9349):1953–1962

4.

Nilsson P, Larsson EM, Maly-Sundgren P, Perfekt R, Sandberg-Wollheim M (2005) Predicting the outcome of optic neuritis: evaluation of risk factors after 30 years of follow-up. J Neurol 252(4):396–402

5.

No authors listed (1977) The 5 year risk of MS after optic neuritis. Experience of the optic neuritis treatment trial. Optic Neuritis Study Group. Neurology 49(5): 1404–1413

6.

Hanwell HEC, Banwell B (2011) Assessment of evidence for a protective role of vitamin D in multiple sclerosis. Biochim et Biophys Acta (BBA)-Mol Basis Dis 1812(2):202–212

7.

Kimball S, Ursell M, O'Connor P, Vieth R (2007) Safety of vitamin D3 in adults with multiple sclerosis. Am J Clin Nutr 86(3):645

8.

Burton J, Kimball S, Vieth R, Bar-Or A, Dosch H, Cheung R et al (2010) A phase I/II dose-escalation trial of vitamin D3 and calcium in multiple sclerosis. Neurology 74(23):1852

9.

Etemadifar M, Abtahi SH, Razmjoo H, Abtahi MA, Dehghani A, Salari M, Maghzi AH, Akbari M (2012) 25-Hydroxyvitamin D concentrations in patients with optic neuritis as a clinically isolated syndrome and healthy controls. Int J Prev Med 3(5):313–317

10.

Wingerchuk DM, Lesaux J, Rice GP, Kremenchutzky M, Ebers GC (2005) A pilot study of oral calcitriol (1,25-dihydroxyvitamin D3) for relapsing-remitting multiple sclerosis. J Neurol Neurosurg Psychiatry 76(9):1294–1296

11.

Polman CH, Reingold SC, Edan G, Filippi M, Hartung HP, Kappos L, Lublin FD, Metz LM, McFarland HF, O'Connor PW, Sandberg-Wollheim M, Thompson AJ, Weinshenker BG, Wolinsky JS (2005) Diagnostic criteria for multiple sclerosis: 2005 revisions to the ''McDonald Criteria''. Ann Neurol 58(6):840–846

12.

Smolders J, Damoiseaux J, Menheere P, Hupperts R (2008) Vitamin D as an immune modulator in multiple sclerosis, a review. J Neuroimmunol 194(1–2):7–17

13.

Mahon B, Gordon S, Cruz J, Cosman F, Cantorna M (2003) Cytokine profile in patients with multiple sclerosis following vitamin D supplementation. J Neuroimmunol 134(1–2):128–132

14.

Holdeman NR, Nguyen T, Tang RA (2012) Demyelinating optic neuritis presenting as a clinically isolated syndrome. Optometry 83(1):9–18

15.

Faridar A, Eskandari G, Sahraian MA, Minagar A, Azimi A (2012) Vitamin D and multiple sclerosis: a critical review and recommendations on treatment. Acta Neurol Belg (Epub ahead of print)

16.

Kirbas A, Kirbas S, Anlar O, Turkyilmaz AK, Cure MC, Efe H (2012) Investigation of the relationship between vitamin D and bone mineral density in newly diagnosed multiple sclerosis. Acta Neurol Belg (Epub ahead of print)

17.

Munger K, Zhang S, O'Reilly E, Hernan M, Olek M, Willett W et al (2004) Vitamin D intake and incidence of multiple sclerosis. Neurology 62(1):60

18.

Munger K, Levin L, Hollis B, Howard N, Ascherio A (2006) Serum 25-hydroxyvitamin D levels and risk of multiple sclerosis. JAMA 296(23):2832

19.

Soilu-Hanninen M, Airas L, Mononen I, Heikkila A, Viljanen M, Hanninen A (2005) 25-Hydroxyvitamin D levels in serum at the onset of multiple sclerosis. Mult Scler 11(3):266

20.

Etemadifar M, Abtahi SH (2012) Multiple sclerosis in Isfahan, Iran: past, present and future. Int J Prev Med 3(5):301–302
Acknowledgments
The authors are very grateful to the patients and their relatives for their collaboration with this research. This survey was conducted by the cooperation of Isfahan University of Medical Sciences (IUMS) and Isfahan Multiple Sclerosis Society (IMSS). The project was supported by IUMS [Grant number: 291041] and SHARNOS research Co. (Knowledge of vision and motion). Also, a specific research grant has been received from CinnaGen Inc. The results of this study are dedicated to the memory of Dr. Afsane Khandan (Iranian internist) who devoted her precious life to knowledge, health development, and, medical research.
Conflict of interest
The authors have no proprietary interest in the materials presented herein.
Additional information
Clinical trial registration number: IRCT201205319919N1.
About this article
Cite this article
Derakhshandi, H., Etemadifar, M., Feizi, A. et al. Preventive effect of vitamin D3 supplementation on conversion of optic neuritis to clinically definite multiple sclerosis: a double blind, randomized, placebo-controlled pilot clinical trial. Acta Neurol Belg 113, 257–263 (2013). https://doi.org/10.1007/s13760-012-0166-2
Received:

Accepted:

Published:

Issue Date:
Keywords
Multiple sclerosis

Optic neuritis

Vitamin D3

25 (OH) D

Clinical trial

Isfahan, Iran