Abstract
Premenstrual syndrome (PMS) affects most women during their reproductive life. Headache is regarded as a typical symptom of PMS and, close to menses, migrainous women could experience their worst migraine attacks. Vitex agnus-castus (VAC) is a phytopharmaceutical compound, considered worldwide to be a valid tool to treat PMS. Aim of this study is to explore if headache is ameliorate in migrainous women treated with VAC for PMS by an open-label clinical observation. Migrainous women with PMS were enrolled in the study and advised to assume a treatment with VAC (40 mg/day) for PMS for a 3-month period. Effects both on PMS and headache were assessed. Out of 107 women, 100 completed the 3-month treatment for PMS. Out of them, 66 women reported a dramatic reduction of PMS symptoms, 26 a mild reduction, and 8 no effect. Concerning migraine, 42 % of patients experienced a reduction higher than 50 % in frequency of monthly attacks, and 57 % of patients experienced a reduction higher than 50 % in monthly days with headache. No patients reported remarkable side effects. Pending a placebo-controlled trial to confirm our results, we observed that the use of VAC in migrainous women affected by PMS resulted to be safe and well tolerated, and may positively influence the frequency and duration of migraine attacks.
This is a preview of subscription content, log in to check access.
Access options
Buy single article
Instant access to the full article PDF.
US$ 39.95
Price includes VAT for USA
Subscribe to journal
Immediate online access to all issues from 2019. Subscription will auto renew annually.
US$ 99
This is the net price. Taxes to be calculated in checkout.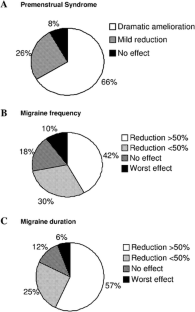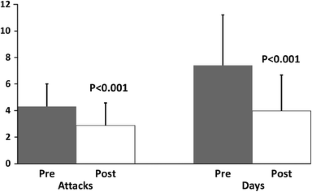 References
1.

Ginsburg KA, Dinsay R (2000) Premenstrual Syndrome. In: Ransom SB (ed) Practical strategies in obstetrics and gynecology. WB Saunders, Philadelphia, pp 684–694

2.

American College of Obstetricians and Gynecologists (ACOG) (2000) Premenstrual syndrome. ACOG, Washington, DC

3.

Dean BB, Borenstein JE, Knight K, Yonkers K (2006) Evaluating the criteria used for identification of PMS. J Womens Health 15:546–555

4.

American Psychiatric Association (1994) Diagnostic and statistical manual of mental disorders-IV, 4th edn. American Psychiatric Association, Washington, D.C

5.

Halbreich U, Borenstein J, Pearlstein T, Kahn LS (2003) The prevalence, impairment, impact, and burden of premenstrual dysphoric disorder (PMS/PMDD). Psychoneuroendocrinology 28:S1–S23

6.

Cupini LM, Matteis M, Troisi E et al (1995) Sex-hormone-related events in migrainous females. A clinical comparative study between migraine with aura and migraine without aura. Cephalalgia 15:140–144

7.

Headache Classification Subcommittee of the International Headache Society (2004) The International Classification of headache disorders, 2nd edn. Cephalalgia 24(Suppl. 1)

8.

Johnson SR (2004) Premenstrual syndrome, premenstrual dysphoric disorder, and beyond: a clinical primer for practitioners. Obstet Gynecol 104:845–859

9.

Rapkin A (2003) A review of treatment of premenstrual syndrome and premenstrual dysphoric disorder. Psychoneuroendocrinology 28:39–53

10.

No authors listed (2001) Herbal treatment for PMS? Harv Womens Health Watch 8:7

11.

Girman A, Lee R, Kligler B (2003) An integrative medicine approach to premenstrual syndrome. Am J Obstet Gynecol 188:S56–S65

12.

Loch EG, Selle H, Boblitz N (2000) Treatment of premenstrual syndrome with a phytopharmaceutical formulation containing Vitex agnus castus. J Women Health Gend Based Med 9:315–320

13.

Berger D, Schaffner W, Schrader E et al (2000) Efficacy of Vitex agnus castus L. extract Ze 440 in patients with pre-menstrual syndrome (PMS). Arch Gynecol Obstet 264:150–153

14.

Huddleston M, Jackson EA (2001) Is an extract of the fruit of agnus castus (chaste tree or chasteberry) effective for prevention of symptoms of premenstrual syndrome (PMS)? J Fam Pract 50:298

15.

Prilepskaya VN, Ledina AV, Tagiyeva AV, Revazova FS (2006) Vitex agnus castus: successful treatment of moderate to severe premenstrual syndrome. Maturitas 55:S55–S863

16.

Halaska M, Beles P, Gorkow C, Sieder C (1999) Treatment of cyclical mastalgia with a solution containing a Vitex agnus castus extract: results of a placebo-controlled double-blind study. Breast 8:175–181

17.

Kilicdag EB, Tarim E, Bagis T et al (2004) Fructus agni casti and bromocriptine for treatment of hyperprolactinemia and mastalgia. Int J Gynaecol Obstet 85:292–293

18.

Merz PG, Gorkow C, Schrodter A et al (1996) The effects of a special agnus castus extract (BP1095E1) on prolactin secretion in healthy male subjects. Exp Clin Endocrinol Diabetes 104:447–453

19.

Daniele C, Thompson Coon J, Pittler MH, Ernst E (2005) Vitex agnus castus: a systematic review of adverse events. Drug Saf 28:319–332

20.

Italian Ministry of Health (2007) Elenco degli integratori alimentari: Registro aggiornato per prodotto. http://www.ministerosalute.it/alimenti/resources/documenti/dietetica/prodotto_agosto07.PDF

21.

Schellenberg R (2001) Treatment for the premenstrual syndrome with agnus castus fruit extract: prospective, randomised, placebo controlled study. BMJ 322(7279):134–137

22.

Tfelt-Hansen P, Block G, Dahlof C et al (2000) Guidelines for controlled trials of drugs in migraine: second edition. Cephalalgia 20:765–786

23.

Hu Y, Hou TT, Zhang QY et al (2007) Evaluation of the estrogenic activity of the constituents in the fruits of Vitex rotundifolia L. for the potential treatment of premenstrual syndrome. J Pharm Pharmacol 59:1307–1312

24.

Meier B, Berger D, Hoberg E et al (2000) Pharmacological activities of Vitex agnus-castus extracts in vitro. Phytomedicine 7:373–381

25.

Webster DE, Lu J, Chen SN et al (2006) Activation of the mu-opiate receptor by Vitex agnus-castus methanol extracts: implication for its use in PMS. J Ethnopharmacol 106:216–221

26.

Wuttke W, Jarry H, Christoffel V et al (2003) Chaste tree (Vitex agnus-castus)—pharmacology and clinical indications. Phytomedicine 10:348–357

27.

Jarry H, Spengler B, Wuttke W, Christoffel V (2006) In vitro assays for bioactivity-guided isolation of endocrine active compounds in Vitex agnus-castus. Maturitas 55:S26–S36

28.

Marotta F, Mao GS, Liu T et al (2006) Anti-inflammatory and neuroprotective effect of a phytoestrogen compound on rat microglia. Ann NY Acad Sci 1089:276–281

29.

Herzog AG (2007) Neuroactive properties of reproductive steroids. Headache 47:S68–S78
Conflict of interest
The authors declare that they have no conflicts of interest.
Additional information
A. Ambrosini and C. Di Lorenzo contributed equally to this study.
About this article
Cite this article
Ambrosini, A., Di Lorenzo, C., Coppola, G. et al. Use of Vitex agnus-castus in migrainous women with premenstrual syndrome: an open-label clinical observation. Acta Neurol Belg 113, 25–29 (2013). https://doi.org/10.1007/s13760-012-0111-4
Received:

Accepted:

Published:

Issue Date:
Keywords
Vitex agnus-castus

Premenstrual syndrome

Migraine

Chaste Tree

Chasteberry