Abstract
Purpose
Measuring the peak performance of athletes remains a challenge in movement science and sports psychology. Non-invasive quantitative electroencephalography (QEEG) recordings can be used to analyze various factors in sports psychology.
Method
In this context, sports-related psychological factors were used to estimate the performance of Thai professional female soccer players before a competition. The QEEG recordings of thirty-two players were recorded three times: twice before a competition (once a week) and a week after a competition. Four factors of sports psychology were estimated and observed: anxiety, perceptual response to an acute bout of brain activity, assertiveness, and brain central fatigue. A brain topographic map (absolute power) and brain connectivity (coherence and amplitude asymmetry) data were used to analyze sports-related psychological factors. These factors were measurable based on the brain activity of the athletes and could be used to evaluate their performance during competitions by using QEEG values.
Results
Sports-related psychological performance was estimated by Pearson's correlation coefficients, which revealed that a quick perceptual response to an acute bout of brain activity could predict an athlete's performance during competition (r = .584, p = .000). Additionally, Spearman's correlation coefficients were used to estimate athletes performance. The results revealed a strong relationship (\(r_s\) =.634, p = .000), which was derived from the summation of anxiety and perceptual response to an acute bout of brain activity.
Conclusion
Consequently, the results of the present study can provide information to help staff coaches to choose the best performing players, representing an alternative method for accurately selecting key players in the competitive sports community.
Access options
Buy single article
Instant access to the full article PDF.
US$ 39.95
Tax calculation will be finalised during checkout.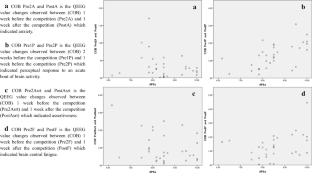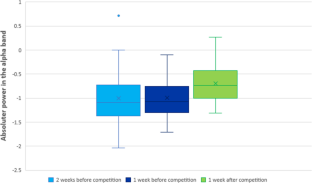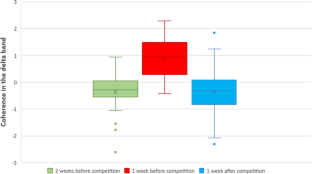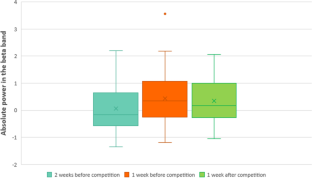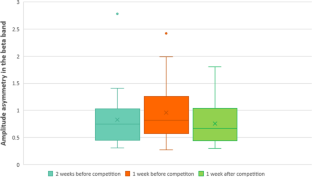 References
1.

Ericsson KA. Peak performance and age: an examination of peak performance in sport. In: Baltes P, Baltes MM, editors. Successful aging perspectives from the behavioral sciences. Cambridge: The University of Cambridge; 1993. p. 164–95.

2.

Haugen TA, Solberg PA, Foster C, Moran-Navarro R, Breitschadel F, Hopkins WG. Peak age and performance progression in world-class track-and-field athletes. Int J Sports Physiol Perform. 2018;13:1122–9.

3.

Cashmore E. Sport and exercise psychology: the key concepts. In: Cashmore E, editor. Inverted-U theory, and peak performance, stoke-on-trent, vol. 244. Staffordshire: Staffordshire University; 2008. p. 320–2.

4.

Arent SM, Landers DM. Arousal, anxiety, and performance: a reexamination of the inverted-U hypothesis. Res Q Exerc Sport. 2003;74:436–44.

5.

Gould D, Guinan D, Greenleaf C, Medbery R, Peterson K. Factors affecting olympic performance: perceptions of athletes and coaches from more and less successful teams. Sport Psychol. 1999;13:371–94.

6.

Bali A. Psychological factors affecting sports performance. Int J Phys Educ Sports Health. 2015;1:92–5.

7.

Anderson R, Hanrahan SJ, Mallett CJ. Investigating optimal psychological state for peak performance in Australian elite athletes. J Appl Sport Psychol. 2014;26:318–33.

8.

Cooper JJ, Johnson M, Radcliffe J, Fisher J. Optimal emotional profiles for peak performance in strength and conditioning. J Strength Cond Res XX. 2018;000–000

9.

Swann CF, Crust L, Jackman PC, Vella SA, Allen MS, Keegan R. Performing under pressure: exploring the psychological state underlying clutch performance in sport. J Sports Sci. 2017;35:2272–80.

10.

Forsdyke D, Gledhill A, Ardern CL. Psychological readiness to return to sport: three key elements to help the practitioner decide whether the athlete is REALLY ready? Br J Sports Med. 2017;51:555–6.

11.

Podlog L, Banham SM, Wadey R, Hannon JC. Psychological readiness to return to competitive sport following injury: a qualitative study. Sport Psychol. 2015;29:1–14.

12.

Pederson DM. Intrinsic–extrinsic factors in sport motivation. Percept Mot Skills. 2002;95:459–76.

13.

Arjona A, Escudero M, Gmez CM. Updating of attentional and premotor allocation resources as function of previous trial outcome. Sci Rep. 2014;4:4526.

14.

Abdollahipour R, Wulf G, Psotta R, Nieto PM. Performance of gymnastics skill benets from an external focus of attention. J Sports Sci. 2015;33:1807–13.

15.

West RL, Thorn RM. Goal-setting, self-ecacy, and memory performance in older and younger adults. Exp Aging Res. 2001;27:41–65.

16.

Dipoppa M, Gutkin BS. Flexible frequency control of cortical oscillations enables computations required for working memory. Proc Natl Acad Sci USA. 2013;110:12828–33.

17.

Renfree A, Martin L, Micklewright D, St Clair Gibson A. Application of decision-making theory to the regulation of muscular work rate during self-paced competitive endurance activity. Sports Med 2014;44:147–158.

18.

Badami R, VaezMousavi M, Wulf G, Namazizadeh M. Feedback about more accurate versus less accurate trials: dierential eects on self-condence and activation. Res Q Exerc Sport. 2012;83:196–203.

19.

Ali A, Fawver B, Kim J, Fairbrother J, Janelle CM. Too much of a good thing: random practice scheduling and self-control of feedback lead to unique but not additive learning benets. Front Psychol. 2012;3:503.

20.

Chiviacowsky S, Wulf G, Lewthwaite R. Self-controlled learning: the importance of protecting perceptions of competence. Front Psychol. 2012;3:458.

21.

Kline JE, Huang HJ, Snyder KL, Ferris DP. Isolating gaitrelated movement artifacts in electroencephalography during human walking. Journal of Neural Engineering. 2015;12.

22.

Thompson T, Steert T, Ros T, Leach J, Gruzelier J. EEG applications for sport and performance. Methods. 2008;45:279–88.

23.

Rijken NH, Soer R, de Maar E, Prins H, Teeuw WB, Peuscher J, et al. Increasing performance of professional soccer players and elite track and field athletes with peak performance training and biofeedback: a pilot study. Appl Psychophysiol Biofeedback. 2016;41:421–30.

24.

Dziembowska I, Izdebski P, Rasmus A, Brudny J, Grzelczak M, Cysewski P. Effects of heart rate variability biofeedback on EEG alpha asymmetry and anxiety symptoms in male athletes: a pilot study. Appl Psychophysiol Biofeedback. 2016;41:141–50.

25.

Thompson M, Thompson L. Neurofeedback for Stress Management, 249-287. Lehrer P. M., Woolfolk R. L., and Sime W. E., Principles and Practice of Stress Management, New York, the University of Medicine and Dentistry of New Jersey.2007.

26.

Moore NC. A review of EEG biofeedback treatment of anxiety disorders. Clin Electroencephal. 2006;31:1–6

27.

Nacher V, Ledberg A, Deco G, Romo R. Coherent delta-band oscillations between cortical areas correlate with decision making. Proc Natl Acad Sci USA. 2013;110:15085–90.

28.

Harmon-Jones E. Clarifying the emotive functions of asymmetrical frontal cortical activity. Psychophysiology. 2003;40:838–48.

29.

Lorist MM, Bezdan E, Caat MT, Span MM, Roerdink JB, Maurits NM. The influence of mental fatigue and motivation on neural network dynamics; an EEG coherence study. Brain Res. 2009;1270:95–106.

30.

Kato Y, Endo H, Kizuka T. Mental fatigue and impaired response processes: event-related brain potentials in a Go/NoGo task. Int J Psychophysiol. 2009;72:204–11.

31.

Hanton S, Thomas O, Maynard I. Competitive anxiety responses in the week leading up to competition: the role of intensity, direction and frequency dimensions. Psychol Sport Exerc. 2004;5:169–81.

32.

Cerin E, Barnett A. Predictors of pre- and post-competition affective states in male martial artists: a multilevel interactional approach. Scand J Med Sci Sports. 2011;21:137–50.

33.

Cerin E, Barnett A. A processual analysis of basic emotions and sources of concerns as they are lived before and after a competition. Psychol Sport Exerc. 2006;7:287–307.

34.

Thatcher RW, Biver CJ, North DM. Z score EEG biofeedback: technical foundations. Appl Neurosci. 1–17 (2004–2007)

35.

Collura TF, Guan J, Tarrant J, Bailey J, Starr F. EEG biofeedback case studies using live Z-score training and a normative database. J Neurotherapy. 2010;14:22–46.

36.

Thatcher RW. Normative EEG databases and EEG biofeedback. J Neurotherapy. 1998;2:8–39.

37.

Collura TF. Towards a coherent view of brain connectivity. J Neurotherapy. 2008;12:99–110.

38.

Davidson RJ. EEG measures of cerebral asymmetry: conceptual and methodological issues. Int J Neurosci. 1988;39:71–89.

39.

Field A. Correlation: bivariate correlation. Field: a discovering statistics using SPSS. London: British Library; 2009. p. 175–9.

40.

Heiman GW. The Correlation Coefficient: The Pearson correlation coefficient and The Spearman rank-order correlation coefficient. Heiman, G. W., Basic Statistic for the Behavioral Sciences, New York, Buffalo State College pp. 147-153 (2011)

41.

Tharawadeepimuk K, Wongsawat Y. Quantitative EEG evaluation for performance level analysis of professional female soccer players. Cogn Neurodyn. 2017;11:233–44.

42.

Tharawadeepimuk K, Wongsawat Y. Aggression in professional female defender soccer players. Acta Neuropsychol. 2018;16:375–89.

43.

Tharawadeepimuk K, Wongsawat Y. QEEG post-effects after the competition in professional female soccer players. Acta Neuropsychol. 2018;16:47–60.

44.

Parnabas V, Parnabas J, Parnabas AM. The relationship between cognitive anxiety and sport performances on basketball. Int J Indian Psychol. 2015;2:16–23.

45.

Abenza L, Alarcon F, Pinar MI, Urena N. Relationship between the anxiety and performance of a basketball team during competition. Revista de Psicologia del Deporte. 2009;18:409–13.

46.

Humara M. The relationship between anxiety and performance: a cognitive-behavioral perspective. J Sport Psychol. 1999;1.

47.

Hardy L, Parfitt G. A catastrophe model of anxiety and performance. Br J Psychol. 1991;82:163–78.

48.

Yarrow K, Brown P, Krakauer JW. Inside the brain of an elite athlete: the neural processes that support high achievement in sports. Nat Rev Neurosci. 2009;10:585–96.

49.

Bar-Eli M, Plessner H, Raab M. Athletes, 51-90. Bar-Eli, M., Plessner, H., and Raab, M., Judement, Decision Making and Success in Sport, West Sussex, Technical and Medical business with Blackwell Publishing (2011)

50.

Micklewright D. Decision-making, pacing, and performance in endurance sport, 47–69. ENDURANCE PERFORMANCE IN SPORT Psychological Theory and Interventions, Oxon, Routledge: Meijen C; 2019.

51.

Memmert D, Roca A. Tactical creativity and decision making in sport, 201-214. Williams, A. M., and Jackson, R. C., Anticipation and Decision Making in Sport, Oxon, Routledge (2019)

52.

Wyart V, de Gardelle V, Scholl J, Summerfield C. Rhythmic fluctuations in evidence accumulation during decision making in the human brain. Neuron. 2012;76:847–58.

53.

Guntekin B, Basar E. Review of evoked and event-related delta responses in the human brain. Int J Psychophysiol. 2016;103:43–52.

54.

Welker KM, Goetz SM, Galicia S, Liphardt J, Carre JM. An examination of the associations between facial structure, aggressive behavior and performance in the 2010 World Cup Association Football Players. Adapt Hum Behav Physiol. 2015;1:17–29.

55.

Mummendey A, Mummendey HD. Aggressive behavior of soccer players as social interaction. New York: Goldstein J. H.: Sports Violence, Springer-Verlag; 1983. p. 111–24.

56.

Garcia-Garcia PA, Martinez JA, Gonzalez-Gomez FJ. The influence of aggressiveness on the performance of football teams in Spain. Revista Internacional de Medicina y Ciencias de la Actividad Fisica y del Deporte. 2017;17:317–34.

57.

Mudimela SR. Impact of level of participation on aggression, anxiety, achievement motivation and performance among soccer players. Br J Sports Med. 2010;44:200–6.

58.

Ziolkowski A, Graczyk M, Strzalkowska A, Wilczynska D, Wlodarczyk P, Zaranska B. Neuronal, cognitive and social indicators for the control of aggressive behaviors in sport. Acta Neuropsychol. 2012;10:537–46.

59.

Vetter RE, Symonds ML. Correlations between injury, training intensity, and physical and mental exhaustion among college athletes. J Strength Cond Res. 2010;24:587–96.

60.

Rozand V, Pageaux B, Marcora SM, Papaxanthis C, Lepers R. Does mental exertion alter maximal muscle activation? Front Hum Neurosci. 2014;8:755.

61.

Pageaux B, Lepers R. The effects of mental fatigue on sport-related performance. Prog Brain Res. 2018;240:291–315.

62.

Nedelec M, McCall A, Carling C, Legall F, Berthoin S, Dupont G. Recovery in soccer part i: post-match fatigue and time course of recovery. J Sports Med. 2012;42:997–1015.

63.

Andersson H, Raastad T, Nilsson J, Paulsen G, Garthe I, Kad F. Neuromuscular fatigue and recovery in elite female soccer: effects of active recovery. Med Sci Sports Exerc. 2007;40:372–80.

64.

Rampinini E, Impellizzeri FM, Castagna C, Coutts AJ, Wisloff U. Technical performance during soccer matches of the Italian Serie A league: effect of fatigue and competitive level. J Sci Med Sport. 2009;12:227–33.

65.

Smith MR, Coutts AJ, Merlini M, Deprez D, Lenoir M, Marcora SM. Mental fatigue impairs soccer-specific physical and technical performance. Med Sci Sports Exerc. 2016;48:267–76.

66.

Ohuruogu B, Jonathan UI, Ikechukwu UJ. Psychological preparation for peak performance in sports competition. J Educ Practice. 2016;7:47–50.

67.

Vealey RS. Sport and Exercise Psychology, 237–262. Hoffman, S. J., Introduction to Kinesiology: Studying Physical Activity, Illinois, Human Kinetics; 2009.

68.

Han DH, Park HW, Kee BS, Na C, Na DE, Zaichkowsky L. Performance Enhancement with Low Stress and Anxiety Modulated by Cognitive Flexibility. Psychiatry Investigation. 2011;8:221–6.

69.

McMorris T, Graydon J. The effect of exercise on the decision making performance of experienced and inexperienced soccer players. Res Q Exerc Sport. 1996;67:109–14.

70.

Wang C, Trongnetrpunya A, Samuel IH, Ding M, Kluger BM. Compensatory neural activity in response to cognitive fatigue. J Neurosci. 2016;36:3919–24.

71.

Cox RH, Yoo HS. Playing position and psychological skills in American football. J Sport Behav. 1995;18:183–95.

72.

Sewell DF, Edmundson AM. Relationship between field position and pre-match competitive state anxiety in soccer and field hockey. Int J Sport Psychol. 1996;27:159–72.

73.

Andrew M, Grobbelaar HW, Potgieter JC. Positional differences in the sport psychological skills and attributes of rugby union players. Afr J Phys Health Educ. Recreation and Dance. 2007;321–334.

74.

Eloff M, Monyeki MA, Grobbelaar HW. Mental skill levels of South African male student field hockey players in different playing positions. Afr J Phys Health Educ Recreat Dance. 2011;17:636–46.

75.

Kurt C, Catikkas F, Omurlu IK, Atalag O. Comparison of loneliness, trait anger-anger expression style, self-esteem attributes with different playing position in soccer. J Phys Educ Sport. 2012;12:39–43.

76.

Boone J, Vaeyens R, Steyaert A, Bossche LV, Bourgois J. Physical fitness of elite Belgian soccer players by player position. J Strength Condition Res. 2012;26:2051–7.

77.

Dellal A, Wong DP, Moalla W, Chamari K. Physical and technical activity of soccer players in the French First League—with special reference to their playing position. Int SportMed J. 2010;11:278–90.

78.

Hodge K, Hermansson G. Psychological preparation of athletes for the Olympic context: the New Zealand Summer and Winter Olympic Teams. Athletic Insight. 2007;9:1–14.

79.

Abdullah MR, Musa RM, Maliki AB, Kosni NA, Suppiah PK. Role of psychological factors on the performance of elite soccer players. J Phys Educ Sport. 2016;16:170–6.
Acknowledgements
This project is supported in part by the National Higher Education Science Research and Innovation Policy Council, PMU B: Contract No: B05F630050. Throughout this experimental study, the Thai professional female soccer team, Dr. Ampika Nanbancha, and Miss Lattika Tiawongsuwan provided highly valued input.
Ethics declarations
Conflict of interest
The authors reported no potential conflicts of interest.
Additional information
Publisher's Note
Springer Nature remains neutral with regard to jurisdictional claims in published maps and institutional affiliations.
About this article
Cite this article
Tharawadeepimuk, K., Wongsawat, Y. Quantitative EEG in sports: performance level estimation of professional female soccer players. Health Inf Sci Syst 9, 14 (2021). https://doi.org/10.1007/s13755-021-00144-w
Received:

Accepted:

Published:
Keywords
Quantitative electroencephalogram (QEEG)

Brain topographic map (absolute power)

Brain connectivity (coherence and amplitude asymmetry)

Sports psychology

Peak performance