Abstract
Purpose
Violence against women during pregnancy is a serious public health concern due to its significant adverse health consequences for both the mother and the baby. This study aims to systematically identify common health problems and synergistic health correlates of intimate partner violence (IPV) that specifically affect pregnant women.
Methods
We mine large-scale electronic health record (EHR) data from the IBM Explorys database to identify health problems that are prevalent in both IPV and pregnancy populations, as well those that are synergistically associated with the presence of IPV during pregnancy. For this purpose, we develop methods that enhance the statistical reliability of identified patterns by constructing confidence intervals that take into account systematic bias and measurement errors in addition to the variance in estimation.
Results
We identify with high confidence 668 and 2750 terms that are respectively prevalent in respectively IPV and pregnancy populations. Of these terms, 279 are common. We also identify 16 synergistic health correlates with high confidence. Our results suggest that mental health, substance abuse, and genitourinary complications are prevalent among pregnant women exposed to IPV. The synergistic terms we identify reveal potential conditions that can be direct consequences of trauma (e.g., tibial fracture), long-term health consequences (e.g., chronic rhinitis), markers associated with the demograhics of affected populations (e.g., acne), and risk factors that potentially increase vulnerability during pregnancy (e.g., disorders of attention and motor control).
Conclusions
Our results indicate that IPV significantly affects the well-being of pregnant women in multiple ways. The findings of this study can be useful for screening of IPV in pregnant women. Finally, the methodology presented here can also be useful for investigating the synergy between other medical conditions using EHR databases with privacy constraints.
This is a preview of subscription content, log in to check access.
Access options
Buy single article
Instant access to the full article PDF.
US$ 39.95
Tax calculation will be finalised during checkout.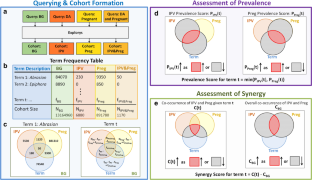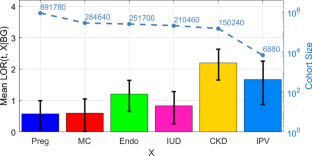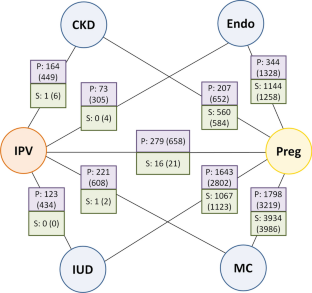 References
1.

Announcement IUSS. Ibm explorys cohort discovery. 2016;191–216.

2.

Bagatin E, Freitas THPD, Machado MCR, Ribeiro BM, Nunes S, Rocha MADD. Adult female acne: a guide to clinical practice. Anais Brasileiros de Dermatologia. 2019;94(1):62–75.

3.

Breiding M, Basile KC, Smith SG, Black MC, Mahendra RR. Intimate partner violence surveillance: uniform definitions and recommended data elements. version 2.0 2015

4.

Buitelaar NJ, Posthumus JA, Buitelaar JK. Adhd in childhood and/or adulthood as a risk factor for domestic violence or intimate partner violence: a systematic review. J Attention Disord. 2015. https://doi.org/10.1177/1087054715587099.

5.

Chisholm CA, Bullock L, Ferguson JEJ II. Intimate partner violence and pregnancy: epidemiology and impact. Am J Obstetr Gynecol. 2017;27(2):141–4.

6.

Clayton R, Göbel K, Niessen C, Paus R, van Steensel M, Lim X. Homeostasis of the sebaceous gland and mechanisms of acne pathogenesis. British Journal of Dermatology. 2019.

7.

Dahan A, Reiner M. Evidence for deficient motor planning in ADHD. Sci Rep. 2017;7(1):9631.

8.

García-Moreno C, Pallitto C, Devries K, Stöckl H, Watts C, Abrahams N. Global and regional estimates of violence against women: prevalence and health effects of intimate partner violence and non-partner sexual violence. Geneva: World Health Organization; 2013.

9.

Guendelman MD, Ahmad S, Meza JI, Owens EB, Hinshaw SP. Childhood attention-deficit/hyperactivity disorder predicts intimate partner victimization in young women. J Abnormal Child Psychol. 2016;44(1):155–66.

10.

Halim N, Beard J, Mesic A, Patel A, Henderson D, Hibberd P. Intimate partner violence during pregnancy and perinatal mental disorders in low and lower middle income countries: a systematic review of literature, 1990–2017. Clin Psychol Rev. 2018;66:117–35.

11.

Kessler RC, Angermeyer M, Anthony JC, De Graaf R, Demyttenaere K, Gasquet I, De Girolamo G, Gluzman S, Gureje O, Haro JM, et al. Lifetime prevalence and age-of-onset distributions of mental disorders in the world health organization's world mental health survey initiative. World Psychiatry. 2007;6(3):168.

12.

Khoramroudi R. The prevalence of posttraumatic stress disorder during pregnancy and postpartum period. J Fam Med Primary Care. 2018;7(1):220.

13.

Kivelä S, Leppäkoski T, Ruohoniemi J, Puolijoki H, Paavilainen E. The documentation and characteristics of hospitalized ipv patients using electronic medical records data: a follow-up descriptive study. Journal of Family Violence pp. 1–9 2019.

14.

Martin SL, Mackie L, Kupper LL, Buescher PA, Moracco KE. Physical abuse of women before, during, and after pregnancy. JAMA. 2001;285(12):1581–4.

15.

Mullick S, Watson-Jones D, Beksinska M, Mabey D. Sexually transmitted infections in pregnancy: prevalence, impact on pregnancy outcomes, and approach to treatment in developing countries. Sexually Trans Infect. 2005;81(4):294–302.

16.

Organization WH, et al.: Intimate partner violence during pregnancy: Information sheet. Tech. rep., Geneva: World Health Organization 2011.

17.

Organization WH, et al. Understanding and addressing violence against women: intimate partner violence. Techincal Report. Geneva: World Health Organization; 2012.

18.

Platform TIE. Solution brief 2016.

19.

Rose L, Alhusen J, Bhandari S, Soeken K, Marcantonio K, Bullock L, Sharps P. Impact of intimate partner violence on pregnant women's mental health: mental distress and mental strength. Issues Mental Health Nurs. 2010;31(2):103–11.

20.

Sheridan DJ, Nash KR. Acute injury patterns of intimate partner violence victims. Trauma Violence Abuse. 2007;8(3):281–9.

21.

Stene LE, Jacobsen GW, Dyb G, Tverdal A, Schei B. Intimate partner violence and cardiovascular risk in women: a population-based cohort study. J Women's Health. 2013;22(3):250–8.

22.

Stewart DE, Vigod SN. Mental health aspects of intimate partner violence. Psychiatric Clin. 2017;40(2):321–34.

23.

Truman JL, Morgan RE. Nonfatal domestic violence, 2003-2012. Journal of Current Issues in Crime, Law & Law Enforcement 8(4) 2015.

24.

Udo IE, Sharps P, Bronner Y, Hossain MB. Maternal intimate partner violence: relationships with language and neurological development of infants and toddlers. Maternal Child Health J. 2016;20(7):1424–31.

25.

Van Parys AS, Verhamme A, Temmerman M, Verstraelen H. Intimate partner violence and pregnancy: a systematic review of interventions. PloS One. 2014;9(1):e85084.

26.

Wendell AD. Overview and epidemiology of substance abuse in pregnancy. Clin Obstetr Gynecol. 2013;56(1):91–6.

27.

Yim IS, Kofman YB. The psychobiology of stress and intimate partner violence. Psychoneuroendocrinology. 2019;105:9–24.
Acknowledgements
This work is supported by the National Institutes of Health (NIH) grant R01-LM012518 from the National Library of Medicine.
Ethics declarations
Conflict of interest
The authors declare that they have no conflict of interest.
Additional information
Publisher's Note
Springer Nature remains neutral with regard to jurisdictional claims in published maps and institutional affiliations.
Electronic supplementary material
Below is the link to the electronic supplementary material.
About this article
Cite this article
Yılmaz, S., Alghamdi, B., Singuri, S. et al. Identifying health correlates of intimate partner violence against pregnant women. Health Inf Sci Syst 8, 36 (2020). https://doi.org/10.1007/s13755-020-00124-6
Received:

Accepted:

Published:
Keywords
IPV

Pregnant women

EHR

Data mining

Synergistic health correlates