Abstract
Purpose
Rapid developments in information technology have enabled wearable devices to be applied in the health field. In elderly adults, wearable devices aid in data collection and exerts a positive effect on their social capital. This study evaluated the changes in these two parameters among elderly adults using wearable devices, and analyzed the effect of these devices on their daily lives.
Methods
We selected 18 elderly people using wearable devices, between February and May 2017. The data collected by the wearable devices included the number of steps taken, sleep duration, blood pressure, heart rate, respiratory rate, fatigue, and mood of the wearers. Using a questionnaire and the trajectory equifinality model, we interviewed and surveyed elderly adults in order to understand their health status and social capital.
Results
The health of the participants was generally good, and most were able to achieve > 8000 steps per day (p < 0.05). Mild and moderate fatigue symptoms were noted in elderly adults for 90% of the study period (p < 0.05). The number of steps, blood pressure, and heart rate changed significantly within a month. From the commencement of using the wearable devices, a steady increase was noted in the monthly number of steps. Interviews suggested that the elderly adults perceived wearable devices as having the potential to improve health and social capital.
Conclusions
By using wearable devices, the participants had a better understanding of their own health, and were willing to take health-boosting measures. The participants were also more willing to increase their social capital and expand their social network.
Access options
Buy single article
Instant access to the full article PDF.
US$ 39.95
Tax calculation will be finalised during checkout.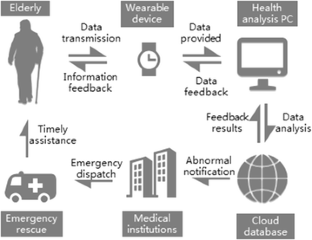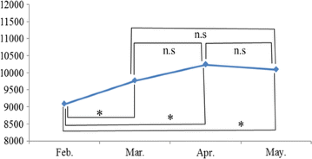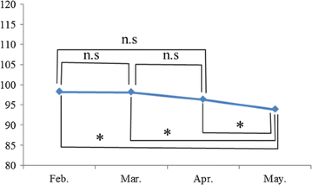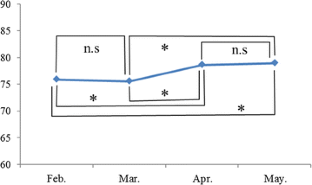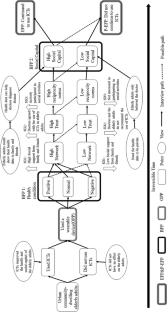 References
1.

Heart T, Kalderon E. Older adults: are they ready to adopt health-related ICT? Int J Med Inform. 2013;82:e209–31.

2.

Kaidi Z, Lujun S, Xinyu M, Haitao W, Mingzhen LI. Study on the status of elderly disabled in urban and rural areas of China. People Disabil. 2011;2:11–6.

3.

Marschollek M, Mix S, Wolf KH, Effertz B, Haux R, Steinhagen-Thiessen E. ICT-based health information services for elderly people: past experiences, current trends, and future strategies. Med Inform Internet Med. 2007;32:251–61.

4.

Mubashir M, Shao L, Seed L. A survey on fall detection: principles and approaches. Neurocomputing. 2013;100:144–52.

5.

Casselman J, Onopa N, Khansa L. Wearable healthcare: lessons from the past and a peek into the future. Telemat Inform. 2017;34:1011–23.

6.

Melenhorst A-S, Rogers WA, Bouwhuis DG. Older adults' motivated choice for technological innovation: evidence for benefit-driven selectivity. Psychol Aging. 2006;21:190–5.

7.

Liang Z, Qi L, Xue YY. A systematic exploration of the micro-blog feature space for teens stress detection. Health Inf Sci Syst. 2016;4(3):1–12.

8.

Selwyn N, Gorard S, Furlong J, Madden L. Older adults' use of information and communications technology in everyday life. Ageing Soc. 2003;23:561–82.

9.

Bhattacharjee B. Factors affecting computer use among older adult users: a study in the backdrop of Florida State University in College of Information. Tallahassee: The Florida State University; 2007. p. 217.

10.

Renaud, K., van Biljon, J.: Predicting technology acceptance and adoption by the elderly: a qualitative study. In: Proceedings of the 2008 annual research conference of the South African Institute of Computer Scientists a Information Technologists on IT research in developing countries: riding the wave of technology, ACM, Wilderness, South Africa; 2008. pp. 210–219.

11.

Steele R, Lo A, Secombe C, Wong YK. Elderly persons' perception and acceptance of using wireless sensor networks to assist healthcare. Int J Med Inform. 2009;78:788–801.

12.

Morris MG, Venkatesh V. Age differences in technology adoption decisions: implications for a changing work force. Pers Psychol. 2000;53:375.

13.

Bourdieu P. The forms of capital. In: Richardson JE, editor. Handbook of theory of research for the sociology of education. New York: Greenword Press; 1986. p. 241–58.

14.

Lan P, Xiao-yan F. The current situation and future trend of ICT and social capital research: the achievements and predicament of both scholars and clients in international politics. J Int Med. 2011;33:75–80 (in Chinese).

15.

Bartholomew MK, Schoppe-Sullivan SJ, Glassman M, Kamp Dush CM, Sullivan JM. New parents' Facebook use at the transition to parenthood. Fam Relat. 2012;61:455–69.

16.

Ammari, T., Schoenebeck, S.Y.: Understanding and supporting fathers and fatherhood on social media sites. In: Proceedings of the 33rd annual ACM conference on human factors in computing systems, ACM, New York, NY; 2015. pp. 1905–1914.

17.

Chiarini G, Ray P, Akter S, Masella C, Ganz A. mHealth technologies for chronic diseases and elders: a systematic review. IEEE J Sel Areas Commun. 2013;31:6–18.

18.

Lissitsaa S, Chachashvili-Bolotin S. Does the wind of change blow in late adulthood? Adoption of ICT by senior citizens during the past decade. Poetics. 2015;52:44–63.

19.

Hoque R, Sorwar G. Understanding factors influencing the adoption of mHealth by the elderly: an extension of the UTAUT model. Int J Med Inform. 2017;101:75–84.

20.

Charney DS, Reynolds CF, Lewis L, Lebowitz BD, Sunderland T, Alexopoulos GS, Blazer DG, Katz IR, Meyers BS, Arean PA, Borson S, Brown C, Bruce ML, Callahan CM, Charlson ME, Conwell Y, Cuthbert BN, Devanand DP, Gibson MJ, Gottlieb GL, Krishnan KR, Laden SK, Lyketsos CG, Mulsant BH, Niederehe G, Olin JT, Oslin DW, Pearson J, Persky T, Pollock BG, Raetzman S, Reynolds M, Salzman C, Schulz R, Schwenk TL, Scolnick E, Unutzer J, Weissman MM, Young RC. Depression and bipolar support alliance. Depression and bipolar support alliance consensus statement on the unmet needs in diagnosis and treatment of mood disorders in late life. Arch Gen Psychiatry. 2003;60:664–72.

21.

Fellera S, Vigl M, Bergmann MM, Boeing H, Stalder T. Predictors of hair cortisol concentrations in older adults. Psychoneuroendocrinology. 2014;39:132–40.

22.

Wen D, Zhang X, Lei J. Consumers' perceived attitudes to wearable devices in health monitoring in China: a survey study. Comput Methods Progr Biomed. 2017;140:131–7.

23.

Hwang S, Lee SH. Wristband-type wearable health devices to measure construction workers' physical demands. Autom Constr. 2017;83:330–40.

24.

Godfrey A. Wearables for independent living in older adults: gait and falls. Maturitas. 2017;100:16–26.

25.

Brodie MA, Coppens MJ, Lord SR, Lovell NH, Gschwind YJ, Redmond SJ, Del Rosario MB, Wang K, Sturnieks DL, Persiani M, Delbaere K. Wearable pendant device monitoring using new wavelet-based methods shows daily life and laboratory gaits are different. Med Biol Eng Comput. 2016;54:663–74.

26.

Kousokabe T. The relationship between time perspective and the coference using TEM in the early childhood education and care conferences. Miyajiro Educ Univ Min. 2015;49:153–60.

27.

Kiuchi M, Shimada H. The effect of clinical experience in teacher training program on the desire to be a teacher by means of semi-structured interview and time-series analysis. Educ Pract Res. 2012;13:31–40.

28.

Kullasepp K. Creating my own way of being a psychologist. Jpn J Personal. 2010;19:217–32.
Authors' contributions
SZ was responsible for conducting the questionnaires and interviews, as well as data analysis, based on social capital and a statistical approach. AO lead the project and participated in the experiment design. SN contributed to the data analysis framework design. QJ participated in the data acquisition system design. All authors read and approved the final manuscript.
Acknowledgements
This work was partially supported by a 2016–2018 Masaru Ibuka Foundation Research Project on Oriental Medicine. We are grateful to Zhanwei Gu for the assistance with the experiments, and to Atsushi Saito for the valuable discussion.
Competing interests
The authors declare that they have no competing interests.
Publisher's Note
Springer Nature remains neutral with regard to jurisdictional claims in published maps and institutional affiliations.
About this article
Cite this article
Zhou, S., Ogihara, A., Nishimura, S. et al. Analyzing the changes of health condition and social capital of elderly people using wearable devices. Health Inf Sci Syst 6, 4 (2018). https://doi.org/10.1007/s13755-018-0044-2
Received:

Accepted:

Published:
Keywords
Wearable devices

Elderly

Social capital

ICT

Health status