Abstract
Only our lineage has ever used trackways reading to find unseen and unheard targets. All other terrestrial animals, including our great ape cousins, use scent trails and airborne odors. Because trackways as natural signs have very different properties, they possess an information-rich narrative structure. There is good evidence we began to exploit conspecific trackways in our deep past, at first purely associatively, for safety and orienteering when foraging in vast featureless wetlands. Since our own old trackways were recognizable they were self-mirroring, triggering memories of what we had been up to in the past. Using them to find our way back to the band when temporarily lost or to re-find a resource-rich area discovered the day before enabled optimal foraging. Selection for daily reiteration of one's own old trackways therefore triggered the evolution of what is distinctive about human cognition: the autobiographical or narrative (episodic) faculty for imaginative self-projection. This faculty enabled us to glean useful social information from the stories "told" by other band members' old trackways, and created spin-off capacities for fast-track social learning. Resultant increases in socioecological complexity then created positive selective feedback loops for further entrenchment. Incrementally we became the ultra-social narrative-minded ape, capable of creating cumulative culture.
Access options
Buy single article
Instant access to the full article PDF.
USD 39.95
Price excludes VAT (USA)
Tax calculation will be finalised during checkout.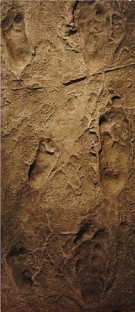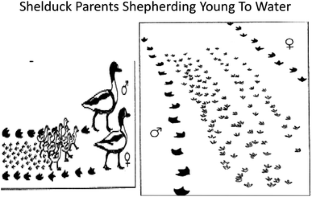 Notes
I will often override "(episodic)" with "narrative" this way throughout the article because narratives are made up of a series of episodes, and chimpanzees (and other animals like scrub jays for instance) are often said to possess some degree of "episodic-like" memory in the comparative psychology literature. Probably, but they certainly do not possess overwhelmingly narrative, "what-if" minds.

Exact imitation of an older expert's actions even when goal-relatedness of some of those actions is highly opaque.

Too many theorists assume that these prints were made by contemporary Australopithecus afarensis found nearby. Others (who actually studied them in situ) are very adamant that they are too human-like to have been made by members of this australopithecine lineage. I agree with them for many reasons, too numerous to present here.

This is where the relative freshness of her(?) footprints could perhaps be ascertained (see bottom dual prints Fig. 1).

In the face of doubt as to whether these marks were made by stone tools, one of the cut marks has a tiny chip of stone firmly lodged in it.

As a young hunter I had a grouse-hunting (and duck-retrieving) dog for a companion. He had one "weakness": snowshoe hares. If he came upon a fresh scent of one of these while following an older grouse scent trail he could not resist following it. He never caught them, but it was fun for him (and frustrating for me).

Here we can see how trackways as natural signs could have been the cognitive template for creating gestural and then spoken languages in order to tell the stories we already had in mind. From this point of view, the words and sentences I am writing now could be seen as "thought prints."

Polar bears and grizzlies will do this for ease of passage through deep soft snow; but they are doing this by feel, not by visual tracking for the sake of safety and orienteering.

Or that man could make an indicatory vocalization and leave behind a marker of some kind—another important idea with regard to the evolution of modes of conventional communication.

They often leave markers (broken branches, blaze marks in tree bark) to make their backtracking easier and therefore quicker. This is very helpful when returning at nightfall.

Studying one's own old and fresh trackways is the best way to learn how to read all other trackways.

I owe this idea to Kim Sterelny (personal communication, March 2013): it is another embodied cognitive effect of obligate bipedalism.
References
Biesele M, Barclay S (2001) Ju/'hoan women's tracking knowledge and its contribution to their husbands' hunting success. Afr Study Suppl Monogr Issue 26:67–84

Braun DR, Harris JWK, Levin NE et al (2010) Early hominin diet included diverse terrestrial and aquatic animals 1.95 Ma in East Turkana, Kenya. Proc Natl Acad Sci USA 107:10002–10007

Bunn HT, Pickering TR (2010) Bovid mortality profiles in paleoecological context falsify hypotheses of endurance running–hunting and passive scavenging by early Pleistocene hominins. Quat Res 74(3):395–404

Burkart JM, van Schaik CP (2010) Cognitive consequences of cooperative breeding in primates? Animal Cognit 13:1–19

Crompton RH, Pataky TC, Savage R et al (2012) Human-like external function of the foot, and fully upright gait, confirmed in the 3.66 million year old Laetoli hominin footprints by topographic statistics, experimental footprint-formation and computer simulation. J R Soc Interface 9:707–719

Csibra G, György G (2011) Natural pedagogy as evolutionary adaptation. Philos Trans R Soc Lond B 366:1149–1157

Foley R, Gamble C (2009) The ecology of social transitions in human evolution. Philos Trans R Soc B 364:3267–3279

Hernandez-Aguilar RA (2009) Chimpanzee nest distribution and site reuse in a dry habitat: implications for early hominin ranging. J Hum Evol 57:350–364

Hewes GW (1994) Evolution of human semiosis and the reading of animal tracks. In: Noth W (ed) Origins of semiosis: sign evolution in nature and culture. Mouton de Gruyter, Berlin, pp 139–150

Hewlett BS, Lamb ME (2005) Hunter-gatherer childhoods: evolutionary, developmental, and cultural perspectives. Transaction/Aldine, New York

Hill K, Hawkes K (1983) Neotropical hunting among the Ache of eastern Paraguay. In: Hames R, Vickers W (eds) Adaptive responses of native Amazonians. Academic Press, New York, pp 139–188

Leakey JM, Harris MDL (eds) (1987) Laetoli: a pliocene site in northern Tanzania. Oxford University Press, New York

Lewis HM, Laland KN (2012) Transmission fidelity is the key to the build-up of cumulative culture. Philos Trans R Soc Lond B 367:2171–2180

Liebenberg L (1990) The art of tracking: the origin of science. D. Philip, Claremont

Liebenberg L (2008) The relevance of persistence hunting to human evolution. J Hum Evol 55:1156–1159

Lockley MG (1999) The eternal trail: a tracker looks at evolution. Basic Books, New York

Lovejoy CO (2009) Reexamining human origins in light of Ardipithecus ramidus. Science 326:74e1–74e8

Lovejoy CO, Suwa G, Spurlock L et al (2009) The pelvis and femur of Ardipithecus ramidus: the emergence of upright walking. Science 326:71e6

McGrew WC (2010) In search of the last common ancestor: new findings on wild chimpanzees. Philos Trans R Soc Lond B 365:3267–3276

McPherron SP, Alemseged Z, Marean CW et al (2010) Evidence for stone-tool-assisted consumption of animal tissues before 3.39 million years ago at Dikika, Ethiopia. Nature 466:857–860

Nielsen M (2012) Imitation, pretend play, and childhood: essential elements in the evolution of human culture? J Comp Psychol 126:170

Plummer T (2004) Flaked stones and old bones: biological and cultural evolution at the dawn of technology. Am J Phys Anthropol 125(S39):118–164

Schacter DL, Addis DR (2007) On the constructive episodic simulation of past and future events. Behav Brain Sci 30:331–332

Shanton K, Goldman A (2010) Simulation theory. Wiley Interdiscip Rev 1:527–538

Silberbauer GB (1981) Hunter and habitat in the central Kalahari Desert. Cambridge University Press, Cambridge

Stewart KM (1994) Early hominid utilization of fish resources and implications for seasonality and behavior. J Hum Evol 27:229–245

Suddendorf T, Corballis MC (2007) The evolution of foresight: what is mental time travel, and is it unique to humans? Behav Brain Sci 30(3):299–313

Thomas EM (1963) Bushmen of the Kalahari. Natl Geogr 123:866–888

Tomasello M, Carpenter M, Call J et al (2005) Understanding and sharing intentions: the origins of cultural cognition. Behav Brain Sci 28:675–691

Tulving E (1985) How many memory-systems are there? Am Psychol 40:385–398

Tulving E (2005) Episodic memory and autonoesis: uniquely human? In: Terrace HS, Metcalfe J (eds) The missing link in cognition: origins of self-reflective consciousness. Oxford University Press, New York, pp 3–56

Tuttle R, Webb D et al (1990) Further progress on the Laetoli trails. J Archaeol Sci 17:347–362

Verhaegen M, Puech PF, Munro S (2002) Aquarboreal ancestors? Trends Ecol Evol 17:212–217

Wadley L (2010) Were snares and traps used in the Middle Stone Age and does it matter? A review and a case study from Sibudu, South Africa. J Hum Evol 58:179–192

White TD, Asfaw B, Beyene Y et al (2009) Ardipithecus ramidus and the paleobiology of early hominids. Science 326:75–86

Whiten A, Erdal D (2012) The human socio-cognitive niche and its evolutionary origins. Philos Trans R Soc B Biol Sci 367(1599):2119–2129

WoldeGabriel G, Ambrose SH, Barboni D et al (2009) The geological, isotopic, botanical, invertebrate, and lower vertebrate surroundings of Ardipithecus ramidus. Science 326:65e1–65e5

Wrangham R, Cheney D, Seyfarth R, Sarmiento E (2009) Shallow-water habitats as sources of fallback foods for hominins. Am J Phys Anthropol 140:630–642
Acknowledgments
This article was written with the financial support of a PhD Research Scholarship from the Australian National University. Many thanks to my supervisors (Kim Sterelny, Ben Jeffares, Brett Calcott, Peter Hiscock, Russell Gray) and my fellow students for their advice, patience, and encouragement. Without the support of my partner Pat Robins it probably would not exist.
About this article
Cite this article
Shaw-Williams, K. The Social Trackways Theory of the Evolution of Human Cognition. Biol Theory 9, 16–26 (2014). https://doi.org/10.1007/s13752-013-0144-9
Received:

Accepted:

Published:

Issue Date:

DOI: https://doi.org/10.1007/s13752-013-0144-9
Keywords