Abstract
Pollinators are threatened all over the planet; scientific data about the status of them is essential for planning conservation and impact mitigation. Appropriate methods and costs for monitoring are being discussed and non-scientist participation in data collection in citizen science (CS) projects is a very promising option. However, there is criticism regarding the quality of data gathered by non-scientists and their real contribution to scientific research, which makes the engagement of scientists in these projects crucial for data verification and validation and training volunteers. CS is still poorly spread in Latin America, so in order to propose strategies to engage scientists, it is necessary to understand the attitude of these professionals towards CS and their interests in engaging in it. To this end, we conducted a survey with 96 biodiversity scientists based in five Latin American countries. In general, the respondents have a very favorable attitude towards CS, although only a small percentage of them are engaged in CS projects. Obtaining data for scientific research is the scientists' main interest in CS, although some of them have also expressed more altruistic reasons for engaging in CS related to ethical and social values. Our paper also suggests five interrelated strategies that can be taken to engage scientists in CS, covering the following: (a) create funding lines to support projects, (b) include extension and outreach activities in the system of scientists' evaluation, (c) promote an inter and transdisciplinary infrastructure, (d) promote scientists' building capacities in CS, and (e) encourage scientists to do science communication.
Access options
Buy single article
Instant access to the full article PDF.
USD 39.95
Price excludes VAT (USA)
Tax calculation will be finalised during checkout.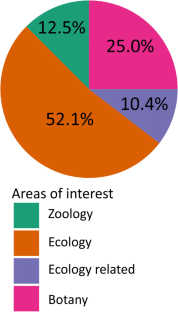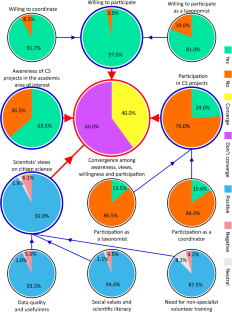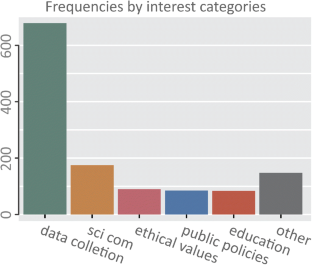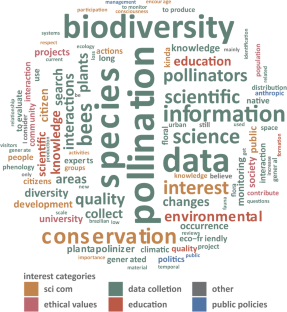 References
Ajzen I (1991) The theory of planned behavior. Organ Behav Hum Decis Process 50:179–211

Baerwald TJ, Firth PL, Ruth SL (2016) The Dynamics of Coupled Natural and Human Systems Program at the U.S. National Science Foundation: lessons learned in interdisciplinary funding program development and management. Curr Opin Environ Sustain 19:123–133

Balding M, Williams K (2016) Plant blindness and the implications for plant conservation. Biol Conserv 30:1192–1199

Bartomeus I, Dicks L V (2019) The need for coordinated transdisciplinary research infrastructures for pollinator conservation and crop pollination resilience. Environ Res Lett 14:45017. https://doi.org/10.1088/1748-9326/ab0cb5

Batary P, Dicks L, Sutherland WJ (2015) The role of agri-environment schemes in conservation and environmental management. Conserv Biol 4:1006–1016

Bates AJ, Sadler JP, Everett G, Grundy D, Lowe N, Davis G, Baker D, Bridge M, Clifton J, Freestone R, Gardner D, Gibson C, Hemming R, Howarth S, Orridge S, Shaw M, Tams T, Young H (2013) Assessing the value of the Garden Moth Scheme citizen science dataset: how does light trap type affect catch? Entomol Exp Appl 146:386–397

Bela G, Peltola T, Young JC, Balázs B, Arpin I, Pataki G, Bonn A (2016) Learning and the transformative potential of citizen science. Conserv Biol 30:990–999

Bickford D, Posa MRC, Qie L, Campos-Arceiz A, Kudavidanage EP (2012) Science communication for biodiversity conservation. Biol Conserv 151:74–76

Biesmeijer JC, Roberts SPM, Reemer M, Ohlemuller R, Edwards M, Peeters T, Schaffers AP, Potts SG, Kleukers R, Thomas CD, Settele J, Kunin WE (2006) Parallel declines in pollinators and insect-pollinated plants in Britain and the Netherlands. Sci 313:351–354

Bonney R, Cooper CB, Dickinson J, Kelling S, Phillips T, Rosenberg KV, Shirk J (2009) Citizen science: a developing tool for expanding science knowledge and scientific literacy. BioScience 11:977–984

Bonney R, Phillips TB, Ballard HL, Enck JW (2016) Can citizen science enhance public understanding of science? Public Underst Sci 1:2–16

Bonter DN, Cooper CB (2012) Data validation in citizen science: a case study from Project FeederWatch. Front Ecol Environ 6:305–307

Bosch G (2018) Train PhD students to be thinkers not just specialists. Nature 554:227

BPBES, Relatório temático sobre polinização, polinizadores e produção de alimentos no Brasil. (2019) M.Wolowski et al. (eds.) Plataforma Brasileira de Biodiversidade e Serviços Ecossistêmicos (BPBES, São Carlos). https://www.bpbes.net.br/wp-content/uploads/2019/03/BPBES_CompletoPolinizacao-2.pdf. Accessed 6 July 2020.

Carvalheiro LG, Kunin WE, Keil P, Aguirre-Gutiérrez J, Ellis WN, Fox R, Groom Q, Hennekens S, Van Landuyt W, Maes D, Van de Meutter F, Michez D, Rasmont P, Ode B, Potts SG, Reemer M, Roberts SPM, Schaminée J, WallisDeVries MF, Biesmeijer JC (2013) Species richness declines and biotic homogenisation have slowed down for NW-European pollinators and plants. Ecol Lett 16:870–878

Carvell C, Isaac, Jitlal NJB, Peyton M, Powney J, Roy G D, Vanbergen D B, O'Connor A J, Jones R S, Kunin C M, Breeze W E, Garratt T D, Potts MPD, Harvey S G, Ansine M, Comont J, Lee RF, Edwards P, Roberts M, Morris SPM, Musgrove RKA, Brereton A J, Hawes TC, Roy, H E (2016). Design and testing of a national pollinator and pollination monitoring framework. A report to the Department for Environment, Food and Rural Affairs (Defra), Scottish government and welsh government: project WC1101, Centre for Ecology & Hydrology

Cavalier D, Kennedy EB (2016) The rightful place of science: citizen science. Consortium for science, Policy & Outcomes, Temp

Chandler M, See L, Copas K, Bonde AMZ, López BC, Danielsen F, Legind JK, Masinde S, Miller-Rushing AJ, Newman G, Rosemartin A, Turak E (2017) Contribution of citizen science towards international biodiversity monitoring. Biol Conserv 213:280–294

Danielsen F, Pirhofer-Walzl K, Adrian T, Kapijimpanga D, Burgess N, Jensen P, Bonney R, Funder M, Landa A, Levermann N, Madsen J (2014) Linking public participation in scientific research to the indicators and needs of international environmental agreements. Conserv Lett 1:12–24

Deguines N, Julliard R, de Flores M, Fontaine C (2012) The whereabouts of flower visitors: contrasting land-use preferences revealed by a country-wide survey based on citizen science. PLoS One 9:e45822

Devictor V, Whittaker RJ, Beltrame C (2010) Beyond scarcity: citizen science programmes as useful tools for conservation biogeography. Divers Distrib 3:354–362

Dickinson JL, Zuckerberg B, Bonter DN (2010) Citizen science as an ecological research tool: challenges and benefits. Annu Rev Ecol Evol Syst 1:149–172

Dickinson JL, Shirk J, Bonter D, Bonney R, Crain RL, Martin J, Phillips T, Purcell K (2012) The current state of citizen science as a tool for ecological research and public engagement. Front Ecol Environ 10:291–297

Dicks LV, Viana B, Bommarco R, Brosi B, Arizmendi MC, Cunningham SA, Galetto L, Hill R, Lopes AV, Pires C, Taki H, Potts SG (2016) Ten policies for pollinators: what governments can do to safeguard pollination services. Sci 6315:975–976

Dilling L, Lemos MC (2011) Creating usable science: opportunities and constraints for climate knowledge use and their implications for science policy. Glob Environ Chang 21:680–689

Eleta I, Clavell GG, Righi V, Balestrini M (2019) The promise of participation and decision-making power in Citizen. Science CS: T&P 8:1–9

Ellis EC (2015) Ecology in an anthropogenic biosphere. Ecol Monogr 3(287–331):639

Feinerer I, Hornik K, Meyer D (2008) Text mining infrastructure in R. J Stat Softw 25(5):1–54 URL: http://www.jstatsoft.org/v25/i05/

Fellows I (2018) Word clouds. R package version 2.6. https://CRAN.R-project.org/package=wordcloud. Accessed 6 July 2020

Follett R, Strezov V (2015) An analysis of citizen science based research: usage and publication patterns. PLoS One 11:e0143687

Frigerio D, Pipek P, Kimmig S, Winter S, Melzheimer J, Diblíková L, Wachter B, Richter A (2018) Citizen science and wildlife biology: synergies and challenges. Ethology 6:365–377

Golumbic YN, Orr D, Baram-Tsabari A, Fishbain B (2017) Between vision and reality: a study of scientists' views on citizen science. CS:T&P 6:1–13

Hecker S, Haklay M, Bowser A, Makuch Z, Vogel J, Bonn A. (2018) Citizen science: innovation in Open Science, Soc. Policy Soc. London: UCL Press

IPBES, (2016) The assessment report of the Intergovernmental Science-Policy Platform on Biodiversity and Ecosystem Services on pollinators, pollination and food production S.G. Potts et al. (eds.) Secretariat of the Intergovernmental Science-Policy Platform on Biodiversity and Ecosystem Services (IPBES, Bonn, 2016). (eds.). Bonn, Germany

Irwin A (1995) Citizen science: a study of people, expertise, and sustainable development. Routledge, London

James T (2011) Improving wildlife data quality. NBN Trust, Nottingham

Johnson CN, Balmford A, Brook BW, Buettel JC, Galetti M, Guangchun L, Wilmshurst JM (2017) Biodiversity losses and conservation responses in the Anthropocene. Sci 356:270–275

Jordan R, Gray S, Howe D, Brooks W, Ehrenfeld J (2011) Knowledge gain and behavioral change in citizen-science programs. Conserv Biol 6:1148–1154

Kremen C, Ullman KS, Thorp RW (2011) Evaluating the quality of citizen-scientist data on pollinator communities. Conserv Biol 3:607–617

Lewandowski E, Specht H (2015) Influence of volunteer and project characteristics on data quality of biological surveys. Conserv Biol 3:713–723

Lyall C, Bruce A, Marsden W, Meagher L (2013) The role of funding agencies in creating interdisciplinary knowledge. Sci Public Policy 1:62–71

McKinley DC, Miller-Rushing AJ, Ballard HL, Bonney R, Brown H, Cook-Patton SC, Evans DM, French RA, Parrish JL, Phillips TB, Ryan SF, Shanley LA, Shirk JL, Stepenuck KF, Weltzin JF, Wiggins A, Boyle OD, Briggs RD, Chapin SF III, Hewitt DA, Preuss PW, Soukup MA (2017) Citizen science can improve conservation science, natural resource management, and environmental protection. Biol Conserv 208:15–28

Meagher L, Lyall C (2013) The invisible made visible: using impact evaluations to illuminate and inform the role of knowledge intermediaries. Evid Policy 9(3):409–418

National Academies of Sciences, Engineering, and Medicine (2018) Learning through citizen science: enhancing opportunities by design. The National Academies Press, Washington. https://doi.org/10.17226/25183

Navarro LM, Fernández N, Guerra C, Guralnick R, Kissling WD, Londoño MC, Karger FM, Turak E, Balvanera P, Costello MJ, Delavaud A, El Serafy G, Ferrier S, Geijzendorffer I, Geller GN, Jetz W, Kim ES, Kim H, Martin CS, McGeoch MA, Mwampamba TH, Nel JL, Nicholson E, Pettorelli N, Schaepman ME, Skidmore A, Pinto IS, Vergara S, Vihervaara P, Xu H, Yahara T, Gill M, Pereira HM (2017) Monitoring biodiversity change through effective global coordination. Curr Opin Environ Sustain 29:158–169

Neff MWP (2017) Publication incentives undermine the utility of science: ecological research in Mexico. Sci Public Policy 45:191–201

Oliveira W, Silva JLS, Porto RG, Cruz-Neto O, Tabarelli M, Viana BF, Peres CA, Lopes AV (2019) Plant and pollination blindness: risky business for human food security. Bioscience 50:109–110

Phillips T, Ballard HL, Lewenstein BV, Bonney R (2019) Engagement in science through citizen science: moving beyond data collection Sci Educ 103:665–690

Pocock MJO, Roy HE, Preston CD, Roy DB (2015) The biological records centre: a pioneer of citizen science. Biol J Linn Soc 115:475–493

Rambonnet L, Vink SC, Land-Zandstra AM, Bosker T (2019) Making citizen science count: best practices and challenges of citizen science projects on plastics in aquatic environments. Mar Pollut Bull 145:271–277

Ries L, Oberhauser K (2015) A citizen army for science: quantifying the contributions of citizen scientists to our understanding of monarch butterfly biology. BioScience 65:419–430

Riesch H, Potter C (2014) Citizen science as seen by scientists : methodological , epistemological. Public Underst Sci 23:107–120

Rocha PLB, Pardini R, Viana BF, El-Hani CN (2020) Fostering inter- and transdisciplinarity in discipline-oriented universities to improve sustainability science and practice. Sustain Sci 15:717–728

Roy HE, Pocock MJO, Preston CD, Roy DB, Savage J, Tweddle JC Robinson LD (2012) Understanding citizen science & environmental monitoring. Final Report on behalf of UK-EOF. NERC Centre for Ecology & Hydrology and Natural History Museum

Rydell RJ, Gawronski B (2009) I like you, I like you not: understanding the formation of context-dependent automatic attitudes. Cognit Emot 23:1118–1152

Sánchez-Bayoa F, Wyckhuysb KAG (2019) Worldwide decline of the entomofauna: a review of its drivers. Biol Conserv 232:8–27

Silvertown J (2009) A new dawn for citizen science. Trends Ecol Evol 24:467–471

Suzuki-Ohno Y, Yokoyama J, Nakashizuka T, Kawata M (2017) Utilization of photographs taken by citizens for estimating bumblebee distributions. Sci Rep 7:11215

Theobald EJ, Ettinger AK, Burgess HK, DeBey LB, Schmidt NR, Froehlich HE, Wagner C, HilleRisLambers J, Tewksbury J, Harsch MA, Parrish JK (2015) Global change and local solutions: tapping the unrealized potential of citizen science for biodiversity research. Biol Conserv 181:236–244

Toomey A, Domroese M (2013) Can citizen science lead to positive conservation attitudes and behaviors? Hum Ecol Rev 20:50–62

Townsend E, Clarke DD, Travis B (2004) Effects of context and feelings on perceptions of genetically modified food risk. Analysis 24:1369–1384

Vesssuri H, Guédon JC, Cetto AM (2014) Excellence or quality? Impact of the current competition regime on science and scientific publishing in Latin America and its implications for development. Curr Sociol 62:647–665

Wiggins A, Crowston KG. (2011) From conservation to crowdsourcing: a typology of citizen science. In Proceedings of the Annual Hawaii International Conference on System Sciences [5718708] https://doi.org/10.1109/HICSS.2011.207
Acknowledgments
This work was supported by the Brazilian National Council for Scientific and Technological Development (CNPq) through the projects (codes: INCT-IN-TREE (465767/2014-1); PVE–Science without borders (407152/2013-0); BFV also thanks CNPq for the grants PQ (code: 305470/2013-2)). We are also grateful for all scientists that answered the questionnaires.
Ethics declarations
All participants in this research were informed of its objectives and agreed to participate freely, authorizing the publication of the information in anonymity by signing a Term of Consent, available to the respondents at the beginning of the online questionnaire, which is maintained by the authors. This study did not involve indigenous or traditional peoples. No changes were made to the questions presented to the participants, except to request or guide answers, and to explain questions or modify the language, when and as needed.
Additional information
Edited by Carmen S S Pires – Embrapa
Publisher's Note
Springer Nature remains neutral with regard to jurisdictional claims in published maps and institutional affiliations.
About this article
Cite this article
Viana, B.F., Souza, C.Q. & Moreira, E.F. Why the views of Latin American Scientists on Citizen Science as a Tool for Pollinator Monitoring and Conservation Matter?. Neotrop Entomol 49, 604–613 (2020). https://doi.org/10.1007/s13744-020-00793-8
Received:

Accepted:

Published:

Issue Date:

DOI: https://doi.org/10.1007/s13744-020-00793-8
Keywords