Abstract
The lethal yellowing (LY) is a major phytoplasma causing disease seriously threatening coconut plantations worldwide, with imminent risk of entering Brazil. The LY phytoplasma is restricted to the phloem and transmitted by the planthopper Haplaxius crudus (Van Duzee) (Cixiidae). In this study, Auchenorrhyncha were collected on the leaves of Dwarf vs. Dwarf hybrids and Brazilian Green Dwarf Jiqui in the Brazilian northern state of Para using yellow adhesive traps in May of 2016. The planthopper H. crudus was found in coconut plantations of Brazilian Green Dwarf Jiqui, accounting for 87% of the individuals captured. This is the first report of vector H. crudus in Brazilian coconut plantations. These findings are of great scientific relevance since H. crudus could negatively impact the Brazilian coconut industry and this knowledge could be used in contingency measures in the case of LY be introduced in the country.
Access options
Buy single article
Instant access to the full article PDF.
US$ 39.95
Tax calculation will be finalised during checkout.
Subscribe to journal
Immediate online access to all issues from 2019. Subscription will auto renew annually.
US$ 79
Tax calculation will be finalised during checkout.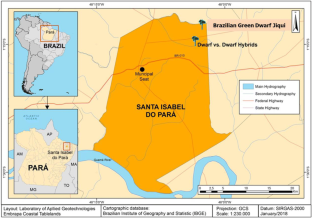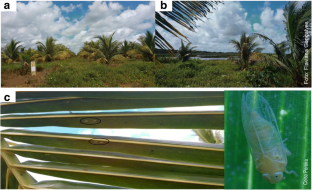 References
Arocha-Rosete Y, Konan JL, Atta Diallo H, Allou K, Scott JA (2014) Identification and molecular characterization of the phytoplasma associated with a lethal yellowing-type disease of coconut in Côte d'Ivoire. Can J Plant Pathol 6:141–150

Broschat TK, Harrison NA, Donselman H (2002) Losses to lethal yellowing cast doubt on coconut cultivar resistance. Palms 4:186–189

Ceotto P, Kergoat GJ, Rasplus J, Bourgoin T (2008) Molecular phylogenetics of cixiid planthoppers (Hemiptera: Fulgoromorpha): new insights from combined analyses of mitochondrial and nuclear genes. Mol Phylogenetics Evol 48:667–678

Cousin M-T, Boudon-Padieu E (2002) Phytoplasmes et phytoplasmoses: vecteurs, méthodes de lutte et thèmes de recherche. Cah Agric 11:115–126

Desmier De Chenon R (1979) Mise en évidence du rôle de Recilia mica Kramer (Homoptera, Cicadellidae, Deltocephalinae) dans la maladie du Blast des pépinières de palmiers à huile en Côte d'Ivoire. Oléagineux 3:107–114

Dollet M, Llauger R, Fabre S, Julia JF, Gonzalez C, Cueto J (2010) Nymphocixia caribbea (Fennah) (Homoptera: Cixiidae) potential candidate as coconut lethal yellowing vector in the Carribean. COST action FA0807 "Integrated Management of Phytoplasma Epidemics in Different Crop Systems", 2010/02/01–02, Sitges, Spain

Dollet M, Quaicoe R, Pilet F (2009) Review of coconut "lethal yellowing" type diseases diversity, variability and diagnosis. OCL 16:97–101

FAO, 2017. Food and Agriculture Organization. Produção vegetal. http://faostat.fao.org. (Accessed 20 jun 2018)

Gunn BF, Baudouin L, Olsen KM (2011) Independent origins of cultivated coconut (Cocos nucifera L.) in the old world tropics. PLoS One 6:21–43

Gurr GM, Johnson AC, Ash GJ, Wilson B, Ero M, Pilotti C, Dewhurst C, You M (2016) Coconut lethal yellowing diseases: a phytoplasma threat to palms of global economic and social significance. Front Plant Sci 7:15–21

Harrison NA. 2012. Datasheet: Candidatus Phytoplasma palmae. In "Invasive Species Compendium". CABI

Howard FW, Norris RC, Thomas DL (1983) Evidence of transmission of palm lethal yellowing agent by a planthopper, Myndus crudus (Homoptera: Cixiidae). Trop Agr 60:168–171

Julia J-F (1979) Isolation and identification of insects carrying juvenile diseases of the coconut and the oil palm in the Ivory Coast. Oléagineux 34:385–393

McCoy RE (1975) Effect of oxytetracycline dose and stage of development on remission of lethal yellowing in coconut palm. Plant Dis Rep 59:717–720

McCoy RE, Carroll V, Poucher C, Gwin G (1976) Field control of lethal yellowing with oxytetracycline hydrochloride. Phytopathology 66:1148–1150

McCoy RE, Howard FW, Tsai JH, Donselman HM, Thomas DL, Basham HG, Atilano RA, Eskafi FM, Britt LL, Collins ME (1983) Lethal yellowing of palms. Agricultural experiment stations, institute of food and agricultural sciences. University of Florida, Gainesville. F.A. Wood, Dean for research. Bulletin 834 (RE McCoy, Ed.), p 1–22

Persley GJ (1992) Replanting the tree of life: toward an international agenda for coconut palm research. CAB International, Wallingford, p 156

Philippe RS, Reignard S, Descamps S, Nkansah-Poku J, Quaicoe R, Pilet F, Fabre S, Dollet M (2009) Study on the transmission of coconut lethal yellowing in Ghana. OCL 16:102–106

Pilet F, Philippe R, Reignard S, Descamps S, Quaicoe R, Nkansa-Poku J (2009) Identification of potential insect vectors of the Cape Saint Paul Wilt Disease of coconut in Ghana by PCR. OCL 16:107–110

Purcell AH (1982) Insect vector relationships with prokaryotic plant pathogens. Annu Rev Phytopathol 20:397–417

Weintraub PG, Beanland L (2006) Insect vectors of phytoplasmas. Annu Rev Entomol 51(1):91–111
Acknowledgements
The authors are grateful to CNPq (Project number 401488/2014-4) and CAPES for the financial support, the Emílio Goeldi Museum, Joana Maria Santos Ferreira, and Márcia Motta Maués for the logistical support and Charles R. Bartlett for insect identification. We also thank Paulo Manoel Pontes Lins, from Sococo, for allowing the conduction of this research and Celso Anderson Batista Pereira for the photo of H. crudus.
Additional information
Publisher's Note
Springer Nature remains neutral with regard to jurisdictional claims in published maps and institutional affiliations.
Edited by Raúl A Laumann – Embrapa
About this article
Cite this article
Silva, F.G., Passos, E.M., Diniz, L.E.C. et al. Occurrence in Brazil of Haplaxius crudus (Hemiptera: Cixiidae), Vector of Coconut Lethal Yellowing. Neotrop Entomol 48, 171–174 (2019). https://doi.org/10.1007/s13744-018-0663-y
Received:

Accepted:

Published:

Issue Date:
Keywords
Cocos nucifera

Fulgoroidea

Cixiidae

insect vector

phytoplasma