Abstract
We report for the first time the detection of Scirtothrips dorsalis Hood (Thysanoptera: Thripidae) in Brazil and describe the occurrence of the thrips on leaves of ungrafted dwarf-cashew Anacardium occidentale Linnaeus 1753 (Anacardiaceae), maintained into a greenhouse, in the northeastern state of Ceará. This exotic polyphagous species listed as absent quarantine pest in the country is originated in Asia, but since the beginning of this century, it has readily dispersed despite the strict quarantine regulations currently in several countries. Individuals of S. dorsalis identified in Brazil are similar to specimens found in South Africa rather than Asia by virtue of the absence of conspicuous reticulation on the posterior half of the metanotum and the presence of complete lines of microtrichia restricted to the posterior part of the abdominal sternites. Scirtothrips dorsalis is a particularly invasive pest and its introduction represents a potential threat to various crops in Brazil, especially mango.
Access options
Buy single article
Instant access to the full article PDF.
USD 39.95
Price excludes VAT (USA)
Tax calculation will be finalised during checkout.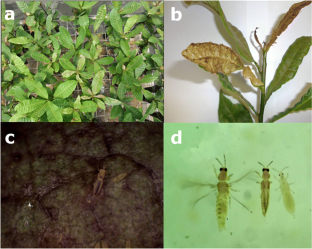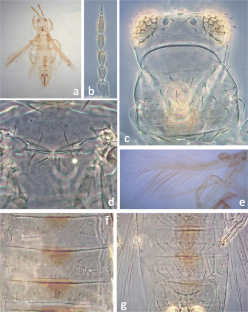 References
Centre for Agriculture Bioscience International (2013) CABI —invasive species compendium. https://www.cabi.org/isc. Accessed 1 Aug 2017

Cermeli M, Perozo J, Piñango L (2009) Scirtothrips dorsalis Hood (Thysanoptera, Thripidae) nuevo insecto plaga del algodonero (Gossypium hirsutum L.) en Venezuela. Entomotropica 24:85–88

Chiemsombat P, Gajanandana O, Warin N, Hongprayoon R, Bhunchoth A, Pongsapich P (2008) Biological and molecular characterization of tospoviruses in Thailand. Arch Virol 153:571–577

Dickey AM, Kumar V, Hoddle MS, Funderburk JE, Morgan JK, Jara-Cavieres A, Shatters-Jr RG, Osborne LS, McKenzie CL (2015) The Scirtothrips dorsalis species complex: endemism and invasion in a global pest. PLoS One 10:e0123747

Gopal K, Reddy MK, Reddy DVR, Muniyappa V (2010) Transmission of peanut yellow spot virus (PYSV) by Thrips, Scirtothrips dorsalis Hood in groundnut. Arch Phytopathol Plant Protect 43:421–429

Hoddle MS, Mound LA (2003) The genus Scirtothrips in Australia (Insecta, Thysanoptera, Thripidae). Zootaxa 268:1–40

Hoddle MS, Heraty JM, Rugman-Jones PF, Mound LA, Stouthamer R (2008) Relationships among species of Scirtothrips (Thysanoptera: Thripidae, Thripinae) using molecular and morphological data. Ann Entomol Soc Am 101:491–500

Holtz T (2006) New Pest Advisory Group (NPAG) Report: Scirtothrips dorsalis Hood: Chilli thrips. Thysanoptera/Thripidae. https://mrec.ifas.ufl.edu/lso/DOCUMENTS/Scirtothrips%20dorsalis%20NPAG%20et%20Report%20060310.pdf. Accessed 28 Nov 2017

Kumar V, Seal DR, Kakkar G, McKenzie CL, Osborne LS (2012) New tropical fruit hosts of Scirtothrips dorsalis (Thysanoptera: Thripidae) and its relative abundance on them in South Florida. Fla Entomol 95:205–207

Kumar V, Kakkar G, McKenzie CL, Seal DR, Osborne LS (2013) An overview of chilli thrips, Scirtothrips dorsalis (Thysanoptera: Thripidae) biology, distribution and management. In: Soloneski S, Larramendy M (eds) Weed and pest control: conventional and new challenges. InTech, London, pp 52–77

Masui S (2007) Synchronism of immigration of adult yellow tea thrips, Scirtothrips dorsalis Hood (Thysanoptera: Thripidae) to citrus orchards with reference to their occurrence on surrounding host plants. Appl Entomol Zool 42:517–523

Masumoto M, Okajima S (2007) The genus Scirtothrips Shull (Insecta, Thysanoptera, Thripidae) and three related genera in Japan. Zootaxa 1552:1–33

Ministério da Agricultura, Pecuária e Abastecimento (2008) Instrução Normativa MAPA 41/2008. http://www.normasbrasil.com.br/norma/?id=76969. Accessed 10 Nov 2017

Mound LA, Stiller M (2011) Species of the genus Scirtothrips from Africa (Thysanoptera, Thripidae). Zootaxa 2786:51–61

Parab VV (2010) Record of cashew thrips species in the Konkan region of Maharashtra. Asian J Exp Biol Sci Spl:124–125

Patel BH, Koshiya DJ, Korat DM (2009) Population dynamics of chilli thrips, Scirtothrips dorsalis Hood in relation to weather parameters. Karnataka J Agric Sci 22:108–110

Paula SV, Oliveira MRV (2001) Análise do risco de Scirtothrips dorsalis (Thysanoptera: Thripidae) para a cultura da manga no Brasil. Embrapa Recursos Genéticos e Biotecnologia, Brasília, p 38

Seal DR, Klassen W, Kumar V (2010) Biological parameters of Scirtothrips dorsalis (Thysanoptera: Thripidae) on selected hosts. Environ Entomol 39:1389–1398

Shukla S, Kalyani G, Kulkarni N, Waliyar F, Nigam SN (2005) Mechanism of transmission of tobacco streak virus by Scirtothrips dorsalis, Frankliniella schultzei and Megalurothrips usitatus in groundnut, Arachis hypogaea L. J Oilseeds Res 22:215–217

Stuart RR, Gao YL, Lei ZR (2011) Thrips: pests of concern to China and the United States. Agric Sci China 10:867–892
Additional information
Edited by Denise Návia – Embrapa
About this article
Cite this article
Dias-Pini, N.S., Lima, M.G.A., Lima, E.F.B. et al. Scirtothrips dorsalis (Thysanoptera: Thripidae): a Newly Introduced Polyphagous Pest in Northeastern Brazil. Neotrop Entomol 47, 725–728 (2018). https://doi.org/10.1007/s13744-018-0618-3
Received:

Accepted:

Published:

Issue Date:

DOI: https://doi.org/10.1007/s13744-018-0618-3
Keywords
Chilli thrips

yellow tea thrips

invasive exotic species

quarantine pest