Abstract
The genus Oliveiriella (Chironomidae, Orthocladiinae) was erected by Wiedenbrug & Fittkau (1997). The adults have characteristic black spots on their wings and other characteristics similar to the genus Cricotopus. Pupal skins are very characteristic with strong short spines in the anal lobe instead of setae, while larvae are distinguishable by the long anal papillae and the intense blue color of their body. However, Andersen et al (2013) consider Oliveiriella as a subgenera of Cricotopus. In this paper, using the sequences of the cox1 gene, we conclude that Oliveiriella should be considered a subgenus within Cricotopus, confirming its status in Andersen et al (2013). Furthermore, we describe Cricotopus (Oliveiriella) rieradevallae Prat & Paggi sp. n. from the Saltana river (Ecuador). The adult males, females, and preimaginal stages of the two species of subgenus Oliveiriella known from South America Cricotopus (O.) almeidai n. comb. from Peru, Brazil, and Argentina and Cricotopus (O.) sanjavieri n. comb. from Argentina are compared with those of Cricotopus (O.) rieradevallae sp. n. from Ecuador. The differences allow the distinction of the three species. The cox1 gene reveals that at least three different undescribed species of the same subgenus are present in the high-altitude tropical Andes. The morphology of the available pupae and pupal exuviae reveals the presence of several morphotypes that are candidates to be described as new species. A key used to distinguish these pupal morphotypes is provided, including the three described species. Additionally, the distribution of the subgenus is discussed.
This is a preview of subscription content, log in to check access.
Access options
Buy single article
Instant access to the full article PDF.
US$ 39.95
Price includes VAT for USA
Subscribe to journal
Immediate online access to all issues from 2019. Subscription will auto renew annually.
US$ 99
This is the net price. Taxes to be calculated in checkout.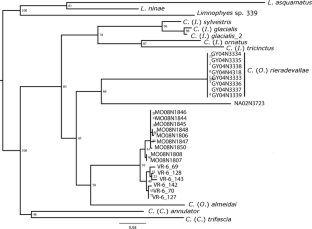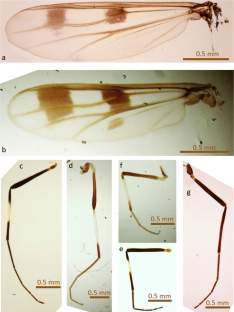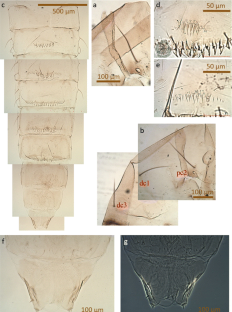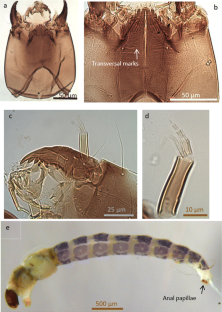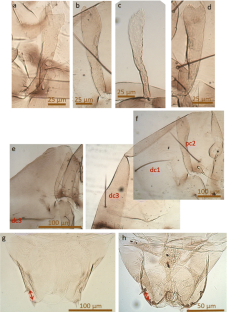 References
Acosta R, Rios-Touma B, Rieradevall M, Prat N (2009) Propuesta de un protocolo de evaluación de la calidad ecológica de rios Andinos (C.E.R.A) y su aplicación en dos cuencas en Ecuador y Perú. Limnetica 28:35–64

Acosta R, Prat N (2010) Chironomidae assemblages in high altitude streams of the Andean region of Peru. Fundam Appl Limnol 177:57–79

Andersen T, Saether OA, Cranston PS, Epler JH (2013) The larvae of Orthocladiinae (Diptera: Chironomidae) of the Holarctic Region. Keys and diagnoses. In: Andersen T, Cranston PS, Epler JH (eds) The larvae of Chironomidae (Diptera) of the Holarctic Region. Keys and diagnoses. Insect Syst Evol Suppl.66 Lund Sweden, pp 189–386

Cranston, P. S. (2000) The electronic guide of Chironomidae of Australia. http://apes.skullisland.info/node/3 Accessed 2000

Cranston PS, Hardy NB, Morse GE, Pusledik L, McCluen SR (2010) When molecules and morphology concur: the "Gondwanan" midges (Diptera: Chironomidae). Syst Entomol 35:635–648

Drummond AJ, Ashton B, Cheung M, Heled J, Kearse M, Moir R (2009) Stones-Havas S, Thierer T, Wilson A Geneious v.4.6.5. Created by Biomatters

Epler J (2001) Identification manual for the larval Chironomidae (Diptera) of North and South Carolina. A guide to the taxonomy of the midges of southeastern United States, including Florida. North Carolina Department of Environment and Natural Resources, Raleigh, NC and St. Johns River Water Management District, Plalatka, FL., Special Publication SJ2011-SP13, 526p

Krestian BJ, Kosnicki E, Spindler PH, Stringer S, Epler JH (2009) First neartic records of Oliveiriella Wiedenbrug and Fittkau, with new distributional records for two other new world species of Orthocladiinae (Diptera: Chironomidae). Entomol News 120:349–362

Krosch MN, Baker AM, Cranston PS (2011) Systematics and biogeography of the Gondwanan Orthocladiinae (Diptera: Chironomidae). Mol Phylogenet Evol 59:458–468

Kumar S, Stecher G, Tamura K (2016) MEGA7: Molecular Evolutionary Genetics Analysis version 7.0 for bigger datasets. Mol Biol Evol 33:1870–1874

Montagna M, Mereghetti V, Lencioni V, Rossaro B (2016) Integrated taxonomy and DNA barcoding of alpine midges (Diptera: Chironomidae). PLoS One 11(3):e0149673. doi:10.1371/journal.pone.0149673

Oliveira SJ (1946) Sobre um novo Orthocladiinae neotrópico (Diptera, Chironomidae). In: Livro de homenagem a R. F.Almeida, Imprensa Oficial do Estado de São Paulo, São Paulo, pp 279–282

Paggi AC (2009) Chironomidae. In: Domínguez E, Fernández H (eds) Macroinvertebrados bentónicos sudamericanos. Sistemática y biología. Fundación Miguel Lillo, Tucumán, pp 383–409

Paggi AC, Donato M (2007) Redescription of the female of Oliveiriella almeidai (Chironomidae: Orthocladiinae). Rev Soc Entomol Argent 66:155–158

Prat N, Acosta R, Villamarín C, Rieradevall M (2012) Guía para el reconocimiento de las larvas de Chironomidae (Diptera) de los ríos Altoandinos de Ecuador y Perú. Clave para la determinación de los principales morfotipos larvarios. Grupo de Investigación F.E.M. (Freshwater Ecology and Management), Departament d'Ecologia, Universitat de Barcelona, http://www.ub.edu/riosandes/index.php/guiachiros.html

Prat N, Ribera C, Rieradevall M, Villamarin C, Acosta R (2013) Distribution, abundance and molecular analysis of Barbadocladius Cranston & Krosch (Diptera, Chironomidae) in tropical, high altitude Andean streams and rivers. Neotrop Entomol 42:607–617

Prat N, González-Trujillo JD, Ospina-Torres R (2014) Clave para la determinación de exuvias pupales de los quironómidos (Diptera: Chironomidae) de ríos altoandinos tropicales. Rev Biol Trop 62:1385–1406

Prat N, Rios-Touma B, Encalada A (in prep) Composition, life-history, population dynamics and secondary production of the Chironomidae from a tropical high altitude stream (river Saltana, Ecuador)

Ríos-Touma B, Encalada A, Prat N (2011) Macroinvertebrate assemblages of an Andean high-altitude tropical stream: the importance of season and flow. Internat Rev Hydrobiol 96:667–685

Ríos-Touma BP, Encalada AC, Bonada N, Rieradevall M, González F, Prat N (2012) The role of flow shaping the functional and structural invertebrate diversity at a high altitude tropical stream. 97th Annual Meeting of the Ecological Society of America PS: 2–57

Roback SS, Coffman WP (1983) Results of the Catherwood Bolivian-Peruvian Altiplano expedition. Part II. Aquatic Diptera including montane Diamesinae and Orthocladiinae (Chironomidae) from Venezuela. Proc Acad Nat Sci Philadelphia 135:9–79

Saether OA (1980) Glossary of chironomid morphology terminology (Diptera: Chironomidae). Ent Scand Suppl 14:1–51

Silvestro D, Michalak I (2012) RaxmlGUI: a graphical front-end for RAxML. Org Divers Evol 12:335–337

Stamatakis A (2006) RAxML-VI-HPC: maximum likelihood-based phylogenetic analyses with thousands of taxa and mixed models. Bioinformatics 22:2688–2690

Tamura K, Peterson D, Peterson N, Stecher G, Nei M, Kumar S (2011) MEGA5: molecular evolutionary genetics analysis using maximum likelihood, evolutionary distance, and maximum parsimony methods. Mol Biol Evol 28:2731–2739

Tejerina EG, Paggi AC (2009) A new Neotropical species of Oliveiriella Wiedenburg & Fittkau (Diptera, Chironomidae) from Argentina, with description of all life stages. Aquat Insect 31:91–98

Tejerina EG, Malizia A (2012) Chironomidae (Diptera) larvae assemblages differ along an altitudinal gradient and temporal periods in a subtropical montane stream in Northwest Argentina. Hydrobiologia 686:41–54

Villamarín C, Rieradevall M, Paul MJ, Barbour MT, Prat N (2013) A tool to assess the ecological condition of tropical high Andean streams in Ecuador and Peru: the IMEERA index. Ecol Indic 29:79–92

Villamarín C, Prat N, Rieradevall M (2014) Caracterización física, química e hidromorfológica de los ríos altoandinos tropicales de Ecuador y Perú. Lat Am J Aquat Res 42:1072–1086

Wiedenbrug S, Fittkau EJ (1997) Oliveiriella almeidai (Oliveira, 1946), gen nov., comb. nov., from South America with description of the pupae. Spixiana 20:167–172
Acknowledgments
The authors are very indebted to our Latin American colleagues that made possible the collection of chironomid larvae in Colombia (Lucimar Gomes, Universidad de Caldas), Ecuador (Andrea Encalada, Maja and Natalia García, Universidad San Francisco de Quito), and Peru (Clorinda Vergara and Javier Huanca, Universidad Nacional Agraria de La Molina). Many other people helped in the field collections, and we thank Carolina Arroyo, Fernanda González, Karla Jiménez, and Manuel Andía for their support. Larvae and pupae of Cricotopus (O.) almeidai were provided by M. Donato and A. Siri and larvae of C. (O.) sanjavieri by E. Tejerina. We thank all of them for the material loaned. Núria Sánchez Millaruelo and Pau Fortuño prepared most of the slides and figures respectively. This paper is a scientific contribution no. 995 of the Instituto de Limnologia "Raúl A. Ringuelet" de la Plata.
Additional information
M Rieradevall is deceased
Edited by Ranyse B Querino – Embrapa
Electronic supplementary material
About this article
Cite this article
Prat, N., Paggi, A., Ribera, C. et al. The Cricotopus (Oliveiriella) (Diptera: Chironomidae) of the High Altitude Andean Streams, with Description of a New Species, C. (O.) rieradevallae . Neotrop Entomol 47, 256–270 (2018). https://doi.org/10.1007/s13744-017-0548-5
Received:

Accepted:

Published:

Issue Date:
Keywords
Biogeography

taxonomy

Cox1 mitochondrial sequences

Midges

Orthocladiinae

South America