Abstract
Specimens of the mango stone weevil Sternochetus mangiferae (Fabricius) (Coleoptera: Curculionidae) were found in fruits of mango from a tree in the residential area of the Rio de Janeiro, RJ. This is the first report of the S. mangiferae in Brazil, currently regulated as an absent quarantine pest in the country. A taxonomist specialized in Curculionidae confirmed the identification based on morphological diagnostics characteristics. This detection is a relevant finding, because Brazil is a major producer and exporter of mango and the main areas of mango for exportation are located very far from this detection point. This pest damages seed and embryo of mango fruits and it causes reduction of fruit size and its premature dropping. The detection was notified to the Plant Health Department, division of the Brazilian Ministry of Agriculture, Livestock and Food Supply (MAPA), which is the National Plant Protection Organization of Brazil.
This is a preview of subscription content, log in to check access.
Access options
Buy single article
Instant access to the full article PDF.
US$ 39.95
Price includes VAT for USA
Subscribe to journal
Immediate online access to all issues from 2019. Subscription will auto renew annually.
US$ 99
This is the net price. Taxes to be calculated in checkout.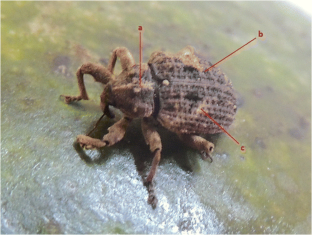 References
Barbosa FR, Paranhos BAJ, Sá LAN, Lemos RNS, Silva RA (2008) Pragas Quarentenárias que Ameaçam a Cultura da Mangueira no Brasil. Embrapa Semi-Árido, Petrolina, p17 (Circular Técnica 87)

Brasil Ministério da Agricultura, Pecuária e Abastecimento (2016a) Lista de Pragas Quarentenárias Ausentes—(A1). http://www.agricultura.gov.br/arq_editor/file/vegetal/Importacao/Arquivos%20de%20Quarentenas_Pragas/Listas%20de%20Pragas%20Quarenten%C3%A1rias%20Ausentes%20-%20A1 Accessed 02 Aug 2016

Brasil Ministério da Agricultura, Pecuária e Abastecimento (2016b) Projeções do Agronegócio: Brasil 2015/2016 a 2025/2026 – Projeções de longo prazo. MAPA/SPA, Brasília, p 134

CABI (2016) Invasive Species Compendium: Sternochetus mangiferae. http://www.cabi.org/isc/datasheet/16434 Accessed 11 Mai 2016

CABI, EPPO (2015) Sternochetus mangiferae. [Distribution map]. Distribution maps of plant pests, December, Map 180 (4th revision). CABI, Wallingford

da Cunha MM, Santos Filho HP, do Nascimento AS (2000) Manga: Fitossanidade. Embrapa Comunicação para Transferência de Tecnologia, Brasília, pp 25–47 (Frutas do Brasil, 6)

Follet PA (2002) Mango seed weevil (Coleoptera: Curculionidae) and premature fruit drop in mangoes. J Econ Entomol 95:336–339

Follet PA, Gabbard Z (2000) Effect of mango weevil (Coleoptera: Curculionidae) damage on mango seed viability in Hawaii. J Econ Entomol 93:1237–1240

Hansen JD, Armstrong JW, Brown SA (1989) The distribution and biological observations of the mango seed weevil, Chryptorhynchus mangiferae (Coleoptera: Curculionidae), in Hawaii. Proc Hawaii Entomol Soc 29:31–39

Muriuki, SJN (2011) Mango production practices and assessment of chemical and physical barriers in the management of mango seed weevil in Mbeere District. PhD. Thesis, Jomo Kenyatta University of Agriculture and Technology, Nairobi, Kenya p 74

OEPP/EPPO (2011) Sternochetus mangifera. OEPP/EPPO Bull 41:352–356

Silva CCA da Ferreira, DNM, de Oliveira MRV (1999) Praga Quarentenária 2—Gorgulho da manga Sternochetus mangiferae (Fabricius) (Coleoptera, Curculionidae). Embrapa Recursos Genéticos e Biotecnologia, Brasília, p 9 (Comunicado Técnico, 36)

Treichel M, Kist BB, Santos CE dos, Carvalho C de, Beling RR (2016) Anuário Brasileiro da Fruticultura. Gazeta Santa Cruz Press, Santa Cruz do Sul, p 88

Verghese A, Nagaraju DK (2004) Does stone weevil [Sternochetus mangiferae (Fabricius)] infestation affect fruit size of mango? Insect Environ 10:61–62
Acknowledgements
The authors are grateful to Mrs. Nancy Cardoso Souto for putting its home at the disposal of Embrapa Agrobiology research and the Ministry of Agriculture, Livestock and Supply technicians, and to Dr. Sérgio Antônio Vanin, Department of Zoology, University of São Paulo (USP), for the identification of specimens.
Additional information
Edited by Raúl A Laumann – Embrapa
About this article
Cite this article
Silva, A.C., Ricalde, M.P. First Occurrence of Sternochetus mangiferae (Fabricius) (Coleoptera: Curculionidae) in Brazil. Neotrop Entomol 46, 587–590 (2017). https://doi.org/10.1007/s13744-017-0523-1
Received:

Accepted:

Published:

Issue Date:
Keywords
Mango

Mangifera indica

fruit drop

seed damage