Abstract
To study the noteworthy nest building behavior of the nymph of the Brazilian Rainforest cicada Guyalna chlorogena (Walker) during the last year of its underground life, we monitored a large number of edifices, consisting of a vertical well (up to 1 m deep) with a turret (20 to 40 cm tall) on top, and we also performed experiments. We have shown that the buildings are occupied by a single nymph, male or female, which increases the height of its turret each night by about 3 cm, during a short active growing phase. The nymph softens and reshapes the apex by pushing upwards a lump of freshly mixed soaked clay, without any opening present, i. e., without ever exposing itself to the outside. We also established that the nymph is very active once its building is achieved. For example, it restores the height of the turret to its original value when shortening and opens the top of its building in case of variation of environmental parameters. Finally, we have shown how the nymph opens its edifice to reach the outside for molting into an adult stage (imago). With this work, we contributed to a better understanding of the nesting behavior of Amazon cicadas.
Access options
Buy single article
Instant access to the full article PDF.
US$ 39.95
Tax calculation will be finalised during checkout.
Subscribe to journal
Immediate online access to all issues from 2019. Subscription will auto renew annually.
US$ 79
Tax calculation will be finalised during checkout.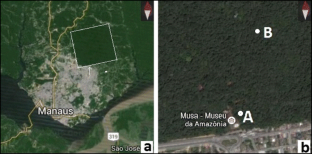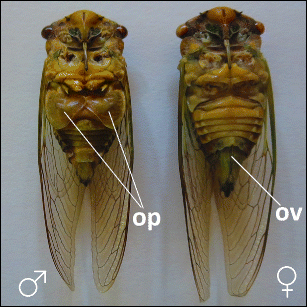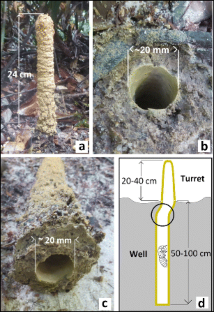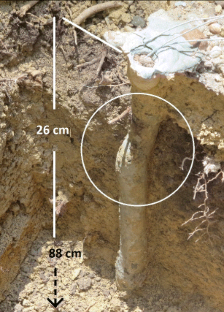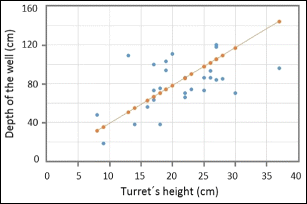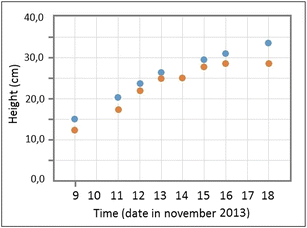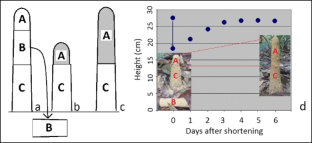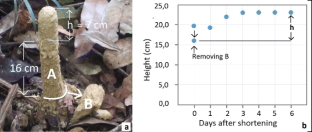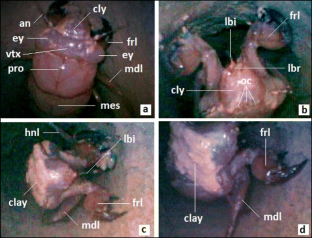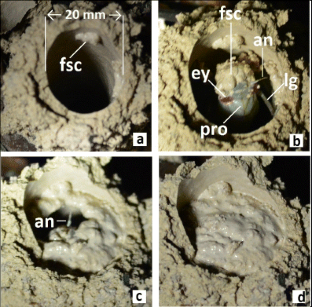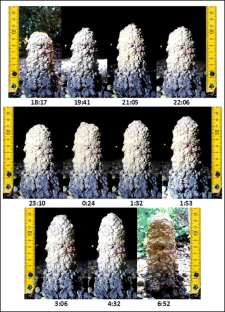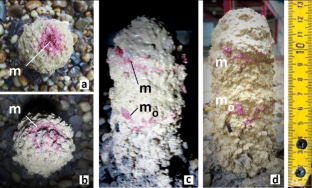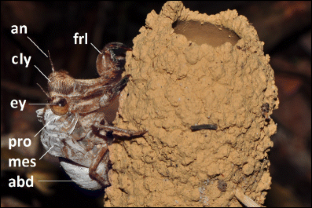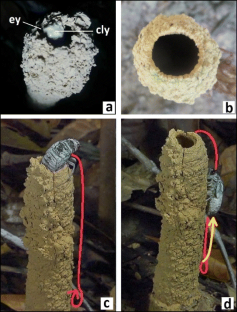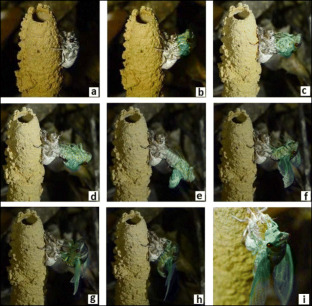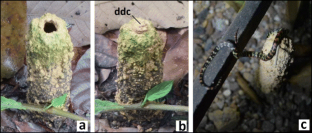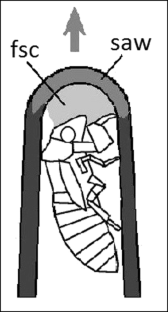 References
Boulard M (1988) Biologie et comportement des cigales de France. Insectes 69:7–13

Boulard M (1991) L'urine des Homoptères, un matériau utilisé ou recyclé de façons étonnantes. Insectes 80:2–4

Fabre JH (1897) La cigale - la sortie du terrier. In: Fabre JH Souvenirs Entomologiques. Vol. 10. Delagrave, Paris, pp 266–289

Ginzberger A (1934) Die bauten der larve der singzikade Fidicina chlorogena Wlk. Sitzungsberichte der Akad. d. Wissenschaften. Wien, math.-natunv. 143:91–94

Guyard A (2011) La cigale. http://baladesnaturalistes.hautetfort.com/archive/2011/08/15/la-cigale-cicada-orni.html. Accessed 30 Nov 2015

Hogue CL (1993) Latin American insects and entomology. University of California Press, Berkeley, p 233

Ibaney M (2003) Les Cigales, Cycles de vie, caractéristiques et symbolique. Invertébrés continentaux des Pays de la Loire. Gretia, Hérouville-Saint-Clair, pp 208–212

Jolivet P (2004) Un mois de mai mémorable en Amérique du Nord. Insectes 135:1–7

Marlatt, C. L. (1907). The Periodical Cicada. Department of Agriculture, Bureau of Entomology, Washington, D.C, United States Government Printing Office 71:123–125. On Internet: https://archive.org/stream/periodicalcicada14marl/periodicalcicada14marl_djvu.txt. Accessed 20 Apr 2016

Myers JG (1928) The morphology of the Cicadidae (Homoptera). Proc Zool Soc London 98:365–472

Myers JG (1929) Insect singers. A natural history of the cicadas. George Routledge and Sons, London, pp 1–304

Sanborn AF (2014) Catalogue of the Cicadoidea (Hemiptera: Auchenorrhyncha). Academic, London, p 207

Wilson IBH (2002) Glycosylation of proteins in plants and invertebrates. Carbohydrates and glycoconjugates, Universidade Federal de Pernambuco, pp 569–577
Acknowledgements
I wish to express my gratitude to Prof. Ennio Candotti, who early on appreciated the topic's interest and entrusted me this research, to Vanessa Gama and Jefferson Telles for the technical assistance, and to Olga Béguin and Thomas Hertach for the critical reading. The work was supported by the Conselho Nacional de Desenvolvimento Científico e Tecnológico (CNpq), with grants 385612/2014-1 and 310012/2015-5.
Additional information
Edited by Christian S Torres – UFRPE
About this article
Cite this article
Béguin, C.F. An Architect Cicada in Brazilian Rainforest: Guyalna chlorogena (Walker). Neotrop Entomol 46, 159–168 (2017). https://doi.org/10.1007/s13744-016-0464-0
Received:

Accepted:

Published:

Issue Date:
Keywords
Insect nests

nesting behavior

cicada turrets

cicada building behavior

underground nests